Today it is my pleasure to Welcome author
Karin Baine
to HJ!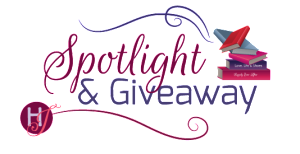 Hi Karin and welcome to HJ! We're so excited to chat with you about your new release, The Courage To Love Her Army Doc!

Hi! Thanks for having me here!

Please summarize the book a la Twitter style for the readers here: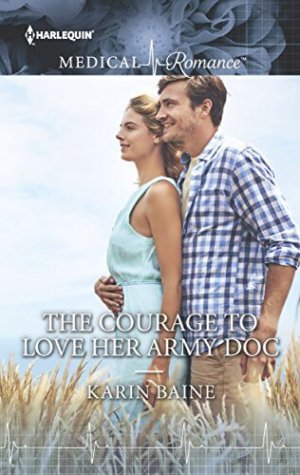 Two scarred doctors dealing with traumatic pasts find love on a medical outreach programme to a remote Fijian island.

Please share the opening lines of this book:
PARADISE. It was the only word to describe these sun-drenched islands that Emily Clifford hoped were going to change her life. Unfortunately, she hadn't accounted for the distance she would have to travel to find her solace.
Travel sickness wasn't something she'd ever suffered before or she would've had one of her colleagues at the GP practice prescribe her something before she'd left England. If she'd been thinking clearly she might have realised that accessing one of these remote Fijian islands would take more than a taxi ride. Her first day after landing at the airport on the main island, Viti Levu, walking through the markets, and her night at a luxurious five-star resort now seemed a lifetime ago.
Please share a few Fun facts about this book…
I'm a big fan of modern day adventurers and I really wanted to write my own. As well as being an ex army doctor, Joe Braden is an explorer and all round exciting guy!
GP Emily Clifford is basically me if I was dropped on a remote island – afraid of everything!
The kava ceremony is real. On some of the islands visitors are expected to drink the local brew which apparently tastes like mud and numbs the mouth!
Research took reams of paper! I wanted to make sure I got all the local customs right as well as the setting and medical details.
I loved writing this book so much I actually started pricing for a holiday! I need to sell a lot of books before I can visit…
What first attracts your Hero to the Heroine and vice versa?
At first Emily finds Joe irritating because he's so self-assured, whilst she feels like a failure who isn't adapting well to the culture change. She mistakes his hearing impairment for rudeness and when she discovers his injury is the result of an IED blast, her eyes are opened to his courage. Plus, he has abs to drool over!
Joe admires Emily's feisty spirit. He knows she's been through a lot after her divorce and admires her strength in leaving her comfort zone to venture into the unknown. When she arrives on Yasi Island she is a breath of fresh air and the most beautiful sight he's seen on his travels.

Using just 5 words, how would you describe Hero and Heroine's love affair?
Two wounded souls finding peace.

The First Kiss…
'Just checking my lips are still there since I can't feel them any more.' She poked her pink tongue out, parting her lips to dampen them, leaving them moist and a temptation too great to ignore any longer.
He stepped forward to give her a soft peck on the lips. Enough to satisfy his curiosity but insufficient to quell the rising swell of desire inside.
If he didn't break away soon this would change from a simple goodnight kiss into something steamier and liable to offend Miriama. Especially as Emily wasn't protesting against this.
'Yup. They're still there. Goodnight, Emily.' He turned his back on her and walked away so he couldn't see the dazed look in her eyes and her still-parted lips, although the sight and taste of her would probably be seared in his brain forever.
Without revealing too much, what is your favorite scene in the book?
My favourite scene is Emily and Joe taking part in the local arts and craft traditions. As well as having fun together it's where things start to hot up between them…
She might have put her heart under lock and key but that didn't mean she was made of stone. She could still appreciate the sight of a perfect male specimen. Especially one flashing his rippling torso as he lifted the hem of his shirt to wipe his brow.
Shallow. So very shallow. She of all people should've resisted objectifying another human being but that flat, toned body deserved recognition. Hell, it deserved its own social media account. She fanned herself with her hand. The heat was starting to get to her and it wasn't entirely down to the fires lining their path through the encampment.
When she managed to drag her gaze away from his midsection and back up to meet his eyes she could see he was more amused than appalled by her visual appreciation.
Busted.
'So, what do they do here?' She coughed away the stirrings his naked chest had caused with a question about the other sights of interest. Okay, steaming pans and bubbling pots weren't nearly as interesting as cheese-grater abs but were infinitely less likely to get her burned.
If your book was optioned for a movie, what scene would be absolutely crucial to include?
The first scene as Emily arrives on the island is crucial in the telling of the story. It highlights the contrast between the two characters in their new surroundings. She is well out of her comfort zone and Joe is there to guide and keep her safe.
'Do I call you Dr? Sergeant? Joe…?' She was going to have serious words with her stepbrother about dumping her on a complete stranger without a word of warning. It immediately put her on the back foot when Peter should have known how important it was for her to feel comfortable in her surroundings.
'Joe will do just fine.'
Emily couldn't work out if the reluctance to engage in conversation was personal or he was simply trying to conserve energy. The hike up this hill was a test of endurance in itself, never mind the heavy box he was balancing on his broad shoulders. She was starting to regret packing the weighty school books she'd brought with her as a gift.
'Isn't there someone who could give us a hand?' She was tired, achy and full of guilt, watching him shift the burden from one shoulder to the other.
'Did you bring the yaqona?' He ignored her question to stop and ask one of his own, as if hers wasn't important enough to deserve the few seconds it would take to answer it. With any luck this place was big enough to house two independent clinics. There was no way she was spending the duration of this trip with someone so rude.
'Yes. It's in this bag.' She, however, was polite enough to answer him. Peter had at least given her the heads up about bringing gifts with her, including the root of this pepper plant. Apparently it was some sort of payment for her stay among the villagers, even though it did look kind of funky to her. She would have preferred to give him a pot plant or a nice bottle of wine with a thank-you card.
'Good. We'll go and make sevusevu now with the chief.'
'Can't we do that later? I really need to shower and freshen up.' By the time they reached their destination she wouldn't be fit to be seen in public.
'No can do. You have to show your respect to the tribal leader before you can integrate yourself into village life. If you respect the customs here it'll ensure you become part of the community.'
Right now, the heat and humidity were making her feel as though her face was melting. She was very wary of her potentially sliding make-up and the fact he was telling her she wouldn't get the chance to redo it. The heavy, thick concealer she wore to cover her birthmark was the one essential from home she couldn't do without.
Readers should read this book …
if they enjoy an emotional journey along with some sun, sand, sea and sex!
What are you currently working on? What other releases do you have planned for 2016?
I've just submitted another medical romance story to my editor. This one is about an ex-ice hockey bad boy who has his life turned upside down when he finds out he has an eight-year-old son. I'm currently working on my first Christmas romance so I'm very excited about that too!
My next release will be part of a medical continuity series about a children's hospital in 2017.
Thanks for blogging at HJ!
Giveaway:

I'm giving away one print copy of The Courage To Love Her Army Doc to one commenter. Competition is open world wide.
To enter Giveaway: Please complete the Rafflecopter form and Post a comment to this Q:

Fiji has now topped my list of places to visit if I ever win the lottery! What would be your dream destination?
Excerpt from The Courage To Love Her Army Doc:
'I had a good time today.' She stopped short of Miriama's house so they weren't under the porch light and reduced the pressure to make something happen there and then.
'Me too.' Joe's bright smile lit up the semi-darkness and took the chill off the evening air.
She reached out to take the mat from him and Joe brushed his thumb along her fingers in the handover. The only sound she could hear was her own breathing as he watched her intently with no sign of backing away. It was now or never. She swallowed hard as she took a step closer to him.
They were both holding onto the mat as she closed her eyes and offered her lips up to his.
For a heart-stopping moment there was only cold air to meet her. Then the weight of his mouth was on hers, accepting her, loving her and bringing her almost to tears with relief. Each caress of her lips, every flick of his tongue to match hers made her confidence stronger and her body weaker. She'd taken a gamble and this was her reward. In future she'd remember how utterly satisfying, and hot, victory tasted.
It was a triumph over her anxieties, her fears and, above all, her old self. This was anything but boring as her fevered skin would testify.
'I don't want this.'
Her new fairy wings disappeared and left her plummeting back down to earth as Joe did the one thing she'd feared from the start.
'I, I…' She didn't know whether to apologise or say goodnight but either would be better than dissolving into a puddle of tears, which was exactly what she wanted to do. Her determination to prove she was still attractive to someone, that she could change, had obviously built this up into something Joe hadn't been expecting. The celebrations heralding the brave new Emily had been premature. Nobody wanted her either. The difference was she would no longer let other people's opinions define her.

Joe wanted Emily more than anything else in the world right now. That was the problem. It was one thing for him to snatch a kiss from her and walk away but quite another for her to initiate one. Double standards for sure but what was a moment of madness for him could mean something entirely different for her. They were already too close when every attempt to create some distance between them only succeeded in them spending more time together. To what end? She wasn't going to find peace with him when he couldn't find his own.
'Okay, I do want this, there's no point in denying it.' Not when he could see how much hurt he was causing her by doing so. That tilt of the chin didn't fool him when she was clutching her medical bag like a security blanket and her eyes were glassy with tears.
'So why do it? Why keep pretending there isn't something more than my brother or work binding us together?'
He admired her strong stance, facing him out over his cowardice despite her wobbly voice. She deserved the truth. He dug his nails into his palms to stop from reaching out to her. This was exactly why he should have avoided kissing her in the first place.
'I've told you, I'm not boyfriend material. You'll end up just another holiday memory when I move on and after everything you've been through you need more than that. I don't want the level of responsibility that comes with being the rebound guy. I'm not going to be the one to restore your faith in men or be your emotional crutch until you're over Greg, and I won't pretend to be.' Cards on the table, he braced himself for her reaction. He doubted any woman wanted to be told the man they were kissing was emotionally unavailable, and since he hadn't found it in himself to walk away he was counting on her to make that call.
Emily closed the gap he'd created between them. 'I don't remember saying I wanted any of those things from you but thank you for your honesty. I guess we both know where we stand.'
Too close for him to think straight. Alarm bells were ringing in his head with her breathy acceptance of his terms but it was no longer his head he was listening to.
'I don't want this,' he repeated, even as his lips inched towards hers.
'Neither do I.'
Their mouths collided in a crushing kiss as if they were trying to exorcise this need for one another. The very opposite happened to him as his brain short-circuited and erased the reason he shouldn't do this. Something about him being an idiot and Emily accepting it.
The medical bag and mat fell in the dirt as they clung to each other tighter, her hands around his neck, his around her waist, their legs entwined as they tied themselves into a love pretzel, obliterating all pretence for good.
There was so much fire as she came back time and time again for more, exploring him with her tongue, her passion took him completely by surprise. This naked display of desire for him from a woman who worried about every move she made was such an aphrodisiac his body was already racing on to the next stage. Neither of them were ready for that. At least, not here, not now.
He loosened his hold and gradually let the intensity of the embrace subside. Eventually he had to break free before the most demanding part of his anatomy wrestled sole charge of the situation.
'Glad we got that sorted. It stops any future misunderstanding.' The only way he could survive this was to make a joke of it and diffuse the crackling sexual tension for the moment. Neither of them wanted this but it was happening and there was clearly no escape from it on this tiny island.
'Yeah. We wouldn't want things getting awkward at work.' Emily teased him back but she was already collecting her things from the ground, the moment over.
'Goodnight, Emily.' He kissed her on the cheek, avoiding her lips in case his chivalry died altogether.
Excerpts. © Reprinted by permission. All rights reserved.

Book Info:
Taking chances
Dr. Joe Braden took a posting as locum on a remote Fijian island to escape his memories. But he finds the solace he seeks in the unlikeliest of places…the arms of captivating Dr. Emily Clifford.
Born with a distinctive birthmark, Emily has spent years hidden behind a mask of makeup. Yet Joe makes her feel beautiful in her skin for the first time ever. She's been burned before, but if she can find the courage to love her army doc she can claim the happy-ever-after she's dreamed of…
Book Links:

Meet the Author: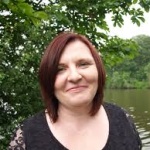 Karin Baine lives in Northern Ireland with her husband, two sons, and her out-of-control notebook collection. Her Mother and Grandmother's vast collection of books inspired her love of reading and her dream of becoming a Harlequin Mills & Boon® author. Now she can tell people she has a proper job!
You can follow Karin on Twitter, @karinbaine1 or visit her website for the latest news – karinbaine.com
Website | Facebook | Twitter |