Today it is my pleasure to Welcome romance author
Joanna Shupe
to HJ!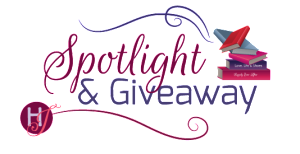 Hi Joanna Shupe and welcome to HJ! We're so excited to chat with you about your new release, The Courtesan Duchess

!


Thank you so much for having me!

Please summarize the book for the readers here: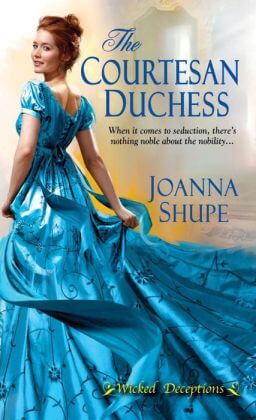 The Courtesan Duchess is about a wife who hasn't seen her rakehell husband in eight years. She's almost broke and decides she must conceive the heir, thinking it will secure her financial future. She hires the reigning courtesan in London, Pearl Kelly, to teach her how to pose as a courtesan. Then she travels to Venice in disguise and launches a campaign to seduce her husband.

Please share the opening lines of this book:
The first time the Duchess of Colton saw her husband since their hasty marriage, she found him seated at a card table with a buxom woman draped across his lap, her legs dangled over the side of his chair. Julia could see them both quite clearly from across the gaming room. The woman was…pleasuring herself while the duke had one hand inside the woman's bodice, his fingers moving beneath the fabric to casually caress her breast.
Please share a few Random facts about this book…
I love Venice, and I was surprised to learn when researching the book that Venice was not a part of Italy until the country unified in 1866. At the time The Courtesan Duchess takes place, Venice had recently been turned over to Austrian rule after Napoleon's defeat.
I also loved researching courtesans, many of whom were quite colorful characters. They lived extravagantly, with some considered the rock stars of their day. Ladies even copied the fashion and hairstyles of popular courtesans, a fact I used at one point in the story.
Please tell us a little about the characters in your book. As you wrote your protagonist was there anything about them that surprised you?
The heroine, Julia, is a tough, resourceful woman who is also brave. There isn't anything she won't do to save herself and her elderly aunt from poverty. What surprised me as I wrote the story was how much pride she had. She won't rely on anyone else to solve her problems, nor will she beg her husband to help her.
The hero, Nick, the Duke of Colton, is a rake who has earned the nickname "the Depraved Duke" back in London. He never has any plans to return home, preferring to roam the Continent and let his estate managers handle the ducal affairs. He also has a soft spot, one that emerges later in the book. He spent his childhood alone, the forgotten second son, and he's never recovered over that feeling of abandonment.
What, in your mind, distinguishes this book from other books out there in the same genre?
I wanted to create a plot we hadn't seen yet before in historical romance. Above all, I wanted there to be unexpected twists and turns that would keep the reader guessing.

The First kiss…
What I liked best about the first kiss in The Courtesan Duchess is that it's the heroine's first real kiss—she married the duke at age sixteen—yet she's pretending to be a courtesan. So she fights getting lost in the moment with controlling the kiss like a practiced courtesan would. And in the end, it's the duality of innocence and experience that drives the duke mad.

Did any scene have you crying or laughing (or blushing) while writing it?
The scenes with Julia's aunt were some of my favorites to write. Aunt Theo is older and a bit of a lush, and she made me laugh with some of the things she'd say because she tends to blurt out whatever she's thinking.
"Do you think this scheme will work?" Theo asked once they were alone.
"It must. Templeton's last visit continues to give me nightmares." After informing her—again—of the further reduction of her monthly stipend, the grotesque excuse for a man had suggested what services Julia could provide to make up the difference. And by services, he hadn't meant mending his clothes.
The thought of intimacies with Templeton—with his small black eyes, sweaty brow, and demeaning attitude—almost made Julia physically sick. Damn Colton for putting me in this situation. "Oh, how I wish my father was still alive."
"My brother would've dragged your duke home by his whirlygigs by now, that's for certain."
If your book was optioned for a movie, what scene would you use for the audition of the main characters?
For an audition, I'd probably use Nick and Julia's first encounter. There are a lot of layers in that scene. She's trying to learn if what she's heard about this man, her husband, is true without trying to seem as if the answers matter to her. Nick is clinging to the rogue, devil-may-care part he plays until she strikes a little too close to home. So we also get a sense of the hurt and darkness lurking within him…
"Now I know why Winchester looked so damned besotted each time I saw the two of you together." He sipped some liqueur and stretched out. "You are a woman capable of stealing a man's soul."
She hid her smile behind her glass, taking a small swallow of her drink. "Except it is well-known you have no soul to steal."
"Is that what they say?"
"Among other things. You are still the occasional topic of conversation in London. I've heard about you for quite some time."
He set his glass on the table and then leaned up on an elbow. "So much has been said about the depraved Duke of Colton over the years. Why don't you tell me what you've heard, and I'll tell you if it's true." Nick traced a long, elegant finger down her collarbone, and she shivered.
"That you had Lady Sherbourne and her sister in bed at the same time."
He smiled, his teeth even and white. "True."
"Along with their brother."
The smile faded. "Not true."
"You kept two mistresses at once, setting them up in houses right next door to one another."
"Requiring the memorization of only one address. Quite convenient, in my opinion." Nick reached out to twirl one of her red curls around his finger.
"It was rumored you were a regular patron at Theresa Berkley's brothel, where she practiced her arts of flagellation on you."
"Not a regular customer, but I have been inside once or twice, yes. One is curious about such things, you know."
He was trying to shock her, but Julia wouldn't be dissuaded. "Your brother's wife. Was that true as well?"
Nick's beautiful face twisted for the briefest moment before his usual insouciant expression returned. "Oh, my dear. Isn't that what everyone wants to know? Did the wicked younger brother seduce his older brother's wife, causing such despair as for the heir to have a fatal accident?"
He hooked a finger in the sleeve of her loosened gown and tugged, revealing the top of her right breast. The fabric hung precariously, where one deep breath would cause her breast to burst free from her stays and chemise. "That information, tesorina, comes at a price."
If you could have given your characters one piece of advice before the opening pages of the book, what would it be and why?
For Julia, I would advise her to be careful what you wish for. Her plan backfires in a spectacular fashion.
Nick needs to lighten up. He's much too serious when he's not chasing women and playing cards.

What are you currently working on? What other releases do you have planned for 2015?
I am currently working on a new series, set in 1888 New York City. Each of the heroes are robber barons who all collude together on business deals. These will release in 2016 and 2017.
In 2015, I have two more releases in the Wicked Deceptions series: The Harlot Countess in April and The Lady Hellion in May. Julia and Nick make guest appearances in both stories.

Thanks for blogging at HJ!
Giveaway:

Print copy of THE COURTESAN DUCHESS by Joanna Shupe
To enter Giveaway: Please complete the Rafflecopter form and Post a comment to this Q:

Where would you most like to visit before you die? Why? For me, it's Rome.
Excerpt from The Courtesan Duchess:
"Did the flowers meet with your approval, Mrs. Leighton?"
The previous day, Nick had sent her a large bouquet of white roses, artfully arranged in a colorful vase made from Murano glass. It was a stunning display. His card had been concise and clever: To friendship.
Part of her was so angry over the gesture she wanted to shout at him like a fishwife. He couldn't bother to send his wife of eight years a mere note…and yet rushed forward with a token of regard to a woman he'd met not even twenty-four hours earlier. Julia swallowed her outrage and bitterness in order to remember the part she played and the reason for it. Tonight, the goal was to flirt, thereby ensuring the duke's interest in her charms. "They are exquisite, Your Grace. You are too generous," she replied, giving him a teasing glance through her lashes.
"I fear you have high standards, Mrs. Leighton. After all, I heard you once sent a necklace back to Wellington because it contained an odd number of diamonds rather than even."
Julia bit her cheek to keep from laughing. That particular anecdote was one of Aunt Theo's contributions to Mrs. Leighton's legend.
"Oh, that story is tiresome. I did no such thing." Julia raised her glasses again to blithely peer out at the crowd. "I sent it back because it was ugly."
Nick gave a short, genuine bark of laughter. "Well, I shall endeavor to be more selective in my gifts."
"Are there to be more gifts, Your Grace?" She meant for the comment to be playful and flirtatious, but her voice betrayed her with a husky and intimate tone.
His lids dipped and he edged closer. "Whatever you wish for, Mrs. Leighton, shall be yours."
Julia couldn't prevent the shiver that traveled the length of her body. Thanks to Pearl's instructions, the sensual promise in his words was not lost on her. While she knew exactly what he wanted from her, she could only be grateful that Nick had no suspicion of what she wanted from him.
The music swelled, sparing her the need to respond.
With her husband's leg tucked snugly against hers, any effort to concentrate on Rossini's heroic opera failed. She used the opportunity to think over her plan.
First, gain Colton's interest. Next, stage a falling-out with Simon in public. Colton would then pursue her and, a few days later, she would allow him to catch her. All that remained would be to engage in activities as old as time, as often as possible.
Julia was nervous, but not scared. Pearl had given her the basic details of what took place, plus ways to increase a man's pleasure. She'd also learned, despite her initial embarrassment, about her own pleasure since Pearl maintained that a courtesan as successful as the mythical Mrs. Leighton would ensure both partners enjoyed the experience.
But Julia had been unprepared for what it would feel like to sit next to this compellingly handsome man, her husband, while the heat from his muscled thigh warmed her leg through layers of clothing. His well-proportioned body so near, their shoulders lightly touching, had her insides now throbbing in time with the beat of her heart. She hadn't expected to be so attracted to him. After all, he had ignored her for so long that she'd built up a sizable amount of resentment toward him. But those feelings were fast receding in the face of his wickedly powerful presence.
Struggling with the idea of actually liking him, Julia wondered if such a thing made her goal easier or more difficult to accomplish.
In the end, it didn't matter. Templeton must be stopped and producing the Colton heir was the only way to do it.
She decided to tempt him a bit. After all, she needed to seduce the man.
Julia let her opera glasses fall from her fingertips to the carpeted floor between them, where they landed with a thud. "Oh!" she whispered.
The duke's head turned her way, a black eyebrow raised in question.
"Your Grace, I seem to have dropped my opera glasses. Would you be so kind?"
Nick politely inclined his head before he bent over, his fingers searching in the semi-darkness for her glasses. Julia waited a beat and then lifted the hem of her skirt and petticoats up to her shins. Sliding her leg toward him a bit, she was rewarded when his fingertips brushed her stocking-covered ankle.
His shoulders tensed, as if she'd surprised him, and then she felt his hand, ever so slowly, slide up the back of her calf, his touch a white-hot charge through the silk. She couldn't prevent a gasp from escaping. When he reached the back of her knee, his fingers lingered there, drawing a delicate pattern on the soft underside. Julia closed her eyes and bit her lip while trying to maintain her composure. Something hot and needy unfurled low in her belly, a feeling she suspected was unbridled arousal for her husband.
He seemed in no hurry to remove his hand and Julia wasn't sure how much more she could take without moaning in sheer bliss. "Do you see them, Your Grace?" she breathed.
His hand fell away, and a second later he straightened. "Your glasses, Mrs. Leighton."
"Thank you," she murmured, and accepted the glasses from his hand.
"Anytime," he returned, his husky tone making the meaning quite clear.
Her cheeks flooded with heat, and she was grateful for the low light that hid her blush. She attempted to calm herself throughout the remainder of the first act.
Just before the second act began, Nick leaned over again, and his now-familiar scent of citrus and musk teased her nose. "May I escort you home later, Mrs. Leighton?"
"Simon shall escort me home. And as helpful as you've been this evening, I'm not currently seeking another bed partner, Your Grace."
"Oh, no. It's much too soon to become lovers." He drew closer to her ear, his warm breath tickling her skin. "When I finally take you, Juliet, when I finally have you naked underneath me, the memory of every other man you've been with will be forgotten. You shall think of only me…and beg me to make you mine."
All the air left her chest in a whoosh. A rush of desire swept through her, so strong her knees surely would have given out if she'd been standing. He was the very devil, everything dark and forbidden and wanting in her life.
And she was way out of her depth.
She searched for something witty to say but came up empty.
Until words she'd heard spoken by Pearl months before came to mind. They tumbled out of Julia's mouth. "I wonder if you truly possess the skill to back up your arrogance."
His eyes heated to liquid silver. "If you find a private alcove, I'll happily demonstrate my abilities before the end of the performance. After all, it's only fair to know what you're getting."
The mention of the alcove was like a douse of cold water. How many alcoves and how many women were in his past? No doubt he'd trysted in buildings from Paris to Pisa. Still, she played her part. "An alcove? I hadn't thought you so unoriginal."
She'd intended to offend him, but he merely winked at her. "Then I look forward to proving exactly how creative I can be."
Excerpts. © Reprinted by permission. All rights reserved.

Book Info:
Can a bold-faced lie lead to everlasting love? One by one, the impetuous heroines in the Wicked Deceptions series intend to find out, each in her unique way. . .
How to seduce an estranged husband—and banish debt!—in four wickedly improper, shockingly pleasurable steps…
1. Learn the most intimate secrets of London's leading courtesan.
2. Pretend to be a courtesan yourself, using the name Juliet Leighton.
3. Travel to Venice and locate said husband.
4. Seduce husband, conceive an heir, and voila, your future is secure!
For Julia, the Duchess of Colton, such a ruse promises to be foolproof. After all, her husband has not bothered to lay eyes on her in eight years, since their hasty wedding day when she was only sixteen. But what begins as a tempestuous flirtation escalates into full-blown passion—and the feeling is mutual! Could the man the Courtesan Duchess married actually turn out to be the love of her life?
Meet the Author: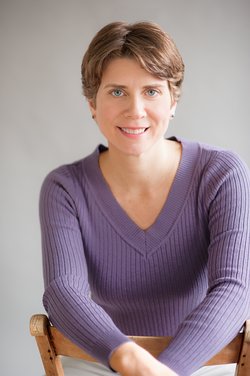 Award-winning author Joanna Shupe has always loved history, ever since she saw her first Schoolhouse Rock cartoon. While in college, Joanna read every romance she could get her hands on and soon started crafting her own racy historical novels.
In 2013 she won Romance Writers of America®'s prestigious Golden Heart® Award for Best Historical.
She now lives in New Jersey with her two spirited daughters and dashing husband.
I love to hear from readers! The best places to get in touch with me are my website, joannashupe.com, and Facebook, https://www.facebook.com/joannashupeauthor.