Today it is my pleasure to Welcome romance author
Ally Blake
to HJ!
Hi Ally, welcome to HJ!
5 things readers should know about you?
Not sure that they should, but they're about to!
1. I'm a redhead, with all that entails – vampiric reactions to the sun, fiery temper, general awesomeness .
2. I'm besotted with JFK. So much so I spent a portion of my honeymoon traipsing through the Kennedy library in Boston, at the everlasting flame in Arlington, and even hopped a fence to step foot on the Kennedy family compound beach in Hyannisport. My hubby didn't complain – much – and I love him all the more for it!
3. I loooove iced coffee, with great dollops of whipped cream. A café near home in which I often write makes the best in the entire world.
4. I would like to start a campaign that the shortened form of "until" ought to be "til". I just can't for the life of me type "till" without feeling all wrong about it.
5. I could quite happily move into Pinterest.
Let's talk about your newest release: The Dance Off
If you had to summarize the book for the readers here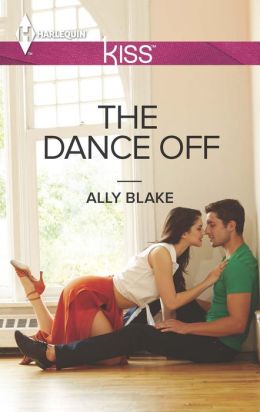 The Dance Off, to me, is a dance movie…in book form! So, if, like me, you are smitten with movies like Singing in the Rain, Strictly Ballroom, Girls Just Wanna Have Fun, Footloose, Shall We Dance (I saw Dirty Dancing at the movies six times) then I reckon this story will hit the spot.
Please tell us about the characters in your book?
Our hero is Ryder Fitzgerald. All slick, and yummy, and uber cool. Think Jon Hamm in a gorgeous suit. I did! He finds himself obliged to take dance lessons for his only sister's wedding, which, for him, is like the seventh level of hell. Only he doesn't expect the dance teacher to be anything like Nadia Kent. Earthy and seductive, wild and free; if anyone is able to ruffle Mr Tall Dark and Smooth, it'll be her.
Was it love at first sight for your characters? If not what was the pivotal moment of change?
More like lust at first sight. The entire book is set during a series of muggy, sweltering hot Melbourne nights, but Ryder's urge to roll up his shirt sleeves and lose his tie comes more down to the sexy dance teacher than the weather :). As for when they fall in love, I'd say in increments. In the small moments, the intimate revelations, the accidental touches, all heightened by the fact that near every minute they spend together from day dot is in a close dance hold!
If your characters could go back in time and change one thing what would it be? Why?
Nadia was a dancer in a Cirque de Soleil type show called Sky High and she specialised in aerial silks, hoop, and ropes. Her career was flying high, and she gave it all away over a man. If she could change one thing it would have been to stand up to him. To stay. To have more backbone. She's regretted her actions ever since.
Ryder would wish he'd had more time with his mother before she'd died. As the book goes on she becomes his touchstone more and more, so perhaps he gets that time only in a different way.
What scene did you have the most fun writing? Why?
There's one scene in the dance studio, where Nadia finally shows Ryder what kind of dancing she really does for a living. Imagine a twin set of swathes of red silk dropping from a twenty foot ceiling. Imagine how those silks might be used by a couple who've finally had enough of denying their attraction to one another. I needed a few iced coffees to get me through that one!!
Here's a taste before it heads a good ways away from PG :).
"Holy mother of God," Ryder said, his feet propelling him forward as his eyes darted from runs of black ropes dripping from the beams above, over wafting swathes of red silk doing the same, to a sparkling silver hula hoop dangling six feet off the floor.
His eyes ran all the way up the heavy-duty wire wrapped about and bolted to the beams above. Architecturally inventive as he was, he was pretty sure he'd never look at a beam the same way again.
"You look a little freaked, my friend."
Ryder flicked a glance to Nadia to find her watching him, her arms folded over her chest. Defensive. And comprehension began to trickle down his spine. So this was how she was going to play it after their afternoon together. His little dance teacher was throwing down the gauntlet.
Schooling his features into the very definition of impassive, Ryder offered up a half smile. "Dare I ask what it's all for?"
Nadia cocked a hip, all insouciance and grace. It was a heady combination. Especially since he now knew the curve of that hip when it was laid bare. Knew the taste of that dewy skin, the skill of that lush mouth, the light that shone from those guarded eyes when she was laid bare.
"How about I show you instead?" With that she unhooked her skirt, and nudged off her shoes, leaving her in the long-sleeved top, black bikini bottoms and fishnets. Holy hell.
With practiced ease she slid fingerless leather gloves over her palms, snapping studs behind her wrists with an audible click that he felt right in his groin. A small voice inside his head told him to Run! A louder voice told him to stay the hell where he was, as he might just have found paradise.
What scene was the hardest to write? Why?
Probably the final scenes, after things go horribly wrong and Ryder and Nadia come to terms with their decisions. Without giving anything away these are two broken characters, with darkness and regret in their lives and it was important to me that they found light, on their own and within each other.
How did your character spend the week just before the story starts?
Ryder was busy working on his latest skyscraper in central Melbourne while also focussed in and trying to keep his little sister Sam from making the big mistake of getting married so young.
Nadia was teaching Tiny Tots Ballet and Seniors Pole Dancing, and rehearsing the routine she hopes will get her back to her real career – flying high in Las Vegas.
Who would you cast in the role of your characters if your book was optioned for a movie?
Easy peasy. Jon Hamm – the man looks soooo good in a black suit! And Rachel Weisz. That dark-eyed, sultry, smart, vulnerable thing is so Nadia.
What are you currently working on? What other releases so you have planned for 2013 into 2014?
I've just finished an Entangled Indulgence which was brilliant fun to write. And come July my next Harlequin KISS will be out – it's the first in a duet written with the wonderful Amy Andrews set around a gorgeous crumbling beach resort in tropical Far north Queensland.
Thanks for blogging at HJ!
Giveaway:

ebooks of my previous Harlequin Kiss books The Secret Wedding Dress and Faking It to Making It
To enter Giveaway: Please complete the Rafflecopter form and Post a comment to this Q:

Dirty Dancing has to be my favourite dance movie. What's yours? Why?
Except
Nadia lifted her arms into a graceful half-circle in front of her, an invitation for him to do the same. But when he did little more than twitch a muscle in his cheek, she swore—and rather colourfully—before she walked the final few paces, took his hands, and, with a strength that belied her lean frame, lifted them into a matching arc.
Up close he caught glints of auburn in her dark hair. A smattering of tiny freckles dusted the bridge of her nose.
Though his thoughts dried up as she fitted herself into the space between his arms and dropped his right hand to her hip. His palm found fabric, his fingers found skin. Smooth skin. Hot skin. Her skin.
She slid her right hand into his left and the heat of the night became trapped between them.
"Nadia."
"Yes, Ryder," she said, mirroring his serious tone.
"It's been a while for me."
The teeth that flashed within her smile were sharp enough to have his skin tighten all over.
"I'll go easy," she said. "I promise. You just have to trust me. Do you trust me, Ryder?"
"Not a bit."
Book Info:
Dancing lessons…? Hot-shot architect Ryder Fitzgerald can't think of anything worse! But he spots a silver lining in the form of smoking-hot Nadia Kent, who'll be teaching him his steps for his sister's wedding – maybe this won't be so torturous after all…
Nadia is staying well clear of Ryder – never mind how jaw-droppingly hot he is. She made the mistake of letting a guy get in the way of her ambition once before, and she's not about to do it again. No matter how well he swivels his hips!
But, as electricity crackles in the studio, restricting their chemistry to the dance floor becomes a challenge… The only question is, who's going to make the first move?
Book Links:
Author Bio
Australian writer Ally Blake is a redhead, a footy fan, a devotee of the language of Aaron Sorkin; she is addicted to stationery and M&Ms, weak in the face of Italians and firefighters, married to a spectacular and ever-patient man, mum to three beings of pure delight, and a firm believer in love, luck, and fairies.
She is also a best-selling author with more than twenty-five fun, flirty romance novels under her belt with over three million copies of her books sold worldwide. For Ally's take on life, writing, and other fancy stuff, head to www.allyblake.com.
Website | Facebook | Twitter |