Today it is my pleasure to welcome back New York Times and USA Today best selling author

Gena Showalter

to HJ!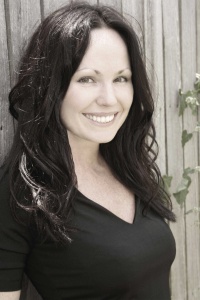 When I was asked to pick my top five scenes from The Darkest Craving, I thought: So freaking easy, I already know what to pick. Turns out, I couldn't go with my absolute favorites because they come with huge plot spoilers. So, I selected snippets that caught my attention as I pouted about the spoilers. I hope you enjoy them!
He jerked away from her to crouch at the end of the bed. His gaze remained on her, watching intently as she slowly sat up. A red flush colored his cheeks, and she wondered if he was embarrassed by his actions or simply struggling to hide the weakness still pumping

through him.

"You have five seconds, female."

"Or what, warrior? You'll hurt me?"

"Yes." Determined. Assured.

Silly man. Would it be totally gauche of her to ask him to sign her T-shirt? "Don't you remember what you promised me?"
GS: In this scene found at the beginning of the book, Kane is recovering from savage torture. And yet, the heroine, Josephina—who grew up among the Fae, where the Lords of the Underworld are considered rock stars—wants his autograph. Makes me chuckle every time I think of it!
William grinned, saying to Kane, "Sometimes, when I'm bored, I do a little Magic Mike show for the ladies. Very tasteful. I'll get you tickets." He returned his attention to the guard. "My boy here needs the private room."

GS: I love any scene involving William. The things that come out of his mouth…truth? Lie? Either way, I want tickets to that show! Plus, this bit of dialogue leads to one of my favorite scenes in the entire book. What happens in that private room and the emotions it evokes, changes Kane.
"You're not exactly a girl who can be overlooked, Tink." And he would have utterly destroyed any man who had gotten a glimpse of her. Like, body parts and organs would have littered the floor.
GS: Fierce alpha male with an obsession for one woman? Check!
Kane sat at the table, putting his back to Josephina. He held up his arm and motioned with two fingers.

Was he…summoning her over?

Those fingers moved again, more adamantly this time.

He was. He really was. I'm going to smash his face!

Teeth grinding, she moved forward and poured three drops of juice into his goblet.

When she tried to move away, Kane grabbed hold of her wrist. Startled, she almost dropped the pitcher. His grip was strong, his skin white-hot.

"There's a mark on your cheek," he said with the stillness she'd come to recognize as dangerous. He looked up at her, the thick shield of his lashes hiding whatever emotion gleamed in his eyes. His lips pressed into a thin, hard line.

"Well, yeah," she replied.

"From?"

"A hand."

"I get that. Whose?"

She licked her lips, and his gaze followed the motion. "Doesn't matter. I took care of it."

He squeezed her wrist harder. "Whose?"

"Why?"

"So I can kill him."
GS: Another aspect of Kane's fierceness—his protectiveness toward the heroine. Gets me every time!
Silent, he stalked toward her. A predator with a purpose. He was done resisting. Done thinking about all the reasons why not. Today, he was taking something.

Perhaps sensing the dark, greedy urges driving him, she straightened with a snap. Her breathing quickened. "Kane."

"Tell me to stop." He stood a mere heartbeat away, their gazes locked together, trapped. Nothing else would halt the madness.

"I…can't."
GS: I also love his desire for her!
Giveaway: a signed copy of

The Darkest Craving.
To enter Giveaway: Please complete the Rafflecopter form and post a comment to this Q:

What are some of the most memorable scenes you've read in your favorite books and why?
Book Info
New York Times bestselling author Gena Showalter is back with a breathtaking Lords of the Underworld tale about a warrior trapped by darkness and the woman determined to save him
Having endured weeks of torture in the bowels of hell, Kane wants nothing to do with his beautiful rescuer, Josephina Aisling. The half-Fae female threatens to awaken the demon of Disaster inside him—a beast he's determined to kill, no matter the price.
Josephina is hunted by a brutal enemy—her royal family—and Kane is her only source of protection. He's also the only male to ever set her aflame, and even he succumbs to the heat. But as they navigate the treacherous world of the Fae, they are forced to make a choice: live apart…or die together.
Buy links: Amazon | Kindle | Barnes and Noble | Nook | Harlequin | Kobo | Walmart | Target