Today it is my pleasure to Welcome USA Today Bestselling author
Victoria James
to HJ!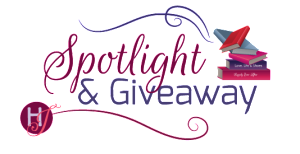 Hi Victoria and welcome to HJ! We're so excited to chat with you about your new release, The Doctor's Fake Fiancee!
If you had to summarize the book for the readers here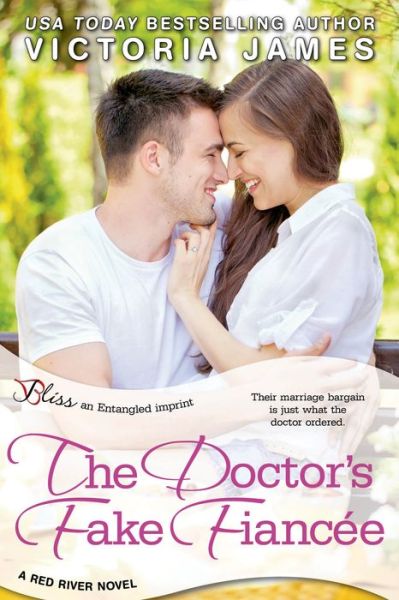 This book is about having the courage to take that leap of faith, to trust you heart, even if it's been broken before. Sometimes, the events that happen to us in life, happen for a reason…
Acclaimed surgeon and self-professed life-long bachelor, Evan Manning has only one thing on his mind-to reclaim the career that was stolen from him because of a car accident. When he's forced to stay in his hometown of Red River for six weeks, Evan finds himself face-to-face with the woman who's haunted his dreams for the last year-the woman he rescued from a burning car. He rescues her again by offering her a job, a home…and a position to be his fake fiancée. The only problem is, he finds himself falling for her, her little boy, and everything he's run from his entire life.
Grace Matheson was once again down on her luck…until she walks into Evan Manning's office. Her gorgeous hero has just made her an offer that she can't refuse-a chance for a stable career, and a perfect home for her little boy. Grace has promised herself to never trust a man again-but Evan works his way into her heart and she falls helplessly for the one man she can't have.
Please tell us about the characters in your book?
Grace is a young, single mom who's had a really difficult life. She's dedicated to her four year old son, but is having a hard time providing him with the life she really wants. She wants to be an artist, but because she knows that can't bring in a steady income has stopped pursuing her dream. After her husband walked out, she doesn't trust anyone with her or her son's heart. But the connection she feels to Evan is undeniable…
Evan has always been driven to succeed and be the best. Marriage, kids, living in his small town are none of the things he wants in life. But when he's back in his small town for a few weeks, he finds himself falling for all the things he never thought he wanted.
As you wrote your protagonist was there anything about them that surprised you?
Evan surprised me-he turned out to be the funniest hero I've written. Not in a laugh-out-loud kind of way, but his internal dialogue and his dry sense of humor really made me laugh as I was writing. I also hadn't planned on him being quite so stubborn, and in the dark moment, he did surprise me again. I kind of wanted to hit him over the head :).
What scene did you most enjoy writing? Why?
I had a lot of fun writing this book because it's set in the small town of Red River, and it' s a town I've come to know very well now. The secondary characters are all quirky and hilarious in their own way, so any of the scenes that had these characters in them were fun to write. But the town busybody, Mrs. Jacobs gives everyone a hard time and I always have a good laugh when I write her into a scene…In this scene, Grace is trying on some clothes and Evan enters the change room, not realizing she's not really dressed…
"I've rescued you," she whispered, reminding him of
why he was in here. "Now I need to, um, get some clothes
on."
Rescued? She'd just thrown him into a volcano of hot
lava. She tried to move around him, but that movement only
brought her closer, until they were plastered against each
other.
Heavy footsteps only faintly registered as the feel of
Grace's curvy body against his took over.
"I dropped my shirt," she hissed and then attempted to
kneel down…as Mrs. Jacobs whipped open the door and
screamed in their faces.
"Evan Manning, these sexy-time shenanigans may be
acceptable in the city, but not in Red River. I know all about
what people do in change rooms but not in my sister's shop.
Not with an innocent little boy—"
"There are no"—he almost gagged—"sexy-time
shenanigans going on here. It was an honest mistake," he
said as he held his hand out for Grace and helped her stand.
"Mrs. Jacobs, he was just helping—"
"My dear, you are in a changing room with a man, and
down on your knees. You can't be so naive in life. I know all
the Manning boys, and Evan was my favorite up until this
sordid escapade—"
Evan forced himself to sound calm as he stepped out
of the dressing room to spare Grace more humiliation.
What scene was the hardest to write? Why?
I think the dark moment was the hardest for me to write, but I don't want to give that one away! There were quite a few scenes that were very emotional in this book because Grace and Evan went through a traumatic event together, so they are connected in a very special way. One of the scenes were the impact of what Evan has done for them hits Grace (and then Evan) was very emotional and difficult to write:
She reached out for his right arm, her eyes not leaving
his. She took his strong hand in hers, slowly turning it over,
and then she looked down. At the angry red marks that had
transformed his otherwise perfect flesh. She had seen them,
working with him every day, but she'd always looked away
quickly. But now…she couldn't run from this man anymore,
or the feelings she'd developed for him. She paused for a
second, taking a deep breath before unbuttoning his cuff.
And he let her. He stood there, and she slowly rolled up his
shirtsleeve and revealed the forearm that was still strong,
still powerful, but battered and scarred. She shook her head,
and her body trembled as the truth swam through her with a
velocity that she wasn't prepared for. The truth, the damage
to his perfect body was entirely overwhelming.
"Say, 'Everything is going to be fine sweetheart,'" she
whispered.
Who would you cast in the role of your characters if your book was optioned for a movie?
Jude Law and Natalie Portman.
If you could have given your characters one piece of advice before the opening pages of the book, what would it be and why?
To Evan I'd tell him to stop being so ridiculously stubborn and thinking all he needs is his career. You're wrong, buddy!
To Grace I'd say don't be scared-Evan will get it together eventually and you'll have your HEA. 🙂
If someone wrote a biography about you, what do you think the title of the book should be? Why?
Getting it Together
I always feel like I'm trying to get it together, lol. Like if I'm excelling at one area of my life, something else is being ignored. I guess it's striving for balance, so that all areas are functioning at optimal levels ;-). I'm very blessed with family, an awesome husband, and a writing career that I love. Having the time to fit it all in is challenging. One day! 🙂
What are you currently working on? What other releases so you have planned for 2014?
I have a new three book series that will be coming out with Entangled, Bliss in 2014. I'm so excited about this series because it's set in an entirely new small town with some amazing women as the heroines. I also have a follow-up book to The Rancher's Second Chance from Entangled Indulgence.
Thanks for blogging at HJ!
Giveaway:

I'll give away a digital copy of the first two Red River books (International) and I'll give away a PRINT copy of the first two Red River books (US & CAN only)
To enter Giveaway: Please complete the Rafflecopter form and Post a comment to this Q:

What do you love most about small-town romances? Revisiting the town? The secondary characters? The setting?
Excerpt
She squeezed her eyes shut and leaned her head back
against the car, rain mingling with her tears. "I thought I
could. I thought I could get all the memories of that day
out of my head. But being in the car with you…Evan. It just
brought me too close. I don't want to go back and conquer
anything. I can't do it. I'm sorry."
He felt helpless for a second as he watched the torture
play across her delicate features. But he wasn't a helpless
kind of man. He didn't sit around and watch people suffer.
He didn't know what the hell he was feeling, what he was
thinking, except that he needed Grace to feel safe.
And he wanted to feel her against him, where he knew
he could keep her safe.
He gently pried her hands off her face, holding her
wrists. "You don't owe me an apology."
Her gaze leveled on his, green eyes bright and intense
and filled with so much emotion that it slammed into him. "I
owe you everything."
He didn't want that. He didn't want her gratitude. He
wanted everything but her gratitude right now…and if that
wasn't about to complicate the hell out of everything. All
the promises he made not to get involved… He let go of her
wrists and braced his hands on the car, on either side of her
head, taking a step closer, feeling the shiver of awareness
that ran through her.
Maybe he could convince himself that this was his civic
duty. Good Samaritan stuff and all that other crap that was
involved when a person lived in a small town like Red River.
He was more than willing to sacrifice himself and offer up
the best thing he could offer for easing any kind of pain.
He just wanted to make her feel better.
He leaned down and gently kissed the soft flesh beneath
her earlobe. She clutched his biceps and let out the sexiest
sound that had every single reason why he and Grace
couldn't happen flying out the window. He trailed kisses
along her wet skin until he reached her gorgeous, soft mouth.
Grace tasted like dessert, the sweetest he'd ever had.
Book Info:
Their marriage bargain is just what the doctor ordered…
Former surgeon and self-professed life-long bachelor Evan Manning has one thing on his mind—to reclaim the career that a car accident stole from him. But when he's forced to return to his hometown of Red River, Evan comes face-to-face with the gorgeous woman who's haunted his dreams for the last year—the woman he rescued from the burning car that injured his hand. Now Evan needs her help. In a month, he'll have the job opportunity of a lifetime…he just needs a wife to get it.
Artist Grace Matheson is down on her luck again…until she walks into Evan Manning's office. When her sexy former hero hears that she needs work, he offers her a job and a home—if she'll pretend she's his fiancée. Grace knows she shouldn't fall for him. Once the month is up, Evan will be back to his old life. But the more time they spend together, the more real their feelings become—and the more likely heartbreak is.
Book Links:
Meet the Author: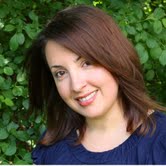 Victoria James always knew she wanted to be a writer and in grade five, she penned her first story, bound it (with staples) and a cardboard cover and did all the illustrations herself. Luckily, this book will never see the light of day again. In high school she fell in love with historical romance and then contemporary romance. After graduating University with an English Literature degree, Victoria married her own hero, pursued a degree in Interior Design and then opened her own business. After their first child, Victoria knew it was time to fulfill the dream of writing romantic fiction. Victoria is a hopeless romantic who is living her dream, penning happily-ever-afters for her characters in between managing kids and the family business. Writing on a laptop in the middle of the country in a rambling old Victorian house would be ideal, but she's quite content living in suburbia with her husband, their two young children, and very bad cat.
Website | Facebook | Twitter |