Today it is my pleasure to welcome romance author

Cat Devon

to HJ!


'Tis the season for a brand-new holiday novella from award-winning author Cat Devon!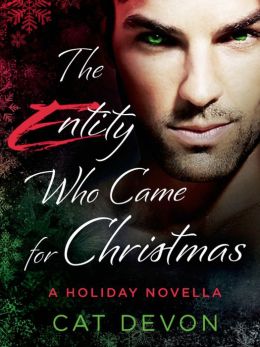 Pru Daniels should know better than to hook up with sexy Simon Howell. He's a vampire Demon Hunter and a former knight at King Arthur's roundtable. She's a witch, a descendant of Morgan Le Fay. Clearly things could get complicated.
When Simon shows up in Vamptown while Pru is visiting a friend and fellow witch, he claims to have come for the holidays to visit fellow vampire Demon Hunter Damon Thornheart. But things soon turn passionate as Pru and Simon join together to battle the forces of evil. The holidays won't be the only thing ruined if Simon and Pru can't work things out. Can this vampire Demon Hunter find his heart in time to save his love…and his immortality?
Cat Devon's Top Five Paranormal Movies
1) Somewhere in Time – The looks between Christopher Reeve and Jane Seymour are some of the most romantic ever. "Come back to me," she tells him at the beginning of the movie. Sigh.
2) Ghost – That scene with Demi Moore and Patrick Swayze with the pottery wheel, wow! Then you have the music of "Unchained Melody" playing in the background. Lots of sighs.
3) Practical Magic – Aiden Quinn is so sexy in this movie! Sandra Bullock is always heroine material and she does a great job here of a heroine who doesn't want the darkness that comes with her magical abilities.
4) Ghost Busters – I confess that I always crack up while watching this movie, especially during the scene on top of the roof at the end. I've never looked at marshmallows the same way since!
5) It's a Wonderful Life – do guardian angels count? If so I love this movie and Clarence the angel in training who hasn't gotten his wings yet. "Every time a bell rings, an angel gets their wings." I still cry at the end of this movie and numerous places in between!
I'd also like to add my two fave TV vampires –Alex O'Loughlin in Moonlight and Ian Somerhalder in The Vampire Diaries.
GIVEAWAY:

Print copy of Sleeping With The Entity

. Entity Series , #1
To enter Giveaway: Please complete the Rafflecopter form and post a comment to this Q:

Do you have a favorite Paranormal movie? Who is your favorite movie / TV Vampire? Why?