Today it is my pleasure to Welcome author
Tawna Fenske
to HJ!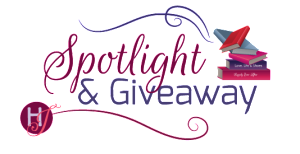 Hi Tawna Fenske and welcome to HJ! We're so excited to chat with you about your new release, The Fix Up!
Tell us about the book with this fun little challenge using the title of the book: 
I'm going to skip "The" in The Fix Up or we'll be here all day.☺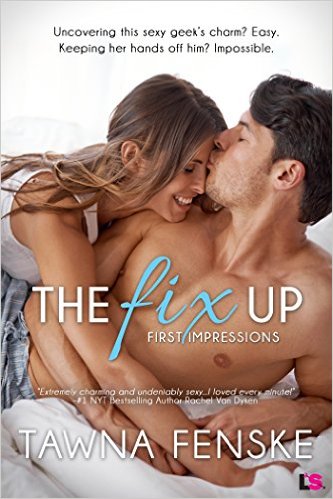 F is for funny. I write romantic comedy, so The Fix Up is funny. At least I hope it is. Otherwise, I might have to give up this job and become a pirate.
I is for issues. Ben and Holly (the hero and heroine in this story) both have issues. For Ben, it's the need to break out of his introverted, sexy geek role (and out of his father's shadow) to be a charismatic leader in the family company. For Holly, it's the need to learn that not all men are like her controlling ex who expected her to sacrifice her career and ambitions at the altar of matrimony.
X is for x-rated. There's some steamy stuff in this one. Maybe not x-rated, exactly, but this definitely isn't your grandma's romance novel (unless your grandma digs explicit 69 scenes. In that case, you go, Granny!)
U is for unique. I'll admit I don't write a lot of "traditional" romance novel characters, but Ben probably takes the prize as my least cliché romance novel hero. He's a nerd to the core, and seduces Holly with bad sci-fi movies, a thumb wrestling challenge, and a bunch of business jargon that ends up sounding way sexier than it ought to.
P is for public relations, which is Holly's career field. It may have been a lazy choice, since my day job has been in marketing & PR for the last 15+ years. I had fun mixing in some of my own career experiences to create Holly's world (and to figure out how she'd handle the unusual task of rebranding a person instead of a company or product).

Please share the opening lines of this book:
"As you can see, this is impressively sturdy."
The saleswoman smiled at Ben, then turned and presented her backside. Or the hand-carved headboard. Really, it was tough to tell what she was presenting as she leaned across the mattress in a short gray skirt.
Please share a few Fun facts about this book…
I've always had a thing for funny, whip-smart guys with a nerdy streak, so I was smitten with Ben Langley from page one.
Writing Ben's socially-awkward moments wasn't a challenge for me, since I've been known to be socially-awkward a time or two (or 2,976). Like the time I accidentally dropped gristle in a stranger's purse at a fancy luncheon, then got caught trying to fish it out. Or the time I walked into a board meeting with my crocheted penis keychain jutting out in a suggestive manner.
My heroine, Holly, was named after a dearly departed dog I owned several years ago.
Holly and Ben make several unique ice cream floats in the story, and naturally, I had to taste test all of them.
There's a scene where Ben and Holly talk dirty to each other using business jargon that sounds more suggestive than it ought to. I crowdsourced that scene by asking Facebook pals to offer up their dirtiest-sounding business terms, like "penetrative testing" or "massage the data." Everyone who suggested a term is mentioned in the acknowledgements of the book.
Was there a scene in this book that was harder to write than others?
With his genius-level IQ, Ben has the tendency to talk way over the heads of his audience members. There's a scene where Holly is coaching him on his public speaking skills, but she soon discovers the geek-speak coming out of Ben's mouth is actually kinda sexy.
Since I don't happen to have a PhD in engineering, it took some effort to research the kinds of things a guy like Ben might say. It was definitely some of the most interesting research I've ever done for a romance novel!
Here's an excerpt:

"I made some very exciting developments with minerals," Ben said. "No one's ever utilized this exact formulation of materials to create equipment used in the brewing process before, so it's extremely revolutionary. I melded the stainless steel with a unique mineral blend of fukalite—"
"I'm sorry, what?" Holly asked.
"Fukalite. It's a calcium carbonate silicate hydrate mineral."
"Fukalite." She stared at him. "Did you just make that up?"
He grinned. "Google it. F-U-K-A-L-I-T-E."
She looked at him for a few beats, then down at the laptop. Moving her fingers over the keyboard, she typed in the letters and waited. "I'll be damned."
"I told you."
Holly looked up to see him smirking, and she wondered if it was the thrill of being right, or the thrill of being able to say something so innocently filthy to her. Or filthily innocent. Was filthily even a word?
God, she was losing it.
What do you want people to take away from reading this book?
A few good belly laughs and a few pleasurable tingles in the swimsuit area.
Thanks for blogging at HJ!
Giveaway:

eBook: The Fix Up (First Impressions) by Tawna Fenske
To enter Giveaway: Please complete the Rafflecopter form and Post a comment to this Q:

Ben Langley, the sexy geek hero of The Fix Up can be a tad socially-awkward at times. What's the most socially-awkward thing you've done?
Book Info:
Uncovering this sexy geek's charm is easy. Keeping her hands off of him is impossible.
While he may look like the love child of a movie starlet and an NFL linebacker, Ben Langley has the people skills of a half-drowned porcupine. Why socialize when there are chemistry labs and bad sci-fi flicks? If he has any hope of taking the helm as CEO of the family business, Ben needs an image makeover. Pronto.
Enter Holly Colvin, owner of First Impressions public relations and branding firm, and the woman who just saved Ben from the clutches of an over-attentive sales clerk. Holly's rebranded hundreds of companies in her career, but she's never rebranded a person. The guy clearly needs help, though, and she's just the woman for the job.
With the clock ticking for them both, Holly and Ben face off over wardrobe malfunctions and business jargon that sounds a lot sexier than it should. But can Holly make Ben into the man he thinks he should be without losing the man she's starting to love?


Meet the Author: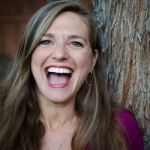 Tawna Fenske is a romantic comedy author who writes humorous fiction, risqué romance, and heartwarming love stories with a quirky twist. Her offbeat brand of romance has been praised by Booklist as "A tame Carl Hiaasen on cupid juice," and RT Book Reviews nominated her debut novel for contemporary romance of the year. Tawna is a fourth generation Oregonian who can peel a banana with her toes and who loses an average of 20 pairs of eyeglasses per year. She lives in Bend, Oregon with her husband, step kids, and a menagerie of ill-behaved pets.
Website: www.tawnafenske.com
Blog: http://tawnafenske.blogspot.com/
Newsletter: http://eepurl.com/bDe7in
Twitter: https://twitter.com/tawnafenske
Author Facebook Fanpage: https://www.facebook.com/TawnaFenskeBooks
Goodreads: http://www.goodreads.com/author/show/4633448.Tawna_Fenske
Amazon Author Page: http://amzn.to/1HTImax