Today, HJ is pleased to share with you Sara Humphreys' new release:

The Good, the Bad, and the Vampire!

Beloved author Sara Humphreys' acclaimed paranormal romance series continues with sweltering attraction between two vampires who have all the time in the world to satisfy their desires…

He wants eternity?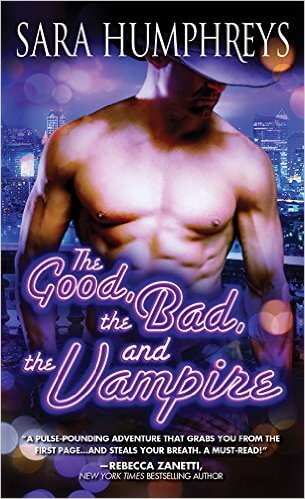 Dakota Shelton is a vampire cowboy with a penchant for cinnamon lollipops and Johnny Cash. Though highly skilled and deadly dangerous to his enemies, he's still a Texas good ol' boy at heart. And he has that heart set on wooing Trixie LaRoux-the most badass punk rock chick in town-the old-fashioned way.

Over her undead body…

Trixie is tough as nails and sharp as a silver stake-the last thing she wants is a man to sit on a porch and not grow old with. So it'll take going to hell and back fighting a new threat to vampires before she admits Dakota's courtship makes her blood hum. Turns out chivalry's not dead after all.


Enjoy an exclusive excerpt from The Good, the Bad, and the Vampire:



The subtle but distinctive sound of air rushing nearby made her freeze in place. She wasn't alone. Another vampire had landed in the vicinity. Why the hell would any other vamp come to Chelsea's house in the middle of the freaking woods? Fear, panic, and an overwhelming desire to protect the young woman swelled inside her. She would be damned if any vamps would mess with this particular human—let alone feed on her.

All of her senses went on high alert, and as the head- lights vanished in the distance, Trixie dropped soundlessly to the ground. Standing in a battle-ready position, her feet firmly planted on the needle-covered surface and her hands curled into fists at her side, she scanned the area for her unwelcome visitor. A gust of November wind whisked over her, rustling the fallen leaves on the ground. With it came the all-too-familiar scent of sandalwood, cinnamon, and leather.

A potent rush of arousal and anticipation fired through her, a feeling she had all but forgotten until a certain vampire cowboy came to the city two years ago and turned her world on its ear. She'd been turned on since becoming a vamp but not like this, not in such an uncontrolled way. Trixie had always been the one to seek out sex as a way to scratch an itch but this was different.

This time the itch was hunting her.

"I know you're here, Dakota," she said in a singsong voice. He might make her feel all kinds of out of sorts, but that didn't mean she had to let him know that.

Trixie stood taller. Shane had been training her to fight and she'd discovered she had a knack for it. In fact, she enjoyed practicing so much that she'd installed a kickboxing stand in her apartment and spent several afternoons beating the crap out of it.

Learning how to defend herself and her coven was empowering and cathartic.

Her fighting skills might come in handy now, especially if old blue eyes tried to get too friendly. Wound tight with a mixture of lust and anxiety and—she hated to admit it—a healthy amount of curiosity, she scanned the moonlit forest.

He was out there…watching.

"You know," she shouted, "for a sentry, you kind of suck at sneaking up on people! What's your deal, man? Did you come out here to take me up on my offer to kick your ass?"

An owl hooted in the distance and a fat raccoon waddled by quickly. Tension filled the air, and just when she thought she would scream with frustration, a tall broad-shouldered figure stepped out of the moonlit shadows of a neighboring tree. He slipped his hands in the pockets of his long leather sentry coat and leaned casually against the massive pine. Cocky as ever, he winked at her and acted like it was no big deal that he had been following her.

"Hello, darlin'," he drawled in that I'm-just-a-good- old-boy tone. "You only noticed me here because I let you. I kept my distance until the humans left."

"What are you doing out here?" Trixie demanded. She strode toward him, hands on her hips, but stopped about two feet away. Best to keep some space between them. Like it or not, he was now a part of her coven. Sort of. Flirting was one thing, but if he actually did make a move, rejecting him would make things super awkward between them. "Seriously. Why are you following me?"

"Curiosity got the better of me. You've been runnin' off every other Sunday night for the past couple months and not tellin' anybody where you're gettin' off to." He pushed himself off the tree and fished one of those damn lollipops out of his pocket before popping it in his mouth. "Not only that. Suzie said I should."

"Oh really?" Trixie folded her arms over her breasts and cocked her head. "I call bullshit on that, smart guy. Suzie barely speaks to me, her coven mate, let alone you, a newcomer."

"Well, she did speak to me and I ain't that new." A touch of irritation edged his voice and for a second he looked almost wounded. "In case you hadn't noticed, I've been here for two years." "Whatever," she said as casually as possible.

She had noticed. A lot.
Excerpt. ©Sara Humphreys. Posted by arrangement with the publisher. All rights reserved.
Giveaway:

Print copies of Dead in the City bundle: Tall, Dark, and Vampire + Vampire Trouble + Vampires Never Cry Wolf
To enter Giveaway: Please complete the Rafflecopter form and post a comment to this Q:

What did you think of the excerpt spotlighted here? Leave a comment with your thoughts on the book…
Meet the Author: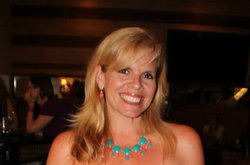 Sara Humphreys is the award-winning author of the Amoveo Legend series. The third book in the series, Untamed, won two PRISM awards: Dark Paranormal and Best of the Best. The first two novels from her Dead in the City series have been nominated for the National Readers Choice Award. Sara was also a professional actress. Some of her television credits include A&E Biography, Guiding Light, Another World, As the World Turns and Rescue Me. She loves writing hot heroes and heroines with moxie, but above all, Sara adores a satisfying happily-ever-after. She lives in New York with Mr. H., their four amazing sons, and two adorable pups. When she's not writing or hanging out with the men in her life, she can be found working out with Shaun T in her living room or chatting with readers on Facebook. For a full list of Sara's books and reading order, please visit www.sarahumphreys.com