Today it is my pleasure to Welcome author
Kate Noble
to HJ!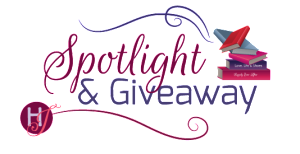 Following The Game and the Governess comes the second novel in the witty, sexy Winner Takes All series of Regency romances from Kate Noble, the writer behind the wildly popular, award-winning web series The Lizzie Bennet Diaries.
Please summarize the book for the readers here: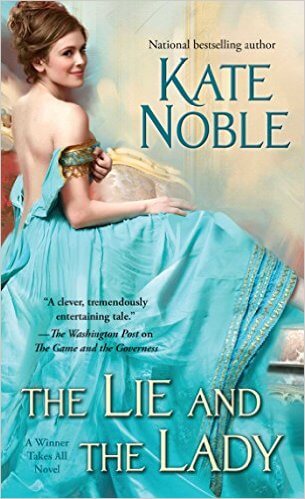 Lady Leticia Churzy has been running from scandal for the past six months. When the man who she thought was the Earl of Ashby kissed her on the dance floor at a public ball, she thought her future was secured. But then, to find out he was really just a secretary playing a role made her a laughingstock. She's been trying to put some distance between herself and the whispers. But just when she thinks she found security by becoming engaged to a nice, older gentleman, she discovers that he lives in the same small town as non other than Mr. John Turner, the man who's lie turned her life upside down.
John Turner meanwhile, has been trying to put Leticia behind him. Her rejection cut him deeply, and all he wants now is to get his business up and running. But its hard to concentrate on facts and figures when the figure of one Leticia Churzy turns up practically on his doorstep, and worse yet, engaged to someone else! How are these two going to keep their past in the past — especially when some things are too intoxicating to be denied?

Please share the opening lines of this book:
The Countess of Churzy had been in love three times.
First, when she was simply Letty Price, barely eight years old and blissfully unaware of the realities of life, she dearly loved her best friend, Joey Purser. They played together every day, until Joey's mother needed him to start working in the Price Timber Mill. And then, as the daughter of the owner, she wasn't allowed to play with Joey anymore.
Please share a few Fun facts about this book…
I spent an inordinate amount of time researching the mechanics of windmills for this book
Leticia Churzy is one of my favorite heroines — she fights for every inch she ever got.
John Turner is one of my favorite heroes — he's so exactly wrong for Leticia, but the only thing she can't stay away from.
What, in your mind, distinguishes this book from other books out there in the same genre?
This is a second chance story. My characters fell in love with each other — and broke each other's hearts — before this book even begins. They aren't dealing with the newfound sensations of love, they are having to face the one person they know tempts them like no other. Its honestly the sexiest book I've ever written, because they're no hemming and hawing about their feelings. They swing wildly between love and hate and back to love again, and it makes for quite a ride.

Please tell us a little about the characters in your book. As you wrote your protagonist was there anything about them that surprised you?
Leticia's honesty surprised me. She's very honest with herself, if not anyone else in her life. She knows that she's in a tough situation. she has to survive, and the way to survive is to marry someone — anyone — of stature. She's very practical about it, and she doesn't feel guilty about it, because she fully intends to honor the marriage. It's only her feelings for Turner than make her wish things could be slightly different.
And Turner — there's a strong and silent type if there ever was one! But that makes what he says (when he finally speaks) all the more important. He doesn't small talk.

The First kiss… 
My characters' first kiss actually occurs in my previous book, The Game and the Governess. It happens on a dance floor, in public, and But the first kiss they have in the Lie and the Lady… well, it nearly burns the building down, and has Leticia throwing away everything she's ever worked for.

Did any scene have you blushing, crying or laughing while writing it? And Why? 
Oh yes — If I'm not blushing, crying, laughing or saying "oooo" at a scene it's not working! But here's a little bit of one of my faves…
"I . . . I never said anything about love. I'm surviving."
"You are. But there is more to life than surviving."
Her eyes flicked to his lips. Her voice rasped. ". . . Like what?"
It was the only permission he needed.
If your book was optioned for a movie, what scene would you use for the audition of the main characters and why?
When John and Letty first see each other after months of being apart, they are… displeased to say the least. Sparks fly off of them, and it was the most fun to write, and would make me giddy to see.
"I must ask that you refrain from calling me Letty," she said, bearing herself upright while putting as much distance between them as possible. Which wasn't easy—he seemed to take up every bit of air in the room. "We are, after all, strangers."
A wry smile twisted his lips. "And I must ask that you refrain from calling us strangers. At least while we are alone."
"I have no intention of ever being alone with you again after this," Leticia replied. "Tell me, do you often force yourself into ladies' bedchambers? If so, I must put some locks on Margaret's doors."
"Now, now. You invited me. Both times."
"That was different," she replied quietly. "We were different
What do you want people to take away from reading this book?
If you could have given your characters one piece of advice before the opening pages of the book, what – would it be and why?
Save yourselves the trouble and just TELL THE TRUTH. (although, if they had done that from the beginning we wouldn't have had any fun in getting them to their happily ever after)
What are you currently working on? What other releases do you have planned for 2016?
In 2016, there will be the third book in the Winner Takes All series The Dare and the Doctor, as well as a Winner Takes All novella in the summer. It's going to be a lovely year!

Thanks for blogging at HJ!
Giveaway:

2 Print copies of The Lie and the Lady (Winner Takes All Book 2) by Kate Noble
To enter Giveaway: Please complete the Rafflecopter form and Post a comment to this Q:

I finally got to write one of my favorite tropes — a second chance at love — with The Lie and the Lady. Do you have a favorite trope? Enemies to Lovers? Road trip? Marriage of Convenience?
Book Info:
Clerk John Turner thought only of winning a bet when he switched places with his friend, Lord Edward Granville, at a country house party. But while posing as a lord, he fell for a lady—the Countess Letitia! Now she's learned the truth, and he must win her back as plain John Turner. He'd better hope that love truly conquers all…
Lady Letty was publicly humiliated when it came out that she had fallen for the man, not the master. When she meets him again, she's determined to avoid him, but some things are too intoxicating to be denied. Letty knows what choice she must make to survive, but if she turns her back on her dashing rogue—again—will she lose her chance at love forever?
Amazon: http://amzn.to/1JnuJeO
B&N: http://www.barnesandnoble.com/w/the-lie-and-the-lady-kate-noble/1121369218?ean=9781476749396
iBooks: https://itunes.apple.com/us/book/the-lie-and-the-lady/id974978870?mt=11
Indiebound: http://www.indiebound.org/book/9781476749396


Meet the Author: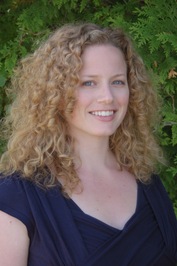 Kate Noble is the national bestselling, RITA-nominated author of historical romances, including the acclaimed Blue Raven series and the Winner Takes All series. Her books have earned her numerous accolades, including comparisons to Jane Austen, which just makes her giddy. In her other life as Kate Rorick, she is an Emmy-award winning writer of television and web series, having written for NBC, FOX, and TNT, as well as the international hit YouTube series The Lizzie Bennet Diaries. Kate lives in Los Angeles with her husband and son, and is hard at work on her next book. You can find Kate online at KateNoble.com.
Twitter: @noblerorick
Facebook: www.facebook.com/katenoblewriter
Tumblr: www.tumblr.com/noblerorick