Today it is my pleasure to Welcome author
Carolyn Brown
to HJ!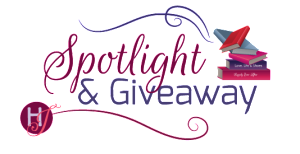 Hi Carolyn and welcome to HJ! We're so excited to chat with you about your new release, The Lilac Bouquet!

Good mornin' to Sara and all my readers! It's a delight to be back here today to talk about The Lilac Bouquet.

Please summarize the book for the readers here: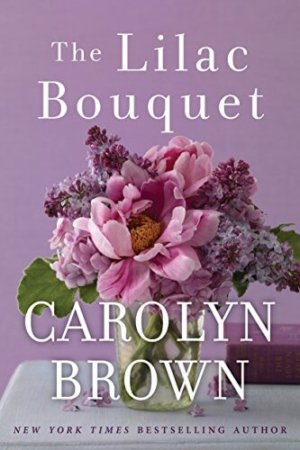 Emmy Jo Massey was determined to break the Massey curse. Her great grandmother, grandmother and mother all had a daughter out of wedlock and Emmy Jo was going to have the biggest wedding in Hickory, Texas so there would be no doubt that she was truly married. And Seth Thomas, the old recluse that lived in a mansion on a hill overlooking the town, was going to make that possible. His sister hired her to be a live in assistant to Seth who was well past eighty years old. He didn't like it one bit but she wasn't leaving because the money was going to pay for her big wedding.

Please share the opening lines of this book:
There were no secrets in Hickory, Texas—except for whatever was between Seth Thomas, Jesse Grady, and Tandy Massey. And since they were now in their early eighties, it might be that they'd take that secret to the grave with them. Usually Emmy Jo Massey's grandmother, Tandy, laughed off rumors, but that night she was doing a tap dance on her soapbox.
Please share a few Fun facts about this book…
I first wrote this book more than forty years ago. At that time Seth Thomas was a young man. Then I revised it when he was middle aged and a couple of times past that but it never worked until this time. I guess he just had to be an old guy before it all came together. Or maybe I was waiting on Emmy Jo to be born so that she could bring him out of his shell.
Please tell us a little about the characters in your book. As you wrote your protagonist was there anything about them that surprised you?
I knew Emmy Jo would be sassy but her tenaciousness surprised me. And I'd expected Seth to be so stubborn that they sent Missouri mules to him for lessons but he surprised me when he began to open up a little bit at a time.
If your book was optioned for a movie, what scene would you use for the audition of the main characters and why?
This is the scene from the first morning when Emmy Jo arrives at the house. It shows their beginning personalities–her determination to stay and his to make her leave.
"I hate red." His voice sounded like that actor Tandy swooned over every time she saw him—Sam Elliott, that was his name.
Emmy Jo looked down at her dark-red scrubs. "Well, I hate orange. Now that we've got that out of the way, you mind if I sit down?"
"You could just say April Fools and leave."
"I don't care if it's Christmas. Your sister hired me and I'm here to stay, so get used to it." Emmy Jo figured if she let him intimidate her in the first five minutes, she'd never earn his respect. "Again, may I sit or am I supposed to stand for eight hours?"
A flicker of amusement crossed his face. "Suit yourself, but don't expect me to entertain you. What's your name?"
"Emmy Jo Massey." She eased down into a chair beside him. "And happy birthday to you."
All the color drained from his face, turning it the same color as his hair and mustache. She thought for a minute he might faint dead away, but then he picked up one of the half dozen newspapers from the table separating them, shook it out, and started to read, hiding his face behind it.
She wasn't sure what to do, so she stared out over the panoramic view from the top of the hill down to where the little town of Hickory was laid out. Straight ahead, almost dead center in the view, the steeple of Logan's father's church rose up from the trees. Minty-green leaves had just begun to spread a hint of spring across Hickory. A bright-red cardinal hopped up on the patio wall and cocked his head at them. How could anyone not like red when God made something as beautiful as a cardinal?
She leaned forward slightly and squinted.
"What are you trying to see?" Seth asked.
"I can see the church steeple, but I was trying to visualize where the bank is located," she answered without taking her eyes from the scene before her.
Seth went back to reading his paper.
"Are you going to read all of those?" she asked.
"Yes. I'm finished with this one." He handed it to her. "You read it now."
"What if I don't want to read the Dallas Morning News?" She loved novels and her bridal magazines, but newspapers bored her to tears. All that stuff about murder and mayhem and those crazy advice columns would depress a saint.
"You have been hired as my assistant, so you do what I say. Your first job is to read this newspaper," he said.
"Will there be a test later?" she smarted off.
"No, but reading current events won't kill you," he shot right back in the same tone.
Nora had said to do whatever he wanted, whether it was listening to music with him or taking him for a drive in his car, so she took the newspaper and flipped back to the social pages.
When he finished the second one, he handed it to her and she laid it in her lap while she read the last bit of the advice column in the first paper. She was drawn to advice columns in magazines but always figured people had to be out of their minds to write such personal things to a public forum. It was like that old television show her granny watched when she was a kid. What was it called? A tall guy always had folks on his show that told about crazy problems in their lives. Jerry Springer, that was it! She smiled when she remembered.
Hey, wait a minute. She glanced over at Seth. Maybe if I got him and Granny and Jesse Grady all in the same spot at the same time, I'd figure out what started this thing between them. But that show went off television years ago. Maybe I should write a letter to an advice column, even an online one. Her eyes went back to the paper. Dear whoever, my granny and my fiancé's grandfather have not spoken in more than sixty years. How do we get them to come clean about the past?
If she could clear up the past, the present problems could be understood a little better. Like why Tandy was so against her getting married to Logan. And why his parents blamed her for him not following in his grandpa's and his daddy's footsteps and becoming a preacher.
What do you want people to take away from reading this book?
That life is to be lived, mistakes are to be forgiven and that it's never too late to start living instead of merely existing.
What are you currently working on? What other releases do you have planned for 2017?
I'm working on the final cowboy book in the Happy, Texas trilogy, The Luckiest Cowboy in Texas, which should be published in the first part of 2018. My schedule until then looks like this:
May 30, The Toughest Cowboy in Texas (the debut book in the Happy, Texas trilogy)
July 18, The Strawberry Hearts Diner
August 1, Lucky in Love (a reissue of my first cowboy book)
Sept. 26, Long, Tall Cowboy Christmas (the second Happy, Texas book)

Thanks for blogging at HJ!
Giveaway:

I will give away two copies of The Lilac Bouquet. Readers choice of Kindle or signed paperback copy.
To enter Giveaway: Please complete the Rafflecopter form and Post a comment to this Q:

What kind of wedding did you have? Was a big one important to you?
Excerpt from The Lilac Bouquet:
She brought up the rest of her things and pushed the heavy door the rest of the way open. Twice or maybe even three times the size of her bedroom in the trailer, the room had a queen-size four-poster bed, nightstands with crystal lamps, a six-drawer chest, and a ten-drawer dresser with a mirror above it. All of the drawers were empty except for two in the chest—one held extra sheets and the other a quilt. An overstuffed rocking chair sat in front of french doors that opened out onto a balcony that overlooked the patio. From there, she could see the church steeple even better as it rose up out of the trees. A door to her left led into a walk-in closet and one to the right into a private bathroom with a huge claw-foot tub and a mirror half the size of Texas hanging above a pretty vanity.
She plopped down into the rocking chair and blinked several times, but nothing changed. It could be a fancy vacation or a prison. It was up to her to decide whether the whole experience would be positive or not.
Her phone rang, and she smiled when she saw that it was Tandy. "Hey, Granny. Did you win last night?"
"A little," Tandy answered. "Have you proved your point? Are you ready to come on home?"
"No, ma'am. I'm sticking it out until the end. I've got a lovely room with a balcony."
"Bullshit! You're just telling me that so you will win this fight."
Emmy Jo chuckled. "Nope, Granny, it's the God's honest truth. Why don't you come on up here and see for yourself? Just tell Oma Lynn you are here to see me."
"Humph." Tandy snorted. "It ain't got that cold in hell. I don't reckon it will any time soon. I imagine you'll be home in a week at the most."
"Want to bet?" Emmy Jo asked.
"Wouldn't want to take your money. Got to go now. My program is on television."
"See you on Tuesday? That's my day off," Emmy Jo said.
"I might still be mad at you," she said tersely.
"And I might still be mad at you, but we can visit. I wanted to talk to you about borrowing your pearls for the wedding."
"Not if you marry that boy, you ain't. You're not wearing my pearls," Tandy said. "We'll talk before Tuesday and see if I'm over my spell enough to talk to you."
"Granny, you are talking to me now," Emmy Jo said.
"Yeah, but I can fix that," she said and hung up.
Emmy Jo shoved the phone back into her pocket. "I'll show you! Before this is all done, you'll be sorry you are being so stubborn. I'm not backing down."
She'd glanced at the clock and saw that it was past two thirty. Unpacking would have to wait. It was time to get the snack ready and then start supper. Thankful for something to do other than read papers or listen to music, she made her way down to the kitchen and fixed peanut butter sandwiches and apples. After she'd poured two glasses of milk, she put it all on the tray and started for the office. Seth was already pushing his walker down the length of the foyer and out onto the patio, so she turned and headed that way.
Hardwood floors so shiny that she could see the reflection of her red scrubs in them, rich paneling halfway up on the walls, and above that a soft winter-white paint without a scratch or smudge on it—everything to suggest warmth and love, and yet there was none of that in the big house.
When she was a little girl, she'd fantasized about living in a big house with a staircase and double doors opening out onto a patio. A prince would ride up on a pretty white horse and call out her name, and she'd ride away with him just like in the storybooks. But in real life, things didn't work that way at all. She wasn't the princess but an old man's assistant, and she was being very careful not to fall on the slick floors as she carried the tray outside. And Logan might be her prince, but he'd never be an actual prince, because they'd have to work hard for everything they ever got out of life. Besides he didn't even own a white horse.
"Did you have a good nap?" she asked as she backed out the door and held it for him.
"I did until I woke up and found you still here," he grouched.
"You can bitch and moan every waking hour, but that won't change. What do you usually do after your nap?" It wasn't disrespectful—not when he started it.
"I have my snack and read until supper time."
"What do you read?" She put the tray on the table between his lounge and her chair and dreaded reading through more newspapers.
He narrowed his eyes at her. "If I say you have to read Moby Dick to me each evening, will that scare you off?"
"If you can stand to listen to that boring crap, I will read every single word of it to you," she answered. "I'll even read all those whale details twice."
Seth picked up his sandwich and bit into it. "I hate to be read to. It makes me sleepy. Did you move your car to the garage and get your stuff to your room?"
"I did." She said a silent prayer of thankfulness that he'd turned down her offer. She hated to read out loud.
"Did Oma Lynn show you where the elevator is?" he asked.
"She did not!" Emmy Jo gasped.
Seth smiled for the first time. "Well, bully for her."
"Paybacks are a bitch, Mr. Thomas," she said.
"Tell that to my sister. Her birthday is the month after mine, which means I've got a whole month to figure out what I'm going to do to get her back for this stunt. And if you are going to stay here, you can call me Seth."
Excerpt. © Reprinted by permission. All rights reserved.

Book Info:
Come hell or high water, Emmy Jo Massey will have a wedding. After three generations of Massey women with children out of wedlock, she wants the whole town of Hickory, Texas, to witness the legitimacy of her union with Logan Grady. But dream weddings aren't cheap. So she accepts a highly lucrative stint as a home health assistant to retired realtor, and town recluse, Seth Thomas—a decision her great-grandmother Tandy is dead-set against.
Seth isn't happy about it, either. The eighty-two-year-old doesn't want a "babysitter"—much less a Massey—something he makes clear when Emmy arrives at his house, an empty mansion built for the woman who broke his heart. But as Emmy stays and the two eventually open up to each other, she learns the reason behind a feud between Seth, Tandy, and Logan's grandfather Jesse Grady that goes back six decades. She also uncovers a secret that forever changes how she sees her past and her future…
Book Links:

Meet the Author: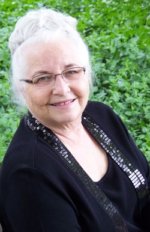 With almost 3 million copies of her books sold, Carolyn Brown is a New York Times, USA Today and Wall Street Journal bestselling author and a RITA finalist. She's won the National Reader's Choice Award three times, the Bookseller's Best Award and was awarded the prestigious Montlake Diamond Award for selling over a million books. Her books include romantic women's fiction, historical, contemporary, cowboys and country music mass market paperbacks. She and her husband, Charles, a retired English teacher, live in Davis, Oklahoma that only has one traffic light. They have three grown children and enough grandchildren to keep them young. When she's not writing she likes to sit in her back yard with her two tom cats, Chester Fat Boy and Boots Randolph Terminator Outlaw and watch them protect the yard from all kinds of wicked varmints like crickets, locusts and spiders.
Website | Facebook  | GoodReads |