Today it is my pleasure to Welcome New York Times bestselling author
Katee Robert
to HJ!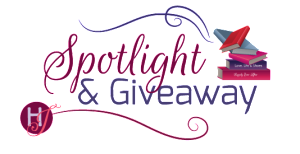 Hi Katee and welcome to HJ! We're so excited to chat with you about your new release, The Marriage Contract!

Hi! I'm so excited to be here today!

Please summarize the book a la Twitter style for the readers here: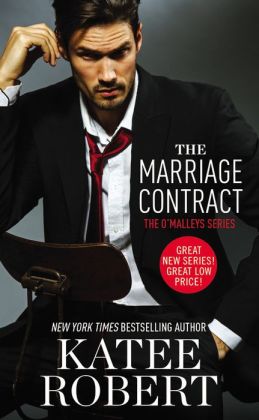 When the heir to one of Boston's mob families is pushed into marriage with an enemy, the last thing she expects is to fall for him…

Please share the opening lines of this book:
Callista Sheridan pulled at the hem of her dress, wishing she'd chosen something else for this ill-advised trip. But there was no help for it. She wanted to get a peek at the kind of man this fiancé of hers was, and he'd been remarkably adapt at avoiding her attempts to meet so they could get each other's measure. After two weeks of his dodging her calls and his father digging in his heels, she was forced to take matters into her own hands.

The only time Brendan Halloran left that compound he called home was to come to Tit for Tat, which was why she was here in this seedy neighborhood, in a building that was most definitely not up to code.
Please share a few Fun facts about this book…
This book wasn't planned at all. I was listening to Delta Rae's song Chasing Twisters and suddenly was hit with a plot bunny. I pictured this woman who was forced to kill her fiancé in self defense…and the beginning of The Marriage Contract was born.
I know, as an author, you're not supposed to pick favorite characters, but Teague O'Malley might be my favorite hero I've written to date.
The playlist I created while writing this book is probably the most eclectic I've done to date. It has everything from Lana Del Rey to a scattering of Irish punk bands to Dolly Parton's Jolene to Miley Cyrus and Trey Songz. So a little bit of everything!
The cover actually reflects the hero PERFECTLY. In my head, Teague is a Theo James lookalike, and the cover model is remarkably close to that! I love it so much.
I haven't been so nervous about a book release since my first one. This book is a total passion project for me so I'm really hoping people enjoy reading it as much as I enjoyed writing it.
What first attracts your Hero to the Heroine and vice versa?
Teague is instantly drawn to Callie because he sees a hint of vulnerability beneath her strength, and it intrigues him. She's a force of nature in her own right, so seeing her barriers temporarily down made him want to know more about her.
For Callie, it's that Teague isn't what she expects. He's a good man surviving in a bad world, and even though she doesn't fully trust him, his loyalty to his family and the people he cares about draws her to him.

Using just 5 words, how would you describe Hero and Heroine's love affair?
HOT, complicated, intense, sexy, comforting

The First Kiss…
She kissed him, her heels giving her enough height that she barely had to go up on her toes. Her lips brushed his, and for one interminable second she was sure neither of them took a breath.
Then his arms were around her, and he took the last step to bring their chests flush together and her back against the wall. Even knowing she should be panicking at being pinned, she slipped her arms around his neck and traced the seam of his lips with her tongue.

That was all it took.

He let go of her throat to cup the back of her head, and then she was in the middle of the single most devastating kiss of her life. His tongue stroked hers, claiming her mouth—her body—as his own. His hands stayed in place even as he continued the assault on her mouth, his touch headier than the nicotine. She arched against him, tilting her head to allow him better access, and he growled in approval.

Whatever she'd expected from this kiss, it certainly hadn't been desire. Though desire was too tame a word. She'd felt desire before, and this wasn't it. This was…need. All-consuming need that devoured everything in its path, leaving only destruction in its wake.
Without revealing too much, what is your favorite scene in the book?
It's actually the first time Teague and Callie come face to face. She ducks outside to get her head on straight, and they share a cigarette, which is right around the time Teague notices the bruises on her throat…
"Now, I may not be the smartest man in the world, Callista, but I know what the imprint of a man's hands on a woman's neck looks like." His thumb moved, tracing the line of Brendan's fingers that she could still feel digging into her skin. Teague's touch didn't hurt, though. It felt…almost good.

She swallowed, the move pressing her throat more firmly against his thumb. "I—"

"Don't lie to me."

She shivered under that unrelenting gaze, and licked her lips, all too aware of how he tracked the movement. "It won't happen again."

"You're right. Because I'm going to kill the bastard." He kept stroking her skin, his touch doing strange things to parts of her body that weren't anywhere near her neck. "Tell me his name."

She wouldn't, even if the man who'd hurt her wasn't already dead. Even in their messed-up world, murder was a last resort—something to be avoided at all costs—not something you did for a woman you barely knew. "No."

"Your father hasn't been keeping what's his safe." Another stroke, this one closer to her jawline. "That's his mistake—one I won't be making as well. His name, Callista."
If your book was optioned for a movie, what scene would be absolutely crucial to include?
It would be the first scene, where Callie goes seeking out her fiancé, Brendan Halloran. It's how that plays out that sets the entire book (and series) into motion, so it's vital that it be included.
She wrinkled her nose as she moved down the hallway of private rooms. It might claim to be nothing more than a strip club and bar—albeit a trashy one—but there was no mistaking the sounds coming from behind those doors. Dread wormed through her, climbing higher with each step. It had been child's play slipping past the men Brendan had posted at the bottom of each stairway—they were looking for threats, not just another stripper. Wearing much more makeup than normal and a bright red wig, that was exactly what Callie looked like.

She stopped before the last door, her heart in her throat. This is where the girls had said Brendan would be. It wasn't too late to back out. No matter what kind of man he was, no matter how against the marriage she'd originally been, the truth was that the Sheridans needed the Halloran alliance—and that alliance came at the price of her marriage to the Halloran heir. She knew Brendan's father, Victor, by reputation, and it wasn't one she wanted to be associated with, let alone link her family's future to, but desperate times called for desperate measures.

And surely the sins of the father weren't shared by the son?
Readers should read this book …
If they like their romance a bit on the dark and sexy side.
What are you currently working on? What other releases do you have planned for 2015?
I'm currently wrapping up the third book in The O'Malley series, before I take some time off to bring the newest edition of our family into the world. For me, 2015 will round out with the third Out of Uniform book, His Love to Protect, in September, and the final novella in the same series, His to Take, in December. December will also see the paperback release of The Marriage Contract.
Thanks for blogging at HJ!
Giveaway:

A $15 gift certificate to either B&N or Amazon.
To enter Giveaway: Please complete the Rafflecopter form and Post a comment to this Q:

How do you feel about romantic suspense books that feature mob families?
Excerpt from The Marriage Contract:
He cursed. "Angel—"

Emboldened by the need in his voice, she tangled her fingers in his hair and rolled her hips again, unable to keep in her breathy moan at the feeling of him. She was close to coming and they'd barely done anything. It would be pathetic if it weren't so hot. "Teague, please." She wasn't even sure what she was begging for, but only he could give it to her.

He lifted his head and looked around, his gaze narrowing when he took in the running car that was farther down the aisle. She didn't have to glance over to know it was someone's protection—though whether it was hers or his was up for debate. His dark eyes pinned her in place. "In the SUV?"

She was already nodding. It was like the last of his control broke in that moment. He lifted her into the back and guided her into the captain's seat on the far side. Then he followed her in and shut the door. It had been dim in the parking garage, but it was nothing compared to inside the Escalade with its darkly tinted windows. She had half a second to wonder if she'd just made a mistake, but then Teague was kneeling in the space between the seats, his big body between her thighs.

The position hiked up her dress as he moved closer, until it was around her hips. He ran his hands up her bare legs, making a deep sound of appreciation. "You are so goddamn beautiful." And then his mouth was on hers, kissing her like his next breath could be found in her lungs. She wrapped her legs around his waist, moaning. His hands continued their upward movement, cupping her ass and lifting her so he could thrust against her. He kissed his way over to the sensitive spot behind her ear. "I could finish you like this, but I'm dying to taste you."

Taste her.

There was no mistaking his meaning, not when his fingers were playing with the edges of her panties. She held her breath several heartbeats, trying to focus. She wanted this man like she'd never wanted another in longer than she cared to remember, but that didn't mean she wanted to have sex with him after a first date in the back of her family's SUV while their protection duty sat less than twenty feet away.

He must have felt her tense, because he moved so he could meet her gaze. The heat there stole her breath. He smoothed his thumb across her temple and down over her cheekbone. "Let me take care of you, angel. Just that. Nothing else." She started to speak, but he beat her there. "When I finally sink between your thighs—and at this point it's a matter of when and not if—it's going to be in a bed with a locked door between us and the rest of the world."
Excerpts. © Reprinted by permission. All rights reserved.

Book Info:
Teague O'Malley hates pretty much everything associated with his family's name. And when his father orders him to marry Callista Sheridan to create a "business" alliance, Teague's ready to tell his dad exactly where he can stuff his millions. But then Teague actually meets his new fiancée, sees the bruises on her neck and the fight still left in her big blue eyes, and he decides he will do everything in his power to protect her.
Everyone knows the O'Malleys have a dangerous reputation. But Callie wasn't aware of just what that meant until she saw Teague, the embodiment of lethal grace and coiled power. His slightest touch sizzles through her. The closer they get, though, the more trouble they're in. Because Callie's keeping a dark secret—and what Teague doesn't know could get him killed.
Book Links:

Meet the Author: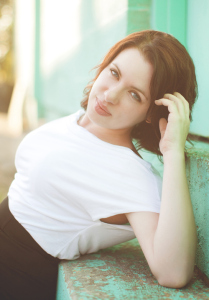 New York Times and USA TODAY bestselling author Katee Robert learned to tell her stories at her grandpa's knee. She found romance novels at age twelve and they changed her life. When not writing sexy contemporary and speculative fiction romance, she spends her time playing imaginary games with her children, driving her husband batty with what-if questions, and planning for the inevitable zombie apocalypse.
Website | Facebook | Twitter |