Today it is my pleasure to Welcome author
Gwendolyn Womack
to HJ!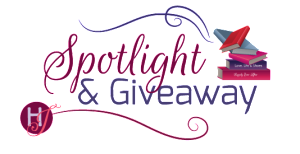 Hi Gwendolyn and welcome to HJ! We're so excited to chat with you about your new release, The Memory Painter

!


Hi, Thanks for having me!

Please summarize the book for the readers here: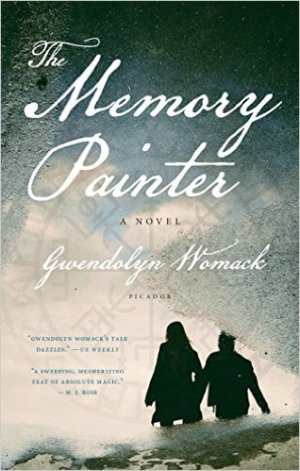 The Memory Painter is a love story and a thriller that travels through time. The story revolves around a painter, Bryan Pierce, who has the ability to remember other people's lifetimes in the past. He paints the memories and hides from the world, but his paintings have become famous. At his art opening Linz Jacobs sees a painting of Bryan's that is the exact replica of a nightmare she's had her whole life. When she seeks Bryan out to ask him how he could have painted her dream, their meeting triggers a new set of memories for Bryan—the lifetime of a scientist who was on the brink of curing Alzheimer's with his team in 1980 when they died in a lab explosion. Bryan must unravel the mystery of what happened, and the answers will lead him deep into antiquity.

Please share the opening lines of this book:
The paintings hung in the dark like ghosts. Too many to count—not an inch of wall space remained. The canvas eyes looked alive in the darkness, staring at their surroundings as if wondering what alchemy had transported them to this place.
Please share a few Random facts about this book…
Most of the lifetimes in the book are based on real people and I tried to stay true to historical details. I have a selected bibliography on my website under "About the Book." I also have a playlist there too. As far as music goes, I like to pick one song and loop it while I write.
I painted a lot in college which probably did help inspire making Bryan a painter. The image of Bryan painting late at night while speaking ancient Greek came to me quite vividly and was the first scene I ever wrote.
My publisher, Picador, created an online quiz for the book: How Old is Your Soul?
https://www.playbuzz.com/picador10/how-old-is-your-soul
Please tell us a little about the characters in your book. As you wrote your protagonist was there anything about them that surprised you?
Bryan is a memory painter. He's a hermit and paints as a coping mechanism to stay sane because he has so many lifetimes in his mind. Linz is a driven neurogeneticist who is trying to unravel the mystery how the mind makes memories. They have lived and loved life after life and are meeting again in this lifetime for the first time. Bryan can remember their shared past but Linz cannot, so the yearning and poignancy within him runs deep.
What, in your mind, distinguishes this book from other books out there in the same genre?
The Memory Painter doesn't really adhere to one genre. It's been called a genre smash-up and a genre stew to name a few. The story is a romance, thriller, historical, mystery, and sci-fi all rolled into one.

The First kiss…
The first kiss happens on page 55. It's a kiss full of memories and lust and takes place in a sand garden.

Did any scene have you crying or laughing (or blushing) while writing it?
There's one scene that always made me tear up and that was the Viking lifetime with Bjarni Herjólfsson and his son Anssonno…
I'll skip including a snippet. I don't want to give away what happens.

If your book was optioned for a movie, what scene would you use for the audition of the main characters?
I would use the scene where Bryan and Linz are at her apartment the first time.
Snippet:
Bryan could hear the stress in her voice. She was regretting this meeting. He looked around the room again and took it all in. Her home was like a fascinating kaleidoscope offering a glimpse of her inner self. And yet it also felt… lonely. She never has anyone here, he thought. And yet, she wanted him to come. A rush of emotions filled him. He picked up one puzzle piece from the hundreds spread out on the table and placed it in the correct spot.
Linz gave him a perplexed look. "How did you do that?"
"Do what"
"Know where the piece fit. You hardly looked at it.
He put his hands in his pockets again. "I looked at it."
"You have a photographic memory." She said it like an accusation.
If you could have given your characters one piece of advice before the opening pages of the book, what would it be and why?
There are no coincidences in life. Trust what is happening.

What are you currently working on? What other releases do you have planned for 2016?
The paperback for The Memory Painter just came out this month on July 5th. I'm currently working on my next novel, which is coming sometime in 2017. I'll be announcing it soon on my website and social media. The novel is also a romantic thriller that travels a lot of history, but in an entirely different way. The story explores the far-reaching power of intuition through time.

Thanks for blogging at HJ!
Giveaway:

I'll be giving away a signed paperback copy of The Memory Painter along with a vegvisir decal. Open Internationally.
To enter Giveaway: Please complete the Rafflecopter form and Post a comment to this Q:

Do you believe in reincarnation? Have you ever been somewhere for the first time but felt you have been there before?
Excerpt from The Memory Painter:
Here is an Chapter 2 excerpt from The Memory Painter when Linz first meets Bryan:
"The amount of stone in the Great Pyramid could build thirty
Empire State Buildings, or a three-foot-high wall across the entire
country and back."
Linz gazed up at the projections, wearing her headset, astounded
by the facts the prerecorded guide was ticking off .
"The stones were cut with a tolerance matched only by our best
opticians today. Every stone is the same. Expert stonemasons think
ancient Egyptians must have used tools with a precision five hundred
times greater than a modern drill. The exactitude they achieved
is astonishing."
But how is that possible? Linz asked herself, growing more perplexed
by the minute. The self-guided tour seemed to pose more questions than answers.
"Ancient Egyptians were purportedly unaware of the Earth's
shape or size, and yet the Great Pyramid stands exactly one-third
of the way between the equator and the North Pole. Its height and
perimeter are in perfect ratio to the circumference of the Earth
and radius of the poles. Its axis aligns to true North–South—even
more accurate than the Greenwich Observatory in London. It is
the largest and most precise structure ever built in the entire history
of our civilization, and even today we cannot re-create it."
Growing restless, Linz took off her headset, abandoning the tour.
The truth was she hadn't come to the museum to see this exhibit,
but for a far more personal reason. Linz had only been a baby when
her mother had passed away, and almost thirty years later she still
felt drawn to this place that her mother had loved so much.
Linz had spent the last two hours roaming every gallery, but by
the end of the morning she still felt melancholy. Maybe I'll go play
chess at the park, she thought. It had been several months since she
had moved back to Boston and she had not yet made the time to
return to her old haunt at Harvard Square.
Heading toward the exhibit entrance to return her headset, she
stopped to look at an exquisite Egyptian armband, meant not for a
woman but for a warrior. A little smile flickered across her face. It
looked just like the tattoo hidden under her sweater.
Just then another person touring the space came to stand beside
her—not too close, but close enough to make her look up. He was
the most arresting man she had ever seen with eyes an electrifying
blue. They both stared at each other for a suspended moment. Then
he walked on.
Linz stood rooted to the ground, watching him leave. She wanted
to pull him back and replay the moment all over again.
As if he could read her thoughts, the man turned and stared at
her once more before disappearing into the next room. Linz hovered,
unsure of what to do. She felt a strange compulsion to follow
him, to reenter the galleries and pretend that she had not just
wandered through the whole thing. But it wasn't like she could
just strike up a conversation about Nefertiti and ask for his number.
She had never hit on anyone in her life, and she wasn't about
to start at the MFA. With a sense of reluctance, she dropped off the
headset.
When she exited the museum, the world outside felt different
somehow. Playing chess at the Square didn't seem as appealing as it
had five minutes ago, but she figured she would go anyway. Maybe
focusing on a game would help still the strange flutter of her heart.
As she left, she couldn't quite brush off the brief encounter with
the man inside or the odd feeling that she was making a mistake
by walking away.
Excerpts. © Reprinted by permission. All rights reserved.

Book Info:
*Winner of 2016 Prism Award for Best Time Travel/ Steampunk
Bryan Pierce is an internationally famous artist, whose paintings have dazzled the world. But there's a secret to Bryan's success: Every canvas is inspired by an unusually vivid dream. Bryan believes these dreams are really recollections―possibly even flashback from another life―and he has always hoped that his art will lead him to an answer. And when he meets Linz Jacobs, a neurogenticist who recognizes a recurring childhood nightmare in one Bryan's paintings, he is convinced she holds the key.
Their meeting triggers Bryan's most powerful dream yet―visions of a team of scientists who, on the verge of discovering a cure for Alzheimer's, died in a lab explosion decades ago. As his visions intensify, Bryan and Linz start to discern a pattern. But a deadly enemy watches their every move, and he will stop at nothing to ensure that the past stays buried.
A thriller, a romance, a 10,000-year adventure…The Memory Painter is "the guy-meets-girl story as you've never heard it before" (Refinery29).
"Gwendolyn Womack's tale dazzles." ―US Weekly (Standout Spring Novels)
Meet the Author: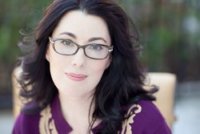 Originally from Houston, Texas, Gwendolyn Womack began writing theater plays in college at the University of Alaska, Fairbanks. She went on to receive an MFA from California Institute of the Arts in Directing Theatre, Video & Cinema. Currently she resides in Los Angeles with her family and is working on her next novel. The Memory Painter is her first novel.
Website | Facebook | Twitter |