Today it is my pleasure to Welcome author
Rachel Harris
to HJ!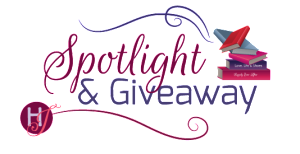 Hi Rachel and welcome to HJ! We're so excited to chat with you about your new release, The Nanny Arrangement!
Tell us about the book with this fun little challenge using the title of the book: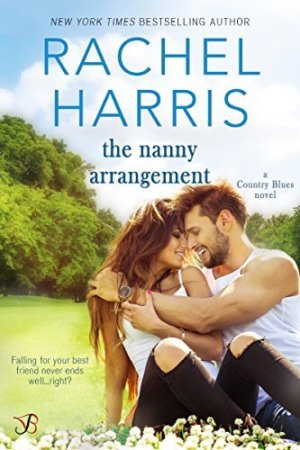 T is for: The cover! I'm so in love with this cover, y'all, and fun fact: this photo was my inspiration for my hero pretty much from day one!
H is for: Hannah's silly songs. Unlike any other heroine, this one is probably the most like me…including my weird habit of making up silly, random songs 😉
E is for: Entertainer. Deacon is a fiddle player for a world famous country band who entertains the masses while on their current tour.
N is for: Nanny…an obvious choice, yes, but without adorable little ones to care for, Hannah would've never had the opportunity to try to seduce her BFF!
A is for: Ally, aka best bud, confidant, and kindred spirit. From the day they met, Hannah had been this for Deacon, which is why his new feelings are so inconvenient!
N is for: Nicknames. As long time best friends, Deacon and Hannah have history which includes inside jokes and sweet nicknames for each other. I love the banter between these two!
N is for: North Carolina, where our couple grew up.
Y is for: Yummy muffins…I got hungry writing a few of Hannah's kitchen scenes!
A is for: Amy Adams, who I pictured as Hannah while drafting.
R is for: Red hair…once a source of insecurity, Hannah's gorgeous red hair is one of her best features.
R is for: red lingerie…and it's unique connection with Jake and the Neverland Pirates!
A is for: Always Choosing Joy. Hannah was bullied as a kid but she never let that define her.
N is for: New, strange feelings for long time best friends.
G is for: Great Girlfriends! By joining Blue's tour, Hannah also gets to meet the women behind the men, and she forms incredible friendships. The trio's shenanigans were some of my favorite scenes to write 😉
E is for: Embracing your inner-flirt. Or, Hannah trying to do so with hilarious results!
M is for: Makeover Missions like the one Hannah undergoes to win Deacon's heart
E is for: Every basketball statistic Deacon recites to distract himself from Hannah's curves
N is for: Next Time, one of Blue's number one hits.
T is for: Tour Buses…and the fun situations extreme close quarters can create!

Please share the opening lines of this book:
This is from the Prologue!

The new kid was outside again.
Shifting her weight, Hannah scratched an itch behind her knee. Despite the stifling August heat, the boy had been at it for more than an hour, shooting hoops in his driveway and now sitting on the front porch, dribbling a faded blue basketball between his open feet.
Please share a few Fun facts about this book…
Every book I write has "the scene," the one I can't wait to write. Sometimes they're romantic, sometimes they're funny, sometimes they are borrowed from real life. This book's scene (which I won't spoil here) is a hilarious ending to a pivotal scene taken straight from my own life. Let's just say liquor may be involved.
Although I originally had Chase Rice in mind for my hero, I stumbled upon a stock photo within the first two weeks of writing and immediately knew I'd found my Deacon. Luckily, my publisher loved it just as much and used it for the cover!
Hannah makes up lots of silly songs to pass the time, another trait ripped straight from my own life. Along with my famous song about muffins, my girls often request my smash-hit about a Chic-fil-a chicken sandwich entitled: 'No Pickle on My Sandwich.' (Hey, we home school and our days get a little crazy, okay?)
This book went through several revisions in the plotting stage, as there was so many ways I could tell this story! Normally, I always know the exact story I want to tell, but this one had so many interesting possibilities. My favorite unexplained story idea, though, is Deacon and Hannah's teen years—I so want to write that story in the future!! *swoon*
This book is super special to me because I was able to catch up with two previous couples, Sherry and Tyler from Accidentally Married on Purpose, and Arabella and Charlie from You're Still the One. Fans of those books will particularly enjoy reading this story for a few key reasons…but I won't ruin the surprise!
Was there a scene in this book that was harder to write than others?
I'd say the most challenging aspect of the entire book for me was the slow reveal of Deacon's feelings for Hannah. Here was his best friend that he'd always viewed as exactly that and suddenly he couldn't stop noticing all these things he never had before. His confusion, denial, and frustration built until a pivotal scene where Hannah stepped up her seduction efforts (thanks to a little liquid courage). Finding the right balance between sexy, humor, and that constant concern about ruining their friendship was tough, but I'm really happy with the result.
Here's a quick snippet from that scene:
With each slow slide of Hannah's hips, Deacon's mind raced. She was drunk, or at the very least, severely buzzed, which meant she couldn't be held responsible for her actions. It was on him, as the sober person at the table, to keep their friendship intact.
Grabbing hold of the bench cushion, he inhaled deeply through his nose, needing a dose of clarity. What he got instead was peach and freesia. Hannah erased the scant inch left between them, scooting until her thigh fit tightly against his, and a jolt of energy passed through his body.
As Deacon closed his eyes, he imagined two mystical creatures perched on either shoulder. One good, one bad, fighting it out for the upper hand. He hoped the good one proved stronger than him.
"Deke," Hannah whispered, and the warmth of her breath hit his neck, giving him chills. The devil on his left cackled with glee. "I want to know what it's like."
Swallowing hard, he shook his head. He shouldn't ask. He. Should not. Ask.
"What what's like?" he asked.
A breathy moan hit his ear next, and the sound shook the hackles of his restraint. "What it's like to feel your scruff on my…" When her voice trailed off, Deacon's eyes flew open at the possibilities. She inhaled audibly and finally whispered, "My everywhere."
"Holy hell."
Deacon searched his mind for a basketball player, any basketball player, and came up empty. The angel on his shoulder had nothing, either. A lot of help you are.
Excerpt. © Reprinted by permission. All rights reserved.

What do you want people to take away from reading this book?
Of course, this is a romance, and it has one of my favorite tropes of friends to lovers, along with adorable kids, so I'd love readers to walk away with a smile on their face and an overwhelming confirmation in the power of true love. But, beyond the surface, this book (like all my others) also shines a light on deeper issues, too. For The Nanny Arrangement, I wanted to explore the idea of being bullied in this new world of technology and constant scrutiny, but still choosing joy. Hannah has her struggles, like everyone else, but she had a solid core and an incredible support system. She didn't let her weaknesses define her. I admire the hell out of that.

Thanks for blogging at HJ!
Giveaway:

An Ebook copy of You're Still the One by Rachel Harris
To enter Giveaway: Please complete the Rafflecopter form and Post a comment to this Q: I had fun throwing a few of my silly quirks as well as a particularly embarrassing moment from my past into this book, because I'm a huge believer in the idea that we should laugh at ourselves and embrace our weird.
If YOU were writing a book and had to include a few of your own quirks or memorable stories from your past, what would they be?
Book Info:
Soft-spoken and shy Hannah Fisher is determined to make the man she's loved her entire life finally see her as a woman. With the help of a makeover, a new mission—Operation Find My Happy—and the convenient forced proximity of a tour bus, she vows to win her best friend Deacon's heart.
Former bad boy and current fiddle player Deacon Latrell has the world at his fingertips: a new gig with a famous band, plus his best friend on tour as his son's nanny. Life couldn't get much sweeter. Now if only he could stop imagining kissing the daylights out of his childhood BFF…
With one friend set on pushing the boundaries and the other afraid to rock the boat, one thing's for certain—their story would make one heck of a country song.
Each book in the Country Blues series is a standalone story that can be enjoyed out of order.
Book Links:

Meet the Author: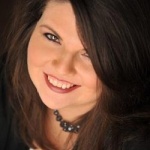 New York Times and USA Today bestselling author Rachel Harris writes humorous love stories about sassy girls-next-door and the hot guys that make them swoon. Vibrant settings, witty banter, and strong relationships are a staple in each of her books…and kissing. Lots of kissing.
An admitted bookaholic and homeschool mom, she gets through each day by laughing at herself, hugging her kids, and watching way too much Food Network with her husband. She writes young adult, new adult, and adult romances, and LOVES talking with readers!
Website | Facebook | Twitter |