Today, HJ is pleased to share with you Dorothy Garlock new release: 

The Nearness of You

Hooper's Crossing, New York, 1952. The post-war boom seems a million miles away . . . especially for a sheltered librarian who longs for the adventure and excitement of the big city.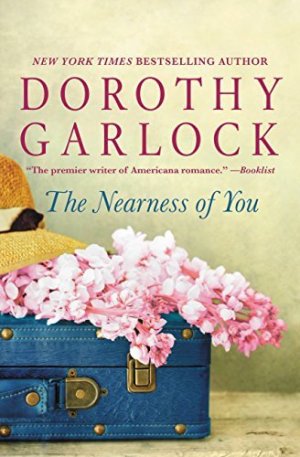 New York City. The hustle and bustle. The people and the excitement. It's all Lily Denton dreams about. But ever since her mother died, her overprotective father won't ease up on her. So she spends her days working at the library and her nights hoping life doesn't pass her by . . . until the Fall Festival. As tourists fill the streets, the crisp autumn air sneaks in-as does the thrill of a far more dangerous kind.

Some men have a gift for avoiding trouble. Professional photographer Boone Tatum isn't one of them. In fact, that penchant for trouble is exactly what landed Boone in this small town in the middle of nowhere in the first place. Yet the moment he meets beautiful Lily Denton and snaps her photograph, everything changes. Suddenly leaving is the furthest thing from Boone's mind-or his heart.

But danger has slipped silently into this sleepy town, marking Lily as its own. And Lily and Boone's dream of a life together is thrown into peril-unless Lily finds the courage to stand up for herself and a man she only just met . . . and can't live without.

Enjoy an exclusive excerpt from The Nearness of You 
Lily knew she should probably get back to the library before her boss Ethel went completely out of her mind. Excusing herself, she squeezed between some people, then stepped off the sidewalk and into the street. She'd figured the going would be easier there, but Lily had only managed a couple of steps before she was bumped hard on her side and her balance was thrown off so badly she feared she would fall. She reached out, searching for something to hold on to, but her hands came up empty.
Instead, for the second time in as many days, she slammed into someone and her purse was knocked to the ground.
"I'm so sorry," Lily said, too embarrassed to find out who she'd hit, already crouching to scoop up her belongings.
"It's fine," a deep voice answered. "Let me help you."
It was then, just as she was about to grab her lipstick and the last of the butterscotch candies, that Lily looked over. A man knelt beside her. His attention was on a run- away pen and some coins, but she could clearly see his profile.
He was the handsomest man Lily had ever laid eyes on.
With his short dark hair, a strong jaw, and narrow blue eyes, he reminded her of the men she was used to seeing up on the big screen, the Hollywood heroes who always saved the day just in the nick of time. Whiskers peppered his cheeks, adding a whiff of ruggedness. Even his clothes, a leather jacket and jeans, said that he was stylish and not from around here. Lily found herself staring, fearful he would notice but too entranced to look away.
"Here you go," he said, holding out the items he'd recaptured as his eyes rose to meet hers.
But then the strangest thing happened.
He stared back.
Lily saw a quick, almost imperceptible surprise cross his face. Just then, the two of them crouched beside each other in the street, it felt like a moment frozen in time. Neither of them moved or spoke, a powerful something between them. Strange as it was, Lily felt as if they were alone even as they were surrounded by hundreds of people. Her heart pounded and her body was tense with excited nerves, but she didn't look away. She couldn't.
"Do you have everything?" he finally asked as they both stood, breaking the spell that had held them both, though his eyes never left hers.
"Everything what?" she answered, feeling dazed.
A grin spread across his face. "The stuff that fell out of your purse."
Lily looked down. Between what she'd picked up, all that the stranger had handed her, and what was still in her bag, she thought she had it all. But then the man said, "Wait a second." He bent down and plucked a hair clip from the street. "This one was hoping to make a clean getaway."
When Lily took it from him, their fingers briefly touched, sending a shiver of electricity racing across her skin. "I'm sorry," she apologized. "I didn't see you. There were so many people that when I—"
"It's all right," the man interrupted. "It was an accident. Just don't go making a habit of it," he jokingly added.
But the fact was that Lily had. Just the day before, she'd run into that other stranger in front of the bank—or, more accurately, he had run into her. But while that man had un- settled her, his smile too slick, his wanting to spend time with her too insistent, this man made her feel the exact opposite.
"I'm Boone," he said, extending his hand.
"Lily," she answered, taking it.
"Don't take this the wrong way," he said with a grin, "but when we bumped into each other, I'm glad it was your purse that fell."
"Why is that?" she asked.
"Because I might have burst into tears if this thing had hit the pavement," Boone answered, holding up the fanciest camera Lily had ever seen; she was surprised to realize that she'd been so focused on Boone that she hadn't even noticed it.
"That looks expensive."
"It is, though I have one nicer," he explained. "I need it for my job." When she looked at him quizzically, he added, "I'm a photographer."
"For a newspaper?"
"Close," Boone said. "I take pictures for Life magazine."
Just like that, the puzzle pieces slid into place in Lily's head. "My dad!" she exclaimed, then hurriedly added, "You're supposed to interview him this afternoon. He's the mayor."
"That's right," Boone said. "Clive, my…colleague… will talk to him," he explained, though his grin wavered a bit when he mentioned the other man. "I'll be there to snap a picture or two."
"I can't believe Life is here in Hooper's Crossing," she gushed.
"Me either," Boone agreed as he ran a hand through his dark hair. "I can tell you one thing, this place is nothing like New York City."
"That's . . . that's where you're from . . . ?"
"Yep. Ever been there?"
She shook her head.
"Too bad. With everything it has to offer, I reckon a girl like you would fall in love with it faster than you could snap your fingers."
Lily suspected that he was right; after all, it was the place she had been dreaming about for so long. Her thoughts raced. She imagined Jane, likely already on her way to becoming a movie star or fashion model. And here Lily was, still in Hooper's Crossing, still living with her father, still working at the library, and still going nowhere.
What could she possibly have to talk about with a man like Boone, someone who lived in the midst of the city's hustle and bustle, who worked for Life magazine, and who had probably seen more of the world in the last week than Lily would see in her whole life?
Then, feeling plenty sorry for herself, she glanced up at Boone and found him looking at her expectantly. Instantly, Lily understood that he must have asked her a question, one she hadn't heard.
"I'm sorry," she again apologized. "What did you say?"
"That I want to take your picture."
Edited excerpt from THE NEARNESS OF YOU by Dorothy Garlock. Copyright © 2017 Dorothy Garlock. Reprinted with permission of Grand Central Publishing. All rights reserved.
Giveaway:

Print copy of THE NEARNESS OF YOU by Dorothy Garlock
To enter Giveaway: Please complete the Rafflecopter form and post a comment to this Q:

What did you think of the excerpt spotlighted here? Leave a comment with your thoughts on the book…
Meet the Author:
Dorothy Garlock is the author of more than 50 novels that have sold 15 million+ combined copies and are published in 15 languages. She lives in Iowa.