Today it is my pleasure to Welcome author
Eloisa James
to HJ!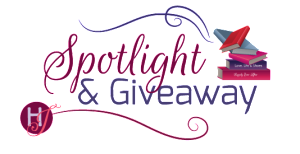 New York Times bestselling author Eloisa James delivers fascinating behind-the-scenes look in the Essex Sisters world, along with a brand-new short story in the series
Please summarize the book for the readers here: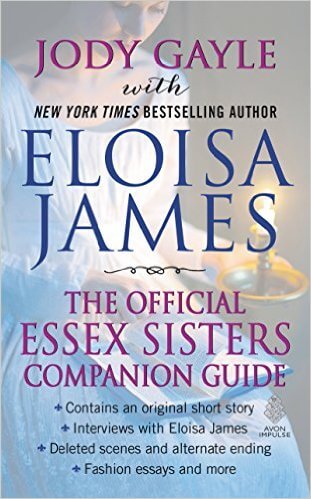 The Essex Sisters Companion is pure catnip for a romance reader: a 600-page ebook that includes an exclusive short story set in the Essex Sisters world, a fun, picture-filled essay about fashion in the period (and others about theater and newspapers), "extra" chapters, including one that takes place ten years after the last book, and much more. Perhaps most exciting for me is the 160 page alternate ending to Kiss Me, Annabel. It's so much fun to watch readers make up their own mind about which ending they prefer!

Please share the opening lines of this book:
When Jody first approached me with the idea for an Essex Sisters companion consisting of historical essays addressing various aspects of the novels, I imagined contributing a couple of pages. But once we began discussing possibilities that went beyond historical investigation, my contribution grew to include an original novella, extra material that had previously been published only on my website, and this narrative essay, which traces my initial idea for the quartet to an "extra" chapter set a decade after Pleasure for Pleasure, the final book in the series.
Please share a few Fun facts about this book…
My editor at the time found my original ending for Kiss Me, Annabel to be too dark. She asked me to go in a different direction, which I did. Readers are splitting down the middle: they either love the darker, more passionate first version, or prefer the lighter, sweeter published book. It's fun to make up one's mind!
In the Companion, I take you through the complete publishing process from query letter to publication and beyond, so if you ever wonder how covers are made, or what an editor does, this is a great place to learn.
The story, "A Midsummer Night's Disgrace," includes a visit with fan favorites Josie and the Earl of Mayne from Pleasure for Pleasure!
Please tell us a little about the characters in your book. As you wrote your protagonist was there anything about them that surprised you?
The heroine of "A Midsummer Night's Disgrace" is determined to create a scandal and free herself from the restrictions and requirements of being an eligible young lady. I knew she wanted to be free to do music, but I have to say that her hero was a surprise to me—and hopefully to the reader as well!
If your book was optioned for a movie, what scene would you use for the audition of the main characters and why?
I'd choose this scene, when the heroine finds the hero waiting outside her bedchamber door in the early morning, because both actors needs to reveal emotion with their eyes, not just with words.
"What are you doing here?" Cecilia whispered.
"Waiting for you." He took a step forward.
Their eyes met. It was amazing, really, how little words mattered. His had a question that she had already answered. Banked passion flared suddenly when she bit her lower lip.
"Oh," she said, sounding foolish to her own ears. No man had ever looked at her like that. She felt beautiful, as if his gaze alone made her glow, spangled by early sunlight, glittering like something precious.
What do you want people to take away from reading this book?
Well, it's 600 pages of fun, interesting things – a perfect way for a lover of historical romance to spend some happy hours. I'd like readers to come away knowing more about my characters, more about history, more about how a book is made… For $1.99, what's more!
What are you currently working on? What other releases do you have planned for 2016?
Currently I am working on a novella featuring Cedric, the rascal brother from My American Duchess, which is planned for release Christmas 2016.
My next full length novel, Seven Minutes in Heaven, will publish on January 31, 2017. My heroine, Eugenia, is the owner of the leading governess agency in all London—which means everyone in society is at her feet, begging to be in her good graces. But not Edward Reeve (remember him from Four Nights with the Duke?) who bursts into her office having fired one of her governesses, and demanding another. To put her response in modern lingo: "Um… no."

Thanks for blogging at HJ!
Giveaway:

Digital copy of THE OFFICIAL ESSEX SISTERS COMPANION GUIDE by Eloisa James
To enter Giveaway: Please complete the Rafflecopter form and Post a comment to this Q:

If you could ask an author to write an "extra chapter" taking place ten years after a romance series, which author, and which series?
Excerpt from The Official Essex Sisters Companion Guide:
Here's the opening of "A Midsummer Night's Disgrace":
June 21, 1819
A House Party,
Kent
Seat of the Duke of Ormond

"I don't understand what I did wrong," Lady Bellingworth moaned, wringing her hands. "You had the best governesses money could buy, and I took you to church often, and certainly every Easter!"
"You did your best, Mama," Cecilia replied. She spun in place, causing her new gown to swirl around her feet. "Isn't it beautiful?"
The gown was better described by what it wasn't: it wasn't white, demure, or ruffled. It didn't have the new gathered sleeves; in fact, it didn't have any sleeves. There wasn't much of a bodice, either.
A fold of strawberry-colored silk wound around Cecilia's bosom and draped over her arms. Rather than following the line of her narrow skirts—made from a darker shade—the transparent overskirt clung to her hips before belling out around her toes. A row of embroidered strawberries around the hem weighed the overskirt so it swirled around her as she moved, emphasizing her curves.
And she had them.
Cecilia considered her curves to be her best feature, with golden hair the color of old guineas a close second.
Coaxed into tight ringlets by a curling iron, her hair took on an oddly metallic gleam. But tonight her maid had styled it in a frothy pile of natural curls, stuck about with ruby-tipped hairpins.
"What are you wearing on your feet?" her mother cried, sounding rather like a kettle coming to boil.
Cecilia lifted her skirts and looked happily at her toes. "New shoes."
Petunia turned purple. "Those are your great-aunt Margaret's diamond buckles!"
Her shoes were made of strawberry silk embroidered in a silver crosshatch pattern that went splendidly with diamond buckles. But the piece de resistance was her heels. They were covered in strawberry-colored silk and guaranteed to catch the eye.
Generally speaking, ladies drifted around the ballroom in soft slippers, just as Cecilia had throughout the season. But she had carefully planned—in collusion with a brilliant modiste—to change her appearance from head to toe.
In the past two seasons, she had dutifully wore white (which didn't suit her), sat demurely at the sides of ballrooms (which didn't suit her), and smiled rather than spoke (which really didn't suit her).
But she had arrived at the Duchess of Ormond's house party this afternoon without a single white gown in her baggage. When a Bellingworth decides to change her appearance, she doesn't hold back.
She was not going to drift around the ballroom: she would sway, and her hips would sway right along with her.
"You won't be able to dance in those shoes," her mother moaned.
"I shan't need to dance," Cecilia said, adroitly avoiding the issue, because in her opinion, the shoes turned a simple country dance step into an invitation. "The duchess announced a musical evening, remember, Mama? By the way, if we don't go down to the ballroom immediately, we shall be late for the concert."
Petunia was slumped against the high back of the settee, hand over her heart. "I feel ill, positively ill. I cannot believe that my daughter is so lost to impropriety that she would consider wearing this…this costume better suited to the demi-monde than a house party given by one of my oldest friends."
"If I were one of those ladies," Cecilia pointed out, "I would take off this corset, which is horribly uncomfortable."
"Do you think to find a husband this way?" her mother demanded. "To entice a gentleman to wed you because your gown is small enough to cram into his pocket?"
"Marriage would be desirable outcome, don't you think?" Cecilia asked. "My second season as a wallflower was more than enough."
She was tired of being ignored, tired of sitting at the side of the room watching other girls curtsying. She was tired of pity dances with male relatives, and whispered advice from girls younger than she was.
Excerpt. © Reprinted by permission. All rights reserved.

Book Info:
This is a book no Eloisa James fan should miss! Eloisa revisits the scintillating world of the Essex Sisters with "A Midsummer Night's Disgrace," a new story featuring a young lady, Cece, who would rather ruin her own reputation than endure further speculation about whether her children will be "silly," like her brother, Billy. Happily for fans of Pleasure for Pleasure, Cece's best friend is Josie, Countess of Mayne!
Just as exciting, the Companion includes not only Eloisa's original notes about each book and her "extra" chapters, but a 170-page alternate ending to Kiss Me, Annabel. Eloisa discarded this shockingly different plot after writing one draft, and the published novel went in an entirely new direction. Make up your own mind about which is better—Eloisa's original, or the final book!
Super fan Jody Gayle's engaging guide includes essays about fascinating historical details, including period fashion designs. Explore the world of horse racing and tour the London theater scene. Delve into the rich history and deep literary tradition that makes Eloisa one of the top writers of historical romance.
The Companion also gives you a sneak peek at Eloisa's newest full-length novella, "A Gentleman Never Tells"—which springs from the world of the Essex Sisters! What will happen when one of the men who ruined an heiress' debut by labeling her a "Wooly Breeder" (and Josie Essex a "Scottish Sausage") decides that it's time to make amends?
Book Links:

Meet the Author: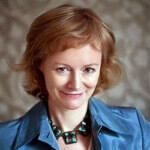 New York Times bestselling author Eloisa James writes historical romances for HarperCollins Publishers. Her novels have been published to great acclaim. A reviewer from USA Today wrote of Eloisa's very first book that she "found herself devouring the book like a dieter with a Hershey bar"; later People Magazine raved that "romance writing does not get much better than this." Her novels have repeatedly received starred reviews from Publishers' Weekly and Library Journal and regularly appear on the best-seller lists. After being a finalist for a RITA—the top award in the genre of romance fiction awarded by the Romance Writers of America—over ten times, she won in 2013. In 2014, Eloisa was awarded a career achievement award by Romantic Times Book Review.
Website | Facebook | Twitter |