Today it is my pleasure to Welcome author
A.J. Pine
to HJ!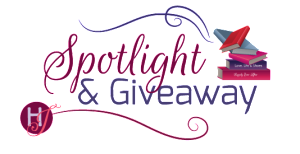 Hi A.J. Pine and welcome to HJ! We're so excited to chat with you about your new release, The One That Got Away!
Tell us about the book with this fun little challenge using the title of the book: 
This is the first time I've done a post like this, so of course it's for the longest title I've ever had.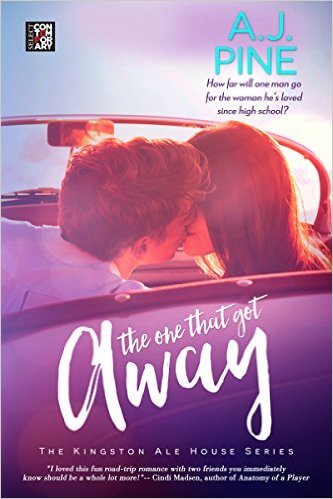 T is for Teen crush.
H is for Heartbreak.
E is for Ending.
O is for One kiss.
N is for Never speak of  it again.
E is for Ever. 
T is for Ten years later.
H is for Hope.
A is for Admission.
T is for Too late?
G is for Going
O is for On a
T is for (road) Trip
A is for Amarillo.
W is for Wedding crashers.
A is for AMARILLO.
Y is for You'll have to read to find out the rest!

Please share the opening lines of this book:
Senior Year
(10 Years Ago)

A turtleneck would hide it. It didn't matter that it was Memorial Day weekend and the warmest day of the year so far. Brynn was going to the party.
Please share a few Fun facts about this book…
This is a departure from my other books, which are all new adult. The Kingston Ale House series my foray into adult contemporary romance.
My heroine, Brynn, loves the '60s band THE MONKEES.
My hero, Jamie, is a die-hard White Sox fan and is always wearing his White Sox cap (love a guy in a baseball cap).
Two of the four series heroes and three of the four series heroines are introduced in this book. 😉
I've never taken the road trip Jamie and Brynn take, Route 66 from Chicago to LA, but it's definitely a bucket list item!
Was there a scene in this book that was harder to write than others?
I think the hardest part of the book in general was that Brynn has buried any and all thoughts of Jamie as anything other than a friend since she was seventeen. The road trip puts them in forced proximity, but we already know that Jamie is head over heels for her. The challenge was to get Brynn to open up to seeing Jamie in a new light, despite how much it scared her to do so. So I think all the scenes that are tiny light bulb moments for her were the challenging ones. Here's an excerpt of one of my favorites when they're playing Truth or Dare during the drive:
"You chose dare, James Kingston. I don't remember
there being any sort of request for personal insult. This is
the reason for going underground with my Monkees love
after middle school, you know. Reactions like yours. Well,
guess what? I'm out of the musical closet now, so you can't
bring me down, mister. Now stop stalling. You've heard all

the songs. There has to be one you like better than the rest."

He had heard all the songs, over and over again. It's not
like Brynn didn't listen to any other music, but the Monkees
were always the go-to when she needed something to make
her smile. He couldn't argue with that, and because he chose
dare, he also couldn't argue with the request. Though he
promised no guarantee the act would not endanger their

lives or the lives of others.

"I didn't mean to insult…" he started, but she cut him
off.

"Still stalling," she said, her tone haughty. "Come on,
James. I've heard you sing. You're not too bad. Now just
prove to me you know the words, and we can both put this
behind us."

So he did it—belted it, actually. Jamie Kingston didn't
just sing the chorus to "I'm a Believer." He sang the whole
damn song, finishing just as they came to their exit in Galena,
Kansas. He pulled into town and then into the parking lot of
the historic Cars on the Route service station.

"I gotta piss," he said, throwing the truck into park and
holding back a smirk. Brynn sat, mouth agape, silent through
his whole performance and silent still. When he opened his
door and hopped out, he heard her clear her throat behind
him.

"That was…um…good," she said. "I didn't know you

could sing like that."
What do you want people to take away from reading this book?
Other than a new-found love of THE MONKEES? I hope readers fall for the whole Kingston gang. The TV show FRIENDS is forever one of my favs, and that's what I wanted to create here–not just four romances but a whole group of friends you'd love to hang with for four books. I hope Kingston's feels like Central Perk…but with beer. 😉
Thanks for blogging at HJ!
Giveaway:

U.S. ONLY: Winner's choice of one item of Kingston Ale House merchandise along with author swag. Choose item 

HERE.
To enter Giveaway: Please complete the Rafflecopter form and

Leave a comment with your thoughts on the book…
Book Info:
Jamie Kingston has been Brynn Chandler's best friend since middle school. Only once was their friendship tested—when Brynn gave Jamie a single kiss. Since then, they've had an unspoken agreement never to cross that line again, and she's ready to let go of the past and move on.
But Jamie has loved Brynn for as long as he can remember, and now that he's ready to tell her, she has her sights set on someone else. Knowing this is his last chance, he asks Brynn to go on a two-week road trip. But their time alone brings old hurts to the surface, and Brynn has to decide if the one that got away lies at the end of the journey or if he's been by her side all along.
Meet the Author: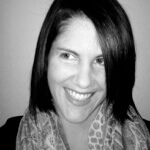 AJ Pine  writes stories to break readers' hearts, but don't worry—she'll mend them with a happily ever after. As an English teacher and a librarian, AJ has always surrounded herself with books. All her favorites have one big commonality–romance. Naturally, the books she writes have the same. When she's not writing, she's of course reading. Then there's online shopping (everything from groceries to shoes). And a tiny bit of TV where she nourishes her undying love of vampires, superheroes, and a certain high-functioning sociopath detective. You'll also find her hanging with her family in the Chicago 'burbs. AJ is represented by Courtney Miller-Callihan of Handspun Literary.
Connect: