Today, HJ is pleased to share with you

Jill Mansell's

new release: 

The One You Really Want!

A funny, heartfelt novel about second chances at love from beloved bestseller Jill Mansell!

When it comes to love, never say never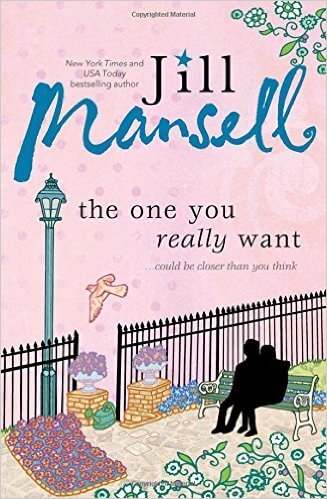 When Nancy discovers the expensive jewelry her husband's been buying isn't for her, she decamps from the Scottish countryside to her best friend Carmen's posh Chelsea town house to sort things out.

Nancy finds herself in a surprising new world, where rock stars are nicer than you thought, social workers are not necessarily to be trusted, and the filthy rich are folks with problems just like you.

Everybody falls in love with the wrong people, and the path to true love twists and turns before you discover who you really want.

Enjoy a 11 chapter sampler from The One You Really Want: 
Chapter 1

"Go on, you can
say it," Nancy offered, because it was so obviously
what Carmen was longing to blurt out down the phone. Five-year-olds had more self-control than Carmen.
Five hundred miles away in London, Carmen replied inno ently, "I wouldn't dream of saying I told you so. We all know what happens to best friends who do that. You're the one who married
Jonathan, so it stands to reason you thought he was the bee's knees.
If I'd told you then what part of a bee I thought he was, you'd have hated me. That's why I pretended to like him."
Nancy smiled to herself, thinking that she really should be
crying. "And that's why you don't have an Oscar. You may have
tried to pretend, but it didn't fool anyone."
"Ah, but I didn't tell you I thought he was an idiot," said Carmen,
"and that's the important thing. You didn't feel as if you had to stick up for him the whole time—you didn't always have to defend him, d'you see?—because if I had told you, you wouldn't have taken a blind bit of notice anyway. And we'd have ended up falling out."
"Would we?" Nancy couldn't imagine falling out with Carmen.
They'd been inseparable since they were eight.
"It wouldn't have been easy. Anyway, that's why I didn't. Which
is why we're still friends," Carmen said cheerfully.
"You can still say I told you so if you want to." Nancy was feeling generous.
"Thanks, but I'll wait until I've put the phone down. I'm polite
like that." More seriously, Carmen said, "Are you sure you're all right?"
Was she? Who could tell? Nancy suspected that she was actually
in a mild state of shock. It was Christmas morning, after all. Christmas was such a happy day, in her experience, that it was quite hard to take in what had happened. When you'd put so much effort into buying and wrapping presents, sending cards, choosing a tree, and decorating the house—well, it assumed a momentum of its own. Actually holding up your hands and saying Stop! was easier said than done.
When you'd spent this long gearing up to Christmas, it was hard
to imagine not…well, going ahead and having it.
"I'm great," said Nancy, because the last thing she wanted was
Carmen worrying about her. "Mum's going to be here soon to give me a hand with lunch."
"And you're really not going to tell her?"
Nancy closed her eyes. "Completely ruin her Christmas, you
mean?" Compared with the devastation this would cause, keeping the news to herself would be a cinch. "You know how Mum feels about Jonathan. She'd be distraught."
"OK, you're the boss." Mischievously, Carmen said, "Off you
go, back to peeling the parsnips like a good little wifey. Ever tried
them poached in honey and arsenic?"
"If I had, I wouldn't be here to tell you, would I?"
"See? You always were the clever one. I'd better let you go. Keep
in touch," said Carmen. "Give me a ring this evening."
"OK. Thanks." Belatedly, Nancy said, "Are you all right?"
"Me? I'm wonderful."
Nancy felt guilty, because if anyone deserved to have a big fuss
made of them over the Christmas period, it was Carmen. When your husband had died three years ago—and, unlike herself and Jonathan, Carmen had been totally devoted to Spike—you were entitled to be depressed. "Well, look after yourself. I'll call you tonight when I get a chance."
"Can't wait. And don't forget," Carmen said chirpily, "the
honey disguises the taste of the arsenic."
Had it only happened this morning? Was it really less than three
hours ago that her world had tilted and begun to crumble?
OK, maybe not her whole world, but certainly her marriage.
Nancy, her breath misting up the bedroom window of their four-
bedroom detached house, gazed out over the frosty yard, sparkling  iridescent in the sunlight like one of those glitter-strewn Christmas cards her Auntie Mags was so fond of sending. The sky was cloudless and an unseasonal shade of duck-egg blue. In the distance, beyond Kilnachranan, the mountains rose up snowcapped and dramatic.
The yard itself, all three-quarters of an acre of it, was wreathed in a glittery whiteness and heartbreakingly beautiful.
And down there on the stiff white grass stood the cause of her
current torment: her Christmas present from Jonathan.
It was all thanks to this…thing that her life was about to change
in a pretty major way.

Read More… Download an ELEVEN-CHAPTER SAMPLER here.
Excerpt. ©Jill Mansell. Posted by arrangement with the publisher. All rights reserved.
Giveaway:

Print copy of THE ONE YOU REALLY WANT
To enter Giveaway: Please complete the Rafflecopter form and post a comment to this Q:

What did you think of the 11 chapter excerpt? Leave a comment with your thoughts on the book…
Meet the Author: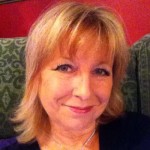 With over 10 million copies sold, New York Times and USA Today bestselling author Jill Mansell writes irresistible and funny, poignant and romantic tales for women in the tradition of Marian Keyes, Sophie Kinsella and Jojo Moyes. She lives with her partner and their children in Bristol, England.
Connect with Jill Mansell
Website: http://www.jillmansell.co.uk/
Facebook: https://www.facebook.com/OfficialJillMansell/
Twitter: https://twitter.com/JillMansell
Goodreads: http://www.goodreads.com/author/show/23625.Jill_Mansell