Today it is my pleasure to Welcome author
Nan Dixon
to HJ!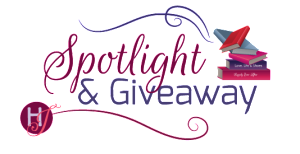 Hi Nan and welcome to HJ! We're so excited to chat with you about your new release, The Other Twin!

Thanks for having me — and thanks dear readers for swinging by!

Tell us about the book with this fun little challenge using the title of the book: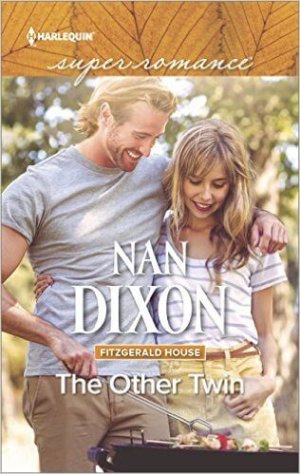 T – is for Twin
H – is for Her son
E – is for Envy
O – is for OMG – I have a daughter
T-is for Traumatized
H – is for His daughter
E-is for Enjoyment
R – is for Restaurant or Role Model
T– is for Timid
W– is for Wistful
I-is for Isabella (Issy)
N – is for Nathan
What's your favorite line(s) from the book?:
He scooped his daughter into his arms. Now he couldn't reach for Cheryl. His arms and life were full.
Please tell us a little about the characters in your book. What first attracts your Hero to the Heroine and vice versa?
Cheryl is a single mother of six-year-old Joshua. Her husband died in Afghanistan. She hates people who drink, having suffered from both her mother and her brother-in-law's alcoholic rages.
Nathan likes to party, but he doesn't let people get too close, they might discover he is flawed. He does everything to hid the fact that he is dyslexic. And he stays away from kids. They know they're smarter than he is.
There has always been a physical attraction between them, but Cheryl refuses to be interested in a man who drinks and Nathan won't date a woman with a child.
When you sat down to start this book, what was the biggest challenge you faced? What were you most excited about?
Nathan is dyslexic. I wanted to make sure I treated the learning disability correctly. I was lucky enough to sit on a plane next to a young man who was dyslexic and he told me about his experiences. It made me think I might have captured some of the experiences. The other challenge was Issy, Nathan's surprise daughter. She doesn't speak for most of the book, so I had to make sure she didn't get lost in scenes.
What, in your mind, makes this book stand out?
THE OTHER TWIN stands out because Nathan must ask for help and acknowledge that there are things he can't do easily. And Cheryl has to stand up for herself. In the Fitzgerald House series, the books themes focus on family and creating family and connections. Fitzgerald House is a B and B in the historic district of Savannah and each of the couples are connected with the B and B.
The First Kiss…
He cupped her chin. "I really want to kiss you." His voice came out in a rasp.
Her body heated up like a pan on high flame.
"I…" There were plenty of reasons why she shouldn't kiss him. "I…" Her breath whispered out. She couldn't think of one.
He inched closer. And waited.
Leaning in, she kissed him. Her forehead knocked off his hat.
He pulled her against his chest. She laced her arms around his neck, her fingers burrowing into his hair.
His tongue, flavored with sugar and lemon, brushed hers. His lips toured her face, stopping at her ear and trailing down her neck to her collarbone. She squirmed as desire bloomed in her every cell.
He tugged her closer until she straddled his legs.
"Ooh." Her nipples tightened and her legs wanted to clasp his hips and never let go. Warmth rushed through her, filling and thawing body parts that had been frozen since Brad had died. Dizzy and unbalanced, she clung to Nathan.
If your book was optioned for a movie, what scene would you use for the audition of the main characters and why?
Nathan begs Cheryl to help him shop for his surprise four-year-old daughter. He's clueless about kids. Cheryl agrees, even though she doesn't like being around Nathan. She might be attracted to him, but he's a terrible role model for her son.
"Where's the list?"
He pulled it out of his pocket and handed it to her. He pointed down two doors from the store. "I've been to that bar and never knew there were stores here."
"I've been in this store and never knew there was a bar here." And didn't that highlight their differences?
If your hero had a sexy-times play list, what song(s) would have to be on it?
I think Nathan would go old time. He takes Cheryl out on his brother's sailboat for an evening picnic. I think he would play Moondance. The lyrics fit —
Well, it's a marvelous night for a Moondance
With the stars up above in your eyes
A fantabulous night to make romance
'Neath the cover of October skies
What do you want people to take away from reading this book?
I hope that they take away a smile, because these characters have broken through their self-doubts and flaws and come through as a family.
What are you currently working on? What other releases do you have planned for 2017?
The next release is August 2017 – UNDERCOVER WITH THE HEIRESS. It is the 5th book in the Fitzgerald House series. The heroine, Courtney, is the sister of one of the previous heroes. And she hasn't been very nice. It was fun to redeem her.
I will turn in the 6th book in the series in May. The working title is TO CATCH A THIEF. Then I start a new series.

Thanks for blogging at HJ!
Giveaway:

I'm giving away 3 signed copies of THE OTHER TWIN. (International eBook)
To enter Giveaway: Please complete the Rafflecopter form and Post a comment to this Q:

In Nathan's life, finding out he has a four-year-old daughter is the biggest surprise he has ever had. What's the biggest surprise that ever happened in your life?
Excerpt from The Other Twin:
Nathan typed away. "Can I have a piece of paper?"
Cherylripped one off her pad and he wrote the phone number down. She was close enough to see he'd transposed the numbers. "It's seven-six-three"
"What?"
"You reversed the numbers." She pointed to the paper. "It's seven-six-three."
His jawbone jutted out. "Right."
He said the numbers as he wrote. "Seven, six, three."
But he wrote 6-7-3. Twisted.
Her mouth dropped open. "You're dyslexic."
His face tightened and he stared at her, as if trying to read her mind. His Adam's apple moved up and down. He nodded.
"May I?"
He handed her the paper and she made the correction.
"It's why you had trouble with the measuring tape." Clues started to fit together. "Do you want me to enter the number in your phone?"
"Sure. Whatever." He unlocked the phone and shoved it at her. "I'm stupid. I get it."
"You're not stupid." She should have guessed earlier. "My best friend in high school was dyslexic. I helped her study."
"You pitied her." His movements jerked as he packed his computer.
"Of course not. She had to find a different way to learn." Cheryl set a hand on his shoulder. "I read textbooks to her. That helped."
And she'd been able to stay away from home. From Mama.
The rasp of his computer bag zipper filled the silence. He set his fists on the table. "Too bad I didn't have you as a friend in high school. I might have done better."
"You had a brother."
He snorted. "We weren't close."
"Daniel didn't help you?" Wasn't that what family was for? To help you through the tough stuff? "Your family's nice."
"Well, I was a challenge."
"I can't imagine how tough life was for you." Her heart broke for him. "But you've adapted."
He snorted again. He set the bag and his phone on the table. "I'll get Issy and get out of your hair."
She couldn't let him go like this. He was beating himself up. "Hey."
He slid the chair he'd been sitting on back into place, refusing to look her in the eye.
Shifting, she blocked his path to the living room. "Nathan."
"Can you move?" he snapped.
She did. Right into him. Pressing herself against his chest. "Is this good?"
His arms hung at his sides. He didn't move for a moment. Then he wrapped his arms around her, burying his face in her hair. "I…I hate my brain."
Her arms pulled him close enough to feel his heat through their clothing. "Don't."
"I'm so…so…effed up. I'm one big flaw. Stupid."
"Language," she murmured into his hair. Hair that smelled of his woodsy shampoo. She inhaled and the scent ignited her body.
He pulled back and cupped her face. "I don't like people knowing. I don't want their sympathy."
"I don't feel sorry for you." But she did. Because he wasn't stupid and someone had made him feel that way. "I'm angry at all the people who didn't help you conquer your disability."
His eyebrows arched over brown eyes glittering with gold flecks. "Thank you."
They stared, drowning in each other's gaze.
His mouth closed and settled on hers. Their tongues danced a sensuous, slow tango. She clutched at his shoulders, needing to get closer.
His hands cupped her butt and he slipped a leg between her thighs. Unashamed, she rubbed against him, her breath coming in little pants.
Nathan's hand slipped under her top and smoothed a path to her breast.
Touch me.
He chuckled. "Oh, yeah."
His hands molded and massaged, and her nipples sprang to life. A moan filled the kitchen.
"Shush," he whispered and kissed her again.
Then there was nothing but the press of his body to hers, his lips and tongue and his marvelous hands. She wanted more, so much more.
"Leave my mom alone!"
Footsteps hammered behind her. She pulled away from Nathan.
Josh launched himself at Nathan. His fists pounded on his thigh, back and knees as Nathan stumbled away.
Cheryl tried to grab Josh, but he kept punching. "Joshua Bradley, stop now!"
A wail erupted in the living room.
"Let go of my mom, butthead." A flying fist accompanied each word. Nathan pinned Josh's arms to his sides.
"Let go!" Josh kicked and wiggled.
"Stop it. Stop!" Cheryl tried to pry Josh out of Nathan's arms and got a fist to the side of her head.
"No more!" Nathan roared. Everyone in the kitchen stopped, but Isabella screamed louder.
"Done?" Nathan squeezed Josh's arms.
Cheryl pulled on her son's shoulders. Her hands shook so hard, she could barely hold him.
"Don't hit," Nathan warned.
Josh glared.
Nathan ran to the living room. "Issy."
"What were you doing?" Cheryl held Josh on her lap.
"Saving you from the butthead like I did uncle Levi." Tears and fury filled her son's eyes.
She gasped, pulling him into a tight hug. "I was fine."
"He was hurting you." Tears dripped off his eyelashes. "I saved you."
"Mr. Nathan didn't hurt me. He kissed me."
"Uncle Levi tried to kiss you and you screamed." His little face scrunched up. "He's a butthead. I hate him."
"Don't say that." Her heart pounded.
Isabella's screams had quieted. Nathan carried her into the kitchen. "Everything okay in here?"
"Get out!" Josh yelled.
"Joshua!" Cheryl's breath hitched. "Go to your room. We'll talk about this later."
Josh stomped away. Cheryl sagged into the chair. Nathan crouched next to her, Issy clinging to his shoulders. "Are you okay?"
No. Her son had just attacked Nathan. "I'll be fine. Take care of Issy."
She set her hand on the girl's back, but Isabella flinched.
How had everything imploded?
Nathan brushed a kiss on her cheek. "I'll come over after she's asleep," he whispered.
"I need to calm Josh down." She shook her head. "Tomorrow."
Nodding, he closed his eyes. His knees popped as he stood. "Get some sleep."
How could she sleep? She trudged down the hall, pausing at Josh's door. A rhythmic thump came from his room. She knocked and walked in.
Josh sat on the bottom bunk, heels bouncing against the bed frame. Tears streaked his face.
Sitting next to him, Cheryl took his small hand. "Why did you attack Mr. Nathan?"
"He can't touch you." His chin shot out. "I had to protect you."
Protect her? She'd been so weak, her six-year-old son had become her guardian. Josh believed he needed to save her, and that was wrong. That was her responsibility.
"I hate him." The bitterness in her little boy's voice made her squeeze his hand.
"But he's kind to you."
Josh shook his head. "He can't touch you."
"Honey, he's very nice."
But nothing she said changed her son's mind. Josh hated Nathan.
Excerpts. © Reprinted by permission. All rights reserved.
Book Info:
Who can resist a neighbor in need?
Nathan Forester doesn't know the first thing about kids. So when the daughter he never knew existed arrives on his doorstep, he needs help, fast! His unlikely ally is next-door neighbor and single mother Cheryl Henshaw. Nathan and Cheryl don't exactly see eye to eye, but neither can say no to a helping hand.
Renovating Fitzgerald House is Nathan's chance to finally prove he's no longer the unreliable twin—and it seems possible with Cheryl by his side. Suddenly their practical arrangement has become something much more. Trust isn't easy, but they're stronger when they work together.
Book Links:

Meet the Author: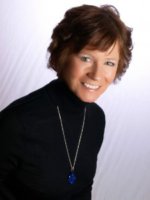 Nan Dixon spent her formative years as an actress, singer, dancer and competitive golfer. But the need to eat had her studying accounting in college. Unfortunately, being a successful financial executive didn't feed her passion to perform. When the pharmaceutical company she worked for was purchased, Nan got the chance of a lifetime—the opportunity to pursue a writing career. She's a five-time Golden Heart® finalist, lives in the Midwest and is active in her local RWA chapter and on the board of a dance company. She has five children, three sons-in-law, two grandchildren, one grandchild on the way and one neurotic cat.
Website | Facebook | Twitter |