Today it is my pleasure to welcome New York Times & USA Today bestselling author

 Jennifer Ryan

to HJ!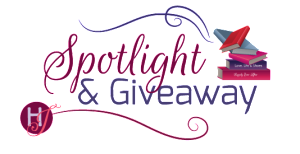 Hi Jennifer, Welcome to HJ!
Thanks so much for inviting me to stop by. So glad to be here.
If someone wrote a biography about you, what do you think the title of the book should be? Why?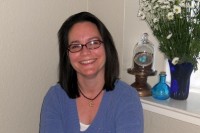 Go Getter. That's just me. If there is something I want, I go after it. I work hard, learn everything I can, and am always trying to improve and move closer to my goal. Even when I reach it, I'm always trying to do it better.
Which of your prior characters would you most/least likely invite to dinner and why?
I would love to have dinner with the entire Turner-Shaw-Reed clan from The Hunted Series. They are such a close group of family and friends. I'd love to have dinner with them and ask them how and just hang out and hear all about what they are up to now.
Shelly from The Right Bride is not invited. I hate that woman. I don't get woman who use men and mistreat children.
Let's talk about your newest release:The Return of Brody McBride
If you had to summarize the book for the readers here…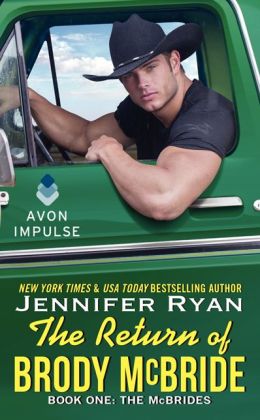 Ex-Army Ranger, Brody McBride, comes home to get the woman he loves back, only to discover the worst mistake of his life gave him the greatest gift, two beautiful daughters. Rain is willing to let him back into her life for the sake of their kids, but the woman she bought his second daughter from threatens to destroy his second chance at happiness with Rain – the only woman he'll ever love.
Please tell us about the characters in your book.
Brody is a tough guy, who speaks his mind and goes after what he wants. And what he wants is Rain and his two girls under the same roof.
Rain is determined to be the best mother she can be to her girls, despite all the obstacles in her way. Her attraction to Brody is still burning hotter than any star, despite the broken heart he left her with. Still, she's got a kind heart and understands Brody like no one else. She's afraid to put heart on the line, but she's more afraid of not giving Brody a second chance and living the rest of her life without him.
Owen is Brody's older brother, whose been looking out for Rain and the girls in his brother's absence. He and Brody many have had their differences growing up, but they always had each other's back.
Roxy ruined Brody and Rain's relationship, gave birth to his daughter, and sold her baby to Rain to get out of town and live her life without a care in the world or a thought for the daughter she left.
As you wrote your protagonist was there anything about them that surprised you?
Rain's amazing heart and strength. It's no wonder Brody needs her in his life. She matches him and doesn't let him get away with anything.
The thing about Brody that struck me is how hard he worked to change himself into the man Rain saw inside of him, but he couldn't see himself. Every dream she had for herself, he made come true for himself because her faith in him made him believe he could do it.
What scene did you most enjoy writing? Why?
I love the opening scene between Brody and his brother, Owen. They do this verbal sparring, but underneath it all, they're brothers, family, and their bond is absolute and unbreakable.
Excerpt:
"Look, Owen, I know you're pissed. I was when I left, too. It's been years. The old man is dead and gone. Can't we let bygones be bygones?"
"You're my brother. If I had the time, we could take this out into the yard and settle a few old scores."
"I'm ready whenever you are," Brody returned with a cocky grin. Owen wasn't really pissed about the past between them. Not if a quick tussle would put the past to rest. Maybe that gaping ravine was just a pissy creek and Brody had been too stubborn to see it for what it was.
What scene was the hardest to write? Why?
I really love the way Brody and Rain open up to each other, but Rain's kept her own secrets from Brody and needs to tell him why she bought his daughter Autumn from Roxy. It's an emotional scene because no matter what Brody did to her in the past, she never wants to hurt him.
Excerpt:
"Please listen to me, Brody. I wasn't trying to punish you by keeping them from you. You were about to be shipped overseas to Afghanistan. Your response to Owen about your father's death told us just how much you wanted to leave this place behind. I don't know what it's like to be a soldier, but I know enough to realize you didn't need to worry about two kids and what Roxy was doing back here."
"I could have helped you, sent you money."
"Helped me from a country halfway around the world where you were facing life and death each and every day. How would you have been a father to those girls? By sending them letters? They were three years old. They didn't know who you were, except for a picture in a frame. How could I explain to them anything you'd written when they didn't know who you are, or if you were coming back?"
"Better for me to die over there never knowing I had them," he shot back.
"What do you want me to say? I made the best choices I could for those girls. Autumn was in no condition for you to come rushing back, a stranger in her life, who might take her away from me, too."
"I'd have never taken her from you," he said, furious she'd even think it.
Who would you cast in the role of your characters if your book were optioned for a movie?
Rain = Olivia Wild
Brody = Taylor Kitsch
If you could have given your characters one piece of advice before the opening pages of the book, what would it be and why?
Sometimes the end is worth the ride.
What are you currently working on? What other releases do you have planned for 2014?
I'm currently working on a new series – The Montana Men. Included in the anthology, All I Want for Christmas is a Cowboy, is my novella, Can't Wait. It's the prequel to The Hunted series about how Caleb and Summer got together. The Hunted Series is about Summer's family and their friends. The Montana Men is a series about Caleb's three brothers, who are all ranchers in Montana.
But first, I'm excited about the release of The McBride series in 2014, starting with The Return of Brody McBride on March 4. Falling for Owen on April 15. Dylan's Redemption on August 12.
Where can readers get in touch with you?
Through my website – www.jennifer-ryan.com
Follow me on twitter @jenryan_author
Find me on Facebook https://www.facebook.com/pages/Jennifer-Ryan/520021168037391?ref=hl
GIVEAWAY:

Two Digital copies of Confessions of a Secret Admirer Anthology,

it has the novella that kicks off the McBrides Series!!
To enter Giveaway: Please complete the Rafflecopter form and post a comment to this Q:

Even though Rain has always loved Brody, she's reluctant to give him a second chance to break her heart. Would you give the love of your life a second chance after he broke your heart if you shared children and a history that went back to childhood?
Excerpt:
"Brody, stop worrying and analyzing the life you had away from me with the life I had here with the girls. They aren't the same because you and I aren't the same."
"I'm the asshole who left the best behind, left a trail of not worth mentioning behind me, and lived out several of your dreams."
"You're also the man who went off to war, defended our country and the rights of others to have a life free from tyranny and hate. You came back to face me, knowing I might slam the door in your face again. When you found out about the girls, you didn't hesitate to claim them as yours, love them with your whole heart and take on being a father without blinking."
"That was easy. You're scary as hell."
"Why, Brody?"
"Because I don't know what you want."
"I'm a simple girl. I want the same thing I wanted when I was ten and you kissed me for the first time. I want you, Brody. I've always wanted you."
"You said when we get married."
"You caught that, huh?"
"A drowning man needs a lifeline."
"I'd never let you sink."
"No, you wouldn't. So, tell me what you want, and I'll make it happen."
"You want a list," she asked on a laugh.
He stood and closed the distance between them without actually touching her. Somehow, that smart remark made him feel better.
"That would be very convenient. I could mark them off one by one until I had you."
"Oh, Brody. You have me." She stepped to him and put her arms around his neck, her body pressed down the length of him. She smelled like flowers and citrus. Warm and pliant in his arms, he drew her even closer with his hands at her lower back.
Blurb
The black sheep of Fallbrook is back … and he's in for the surprise of his life.
Former bad boy, now-decorated Army Ranger Brody McBride is home and on a mission: Find the woman he never should have left behind and right the wrong he did eight years ago.
When the man she loved broke her heart and skipped town, Rain Evans picked up the pieces. But along with heartbreak, Brody left her something infinitely better than she could have imagined: two beautiful daughters. One she gave birth to, and the other she rescued from the woman who helped destroy her relationship with Brody.
Brody is shocked to discover he's a father, and he's more determined than ever to win back Rain and protect his girls. Can they rekindle the love they once shared and become the family they were always meant to be? Or will a danger from their past return and ruin everything?