Today it is my pleasure to Welcome author
Heather Van Fleet
to HJ!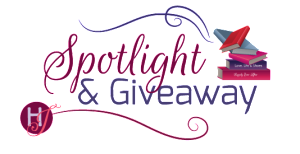 Hi Heather and welcome to HJ! We're so excited to chat with you about your new release, The Right Kind of Reckless!
Please share your favorite scene from The Right Kind of Reckless: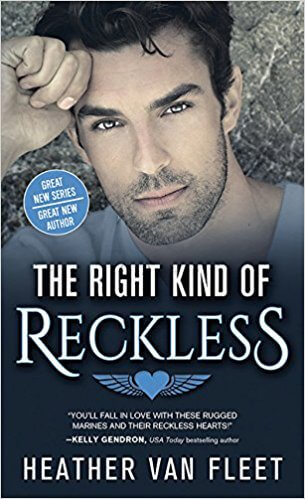 There were so many fun moments to be had when writing The Right Kind of Reckless, that choosing one was nearly impossible for me. But this scene below takes the cake as far as the interaction between two of my three favorite guys went.

What I love the most about it is that it's not just "locker room talk" or "guys degrading women" because they can. It's the true gentleness of men when a child is involved in their life.

For Max and Gavin, they take on different roles than a father figure in little Chloe's life, reminding me of Jessie and Joey from Full House, in a way. They're not only her protector and secondary caregivers, but her pseudo uncles as well.

Bottom line? These are just two guys who have absolutely no idea what they're doing when it comes to kids.
To me, there is truly something deliciously sexy about a man giving it his all when it comes to children, and I hope that my story (my entire series at that) shares that in the best possible way.
I picked up my favorite little kid from the changing table in her room, held her above my head like Superman, and raced us down the hall. Since I'd forgone going out at night for a while, I'd offered to take morning faux-uncle duties. Maybe it'd give the sex maniacs in the room next to mine some uninterrupted time to do what I wasn't feeling the urge to do—without waking me from a dead sleep.
"Ready, Freddy?" I plopped us onto the couch in the living room and grabbed her jacket off the armrest. No point in putting actual clothes on her when all she'd do was fight me anyway. Toddlers were hellions when it came to being dressed—even the cute ones like Beaner.
On cue, she flailed, silently begging me to dip her upside down. I finally managed to bribe her into letting me put the thing on her with promises of seeing Gavin.
My other best friend lived in the duplex adjacent to ours and had no idea I was gonna wake his ass up this morning. But I knew he hadn't gone out last night either, so it wasn't like I'd be waking a sleeping monster. Plus, Gav and I had some talking to do. Mainly me needing to complain about things I couldn't bitch to Collin about.
Ten minutes later, I was dressed and the two of us stood outside his door. "You knock, pretty girl." I grinned as she pounded her tiny fist against the glass storm door. Ten seconds later, a sweaty-ass yeti of a man answered, towel around his neck and looking like he hadn't seen a razor—or sleep—for months.
"Get dressed. We're taking Beaner for breakfast." In response, Chloe leaped toward Gav's leg and wrapped her chubby little arms around his calf.
"Sabotage," he grumbled, flipping me off over her head. But, like all three of us would've done, he squatted down to her level and said with a smile, "Good morning, Chloe."
The guy wasn't good with kids. The only time he'd tried to take care of Chloe on his own, he'd wound up covered in her vomit and calling Addie. But that didn't mean he didn't love her. And Chloe, for some reason, thought the sun rose and set with her uncle Gavin. Hell, her first real, recognizable word was Avvy, which we all knew stood for Gavvy.
"Sorry. First thing she asked for this morning was your dumb-ass." No, it was candy, but a little white lie never hurt anybody.
His bearded face went soft as he pulled back from kissing her forehead. "I'm all sweaty from my run, Chloe. Can I take a shower first?"
I rolled my eyes as he tried— failed—to barter with the kid. Again, the guy didn't have a fatherly bone in his body.
She grabbed hold of his finger and tugged him out onto the front porch, her decision already made. Gavin shot me the devil eyes from over her shoulder, and I held my hands up in defense. "Kid's hungry."
"Fine, fuck. Put her in her car seat. I'm coming."
"Uck!" Chloe squealed proudly, her eyes wide as she watched Gavin stand.
I laughed so hard my eyes started watering. Gavin, on the other hand, turned pale and pointed a finger at her, then me, then her again, his mouth opening and shutting each time. Chloe giggled like she knew exactly what she'd done. I picked her up, propping her on my hip.
"Chloe, you can't say the bad words Uncle Gavin says, all right?" I laughed again, knowing damn well she wouldn't understand.
Gavin moved forward and tucked some of her curls behind her ear. Then he glared at me, his jaw tight. "Give me five minutes."
Excerpt. © Reprinted by permission. All rights reserved.

Thanks for blogging at HJ!
Giveaway:

Print copy of The Right Kind of Reckless (Reckless Hearts) by Heather Van Fleet
To enter Giveaway: Please complete the Rafflecopter form and Post a comment to this Q:

Now, my question to you is, what are your thoughts on single dads and/or guys interacting with children in romance novels? Does it get you all giddy like it does me? Or is this something you'd rather skip?
Book Info:
I'm in love with a woman I can't have, and there's absolutely nothing I can do to stop myself from falling.
The problem? Her brother's my best friend.
I shouldn't want her this much. Not when it goes against the bro code. Not when I've never been able to commit to a woman for longer than a night.
But one look into her eyes and I'm a mess for her. She's my everything. And I have to walk away with nothing.
Book Links: Amazon | Barnes & Noble | iBooks | Kobo | IndieBound


Meet the Author: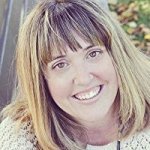 Contemporary romance author Heather Van Fleet is a stay-at-home-mom turned book boyfriend connoisseur. She's a wife to her high school sweetheart, a mom to three little girls, and in her spare time you can find her with her head buried in her Kindle, guzzling down copious amounts of coffee. Heather was born and raised in Moline, Illinois, where she lives with her wonderful family.
Website | Facebook | Twitter | Instagram | GoodReads |