Today it is my pleasure to Welcome romance author
Laura Marie Altom
to HJ!

Hi Laura, Welcome back to HJ
What is your favorite trope to read, one you will never get tired of?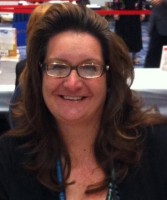 Love, love, love reunion stories!!
Let's talk about your newest release: The SEAL's Christmas Twins
If you had to summarize the book for the readers here
It's like a snow globe, only instead of snow, think emotions!
Please tell us about the characters in your book?
Hattie owns a seaside bar in Conifer, Alaska. She's an Alaskan tomboy–tough as nails on the outside, but inside, secretly wishing for an elusive something more.
Mason's was once married to Hattie's big sister. A former crab fisherman, when he came home from an extended trip to find his wife in bed with his best friend, he left town to join the Navy and never looked back. He's now a SEAL.
Was it love at first sight for your characters? If not what was the pivotal moment of change?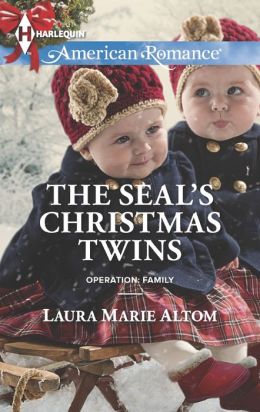 Yes, for Hattie. She's literally loved Mason most of her life. Mason has always loved Hattie, but not in "that" way. She was a little sister to him–that is, until he noticed she'd grown-up…
If your characters could go back in time and change one thing what would it be? Why?
This story opens with the death of Hattie's sister and brother-in-law. I suppose Hattie would wish for her sister to still be alive, but had that wish come true, there wouldn't be a story.
Mason faces the same moral and emotional dilemma.
What scene did you have the most fun writing? Why?
Ear muffs if you're under eighteen–LOL!!–but Hattie struggles with body image issues, and there's a lovemaking scene in which Mason shows her how beautiful she truly is, both inside and out. Having always battled with my own weight, this scene tugged at my heart, and only made me love Mason more.
What scene was the hardest to write? Why?
This scene is midway through the book, during Thanksgiving. Hattie's deceased sister was the "Martha Stewart" of her family. She made every holiday flawless, and Hattie's trying for her nieces' sake to do the same, only her pumpkin pie's a disaster.
The scene was tough for me, not only because this very thing happened in my own family with my grandmother who is no longer with us, but for Hattie, reality is sinking in that she and Mason will never be together. Also, her parents boycotted the meal in protest, as they feel their grandchildren should legally belong to them. Mason's father, Jerry, and neighbor Fern share the scene.
Paling, Hattie said, "Mason, you tasted it and told me it was fine."

Yeah, he'd also been distracted. "Honestly, not only have my taste buds been ruined by dousing hot sauce on the Navy's bland Meals Ready to Eat, but I'm more of a pecan pie kind of guy. I'm not even sure what pumpkin's supposed to taste like." And to prove it, he dove his fork right into the pie's center. He chewed and chewed and when he couldn't hold his fake smile a second longer, he deposited the bite into his fancy cloth napkin. "Okay, so it might be a little salty, but otherwise, it's pretty good."

"Oh, stop." Hattie tossed her napkin on the table, then dashed off up the stairs.

Fern scowled at both men. "Good lord, were you two raised in a barn? Poor, girl. It's her first time hosting a big holiday. Couldn't you lie? I ate my whole piece."

Snorting, Jerry said, "That's because you're crazy."

"No," she argued, "I have manners. Mason, you'd better go after her. It's not every day your own parents stand you up, then your pumpkin pie sucks." She hacked off a chunk of pumpkin bread, slathering it with butter. "Everything else is real good, though."

Mason followed Fern's advice, charging upstairs. The closed guest room door may have muffled Hattie's sobs, but that didn't help him feel better about the situation. Quiet tears were still tears and he hated knowing she was hurt.

He knocked. "Hat Trick? Can I come in?"

"No! And stop calling me that!"

For a split second he considered respecting her apparent wish for privacy, but then barged in, closing the door behind him. "What's with the waterworks? It was only a pie. And Dad and Fern have eaten damn near every crumb of the other stuff you cooked."

"You're such a man. The pie was just the cherry on top of what has been a seriously awful day. Everything was supposed to be perfect, but nothing went right."

Perched on the bed alongside her, he skimmed hair from her eyes. "Funny, because up until a few minutes ago, I thought it's been a pretty great day. I've got you and the girls with me. My dad and Fern. I'm sorry your parents and Alec's chose not to come, but that's their loss."

"You're just saying that to be nice. And don't think for a second I didn't see the way you were looking at all of Melissa's pictures in the dining room."

"What pictures?" He didn't have a clue what she was talking about. "You sound as nutty as Fern."

"Don't even try pretending you don't know what I mean. You slept with me last night, then today in the dining room, stared like a lovesick puppy at her and Alec's parade of exotic vacation pics."

"Those? Are you kidding me?" He crossed his arms. "Yeah, I looked at them all right—in disgust. If I looked sick, that's because I was. I'm sorry those two died, and if this makes me sound like the most heartless ass on earth, then so be it, but the god's honest truth is that to me, those two died the day Melissa left me to marry my so-called best friend."

Up from the bed, he stood in front of the window. "Look, you have to forget the past. I don't mean erasing your sister's memory, but the role I once played in her life. Anything I felt for her has been over for a long time. As for me and you . . ."

"Oh my god, do you ever shut up? What's the point of me doing anything in regard to you? The two of us are going nowhere, Mason. You know it and I know it. As soon as my cast comes off, you're headed back to Virginia. I'll be first to admit last night and what happened in Valdez, well—you and I both know it'll never go further than that."

Jaw clenched, Mason tapped his closed fist to his mouth.

"My sister was the dreamer. I've always been a realist." She combed the guest room's designer pillowcase's fringe. "I'll be first to admit our hook-up has been a nice surprise, but—"

"Aw, Hattie, you mean a helluva lot more than just a hook-up to me. Don't you know that? But circumstances being what they are, I don't have anything else to offer."

"Trust me, I know."
How did your character spend the week just before the story starts?
Hattie ran her bar. Business as usual. Nothing special.
Mason was immersed in training. Returning to his home town was the furthest thing from his mind.
Who would you cast in the role of your characters if your book was optioned for a movie?
Not sure of their names, but I have models cast for both roles on the book's Pinterest board:
What are you currently working on? What other releases so you have planned for 2013 into 2014?
I'm soooo excited to be finally working on THE COWBOY SEAL!!! Cooper is the ultimate dream guy–the perfect mix of cowboy and SEAL!! But boy, oh boy, does he have some baggage… LOL!!
It'll be released 6/2014. After that, I just pitched four more SEAL books to my fab Harlequin editor, and she seemed to like them, so I need to work up a formal proposal so she can buy them!! LOL!!
I have lots of fun indie books available on Amazon:
Smooch–A modern day twist on the classic Frog Prince fairy tale!
Angel–An angelic peek into an unexpected couple's surprising romance!
I'll Die if I Don't Make Cheerleading–My first middle grade fiction series that follows a little girl's journey toward becoming a cheerleader.
And drum roll please…
I couldn't be more tickled to announce that I just sold a single title to Random House that will be released in 2015!! The working title is Control, and is dark, sexy and edgy–not my usual baby story!! LOL!! But I hope my readers will still fall in love with these emotionally scarred characters!!
Thanks for blogging at HJ!
Giveaway: First three books in my Operation Family Navy SEALs series and a custom charm bracelet made especially for my SEAL stories!!
To enter Giveaway: Please complete the Rafflecopter form and Post a comment to this Q:

Do you ever think about an old crush and wonder what he's doing now?
Except
Gotta watch out for "blizzard Parties"!! LOL!!

The dining room furniture had been compressed, allowing for a makeshift dance floor. The roaring fire combined with laughing, gyrating bodies upped the room's heat—both figuratively and literally. Lights had been dimmed to almost non-existent and she found herself embracing the dark.

It made her bold.

Made her forget herself and her worries and everything but this moment with the only man she'd ever wanted more than air.

Hattie lowered the zipper on her sweater, then fanned herself with a napkin. "You'd never know it's probably ten degrees outside."

He laughed, then held out his hand. "I love this song. Let's dance."

The song happened to be a classic—Rod Stewart's, "Do Ya Think I'm Sexy". Never in a million years would Hattie have guessed Mason had even heard of it, let alone liked it. Apparently, a lot of other people did, too, as the dance floor grew crowded.

The song morphed into a slow and sexy Def Leopard number that had Hattie finding herself pressed against Mason in an anything but friendly manner. Swaying to the music, abandoning themselves to the fire's hedonistic glow, he'd settled his hands low on her hips. Was it the fire's heat or his touch that had her skin flush and thoughts dizzy?

Everyone knew blizzard parties were like Vegas.

What happened at the party stayed at the party, but this was different. Mason wasn't really easing his hands under her sweater and up her bare back anymore than she'd pressed her hands to his chest, fisting his shirt when their gazes met in a way they never had before. How many times had she stared into Mason's eyes? She liked to think she knew him inside and out—that she'd always known him, but never like this.

The song ended and another came on. Still slow, but with Justin Timberlake's painfully sexy vibe. She'd always believed his music for the pretty people—the glamorous, party set who'd hung with her sister—but tonight, with a blizzard raging outside and her hair swinging loose and wild, Mason's wicked hands having slid up her sides, beneath her bra, skimming her breasts' side-swell, she felt pretty. Wanton and wicked. All grown-up and for once in her life, refusing to back away from what she wanted.

He angled his head as if planning to kiss her.

Panic seized her, stopping her heart, then racing it to a frightening degree. What was happening? This was Mason. Her sister's boyfriend—her husband. Her ex-husband.

Not asking permission, Mason's hands were out from beneath her sweater to cup her cheeks, drawing her in for the kiss for which she'd literally waited a lifetime. His lips were firm, yet supple, drawing her in, only to tease her by backing away.

Never had she been more out of breath—out of control. She couldn't have stopped kissing him had the room caught on fire.

He played his teasing game till the end of the song, but then things got serious when he took her hand, leading her away from the crowd to the dark stairs.

There, he took things to a whole new level, lowering her to sit on the nearest step, then arching her back, kissing her, kissing her, haunting her with the sweep of his tongue—for he had to know regardless of where the night led, she'd never forget his kiss. His faint taste of beer and raw masculinity.

When he unzipped her sweater, dragging his lips across her throat, chest and finally to draw against first one achy, needy nipple, then the other, she clung to him, too shocked with pleasure to dare move for fear the insanity may end.

He hovered over her, pressing his swollen need against her. "You okay with taking this upstairs?"

She somehow found the strength—the courage—to nod.
Book Info:
His Toughest Mission Yet
Navy SEAL Mason Brown left Conifer, Alaska, and his broken marriage behind long ago. Until one call changed everything. His ex-wife has died in a tragic accident, and given custody of her twin baby girls to Mason and her sister Hattie.
Hattie Beaumont always dreamed of having a family—and Mason—but never like this. Now those old longings seem like betrayal, especially since playing house with Mason comes naturally. She can tell he feels it, too, so why is he determined to leave?
Mason knows Hattie and the girls are the greatest Christmas gift he'll ever get. But even though he's risked his life countless times, risking his heart again feels so much more dangerous.
Author Bio
Laura Marie Altom is the author of nearly fifty novels spanning three genres. Her award-winning work has appeared on numerous bestseller lists and worldwide, she has over a million books in print. Laura graduated from the University of Arkansas, and often sets her stories in the Ozarks. She now lives in Tulsa, Oklahoma with her husband of twenty-five years. She has been blessed with boy/girl twins and a menagerie of pets. For fun, Laura's content to garden, thrift shop or lose herself in a wonderful book.
Website | Facebook | Twitter |