Today it is my pleasure to Welcome romance author
Jessica Peterson
to HJ!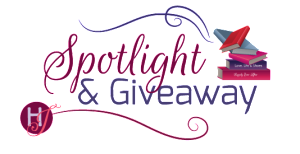 Hi Jessica and welcome to HJ! We're so excited to chat with you about your new release, The Undercover Scoundrel!

Hello! Many, many thanks for having me – I'm so excited to be chatting with you today!

Please summarize the book for the readers here: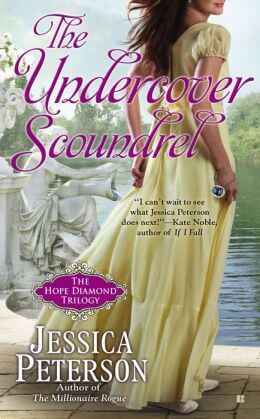 Sure! I pitch this series as a (very sassy!) Jane Austen meets THE THOMAS CROWN AFFAIR.

What's your favorite line in this book and why?
So, I'm going to cheat a little bit on this one, because my favorite line is buried in this delicious little tidbit from the opening chapters of the book:
"Just like that, in a room full of family and friends and footmen, Henry and Caroline were alone, her voice low, his lower, as they grinned at one another. Was he imagining her burn, the same burn that coursed in the space between his blood and bones? She couldn't like him, or feel for him the things he did for her. He'd left her, he was maimed, a cripple, scarred on both sides of his skin. Why did he even try?

Because of the way she was looking at him, now. He wanted to reach out and touch her face, hold her chin in his palm."
My favorite line is the "scarred on both sides of his skin" bit, because I think it perfectly sums up my hero, Henry Beaton Lake, and his struggle to keep the woman he loves safe – from both his enemies and himself.

When you sat down to start the Hope Diamond Affair Trilogy, what were you the most excited about? New setting that you get to explore so thoroughly? Being able to revisit characters? 
I think I was most excited about writing the kissing scenes. There are few things I love more than a really, really great, soul-scorching, heart-rending kiss between a handsome hero and his passionate heroine. Sometimes a kiss can have more meaning – and be far more intimate – than sex. I think it's safe to say most women, including myself, dream about being kissed like that!
I also love the setting – 1812 London, glittering ballrooms, Mayfair mansions – I mean, really, what's not to love? Of course mine is a romanticized view of the past (if you're looking for something that delves a little deeper into the everyday realities of living without indoor plumbing or central heat, check out Jo Baker's excellent LONGBOURN), but I also did a TON of research into the period. I'm especially fascinated by material history – on a recent trip to London I saw a Regency-era wedding gown at the Victoria and Albert museum, and I think I stood there for twenty minutes, my nose pressed to the glass, wondering about the woman who wore it. What was her story? What was her wedding day like? Was her groom handsome, charming? Or did she marry him for money, because she was pregnant, because her parents told her to? How did she feel in the dress? I got goose bumps imagining all the possibilities. History is endlessly cool – so yes, that was also exciting to write about.
Please tell us a little about the characters in your book. As you wrote your protagonist was there anything about them that surprised you?
Henry and Caroline are by far my most "mature" – and quietest – couple to date. They're a bit on the older side, having married in secret some twelve years before the action in the book begins. They're weary, they're scarred, and they're both suffering terrifically from what they believe to be unrequited love for one another. I think I was most surprised by how difficult the emotional arc was to nail down. I really struggled with making this rekindled romance feel "real" without heading into shrill/arch/bitter territory. There's nothing romantic about your husband disappearing the day after he wedded and bedded you, so that was a particular challenge.
I was also surprised by how fun Henry was to write. I've discovered that I really like to write men – I'm a big fan of "bro humor" and have watched THE HANGOVER about a million times. He kept cracking me up, despite the heaviness of his story.
What would you say is the overarching theme in this series?
Authenticity – the struggle to be who you really are, instead of who you should be, who you want to be, who your family and friends want you to be. It's something I've thought a lot about and struggled with myself, so it's a theme that's very near and dear to my heart. I think in this day and age of the "overshare" on social media, where everyone posts about their perfect job, their hot boyfriend, and their new Mercedes, it's especially tough to stay true to yourself – what you want, what gives your life meaning. The struggle, as they say, is real, and I hoped to explore it in this series.

The First kiss…
Soul-scorcher at secret wedding.

Did any scene have you crying or laughing (or blushing) while writing it?
Oh, goodness, yes! I remember I was writing one particularly steamy scene, when the heroine indulges in a bit of – ah – "self love" after a heady encounter with her long lost husband. Normally it wouldn't make me blush (again, I love writing sex scenes), but while I was writing this one I had a cabinet guy in my house installing some roll-out shelves in my kitchen. Every time he would knock on the door of my office I felt like dying. He was a nice guy, but man did he ruin my writing mojo that day!
A little snippet:
"Perhaps she might do the same tonight. Perhaps Caroline might give herself over to her hurt, and her desire, one last time, and in the morning begin her liberated life as a widow; it had, after all, been more than a year since Osbourne's passing. An eccentrically aloof, steadfastly unattached widow.
But tonight – tonight she would be with Henry. One last time.
Wrapping herself in Henry's coat, she fell back upon the bed, the ropes beneath the mattress sighing in protest. Closing her eyes, she remembered the slide of his mouth over her shoulder and throat; the demanding press of his lips against her own, and the way he'd pulled her bottom lip between his teeth –
Dear. God.
Surrounded by Henry's scent, Caroline tugged at her skirts, gathering them in her fists at her waist; toeing off her slippers, they fell with soft thuds to the carpet below.
Her entire body broke out in a sweat at the image of him – him, Henry – looming above her, his shoulders blocking the night as he angled his head to kiss her. He took, and kept taking, and in that moment she'd offered up all she had to give.
Her heart took off at a gallop."
If a song played when Lady Caroline walks into a room, what would it be? What would Henry's song be?
Funny you should ask that. For every book I write, I tend to have one or two songs I listen to on repeat, obsessively, throughout the first draft. For Henry and Caroline's story, it was The 1975's eponymous debut album – specifically the songs "Sex" (shocking, I know!) and "Settle Down." I thought this angsty alt-rock really captured Henry and Caroline's angsty, tumultuous relationship.

What are you currently working on? What other releases do you have planned for 2015?
A couple secret projects – and a lot of reading! Right now I'm obsessed with anything Tessa Dare, Kelly Bowen, and, very recently, some steamy New Adult by Elle Kennedy and Kristen Callihan.

Thanks for blogging at HJ!
Giveaway:

2 Print copies of THE UNDERCOVER SCOUNDREL by Jessica Peterson
To enter Giveaway: Please complete the Rafflecopter form and Post a comment to this Q:

What's your favorite literary smooch? Edward and Bella? Scarlett and Rhett? Please do share!
Excerpt from The Undercover Scoundrel:
LONDON, SPRING 1812
Caroline's eye caught on a flash of gray-blue brilliance across the ballroom, widening at the realization that it was a diamond—the diamond, King Louis' French Blue. It was enormous, even from a distance; there was something distinctively seductive about the way the jewel sparked and glittered in the low light of the chandeliers above, winking red one moment, flashing white the next.
Perhaps it was the lady wearing the French Blue who was so alluring. She was tall and shapely, and wore a gown of diaphanous pale gauze that left very little to the imagination. The jewel hung from a collar of wisplike diamond threads, resting just above the inviting crease between her breasts. Like the diamond, her eyes flashed a bold shade of blue; but even as the pert slope of her nose, the knowing smile of her lips exuded confidence and coolness, the woman's color was high.
One need only look slightly to the left to know why.
Caroline's brother William, despoiler of debutantes, voluptuary extraordinaire, was grinning down at the lady as if he might enjoy that ample bosom for dessert.
Caroline rolled her eyes. So much for finding London and its dissipated amusements dull; a few coupes of punch and William was back to his old tricks. Hopefully the poor girl knew better than to indulge him.
Who was she, Caroline wondered, and why had this Mr. Hope chosen her to wear his prized jewel? Perhaps he wanted to display his wealth before all the world, or at least all of London, and there was no better way to do that than to wedge it between a pretty girl's breasts.
But even as curiosity prickled in the back of her mind, Caroline's thoughts returned again and again to Henry.
Was he here at the ball? She was beginning to feel foolish for even thinking such a thing; she was beginning to feel foolish for thinking she'd seen him at all earlier this afternoon in Hyde Park.
Yet it was him. It had to be him. She'd felt it in her skin, in her heart. Henry Lake was back in London.
But even if he was back, even if he was here, what did she hope to accomplish by chasing him down? He disappeared twelve years ago with hardly a handshake; no one had heard from him since. It was obvious he did not want to be found.
Caroline turned, and so did her heart inside her chest.
He was here. He was real, and alive.
And he was looking at her.
She looked away, heart pounding, heat rushing to her face. She felt unsteady on her feet, as if the ground had suddenly shifted, jolting her to life. Her ribs fought against the prison of her stays as she struggled to catch her breath.
Meeting his eyes—his one eye, which at the loss of its partner seemed to have taken on twice the intensity, twice the heat—made Caroline feel as though she was going to cry; like she was falling into the deep well of emotion that had lain hidden inside her all these years.
Caroline began to move if only to keep from fainting. She inched sideways through the crowd, feeling the heat of Henry's gaze on the back of her neck. Was he following her?
She glanced over her shoulder. Oh, he was definitely following her.
Stumbling blindly through the crowd, Caroline at last found respite at the refreshment tables. She didn't need to look to know that Henry was getting closer.
Caroline hooked a trembling finger through the handle of a crystal coupe and threw back the punch.
Dear. God. It was more brandy than punch, burning a ribbon of fire down the length of her throat. She coughed heartily, running the back of her hand across her lips. She looked up. Henry was close. Very close.
She looked down at her empty glass, waiting for what her brother called liquid courage to light a fire in her belly.
She waited.
And waited.
And was none the more courageous when, sadly, a footman removed the coupe from her hand.
Taking a deep breath through her nose, Caroline looked up.
Henry was an arm's length away; as he moved to stand before her, he captured her eyes with his, her chin drawing higher to meet his gaze.
He drew up in front of her, a respectable distance separating their bodies until a crowd of drunken dandies jostled enthusiastically behind him, pushing him closer.
Too close.
His face lit with panic.
"Oh, oh, how clumsy, and the crowd . . . I, um. Are you all right?"
She blinked, startled by the sound of his voice. A chill shot down her spine; that voice of his, deep, rumbling, was at once foreign and familiar.
"Yes," she breathed. No. Not at all. "All right, thank you."
Henry's green eye, wide, glowed in the half-light of a thousand candles. For a minute the room fell away and she was beneath the arched ceiling of her family's ancient chapel, the echo of her vows ringing in her ears as she met Henry's gaze.
She blinked and the spell was broken. She could see stray white strands of his wig clinging to the damp skin of his forehead; heavens, he was bigger than she remembered, and more handsome, and intimidating, and so . . . so very much.
"Hello," he said softly.
She met his eye. "Hello."
Caroline could smell the scent that rose from his skin. He smelled fresh, like lemon soap and laundry. There was something else there, too, something visceral and spicy, something that sent a rush of recognition through the base of her skull.
The eye patch was more sinister up close; its surface shone dully, and Caroline wondered what, exactly, was hidden beneath it. She resisted the impulse to reach up and feather her fingers across its surface.
The drunken dandies returned, forcing Henry to lurch forward; Caroline caught him in her arms. His face was bright red.
"I, uh, I swear I'm not doing this on purpose—here, once I can move I'll, um, move?"
Caroline squeezed her eyes shut, her body pinned against his. She willed herself to be still.
His chest bowed and scraped against her own. They were both breathing hard.
Behind them the music started, a rising melody that permeated the sounds andaround them. Henry glanced over his shoulder.
"There's more room near the dancing," he said.
Caroline ignored the excited thump inside her chest. "Are you—"
"Asking if you'd like to breathe? Yes. Although to do that we'll need to dance."
"But it's a waltz."
Henry furrowed his brow. "What's wrong with a waltz?"
"I don't know how."
Really, she hadn't a clue; considering she often had difficulty walking, it was safe to assume she was going to be miserable at it. Never mind that Henry was looking down at her like that; she was likely to break her leg, his leg, perhaps even both their legs . . .
No matter the threat to their lower extremities, Henry's left hand dipped to the small of her back. He grinned.
"Then I shall teach you."
The protest died on her lips when his right moved to clasp her own in the steady warmth of his palm. He pulled her against him; his breath tickled the hair at her temples. She felt terrifyingly present, her body coming alive as he pulled her yet closer. She looked down at the bare skin of his throat, the ridge of his jaw covered in the barest velvet of pale stubble, and swallowed.
They began to move. Caroline blushed at the intimacy of their movements, the way Henry guided her body to glide in time to his. Her gown sighed as it brushed against the gilded buttons of his courtier's coat; his thighs pressed insistently against her own.
The ballroom surrounded them in a whirl of dark shape and sound, and yet the sensations bursting to life inside Caroline were all bright, all color. She could feel his eye on her as they moved. She did not dare look up.
Oh, heavens, what was she doing? All these years later—the heartbreak, the regret—she should know better than to waltz with Henry Beaton Lake.
And yet here she was, rising to the touch of the man whose memory had tortured her for a decade.
Despite his size and limp, Henry moved as if on air. His steps were confident, smooth. She wondered where he'd learned to waltz; in which corner of the world had Henry thrilled other women with his surefootedness, his steely command?
In the circle of his arms she felt safe and stranded. She felt lost and more than a little strange, as if it all were a dream: not entirely unpleasant, but certainly impossible, thrillingly, terribly so. She'd already woken once to find him gone. She was not fool enough to do so again.
Besides, she was widowed, and possessed of a hard-won freedom she would not give up for the likes of Henry.
But oh, that look in his eye . . .
Excerpts. © Reprinted by permission. All rights reserved.

Book Info: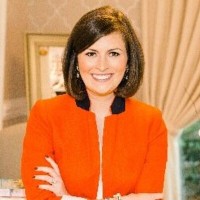 The author of The Millionaire Rogue returns to her dazzling series about a bygone era filled with romance, espionage, and one dangerously seductive diamond…
Mr. Henry Lake spent the past twelve years uncovering the most scandalous secrets of Europe's wealthy and powerful, serving as one of His Majesty's most decorated spies. But when a mission to find the legendary French Blue diamond brings him back to London, and face to face with a beautiful noblewoman he once loved, it's his own hidden passions that are uncovered…
Lady Caroline, Countess of Berry, knows better than to lose her head over a man. After an embarrassing romantic entanglement forced her into a loveless marriage and early widowhood, she learned to never trust in desire, especially when it comes to the man who once broke her heart. Only, despite her good sense, she finds Henry impossible to resist—even when he once again places her in deathly danger…
Meet the Author:
Jessica Peterson began reading romance to escape the decidedly unromantic awkwardness of her teenage years. Having found solace in the likes of Rhett Butler and Mr. Darcy, it wasn't long before she began creating tall, dark, and handsome heroes of her own.
A graduate of Duke University, Jessica worked in finance before leaving to pursue her writerly dreams. She lives with her husband, the tall, dark, and handsome Mr. Peterson, in Charlotte, North Carolina.
I love hearing from readers!  I'm super into instagram and twitter (both @JessicaPAuthor), and you can also find me on Facebook at https://www.facebook.com/jessicapetersonauthor.  You can also email me at jessicapauthor@jessicapeterson.com, and I am a sometime blogger at www.jessicapeterson.com.