Today it is my pleasure to welcome author 

Marina Fiorato

to HJ!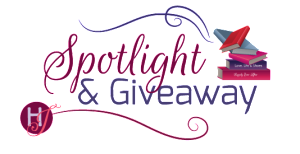 Hi Marina, Welcome to HJ!
Thank you for having me! Great name by the way…
What would you say is your motto or maxim as a writer?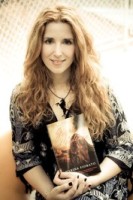 Don't over-describe. Your readers have an imagination, so don't bore them with too much detail.
If you were stranded on a deserted island…
I would teach myself sand sculpture and create all the famous landmarks of Italy in sand. The Leaning Tower of Pisa might be a challenge!
Let's talk about your newest release: My latest book is THE VENETIAN BARGAIN, out in the States in April.
If you had to summarize the book for the readers here…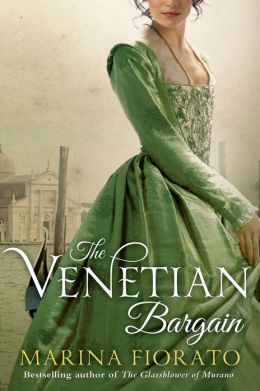 A Turkish ship comes to Venice in 1576 with a plague victim on board and the whole city is infected. THE VENETIAN BARGAIN is the story of how three people try to fight the pestilence in very different ways. There is a young male doctor who uses Western medicine, a young female harem doctor who tries Eastern remedies, and an ageing architect – Andrea Palladio – who hopes that building a magnificent church will persuade God to save the city from the pestilence.
Please tell us about the characters in your book
My hero is Doctor Annibale Cason, who is young and handsome and an enormously talented physician, but he is very prickly at first. To begin with he treats his patients as an intellectual exercise, but throughout the book, once he forms some close relationships, he begins to care about the fate of his patients in a deeply emotional way. Andrea Palladio, the ageing architect, is arrogant and capricious, and likewise initially cares only about his architectural projects – the great plague of Venice is a mere irritant which will not prevent him from building his church. But he too is brought to care about the people of his beloved city. The person who brings about such a change in the two men is my heroine, Feyra. A foreigner in the city of her enemies, she is the one who teaches Annibale and Palladio how to care. She challenges Annibale both on an intellectual level – through her Eastern medicinal methods – and on an emotional one, as they gradually fall in love.
As you wrote your protagonist was there anything about them that surprised you?
I was surprised that Feyra hated Venice so much initially. I love Venice so much, and feel so at home there, it never occurred to me that someone could be terrified of it. But when I began to write Feyra's first experience of the place, she is alone, a foreigner and an enemy, in the dark alleys, and everyone she sees is wearing a bestial Carnevale mask. I realized that she was telling me that she would be afraid, very afraid.
What scene did you most enjoy writing? Why?
I liked writing one of the last scenes of all, when Feyra takes on the entire Venetian medical establishment and wins. Women were not allowed to practice medicine at the time, so I enjoyed the fact that she outplayed the men!
'You know, I suppose,' the first tribune addressed Feyra creakily, 'that women are not allowed to practise medicine in the Republic of Venice?'
'In that case, your honour,' said Feyra, 'I wonder that you took the trouble to summon me here.'
Annibale smiled behind his new beak mask.
The second ancient spoke. 'You have a sponsor here, with a medical licence ratified by the Consiglio?'
Annibale stood.
The third tribune spoke. 'This woman works for you?'
'She works with me.'
What scene was the hardest to write? Why?
It was hard to write of the death of Feyra's father. I could not help but think of my own father, who is Venetian, and put myself in her place.
'Then when we rode, there were lemon trees; they whispered their approval as we rushed by. The horses crushed the fruits under our hooves. I can still smell them, Feyra. I can smell them now.'
She smiled at him, knowing he could smell the lemon balm, hopeful now, knowing her father would mend, that her surgery had worked.
Then he died.
Who would you cast in the role of your characters if your book were optioned for a movie?
I would have Rodrigo Santoro for Annibale, Emilia Clarke for Feyra and Christopher Lee for Palladio.
If you could have given your characters one piece of advice before the opening pages of the book, what would it be and why?
Don't go to Venice in 1576. Things are going to get ugly.
What are you currently working on? What other releases do you have planned for 2014?
At the moment I am trying to decide what to write next. As usual the problem is too many ideas! I have a new book coming out in the UK in May which is called Beatrice and Benedick – it is a prequel of the Shakespeare play Much Ado About Nothing. Hopefully it will soon be available in the States.
Where can readers get in touch with you?
I am on twitter: @marinafiorato
GIVEAWAY:

2 print copies of THE VENETIAN BARGAIN
To enter Giveaway: Please complete the Rafflecopter form and post a comment to this Q:

If it came to the choice, would you save the life of the one person you love the most, or everyone in an entire city?
Excerpt:
Sickened, Annibale had dropped the handle of the cart and walked away. This is not what he had trained for. He headed for the Fondamenta Nuove, the myrtle smoke swirling around him as if he were a Faustian spirit coughed from hell. There on the dock he could breathe again. He took off his mask and threw back his sweaty hair. He shook the smoke from his clothes, breathed the salt air, and began to question.
What if the citizens were not bottled together to die? What if they could breathe this air, not the choking smoke of burning myrtle? If he could just take them away, treat them as he wanted, not with witchcraft and superstition but with the sound medical precepts to which he'd dedicated his academic life.
He breathed out the horrors of the day in one long, defeated breath and looked right out to sea. On the distant horizon, through the sickly yellow mists from the plague fires which were rolling into the lagoon, there where the air was clear, he saw where the silver
Blurb:
Venice, 1576. Five years after the defeat of the Ottoman Empire at the Battle of Lepanto, a ship steals unnoticed into Venice bearing a deadly cargo. A man, more dead than alive, disembarks and staggers into Piazza San Marco. He brings a gift to Venice from Constantinople. Within days the city is infected with bubonic plague—and the Turkish Sultan has his revenge.
But the ship also holds a secret stowaway—Feyra, a young and beautiful harem doctor fleeing a future as the Sultan's concubine. Only her wits and medical knowledge keep her alive as the plague ravages Venice.
In despair, the Doge commissions the architect Andrea Palladio to build the greatest church of his career—an offering to God so magnificent that Venice will be saved. But Palladio's life is in danger too, and it will require all the skills of Annibale Cason, the city's finest plague doctor, to keep him alive. What Annibale had not counted on was meeting Feyra, who is now under Palladio's protection—an impossible woman whose medical skills and determination are matched only by his own.
From Marina Fiorato, author of the acclaimed historical novel The Glassblower of Murano, comes a triumphant return to historical Venice with Venetian Bargain.