Today, HJ is pleased to share with you Tawna Fenske new release: 

This Time Around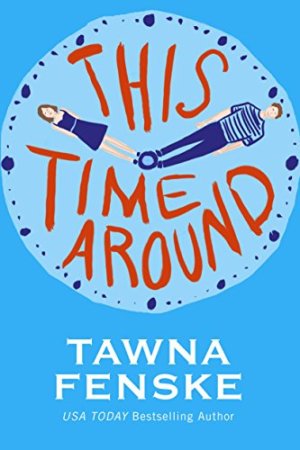 Allie Ross is not living the life she once dreamed. Her law career ended before it ever started, her parents landed in jail for running a Ponzi scheme, and she just inherited her grandmother's B&B—which is nice, even if it is full of extra-toed cats. As for her love life…she'd rather not talk about it.

When Jack Carpenter reaches out to reconnect with Allie, the girl who broke his heart in college, his plan is to impress her with the adult he's become. Sure, he was a deadbeat then, but life has forced him to grow up. And it's a relief to find out that things didn't necessarily go the way Allie expected either.

As Allie and Jack get reacquainted, they rediscover the things they loved—and hated—about each other. But who they are now isn't who they were then, and secrets—old and new—will test whether they have a future together, or if the past is destined to repeat itself.
Read an exclusive excerpt from This Time Around: 
"You're right," she said.

"What?"

"About looking into the legal aspects of it. I'll do that, thank you."

Something was off here. He wasn't used to hearing you're right coming out of her mouth. Had she ever said that before? Not once, he was pretty sure. Then again, how often had he actually been right? He'd be the first to admit he hadn't been the most astute eighteen-year-old on the planet. He'd made mistakes, plenty of them, but then again, so had she.

His addled brain was so focused on the novelty of her words that he didn't realize she'd moved closer. That Allie was standing near enough for the side of her breast to graze his arm as she reached past him to put the Easter basket back on the shelf. Her sweater rode up, exposing a swath of pale skin on her low back. He saw something that might've been the top edge of a tattoo, but that seemed unlikely, and he was more interested in the hint of a lacy lavender thong above her jeans. God, did she still wear sexy underwear? It had always driven him wild, the thought of her all buttoned-up in conservative slacks and cashmere turtlenecks, while underneath, she was gift-wrapped in satin and lace.

She set the basket on the shelf and stood facing him, eyes locking with his. She was so close, close enough for him to feel the heat of her abdomen against his bare forearms. He watched her rub her lips together slowly, the way she used to just before he kissed her, and Jack wondered if her pink sweater was as soft as it looked.

Allie didn't move back toward the boxes. She moved closer, and for an instant, Jack thought she was reaching for him. Instead, she stretched up again, breast pressing into his arm once more as she stood on tiptoe to inspect the shelf over his shoulder.

"Hmmm, this box looks familiar," she said.

God, the sweater was as soft as it looked. Or maybe that wasn't the sweater. There wasn't much blood left in Jack's brain, and he took a deep breath, flooding his senses with her.

"My grandma used to keep old letters in a box like this," Allie was saying, though Jack could hardly make out the words through the buzzing in his head and the feel of all that softness pressed against him.

Her hair was tickling the side of his neck, and Jack breathed her in again, knowing full well that was just compounding the problem. She lowered herself to her heels and stood looking up at him. Those dark-green eyes fixed on his, and he looked deep into them, thinking of shaded forests and dark, warm places.

He reached for her without thinking, palming the curve of her waist and pulling her tight against his body. He watched her pupils dilate, her lips part.

"Allie."

"Hm?"

Her lashes fluttered, and Jack tightened his hold on her waist. "That was a very nice try."

She blinked. "What?"

"The boob graze. The hair tickle."

"I don't know what you're talking about."

"It was a good trick when we were eighteen." He reached up with his free hand to brush her hair off her forehead, rewarded by her sharp intake of breath. "Back then, the boob graze would have distracted me from an appendectomy."

He watched her eyes darken, and she licked her lips again. "You're saying I'm not hot enough to be a distraction at thirty-six?"

He almost laughed. "I'm not saying that at all." He was still gripping her waist, and he leaned in to brush his lips over the top of her ear, triumphant when he felt her shiver beneath his palm. "You're still hot."

He drew back, half expecting her to slap him. He probably deserved it. He was being cocky as hell, and rude, too. She had every right to haul off and smack him.

But he watched her throat move as she swallowed, and knew from the flush in her cheeks that she wasn't unaffected by her own attempt at seduction. She'd gotten to herself, too.

"But I'm smarter now," he said. "Smarter than I was at eighteen, anyway."

"I noticed," she whispered.

Something flashed in her eyes that he'd never seen before. Awe, maybe. Respect. All the things he'd wanted to see when he'd shown up to gloat the other night.

But he hadn't expected to see those things up close. Not like this, with his hand on her waist and her pelvis arching toward him. He wasn't sure if she was responding to a desire to distract him from the contents of the steamer trunk or plain old desire. Did it matter?

He pulled her closer. She came willingly, head tilted back, breasts curved toward him. He was kissing her before he'd made up his mind to do it.

The momentary shock of it melted into something else as Allie arched against him, arms lifting to twine around his neck. What had started out as a game had morphed into something else, and it took every ounce of Jack's self-control not to get swept away.

He was still kissing her and the sensation was both foreign and familiar, like revisiting the scene of a party where he'd had too much champagne. She was soft everywhere—lips, breasts, thighs—every place where her body pressed against his was warm and yielding.

"Jack," she gasped, grinding against him.

He broke the kiss and reached for the clasp above his hip. "For the record, that's my hammer." He let the tool belt drop to the floor and reached for her again, pulling her tight to his body.

Her eyes widened a little and she glanced down before smiling up at him. "But that's not."

"Nope."
Excerpt. ©Tawna Fenske. Posted by arrangement with the publisher. All rights reserved.
Giveaway:

Ebook: THIS TIME AROUND by Tawna Fenske
To enter Giveaway: Please complete the Rafflecopter form and post a comment to this Q:

What did you think of the excerpt spotlighted here? Leave a comment for the author with your thoughts on the book…
Meet the Author: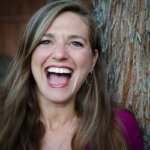 Tawna Fenske is a romantic-comedy author who writes humorous fiction, risqué romance, and heartwarming love stories with quirky twists. Her offbeat brand of romance has been praised by Booklist as "a tame Carl Hiaasen on Cupid juice," and her debut novel, Making Waves, was a nominee for RT Book Reviews' contemporary romance of the year. She is a fourth-generation Oregonian who can peel a banana with her toes and loses an average of twenty pairs of eyeglasses per year. She lives in Bend, Oregon, with her husband, her stepkids, and a menagerie of ill-behaved pets.