Today it is my pleasure to Welcome author
Delores Fossen
to HJ!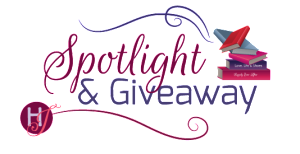 The Granger siblings thought they'd left their ranching days behind, until fate sends them home to Wrangler's Creek, Texas—and into the passionate arms of those they'd least expect…
Please summarize the book for the readers here: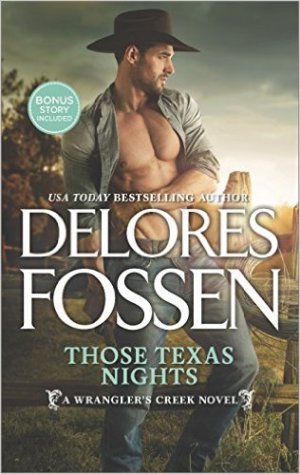 When Sophie Granger is jilted and loses her business all in the same day, she's forced to rebuild her life. That rebuilding includes making the townsfolk of Wrangler's Creek believe she's not a broken woman, and she turns to hot cowboy cop, Sheriff Clay McKinnon, to help her with the ruse. However, when the ruse turns real, Sophie and Clay discover they just might want to do the rest of her rebuilding together.

Please share the opening lines of this book:
Sophie Granger wiped her eyes with the back of her hand and squeezed her mud-splattered Elie Saab wedding dress into the Wrangler's Creek Police Department. It wasn't easy getting ten yards of ivory tulle through the doorway, especially while crying and being light-headed. Sophie had to gather up the sides of the dress into puffy balls and turn sideways to manage it.
Please share a few Fun facts about this book…
I researched wedding dresses for this book when my daughter was planning her own wedding.
The heroine, Sophie's, first crush was Lucky McCord, who's the hero from LONE STAR NIGHTS of the McCord Brothers' trilogy.
The hero, Clay, is attacked by a "feral" chicken that hangs around his ranch, and the same thing happened to me. A mother hen attacked me when I was a kid, and I'm still wary of chickens.
Please tell us a little about the characters in your book. As you wrote your protagonist was there anything about them that surprised you?
I was surprised at just how tough the heroine, Sophie, could be. Her upbringing had been somewhat sheltered, but she rose to the occasion when she needed to rebuild her life.
If your book was optioned for a movie, what scene would you use for the audition of the main characters and why?
The scene after the heroine, Sophie, and the hero, Clay, have sex for the first time. Clay expected her to regret what had happened, but she wasn't regretting anything. He finds her naked in his bed while eating some leftover pie.
Excerpt of scene:
"Let's play a game," she offered.
Since she was naked and looking at him as if he were the whipped cream on that pie, Clay would have agreed to anything. Even if he shouldn't.
"What kind of game?" he asked.
She fed him a bite of pie before she answered. "It's called 'we're not going to feel guilty about this and here's why.' Then, we start naming all the reasons why there'll be no guilt or regret."
Clay drew a blank.
"All right, I'll start," Sophie continued. "I don't regret it because it felt amazing."
"That's the orgasm talking," he concluded, and had another bite of the pie.
She smiled. Shrugged. "Second reason. We both had really bad days and needed to relieve some stress."
Now he shrugged because it was true. To a point. "There are other ways to relieve stress that won't screw up your life."
Sophie gave him a flat look. "Name one. Wait. Name one that won't make me drunk, fat, broke or sweaty."
With those added conditions, he was drawing a blank. That possibly had something to do with Sophie shifting her position on the bed, and he got a glimpse of what the sheet had been covering. Suddenly, he was thinking of another reason not to regret this.
A stupid reason.
It involved curing the regret of the first time by going back for seconds.
What do you want people to take away from reading this book?
That sometimes the best laid plans aren't the best plans at all. Sometimes, life has something better in store.
What are you currently working on? What other releases do you have planned for 2017?
I'm writing more Wrangler's Creek novels and novellas for HQN. The next two novels are: NO GETTING OVER A COWBOY that comes out in March, and BRANDED AS TROUBLE will come out in June. I also have three more Intrigues on the schedule for 2017: DRURY, HOLDEN and LUCAS.

Thanks for blogging at HJ!
Giveaway:

Print copy of THOSE TEXAS NIGHTS by Delores Fossen
To enter Giveaway: Please complete the Rafflecopter form and Post a comment to this Q:

I love writing cowboys, but that love started with watching cowboy TV shows, movies and reading books about cowboy heroes. What about you? Do you enjoy reading cowboy stories?
Excerpt from Those Texas Nights:
"So…." she said as if trying to prompt something—either him or herself.
But Clay didn't budge. "So," he repeated.
His hand was stupid, too, because it moved toward her. To her arm, and he brushed his fingers over her skin. If he was the sort of man who lied to himself, he would have said that was to check and see if she was cold. But as a general rule, he preferred to face up to the truth.
He just wanted to touch her.
And she was indeed cold. He could feel the goose bumps riffling over her skin.
Again, he could have lied to himself and pretended that he moved closer to give her a little heat, but Clay wanted to feel just how hot that slam of attraction could be when his body brushed against her.
It could be damn hot, he decided.
"I'm pretty sure this is a bad idea," she said. Her voice was all shivery and sending out some kind of pheromones.
That didn't stop him. He was going to kiss her. And yes, it would be a bad idea. "It's been a while since I've had something to regret, but this should take care of that."
She laughed, not laced with nerves as he wanted it to be. If there'd been nerves, that might have caused him to back away. But that laugh was laced with pheromones, too.
"Just how much do you think we'd regret it?" she asked.
"This much."
Clay moved in, sliding his hand to the back of her neck, inching her closer. Not that she had to go far because he'd already positioned himself too close. His mouth lowered to hers, and he caught her scent again. Not those blasted nachos, either, but Sophie's scent, and he figured she would taste as good as she smelled.
Probably better.
He started with a simple touch, his lips brushing against hers. That packed a wallop, too, and Clay moved in to make this a mistake worth regretting.
Excerpt. © Reprinted by permission. All rights reserved.

Book Info:
It's some run of bad luck when Sophie Granger loses her business and gets left at the altar all in one day. Desperate to not appear jilted, Sophie begs Clay McKinnon, Wrangler's Creek's smoking-hot police chief, to pretend they're having an affair. But Clay refuses, leaving Sophie to retreat to the family ranch to lick her wounds.
Hoping to leave his disreputable past behind, Clay moved to Wrangler's Creek for a fresh start. But that looks unlikely when Sophie's ex-fiancé shows up married to Clay's impulsive kid sister. Overcome, Sophie resuggests the affair—but this time for real. Clay is hesitant. City-girl Sophie isn't usually his type. But he can't deny the desire she elicits—or his yearning to have her plant her cowboy roots for good.
Book Links:

Meet the Author: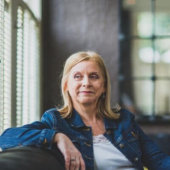 USA Today bestselling author, Delores Fossen, is an Air Force veteran who has sold over 100 novels. She's received the Booksellers' Best Award for romantic suspense, the Romantic Times Reviewers' Choice Award and was a finalist for the prestigious Rita ®. Her books have been featured in Woman's Day and Woman's World. In addition, she's had nearly a hundred short stories and articles published in national magazines.
Website | Facebook | Twitter | Instagram | GoodReads |