Today it is my pleasure to Welcome New York Times bestselling author
Susan Mallery
to HJ!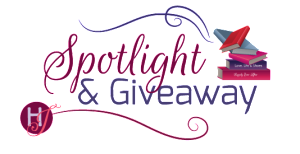 Meet the Mitchell brothers of Fool's Gold, California—five gorgeous men who've left a trail of broken hearts in their wake…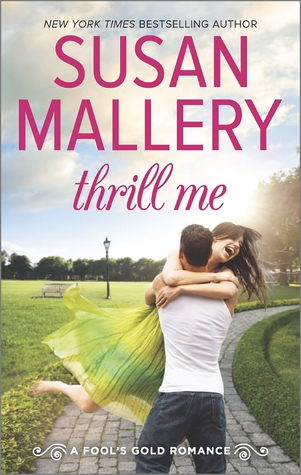 Maya Farlow learned the hard way to depend only on herself, so when she fell too deeply for the bad-boy charms of Del Mitchell, she did the only thing she could—she ran. Stunned, Del left Fool's Gold to make his name and fortune in extreme sports.

Now ten years later, Maya's been hired to promote her hometown's new slogan, The Destination for Romance. The celebrity spokesman is none other than Del, the man she dumped but never forgot. Awkward!

Although Del's not the type to hold a grudge, he's determined to avoid falling a second time for the woman who broke his heart. He's a daredevil, not an idiot. Trouble is, in all his adventures, he never found a rush as exhilarating as Maya's kiss. Maybe risking his heart will prove to be the biggest thrill of all…

HARLEQUIN JUNKIE ASKED SUSAN: IF THRILL ME WAS OPTIONED FOR A MOVIE, WHAT SCENE WOULD YOU USE FOR THE AUDITION OF THE MAIN CHARACTERS AND WHY?

Thrill Me would make such a fun movie! A pure romance, with lots of humor and loads of heart. Set in the picturesque town of Fool's Gold, California, nestled into the base of the Sierra Nevada mountain range. Against this beautiful backdrop, Maya Farlow and Del Mitchell fall in love.

The scene I would choose for the auditions would be from Phoebe's wedding. (Phoebe and Zane fell in love in KISS ME, which came out on June 30.) This scene with be a great test of the chemistry between leading lady and the man who will win her heart.

Maya, Phoebe's best friend and Zane's stepsister, is the maid of honor, and Del is her date. The wedding is over, and twinkle lights are sparkling in the warm, summer evening air outside the Nicholson ranch house.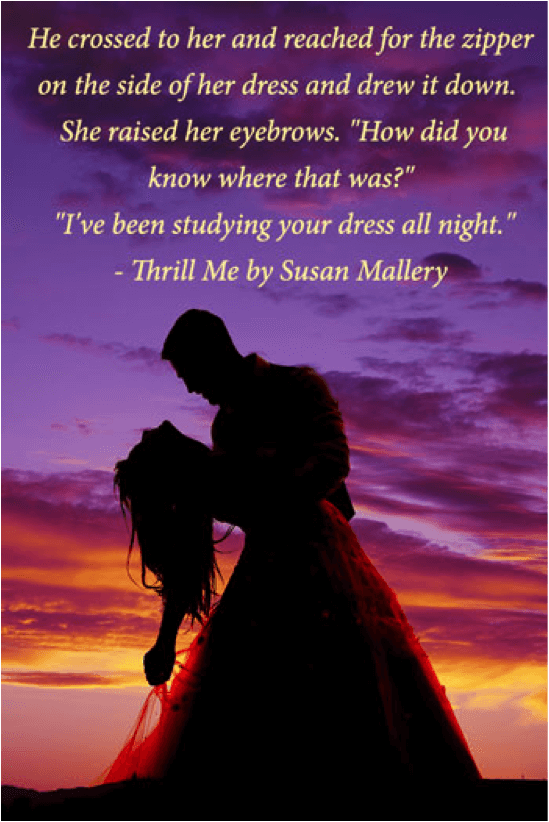 Maya: A willowy blond with green eyes, Maya exudes intelligence. She's a self-starter who has achieved a lot in her 28 years, through force of will and determination.

Del: The eldest of five brothers, Del wears the mantle of responsibility easily. He's tall, broad in the shoulders and lean in the hips, strong, athletic. Restless. Del has dark hair and dark eyes.

The scene begins…
Maya walked toward him. She had trouble on the uneven ground and when she reached him, she grabbed his arm, then stepped out of her heels.

"These do not work on grass," she said with a laugh. "In case you had any transvestite tendencies."

"Not so far."

Del took the bouquet from her and dropped it to the ground, then put his hands on her hips and drew her against him.

They were in relative privacy in the grove of trees. People were all around them, but no one was that close. The music had started, and judging by the scent of steaks filling the air, the barbecue was going. Which meant the guests would be moving toward the tent. Better for him, he thought as he lowered his head and kissed her.

Maya raised her chin and met him more than halfway. Her lips were soft and yielding, clinging to his. She wrapped her arms around his neck.

He settled his mouth more firmly on hers. She tasted of mint and champagne, and her lips parted before he asked. He moved his tongue against hers, feeling the heat, the electricity. They'd always been good together, he thought hazily. Well matched. Time away from each other hadn't changed that.

Wanting poured through him. Blood rushed to his groin with a predictable result. He moved his hands from her hips to her rear, sliding across the slick material of her dress. She nestled closer, relaxing into him, as if trusting him with all she was.

In the distance a bell rang. It was an insistent sound. She sighed against his mouth.

"They're calling us to dinner."

"You hungry?"

She chuckled. "Yes, and exactly the way you mean. But there's a head table and we're both at it. Someone's bound to notice two empty spots."

"Damn."

She stared into his eyes. "My thoughts exactly." Her mouth turned up. "It's the dress, isn't it? I knew it would make you hot."

He touched her cheek. "It's not the dress."

Her pupils dilated. "You say the sweetest things."

He kissed her lightly, then dropped to one knee and collected her ridiculous heels. "You want to go barefoot?" he asked.

"It seems like the best plan."

He grabbed the flowers and rose. She took the bouquet. He held her shoes in one hand and rested the other on the small of her back.

"Shall we?"

And…. cut! That's a wrap. But don't be too disappointed. I'll let you in on
Giveaway:

A random commenter will win the Fool's Gold backlist title of her choice (2010-2014).
To enter Giveaway: Please complete the Rafflecopter form and Post a comment to this Q:

Have you ever kissed a guy at night, in secret, with other people nearby?
Meet the Author: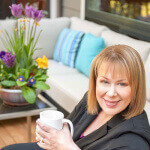 Susan Mallery is the New York Times bestselling author of more than 150 novels, including the uber-popular Fool's Gold romances. Her latest book, Thrill Me, introduces the five fabulously sexy Mitchell brothers. Del Mitchell, the eldest, has just returned to his California hometown after making a fortune designing a sky surfboard that cemented his status as an extreme sports superstar. Visit Susan online at www.SusanMallery.com.