Today it is my pleasure to welcome contemporary romance author 

Samantha Hunter

to HJ!
I asked Sam to tell us about the inspiration behind her  Strangers on a Train novella, TIGHT QUARTERS…. 
There's Nothing to Fear Except… Well, Everything.
We're all afraid of something, right? Some people fear cats, others are afraid of the water or flying. The number of possible fears in the universe is endless (some people fear the endlessness of the universe). 😉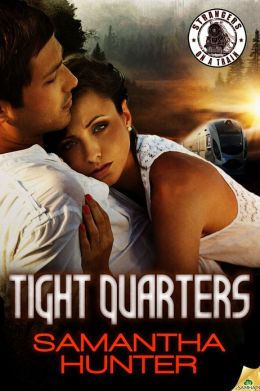 In my Strangers on a Train novella, TIGHT QUARTERS, my heroine Brenna suffered a teen trauma that left her riddled with phobias, and after spending most of her adulthood in therapy to work through them, she has one left: claustrophobia. She's working on it, and she's determined to beat it, but facing a fear and quelling it is no easy task. At least she has fearless former NYPD detective Reid Cooper to help her get through the worst of it on a weekend train ride through Upstate New York.
My own phobias include a fear of heights, but it is very dependent on the kind of height. I've been up in the Empire State Building and I've walked across the Golden Gate Bridge – but those things have railings and definable space. Any open edge terrifies me. Like driving down canyon roads out in in the Anza Borrego, outside of San Diego, I drove at a crawl, constantly petrified of the thousand (or more) foot drop to my right, where there was nary a guardrail.
I do try to face my fears, though, and sometimes I even overcome them. I used to be very afraid of flying, but I found that flying frequently more or less solved that fear. Our home is about fifteen minutes from an airport and I hear planes overhead all day long, and I always think of the other thousands up there that all safely make their destinations every day. It's comforting. Also, I really love to travel, and flying is the best way to get anywhere. When else can you see clouds? Or thunderstorms and sunrises above the clouds? I love a window seat!
I also have a selective fear of spiders. I used to be afraid of all spiders, and have learned a hard lesson or two with that. Like the time a huge black spider (really, the size of a car, or a nickel, maybe…) jumped down on my kitchen table right in front of me, and I panicked. I called everyone I could think of to come kill it, but it was the middle of a weekday. No one could come over, and by the time I realized I had to face it myself, it had disappeared. I couldn't work comfortably in that kitchen for weeks. The lesson to kill it when I see it was drummed into my head quite nicely.
But then, as I got more into gardening, I realized that most spiders outdoors don't bother me at all – I don't want them on me, but hey, it's their yard, and they are just going about their business, not worried about me. It seems so silly to be afraid of such a small creature (so I tell myself). And then there are those little green spiders that pop up in the house, they are so puny and harmless, so I catch them and put them outside when I can. And daddy longlegs – they barely qualify – they can't even bite!
Once, trying to face this fear, I decided to let a small black spider that had set up a web in the corner of the bathroom stay there. I named her Bitsy. I made a deal with her that if she stayed in the web, we were cool. No smushing. Bitsy got relatively large in her spot, and she mostly kept to the deal – she didn't really travel much (I kept a close eye when I was in there). Over time, I did get used to her. Though as she got larger, I was a little more nervous. Only slightly. But I was also determined. I probably maintained the alliance with Bitsy for three months or so. Then, I went to RWA, and when I came back,  my husband had cleaned the bathroom (and did a bang-up job) and there was no more Bitsy. I asked him if he had finally sent her on to spider heaven, and he said no. She had just gone away on her own. (Right. . .to a nice farm in the country, right?). I have to admit, though, I was a little relieved.
Last night, when a large spider crept out in front of me down in the cellar. SMUSH.
Giveaway: an e-copy of
TIGHT QUARTERS

and a

$10 Amazon Gift Certificate

 that you might want to use to pick up the other four books in the series, too. There's nothing to be afraid of – they're all great! 🙂
To enter giveaway: Please complete the Rafflecopter form and post a comment to this Q:
We all have some fears and phobias – what are some of yours? And what have you done to try to get over them? Share…
About the Author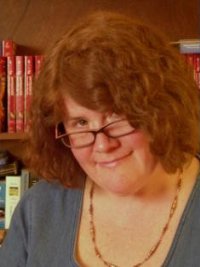 Sam Hunter lives in Syracuse New York with her husband and several pets. Since January 2004 when she sold her first book to Harlequin Blaze, Virtually Perfect, she has gone on to publish several more with new releases on the way. Sam holds two Master's degrees and was a university instructor for many years before quitting to live the writing life.
Book Blurb
In the years since a horrific car accident left her with a long list of phobias, Brenna Burke has overcome them all except one. Crippling claustrophobia—not a good trait for an aspiring travel writer. With an interview for her dream job looming, Brenna forces herself to board a train for a weekend tour through New York State…only to find her berth has been double booked.
Retired NYPD detective Reid Cooper isn't happy about the mix-up, or his attraction to his petite, sexy roommate. But as their up-close-and-personal weekend progresses, something remarkable happens. Being with Reid makes Brenna feel normal, unafraid of anything. After one passionate night, both are thinking beyond a mere weekend fling. But when Brenna's last phobia pounces at the worst possible time, she could miss the last boarding call for happily ever after.
Strangers on a Train at Amazon 
Strangers on a Train at Barnes & Noble
Strangers on a Train at Samhain