Today, HJ is pleased to share with you Lauren Layne new release: 

To Have and to Hold

Sex and the City meets The Wedding Planner in USA TODAY bestselling author Lauren Layne brand new contemporary romance series The Wedding Belles, about three ambitious wedding planners who can make any bride's dream come true…but their own.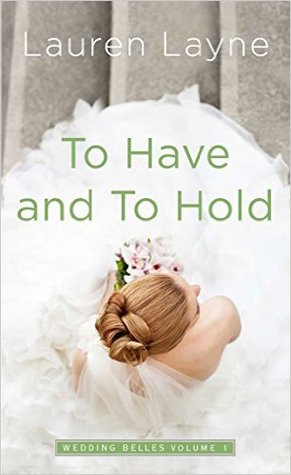 Discovering her fiancé is an international con man just moments before they exchange vows devastates celebrity wedding planner Brooke Baldwin's business—and breaks her heart. Now a pariah in Los Angeles, she seeks a fresh start in New York City and thinks she's found it with her first bridal client, a sweet—if slightly spoiled—hotel heiress. Then she meets the uptight businessman who's holding the purse strings.

Seth Tyler wishes he could write a blank check and be done with his sister Maya's fancy-pants wedding. Unfortunately, micromanaging the event is his only chance at proving Maya's fiancé is a liar. Standing directly in his way is the stunning blonde wedding planner whose practiced smiles and sassy comebacks both irritate and arouse him.

He needs Brooke's help. But can he persuade a wedding planner on a comeback mission to unplan a wedding? And more importantly, how will he convince her that the wedding she should be planning…is theirs?

Enjoy  an exclusive excerpt from To Have and to Hold: 
Seth liked to think he was a man who was prepared for all things.
Hurricanes. Market crashes. Breakups.
But twice in the past month he'd found himself blindsided.
First, by his sister's engagement announcement.
Second, by his instant and slightly insane attraction to the Malibu Barbie wedding planner.
And now, just as he was hanging up the phone with the Tyler Hotel's Tokyo office, there was a third shock: the sight of his best friend and said wedding planner, having a cozy cocktail in a hotel lobby bar as though it was no big deal.
"Oh, hell no," he muttered, dropping his phone back into his suit pocket and charging toward them.
The hotel lobby at the Biltmore was one of Seth's favorite places to drink in the city. The high price tag of their drinks scared off the vast majority of tourists, ensuring that the bar was generally quiet enough to have a conversation.
Something Grant and Brooke seemed to be managing quite well as they sat hip to hip on the small love seat by the fire.
"Well, this looks cozy," Seth blurted out the second they were in hearing distance.
Brooke glanced up in surprise at the interruption. Her hands had been waving wildly as she'd been talking to Grant, but the second her eyes met Seth's, her hands dropped to her lap, and her smile froze in place.
He wasn't surprised at the obvious change in her demeanor, but he was a little . . . stung. Seth knew he'd never been quite as charming as Grant, not quite as smooth with the ladies, but he usually didn't cause someone with so much light to dim the second he got near.
"Hey, man!" Grant said in a more enthusiastic greeting, taking a sip of his cocktail and seeming completely unaware of the strange tension between Brooke and Seth.
Then he glanced up and met Seth's eyes, and Seth saw from the slight smirk that his friend wasn't unaware at all. The asshat had planned this.
Seth sighed and sat in the leather chair across from his best friend and his sister's wedding planner, and tried to ignore the fact that they looked like the perfect couple. He also tried to ignore how much that bothered him.
"Explain," he said, lifting a hand to gesture between the two of them as his other hand reached for the small black leather drink menu on the table in front of him.
"Ran into your girl here while she was ushering off Maya and that complete tool she thinks she's marrying."
Brooke groaned just as she was about to take a sip of her cocktail. "Oh God. Not you, too."
"What?" Grant asked, looking at her in confusion.
Brooke jabbed a finger in Seth's direction. "It's bad enough that I have to deal with his unfounded anti-Neil campaign. Now you're hating on the poor guy, too?"
"Well, he—"
". . . is perfectly wonderful to Maya," Brooke said, interrupting Grant. "And I can maybe, maybe, get how big brother here would be all spoiling for a duel, but what's your deal?"
"I . . ." Grant glanced at Seth for help, but Seth could only shrug. If he knew how to wrangle the wedding planner, he would have done so by now. "I'm like her brother," Grant said finally.
"Riiiight," Brooke said skeptically as she took a sip of her martini.
Grant shrugged. "It's true."
Seth's eyes narrowed at the too-casual note in his friend's tone. He knew when Grant was faking it, and something was off there. But before he could figure it out, Brooke had directed her attention back to him. "Mr. Tyler. I'm glad you found us, because we need to talk."
Grant grinned and rearranged himself in his seat as though settling in for a show. His arm was around the back of Brooke's seat, and Seth gave him a warning glare, but Grant merely grinned wider.
"Can I at least get a drink first?" Seth muttered as he looked around for a server.
She nodded as though granting her subject a brief reprieve.
Seth ordered a Manhattan to match Grant's before he shrugged out of his suit coat and set it on the chair next to him.
"All right. Let's have it," he said, leaning forward slightly and rolling up his sleeves to hear whatever lecture Brooke Baldwin was going to throw his way.
His eyebrows lifted when she didn't respond right away, and he saw that her eyes were tracking the motion of his fingers, watching as he navigated around his cuff links and rolled the white dress shirt to his elbow.
"Ms. Baldwin?"
She swallowed. "Right. Okay. Here's the thing."
"The thing," Grant repeated, unhelpfully.
Brooke slapped Grant's leg in mock scolding, and Seth gritted his teeth.
"I know that you want to be involved in Maya's wedding planning," Brooke said. "But we both know your over involvement has nothing to do with you caring about how every penny is being spent and everything to do with you lurking over her and Neil because you don't like the guy."
Seth shrugged. "So? No secret there. I told you as much in the car today."
"Wonderful. So here's what I'm telling you. Back. Off. Even if Neil is the scum of the earth you two seem to think he is, Maya needs to discover that for herself. And"—she held up a finger when she saw he was about to interject—"if you're wrong, if he is a nice guy who loves your sister and will make her blissfully happy until they're both old and gray, then you need to know this: you are ruining what should be some of the happiest memories of her life."
"Now hold on," Seth said, his temper spiking. "You don't get to—"
"No, you hold on," Brooke shot back. "She's planning her wedding. A once-in-a-lifetime opportunity in which she gets to be the princess and everything she's ever wanted, and instead of walking on sunshine, she looks ready to crack every time you open your mouth to bark out some complaint."
Seth winced at the picture she was painting, and he let his mind flit back to the day that had just passed, realizing rather uncomfortably that Brooke was right. He'd gone out of his way to be an ass, mostly as means of punishing Neil, but in the meantime he'd been punishing the one person he was trying to protect.
His head dropped forward in defeat, and he barely could muster a gruff thank-you when the server returned with his cocktail.
He took a deep pull of his drink and decided to try to explain himself. "I can't—I can't just turn it over to her and that bast— and Neil. I know you think I'm a penny-pinching asshole, but if I'm right, the wedding would be the perfect excuse for him to spend God only knows how much on caviar and the most expensive champagne, and I don't know, fucking doves and shit."
"Doves really aren't that expensive," she murmured, and Seth gave her a look.
"Sorry," she said, holding up her palms. "Irrelevant."
Seth took a sip of his drink, running his hands through his hair and feeling suddenly tired. "I don't know how to give up complete control and still be . . ."
"In control?" she said with a small smile that felt friendly instead of antagonistic for once.
"Yeah," he said quietly. He returned her smile, and it was, well, not a moment, exactly, but it was something. It was something to be spending time with her and not feeling like he had to shove her away out of fear that he'd pull her close and have his way with her.
"Just pretend I'm not here," Grant said in a stage whisper. "Oh wait, you already are."
Brooke gave a nervous little laugh and broke eye contact. The moment was over, but that was okay, because she still looked happy, and happy Brooke was, well . . . interesting. Attractive.
And rare, he realized as he studied her.
She was smiling, which she did often. But whether it was the drink, or the fact that she was off-duty, or the company, she was relaxed now in a way he hadn't seen her since they'd first met. Her laugh a little looser, her eyes less guarded, her gaze more open.
Seth realized then that maybe he'd misjudged the Barbie. He'd thought that the other Brooke was all there was, with her perfect smiles and inane platitudes that disguised sharp edges. But seeing her now, he realized there was another Brooke .
Perhaps the real Brooke.
The perfectly composed Brooke had made him want to do dirty, nasty things with her, and well, this one did, too.
But this relaxed, friendly Brooke who was currently looking at him with un-shuttered eyes . . . he wanted to know her in ways other than just naked ways. Wanted to know what made her laugh, what made her cry . . .
Grant cleared his throat, and Seth jerked slightly.
Right. They weren't alone. But someday soon, maybe.
Excerpt. ©Lauren Layne. Posted by arrangement with the publisher. All rights reserved.
Giveaway:

Print copy of HAVE AND TO HOLD (Wedding Belles) by Lauren Layne
To enter Giveaway: Please complete the Rafflecopter form and post a comment to this Q:

What did you think of the excerpt spotlighted here? Leave a comment with your thoughts on the book…
Meet the Author: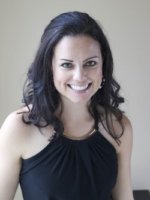 Lauren lives in New York City with her husband (who was her high school sweetheart–cute, right?!) and plus-sized Pomeranian.
Five years ago, she ditched her corporate career in Seattle to pursue a full-time writing career in Manhattan.
She writes smart romantic comedies with just enough sexy-times to make your mother blush, and in her ideal world, every stiletto-wearing, Kate Spade wielding woman would carry a Kindle stocked with Lauren Layne books.
Author Links:  Website | Facebook | Twitter | Goodreads | Instagram
Buy Links:      Amazon | B & N | Google Play | iTunes | Kobo