Today it is my pleasure to Welcome author
Paige Tyler
to HJ!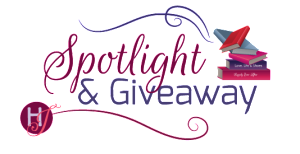 Hi Paige and welcome to HJ! We're so excited to chat with you about your new release, To Love a Wolf!
Please summarize the book for the readers here:
HE'S FOUND THE ONE…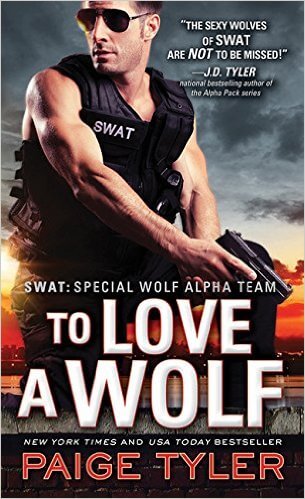 SWAT officer Landry Cooper is certain Everly Danu is The One. The problem is, she has no idea what Cooper really is. And as much as he wants to trust her, he's not sure he can share his deepest secret…

When Everly's family discovers Cooper's a werewolf, her brothers will do anything to keep them apart—they'll kill him if they have to. Everly is falling hard for the ridiculously handsome SWAT officer, and she's not about to let her brothers tell her who she can love… Until Cooper's secret is exposed and she discovers the man she thought she knew is a monster in disguise.

BUT CAN HE KEEP HER?

If you could cast anyone to play Cooper and Everly in a movie, who would you cast and why? What scene would you use for their audition?
It's funny that you asked this because I already have the two actors picked out for the parts—Jensen Ackles and Chloe Bennet. I do this all the time when we (hubby is my writing partner) work up the story outline. I find that it helps me "see" the characters better if I can really "see" them—you know what I mean? So I dig around through various websites until I find the exact person who speaks to me for each character.

The hero and heroine in TO LOVE A WOLF have some pretty unique personality traits, and I think Jensen Ackles and Chloe Bennett capture those unique traits perfectly. If the book were ever made into a movie (wouldn't that be sweet?) these two actors would do a great job in the roles.

Finding someone to play Landry Cooper was easy. I've had a very clear picture of him right from the beginning. Remember, he showed up in Book One of the SWAT series (HUNGRY LIKE THE WOLF) as a rather smart-ass, snarky alpha male who likes to act as if he doesn't care about stuff, but he's the first one others come to for help when things go sideways—which they tend to do a lot in the SWAT Series.

Cooper (yeah, he goes by his last name a lot—and yes, that did confuse the publisher and editors a lot) was revealed in one of the first scenes in Book One as the guy who likes to read graphic novels and watch G.I. Joe cartoons. For anyone who has watched Dean Winchester on Supernatural, it's definitely easy to imagine Jensen Ackles playing a part like that.

Finding the actress to play the part of the artistic, free spirit character of Everly from TO LOVE A WOLF was a bit more difficult. She has to come across as the only girl in a family of very controlling male siblings and she's also the youngest member of the family too. She's an artist who tends to see the world as an artist does—less black and white and more washes of color. She's passionate, emotional, expressive, and willing to go where her heart leads her, which may be in two directions at once.

Everly has some secrets in her closet that can tear her apart if not handled right, but she's stronger than even she realizes, something that turns out to be very important as the story in TO LOVE A WOLF develops.

I think Chloe Bennett, who plays the character Skye from Agents of Shield, would pull off this character amazingly. Like Everly, there seems to be a lot of facets to her and she's always stronger than anyone ever gives her credit for.

Plus, she'd look absolutely perfect paired up with Jensen Ackles!

As far as which scene I'd use for the audition, I think I'd go with their meeting in the bank—the one that's about to get held up. In that scene, Cooper and Everly are standing in a line, waiting to do the typical stuff you do when you're at the bank. They notice each other and begin to banter back and forth. The scene is pretty short—before everything goes really wrong and the bad guys show up—so the two actors would only have a few lines of dialogue and some eye contact to convince the viewers there's an immediate connection here. If they can't convince us within the first few minutes that there's a serious spark there, I don't think the movie would work at all.

Here's a peek at the scene:
The two people ahead of Cooper got fed up with waiting and walked away. He quickly stepped forward to fill in the gap and found himself behind the attractive woman who'd flashed him a smile earlier. He couldn't help noticing that she looked exceptionally good in a pair of jeans. Or that her long, silky hair had the most intriguing gold highlights when the sun coming through the window caught them just right. She smelled so delicious he had to fight the urge to bend his neck and bury his nose against her skin. Damn, he must be more tired than he thought. If he wasn't careful, he'd be humping her leg next.
He opened his mouth to say something charming, but all that came out was a yawn big enough to make his jaw crack. The woman in front of him must have heard it too, because she turned around.
"And I thought I've been waiting in line a long time," she said, giving him a smile so breathtaking it damn near made his heart stop. "You look like you're ready to fall asleep on your feet."
Cooper knew he should reply, but he was so mesmerized by her perfect skin, clear green eyes, and soft lips that he couldn't do anything but stare. He felt like a teenager in high school again.
"Um, yeah. Long day," he finally managed.
What the hell was wrong with him? He'd never had a problem talking to a beautiful woman before. But in his defense, he'd never been in the presence of one this gorgeous.
He gave himself a mental shake. Get your head in the game before she thinks you're a loser and turns around again.
"Catching bad guys, huh?" she asked.
"Something like that." He gave her his best charming smile. "Luckily, I'm off duty for the night."
She laughed, and the sound was so beautiful it almost brought him to his knees. Crap, he actually felt a little light-headed. He chalked it up to being out in the hot Texas sun all day. That could be hard on anyone, even a werewolf.
She tilted her head to the side, regarding him with an amused look. "Is that your way of saying you're free for dinner?"
Could she read his mind? "Depends. Would you say yes if I asked you out?"
Her lips curved. "I might. Although most guys tell me their names before asking me out on a date."
Cooper chuckled. He'd been attracted to her from the moment he saw her, but after talking to her, he was even more mesmerized. He'd always appreciated a woman who was confident enough to hold up her end of a verbal sparring match, and she seemed more than capable.
He held out his hand. "Landry Cooper at your service. Now that you know my name, how about dinner?"
He might have imagined it, but when she slipped her smaller hand into his much larger one, he could have sworn he felt a tingle pass between them— and it wasn't because of static electricity.
"I'm Everly Danu," she said. "And dinner sounds great."
Everly. Even her name was beautiful.
Thanks for blogging at HJ!
Giveaway:

Print copy of To Love a Wolf (SWAT) by Paige Tyler
To enter Giveaway: Please complete the Rafflecopter form and

Leave a comment with your thoughts on the book…
Book Info:
He's a werewolf
She's his mate
Her family would kill to keep them apart.
A wolf in Landry Cooper's position doesn't really do the dating scene-there's simply no time when he's taking out bad guys practically every day of the week. But when he meets beautiful Everly Danu during a bank robbery, he's sure she's The One for him. The problem: she has no idea what Cooper really is…until his secret is exposed and she discovers the man she thought she knew is a monster in disguise.
Buy Links: Amazon | Apple | Books-A-Million |Barnes & Noble  | Chapters | Indiebound


Meet the Author: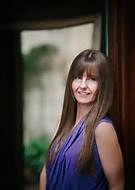 Paige Tyler is a New York Times and USA Today bestselling author of sexy, romantic fiction. Paige writes books about hunky alpha males and the kick-butt heroines they fall in love with. She lives with her very own military hero (a.k.a. her husband) and their adorable dog on the beautiful Florida coast. Visit http://paigetylertheauthor.com/