Today it is my pleasure to Welcome romance author
Fiona Lowe
to HJ!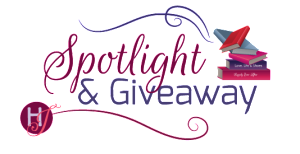 Hi Fiona and welcome to HJ! We're so excited to chat with you about your new release, Truly Madly Montana!

Hi! Thank you so much for having me!

Please summarize the book a la Twitter style for the readers here: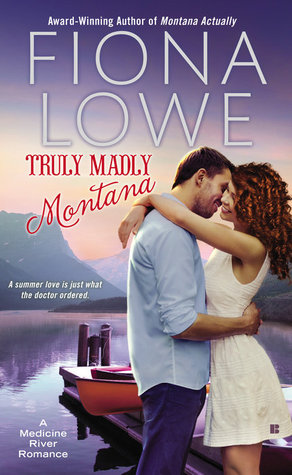 Millie is everyone's best friend and trying to keep her life on track. Will's a long way from home and a consumate charmer. Both are hiding big secrets but the Montana summer just got a whole lot hotter when the two of them work together saving lives.

Please share your favorite line or quote from this book:
"You do realize that a girl raised surrounded by glacial scree and with a competitive father and brother knows how to skip stones."
His eyes twinkled. "Challenge accepted.
Please share a few FUN facts about this book…
The cover photo is the actual lake in Glacier National Park where Mille and Will go canoeing.
We're playing on film titles for the Medicine River series… Montana Actually (Love Actually), Truly Madly Montana (Truly, Madly, Deeply).
Please tell us a little about the characters in your book. As you wrote your protagonist was there anything about them that surprised you?
Millie is 26 and a type one diabetic. She fought her illness for a long time but now she's working with it and is determined to be a mature adult and move foward with her life. She hates that people worry about her and she hates that she spends a lot of time saying sorry for something she has limited control over. As a medical student, she is in Bear Paw over the summer to do her clinical rotation and the last person she expects to run into is her crush from the previous summer. A crush she really wants to forget, because crushing at 26 is just embarrassing.
Will's come to Montana to work, do every extreme sport on offer and to forget. Although he thought being out of Australia might help, he hadn't factored in the lonliness that stems from being half-way across the world from home. He's not looking for a lover but he is craving a friend and Millie, who he's never really thought of in the terms of femininity and who the town treats as "one of the guys", seems to be the perfect friendship fit to keep the blues at bay.

What kind of research did you do for this book?
Millie is a type one diabetic and my research led me to discover so many fabulous young diabetic women who keep blogs and make fabulous videos. I also spent a lot of time researching medical emergency helicopters, the service they offer as well as the medical program offered by the University of Washington that targets rural students from Alaska, Montana, Idaho and Wyoming. I was lucky enough to be introduced to a woman who works in law enforcement in rural Montana and she answered a lot of my questions. All the research was a lot of fun!

The First kiss…
Without giving away the plot, my characters spend a lot of time thinking about kissing before they actually get around to it so in my mind this scene is the first kiss but no kissing actually takes place!
"Her husky and breathy words shot into him, firing his blood and arcing it straight to his groin. He gazed down at her, desperate to kiss her. He wanted to capture those pink, plump lips with his and own them. He wanted to trace the place where her top lip, with its enticing peak, joined her lush bottom lip and then explore it all the way from one side to the other. He wanted to feel her lips open, inviting him in.

A shot of heat fired deep inside him at the thought. He wanted to explore her mouth slowly, millimeter by millimeter—feel the scrape of her teeth, the yielding softness of her cheeks, the raunchy roughness of her tongue, and more than anything, he wanted to be flooded with her sweet and salty taste. He wanted to kiss her until she moaned into his mouth with that guttural, base tone that said, I want you, too. He wanted to feel her hands gripping his head so hard that her fingers dug into his scalp, leaving crescent moon marks—branding him as hers. Her legs would wrap around him and she'd haul her body up his chest, her breasts caressing him with her hard, peaked nipples until she was sitting on his lap, her ass gyrating hard against him, and then she'd push him to the ground and kiss him in return.

His breathing kicked up, and his blood, already hot and heavy, pulsed around his body with aching, throbbing need, seeking and demanding satisfaction. He was beyond hard, and hell, he was ready. Ready like he hadn't been in a very long time."
Was there a scene in this book that was harder to write than others?
Truly Madly Montana has a secondary romance in it between Tara, Bear Paw's new deputy sheriff and Ethan, the librarian. Some of their scenes were hard to write because they were poignant.
Tara's chest tightened. Who was this guy? She'd never met anyone quite like him. Had she got it all wrong? Had she just accused a good man of something immoral based on him doing something relatively selfless? Had she lost so much faith in humanity over the years that she'd just offended a decent guy who'd been trying to help?
If your book was optioned for a movie, what scene would be absolutely crucial to include and why?
Millie is furious with Will when she thinks he can't see her beyond her diabetes and she challenges him to a game of pool. There is a lot of Millie's guilt and anger here as well as sexual tension. Will is clueless she is angry with him.
Will stepped forward to take a closer look, and despite the twelve inches of air between them, her skin immediately heated and tingled.
You're mad at him, remember. So mad.
"Bastard of a shot," Will said laconically.
She stifled a smile at his first real attempt at trash talk. The man was worried. Good. He should be. She blew the loose chalk off her cue and out toward his face. "I've had worse."
He quirked one chestnut and disbelieving eyebrow and leaned in a little closer. "I find that hard to believe."
His softly spoken words sent a spark of hot, heavy, pulsing need into every part of her, and she gripped her cue tightly to stop herself from swaying toward him.
"You obviously haven't played as much pool as I have, hotshot." She reached her arm out across him, being careful not to touch his shirt, and she pointed to the play. "White ball to blue, blue to cushion and then taking a forty-five-degree trajectory to orange and into the side pocket."
He snorted and appealed to the crowd. "Tell her she's dreamin'."
And she was, but she wasn't going to let him know that. Pulling some bills out of her pocket, she slapped them on the table's side rail. "Bet me."
He grinned. "You sure about that, Mils?"
"Millie only bets on a sure thing, Will," Ethan said, shooting her a look that said, What's going on?
She ignored him.
Will did, too, and instead turned his beautiful dark blue eyes onto her. An ache of longing started to slowly suck the oxygen from her anger, but behind the competitive glint in his eyes she glimpsed the same hint of worry that had been there all week. Worry for her. It refueled her anger at him.
She tapped his chest with her forefinger. "Oh, I'm very sure."
What do you want people to take away from reading this book?
There's a lot of emotion in this book. Everyone is forced to deal with their past and reflect on how it's impacting on their future but I think the reader will come away thinking that no matter how scary it is to take a risk, life is so much richer if you step out of your comfort zone now and then.

What are you currently working on? What other releases do you have planned for 2015?
I've just finished writing an Harlequin Mills and Boon medical romance, which will be out in 2016. It's just being read by my editor now . I do have Unlocking Her Surgeon's Heart also out now! It's part of the Midwives-On-Call series and it was a lot of fun working with the other 7 authors in the series.
Thanks for blogging at HJ!
Giveaway:

A signed paperback copy of Truly Madly Montana along with a book mark. This offer is open internationally.
To enter Giveaway: Please complete the Rafflecopter form and Post a comment to this Q:

Glacier National Park features a lot in this book. I have three favorite national parks… Glacier in Montana and then two in Australia… Wilson's Promontory & Freycinet. Oh! And Francois Peron National Park 🙂 Do you have a favorite national park somewhere in the world?
Excerpt from Truly Madly Montana:
As Millie Switkowski drove into Bear Paw for the first time in months, it seemed both ironic and fitting that her continuous glucose monitor, Dex, started beeping wildly. It was like a mocking welcome home message—You're back where it all started, baby.
"Okay, Dex," she said to the machine with which she shared a love-hate relationship. "Simmer down. I'm pulling over."
She'd been late leaving Bozeman because last night instead of packing, she'd panicked and had done last-minute cramming for her microbiology final. As it turned out, the extra study hadn't been necessary, and she would have been far better spending the time loading the car as per her original idea. For five years she'd worked at making her life a series of well-thought-out plans, and she knew she really needed to trust them more. If she'd had more faith in her study program, today's road trip would have been divided up into ordered and necessary scheduled breaks rather than her rushing to get to Bear Paw by six and risking a sugar crash.
Parking next to the enormous twenty-seven-foot-high, ten-thousand-pound concrete penguin, which confidently declared that Bear Paw was the coldest spot in the nation, she smiled at the incongruity of it as she often did. She'd always wondered how the brain trust behind the black-and-white statue had both cheerfully disregarded Alaska and the fact that penguins weren't found in the northern hemisphere. Geography was obviously not their strong suit. She pricked her finger and tested her blood sugar—predictably low—before rummaging through her enormous tote bag until she found a juice box and some fruit snacks.
The last thing she needed was to arrive at Dr. Josh Stanton's bachelor party with plummeting blood sugar. She didn't need the drama of feeling like crap. She surely didn't need the drama of people hovering or, worse still, some well-meaning person telling her parents she'd arrived back in town looking pale and shaky. No, she was striding into Leroy's and the party like any normal twenty-six-year-old woman just back from grad school.
Truth be told, most normal twenty-six-year-old women probably weren't invited to their former boss's bachelor party, but Josh, like everyone else in town, never seemed to notice she was a woman. She was just Millie. Practical, sensible, dependable Millie—one of the guys. Someone who could shoot pool and throw darts with the best of them.
She checked her appearance in the rearview mirror. Pale face, crazy curls springing everywhere and some freckles on her cheeks left over from spring break in Mexico. Without the time or the inclination to spend an hour with a hair straightener, her hair was beyond help. At least in a few minutes the sugar would hit and pink up her cheeks.
She glanced down at her Montana State sweatshirt and gave thanks it didn't have a ketchup stain on it from the hot dog she'd grabbed when she'd filled up on gas in Great Falls. She gave herself points for clean jeans, kinda clean boots and a clean, baggy T-shirt—the perfect attire for a boys' night at Leroy's.
Millie, honey, there's nothing wrong with wearing a dress from time to time.
She quickly swiped on some lip gloss, as if that show of femininity was enough to silence the memory of her mom's often sad and critical voice. Her mom had wanted a girlie-girl daughter to share her love of clothes. Instead, she'd got a son who loved fashion and football with equal fervor and a daughter who couldn't tell the difference between a Gucci and a Gabbana. Millie was far more Old Navy, last season and on sale, and she felt way more at home in jeans, fleeces and T-shirts. Her brother, Evan, did his best to make up for Millie's fashion shortcomings and took their mom shopping whenever she visited him in California. Of course, he also took their dad to the football game, so really, he was the perfect adult child. Millie, on the other hand, knew her overriding contribution to the family was a constant source of parental worry.
She drained the juice box with a slurp and sent a text to her mom and dad, who were out of town. Got home safely. Tell Uncle Ken happy birthday from me. Millie x
With the job of reassuring-the-parents done, she checked her blood sugar. Eighty-six and rising. Awesome. And real food was coming. As Josh's best man, she'd ordered up big on the hors d'oeuvres— BBQ meatballs, layered Mexican dip, stuffed mushrooms, bacon-wrapped Jalapeño poppers and buffalo wings. If they weren't serving food when she arrived, she'd ask them to start.
The good and the bad thing about Bear Paw was that most of the older residents and anyone she'd gone to high school with knew she was diabetic. They didn't comment if she ate at a different time from them, although they often had an opinion about what she ate. As a result, in her life outside of Bear Paw as a medical student, she only shared her lack of a functioning pancreas with people on a strictly need-to-know basis. She made sure that need didn't arise very often at all, because she had a PhD in horrified and pitying looks, or worse yet—over-intrusive interest from people who saw her as a training specimen. All she wanted was to be known as Millie—although she wasn't exactly certain who that was, but tonight wasn't the time to tackle that particular chestnut.
Throwing the car into drive, she shoulder-checked, pulled out onto the road and drove the last mile to Leroy's. The parking lot was almost full, and some smart-ass cowboy had fashioned a rope noose and hung it over the door next to a banner that said, Another good man all tied up. Ducking to miss it, she pushed open the door, and a wall of noise and the malty scent of beer wafted out to greet her.
"Millie!"
"Millie's here!"
A welcoming roar went up from the cowboys and assorted businessmen who were gathered around the bar. They turned and raised their drinks to her.
She grinned and tipped her imaginary hat. She knew all of them, either having treated them at the clinic when she'd worked there as a nurse or having bested them here at pool and darts. "Hey, guys. It's good to be back."
"Millie, welcome home." Ethan Langworthy, the librarian, greeted her in his quiet and gentle way.
"Hey, Millie." Josh gave her a warm hug and a perfunctory kiss on the cheek. It was a sharp contrast to the buttoned-up city doctor who'd arrived in Bear Paw just over a year ago. "It's great to see you."
She hugged him back. "And you. Getting nervous?"
"About the wedding?" He shook his head. "Not at all. About my parents spending a week in Bear Paw, yes. Katrina's dad offered to host them out at Coulee Creek ranch, which probably means I owe him our firstborn child."
She punched him lightly on the arm. "They can't be worse than when you first arrived in town with your fancy coffee and stinky French cheeses."
He gave a good-natured smile. "Your parents always greet me with open arms when I place my monthly gourmet food order."
"I can't argue that, then, especially as by default you're likely contributing to my generous birthday and Christmas presents." She raised her hand toward the bar and gave the bartender a wave. He'd started at Leroy's not long before she'd left for medical school. "Sparkling water, please, Shane."
"It's a bachelor party, Millie. Moose Drool is mandatory," he said, filling a glass with the amber liquid. "You can worry about your weight tomorrow."
And you're home. Her gut tightened. Half of her was grateful Shane didn't know about her diabetes, while the other half of her hated that she'd just taken a hit about her weight. She wasn't obese, but then again, she was hardly willow thin, either. She knew this sort of banter was how guys talked to one another, and she'd never expected them to treat her any differently before. Tonight wasn't the night to go all girlie on them.
"A beer and pass the buffalo wings, Shane," she said brightly. As for the alcohol, she'd have to bolus insulin for the carbs and make that one beer last the entire night. Turning back to Josh, she asked, "How's Katrina?"
"She says to say hi and told me to tell you that you're not to party too hard tonight because she wants you in good shape at her girls' night tomorrow."
"Is that code for me to stay sober so I can keep an eye on you?"
He grinned. "Maybe, although I don't think I've ever seen you even a little bit buzzed."
And you won't. She'd been there, done that, years before he'd come to town, and it just wasn't worth the health risk. She still carried the guilt, and that weighed her down enough.
Pushing the past back where it belonged, she slapped him on the back in typical guy-style. "As the best man, it's my job to make sure you don't get injured when you inevitably fall off the mechanical bull, to guarantee no cowboy takes you outside and sits you backward on a horse and, as the designated driver, to get you home in one piece by midnight."
He slung his arm around her shoulder, the touch easy and friendly. "And that's why I chose you to be my best man."
"That and the fact you couldn't ask Ty Garver no matter how much you want him standing next to you," she said sadly, thinking about the cowboy who'd fallen in love with Katrina years ago.
"Well, yeah, there is that." Josh sighed with heartfelt understanding. "And Will Bartlett's not available. He couldn't get anyone to cover him at MontMedAir for the weekend."
And there is a God. Not that she didn't like Will; she did. In fact, last year, she'd liked the Aussie MontMedAir doctor just a little too much. Heat burned her cheeks at the embarrassing recollections. Having a crush at sixteen was normal; crushing on a work colleague at twenty-five probably got a listing in the DSM-5. The memory of last spring and summer was still excruciatingly embarrassing, given he'd barely noticed her other than as one of many people he came into contact with through work.
Will was laid-back, easygoing and charming, and he had a way of making people feel appreciated and part of a team. That had been her undoing—being appreciated was powerful stuff, and Floyd Coulson, Bear Paw's hospital administrator, could learn a thing or two from him. Given all that, she'd read way too much into Will's generous praise, especially as he often said, "You're the best, Millie," when she'd accompanied him on MontMedAir retrievals.
Following him on Twitter and pretending it was because of his #FOAMed tweets—free open access meducation—was borderline stalker behavior, although totally educational. What the guy didn't know about emergency airway management wasn't worth knowing. At least she'd come to her senses before clicking on Add Friend on his Facebook account, and for that, she was both proud and grateful. Sadly, she'd undone that bit of clear thinking after a traumatic medical evacuation last August.
It was the fifth time she'd been the accompanying nurse out of Bear Paw, and they were airlifting two badly injured tourists who'd been involved in motor vehicle accident. They'd flown out between two storm fronts, and the pilot had given her the all clear to check the patients' vitals. She was out of her seat when the plane hit an air pocket, and she'd been thrown sideways, landing face-first in Will's lap. She still got a hot and cold flash whenever she thought about it.
He'd gripped her arms, lifted her up and checked she was okay before hitting her with his devastatingly gorgeous smile—the one that radiated from his full lips, creased his tan cheeks and crinkled the edges of his unusual dark blue eyes. He'd quipped something about things moving fast for a first date, which had disarmed her all-consuming embarrassment and made her crush-filled brain totally misunderstand what he meant. When they landed and had handed over their patients to the Seattle hospital staff, she'd suggested they have a drink.
"Great idea, Mils," he'd said with his sexy Australian diphthong, sounding as if he truly believed the words. Her heart had soared, flipped and high-fived all at once only to plummet to her feet when he'd continued with, "but I'll have to take a rain check."
Of course he would.
A rain check that never came. A rain check that made her puce with embarrassment whenever she thought about it.
With his surfer-dude good looks, he was likely very used to nurses—heck, probably all women with a pulse—throwing themselves at him. Only she wasn't usually one of those nurses or women, because she knew he was so far out of her league it wasn't worth playing the game. She still blamed the fog caused by low blood sugar along with the addition of a post-emergency adrenaline rush for her out-of-character invitation, because she'd stopped asking out guys in her league a long time ago.
As a twenty-first century woman, she knew she had the right to ask a guy out, but since giving up her party lifestyle and casual hookups, things had changed and dating had gotten difficult. After a series of flat out no's, a few disastrous dates and two truly awful one-night stands, she'd learned from her mistakes. She didn't ask guys out, period. As a result, her current dating average was zip.
"It's too bad Will can't make it Josh," she said, trying to sound more sincere than relieved. "But I'm pumped to be your best man, and I promise to get you to the church on time."
"You're a good friend," he said sincerely.
That's me. Everyone's good buddy. "Hey, it's way too early to be getting all touchy feely on me," she said, climbing onto a chair as much to start the party as to run from her thoughts. Sticking her fingers in her mouth, she blew hard and the piercing whistle silenced the bar.
"Aw, Millie," a voice from down near the pool table called out, "you're not gonna make a speech, are you?"
"Hey, Doc, I told you not to choose a chick to be your best man," Trent Dattner said on a long-suffering sigh.
"Millie's not a girl," Dane Aitken heckled before turning and giving Trent a high five.
"Ha-ha." Millie rolled her eyes, surprised by the dull ache that spread through her. "And to think that Comedy Central hasn't signed you up yet. For that smart-ass comment, Dane, the bull gets set on high for you."
The cowboys in the room cheered, knowing full well the sanitation worker wouldn't last three seconds in the saddle.
She raised her glass. "We've got food, we've got beer and we've got a bull. Let's give Josh a Bear Paw bachelor night to remember."
Excerpts. © Reprinted by permission. All rights reserved.
Book Info:
Summer in Montana brings heat with a chance of romance in the new Medicine River Romance from the award-winning author of Montana Actually
Sexy and charming Australian doctor Will Bartlett will do anything to help out a friend, even if it means moving to Bear Paw for the summer. Some small-town hospitality, and the uncomplicated friendship of his co-worker, Millie, is just the ticket to shake off the restlessness that's been gripping him lately.
Millie Switkowski, RN and medical student, is home for her clinical rotation, and she's determined to make this summer so much better than last. She's got a year of medical school under her belt, her diabetes is under control and she's kicked her crazy crush for Will Bartlett, who only ever treated her as "one of the guys."
But when Will turns out to be Millie's supervising physician, without warning the summer gets a whole lot hotter than either of them anticipated. With both of them holding onto thorny secrets, can they walk away with their hearts intact?
Meet the Author: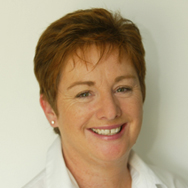 Fiona Lowe is a RITA® and R*BY award-winning, multi-published author with Berkley Penguin USA, Carina Press and Harlequin Mills & Boon. Whether her books are set in outback Australia or in the USA, they feature small towns with big hearts and warm and likeable characters that make you fall in love. When she's not writing stories, she's a distracted wife, mother of two 'ginger' sons, guardian of 80 rose bushes, slave to a cat and often found collapsed on the couch with wine. You can find her at her website, Facebook, Twitter and Goodreads.
Website | Facebook | Twitter |