Today it is my pleasure to Welcome author
Christi Barth
to HJ!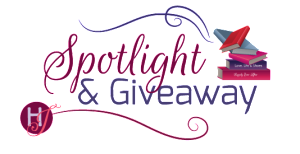 Hi Christi and welcome to HJ! We're so excited to chat with you about your new release, Trying It All!
Please summarize the book for the readers here: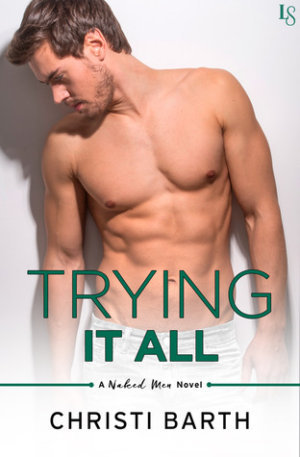 Riley Ness is buttoned down. By the book. It makes him a terrific NTSB agent. But his caution bleeds over into the rest of his life, and the only time he lets loose is when hanging out with his best buds. A tragic accident made them brothers by choice, but it also turned him into a control freak.
At least, that's what Summer Sheridan calls him. Infuriating, flighty, and crazy beautiful Summer. She calls herself a free spirit. Riley calls her a walking disaster in the making.
He wants to teach her a few lessons about real life. She wants to teach him to enjoy it. Yet somehow all the fighting stops when the kissing starts. Will the most illogical attraction of all time help them find a truce through true love?

Please share the opening lines of this book:
Josh thundered down the stairs from the roof deck, right on Riley's heels. Sniping at him the whole damn way. Which tempted Riley to stop short, duck, and see if his best friend flew over his head like Wile E. Coyote being launched off of a cliff.
Please share a few Fun facts about this book…
I loved researching great DC places to put in this series so readers would really get a feel of what its like to live in our capital. I was thrilled to be able to work in a trip to the beach I go to every summer (Bethany Beach, Delaware!) as well as the weekly jazz concerts in the National Gallery of Art Sculpture Garden in Trying It All.
There's a proposal in this book. A proposal that I've made readers wait for since book 1. Trust me, it was just as hard for me to wait! But
I knew, since book 1, exactly how I wanted it to happen – which might surprise you, and might definitely require a tissue or two.
I wrote in a meet-the-parents scene after just two weeks of them dating, which would appall me if anyone did it in real life. I love the challenge of making characters do things that I would never, ever do myself!
Please tell us a little about the characters in your book. As you wrote your protagonist was there anything about them that surprised you?
It surprised me that love was able to break down Riley's emotional scars. I mean, that was obviously the goal, as the author, but he was a tough case. It took a very tenacious woman – and one who was his complete opposite – to open his heart. I'm so relieved that Summer wormed her way in there!
If your book was optioned for a movie, what scene would you use for the audition of the main characters and why?
Riley and Summer start out hating each other. Even though they have really hot sex…dating is crossing a line that terrifies both of them. The decision to give it a try is a BIG deal:
Summer hopped off the stool and sashayed back over to him, making sure to put a little extra sass in her swaying hips. "I want you to take me on a real date."
Riley rubbed the back of his neck. "I thought you didn't take me seriously."
"I didn't."
"I thought I bored you."
"I thought so too. But maybe all those assumptions were just a big mistake." She held her breath. This could be a turning point for them. Whether it ended up being a good one or a bad one, Summer was all about giving it a shot.
He crossed his arms. His gaze drilled right into her, as if trying to mine for the truth. "I thought you didn't date."
Summer shrugged one shoulder. "Maybe that was a mistake, too."
What do you want people to take away from reading this book?
Not to let one thing define your life. It is easy to let a big dramatic moment change everything. But it shouldn't. You should make the choice to be yourself, not just the reflection of that one thing. Be brave and bold!
What are you currently working on? What other releases do you have planned for 2017?
I just finished book 1, Bad For Her, in the Bad Boys Gone Good series that will release on October 3. It is the story of 3 ex-mobster brothers in Witness Protection – very sexy! What are your up-coming releases? Before Bad For Her, I've got a hockey romance Check My Heart coming out on July 17.

Thanks for blogging at HJ!
Giveaway:

Ebook: TRYING IT ALL (A Naked Men Novel) by Christi Barth. *Gifted via Amazon*
To enter Giveaway: Please complete the Rafflecopter form and Post a comment to this Q:

Did fear hold you back from doing anything? What jolted you past it to finally try?
Excerpt from Trying It All:
"Don't you ever take risks?"
"No." Riley spent his whole life mitigating risk. Educating himself to prevent any possible risk from occurring. He knew how to escape a car if it plunged underwater. How to start a fire under any conditions. How to rock-climb without ropes. He'd even learned Spanish and French, and was contemplating taking up Chinese. "It's too dangerous."
"Come on, do something risky." Straightening up, she crooked a finger and slid him a sultry look of invitation from beneath half-lowered lids. Christ. A woman should not be able to look that sexy at noon on a Sunday in broad daylight. "Jaywalk with me. It'll be good for you. You're too serious, Riley."
"'Do something risky,' coming from the girl who just plays with dresses all day?" He snorted. What did she ever risk? Getting a paper cut from a price tag? "In my world, people die from a car trying to outrun a train. Someone checks their Instagram feed a little too long while they're behind the wheel, and people die. If I use the crosswalk, I cut my chances of being accidentally mown down by more than seventy percent."
"Living forever's only fun if you truly live."
That jab stung. Because it was the same riff the guys threw at him, over and over again. "I live. I just follow the rules. Obey the speed limit. Turn off my phone before the plane starts to taxi."
Summer tossed her cloud of hair back. Gave him a knowing look. No, a knowing smirk. "Oh, I get it now."
"What?"
"You're not uptight. You're chicken."
The woman had crossed a line. He'd gone through wilderness training and survival training. He'd climbed Mount Kilimanjaro. Become a black belt in Tae Kwon Do. He'd pushed himself to physical and mental limits most men wouldn't be able to attain. Being sensible? In no fucking way was it comparable to being scared.
Riley's long strides ate up the distance between them. Furious, he spat out, "You want me to try something risky?"
"Yes. Just once. But I don't think you've got the balls," she taunted.
Riley grabbed her face with both hands. Her lips parted in surprise. And he swooped right onto them.
Her lips were soft. So soft and pliable it almost deterred him. But then . . . they were so soft and pliable that he couldn't possibly stop. Instead of holding her still, his hands curved to cup the back of her head, his thumbs caressing those impossibly high cheekbones that gave her the look of someone made to walk a runway.
Riley nipped at her wide bottom lip. Soothed it with a stroke of his tongue that savored the sweet, lingering tang of the orange cream cheese icing on the cinnamon rolls from brunch. He wanted to keep going. To nip and bite and lick down her neck, over the side of the breasts she flashed at him all day. To gobble down her sweetness and spice just like he had those rolls.
Her moan refocused him. This wasn't just following through on a dare anymore. This was a real kiss. A real moment of pure, physical pleasure. So he dropped his hands to the small of her back and hauled Summer tight against him.
Thanks to her ridiculous—and ridiculously sexy—high heels, everything lined up right. The notch between her thighs ground right against his dick behind the suddenly too-tight fly of his shorts. Breasts plumped against his chest. Breasts he was pretty sure he could fit entirely into his mouth . . . since he might have pictured them a time or ten since meeting her in the spring. Tight nipples insistently poked at his pecs.
The kiss kept going. Ry slipped his tongue in as she let out a kittenish purr. God, it was the sexiest sound he'd ever heard. The soft, tiny mewl fired through his blood. Fired him up. His tongue tangled with hers. Like they were two swords, fencing for the win. Because there would damn sure be a winner. The way they were grappling at each other? It wasn't just fun. It was about proving something.
Her mouth—made for kissing. And more. His tongue slid deep. Felt her wetness. And Riley couldn't help imagining how all that warm wetness would feel locked around another part of his body. Summer's hands came up to fist in his shirt. Shit—for a second, he worried she'd push him away. But then those fists pulled him even closer. One smooth calf twined around his. He wanted to walk her back ten steps to the nearest tree and just sink into her.
Which was crazy. Riley didn't even like this woman. He'd kissed her to save his pride. To defend his honor. To get her off his back. And now he wanted to put Summer on hers, spread her thighs, and—
That was it. Riley let go. Let go of the sweet ass he didn't even remember moving down to squeeze. Let go of those luscious lips. Yanked his head back and deliberately stepped out of the semicircle of her curved leg.
"You and I both know that was the riskiest damn thing I could possibly do today." Riley looked at her still unfocused eyes, her kiss-swollen lips. Proof that she'd enjoyed it every bit as much as he had. "Oh, and you also know now that I've got the balls. I've got the whole package."
Then he forced his hands to unclench and took off for the Metro stop. Took the escalator down to the subway two steps at a time. And didn't bother to look back for her even once.
Excerpt. © Reprinted by permission. All rights reserved.


Book Info:
Order. Attention to detail. Never leaving anything to chance. These are the qualities that make Riley Ness such a terrific federal agent . . . and a pain in the ass to everyone else. The only time Riley lets loose is when he's hanging out with his closest pals. So when he's thrown together with gorgeous, flighty Summer Sheridan, Riley's brain tells him she's a ticking time bomb—but his body doesn't want to play by the rules.
Riley has to be the most irritating man Summer has ever met. The brooding hunk thinks he needs to teach her a few lessons about real life, while she'd rather show him how to enjoy it. But her BFF's all but engaged to Riley's best friend, and besides, their intense physical chemistry is all too real. Summer just needs Riley to try to meet her halfway and take a chance with the one thing that matters: his heart.

Purchase at Amazon Y B&N Y iBooks Y GooglePlay Y Kobo


Meet the Author: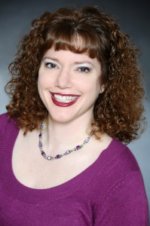 USA TODAY Bestseller CHRISTI BARTH earned a Masters degree in vocal performance and embarked upon a career on the stage. A love of romance then drew her to wedding planning. Ultimately she succumbed to her lifelong love of books and now writes award-winning contemporary romance, including the Naked Men and Aisle Bound series. Christi can always be found either whipping up gourmet meals (for fun, honest!) or with her nose in a book. She lives in Maryland with the best husband in the world.
Connect with Christi
Website | Christi's Facebook Page | Christi's Pinterest Page | Christi's Amazon Profile | Christi's Goodreads Profile | Christi's Twitter Page