Today it is my pleasure to Welcome author
Erin Nicholas
to HJ!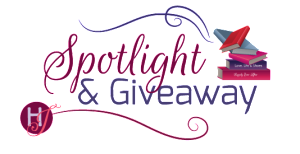 Hi Erin and welcome to HJ! We're so excited to chat with you about your new release, Twisted Up!
Please summarize the book for the readers here: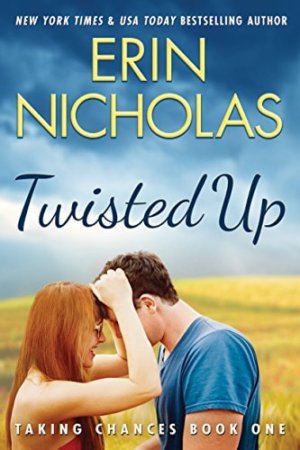 Avery Sparks is a master at controlling chaos—and she gets plenty of opportunities as fire chief and head of emergency management in her hometown of Chance, Nebraska. The only thing she can't seem to control are her feelings when she's around Jake Mitchell, the man who was her first everything the night of their high school graduation. But Jake was so quick to leave Chance—and Avery—behind that she swore she'd move on.
While Avery's job is to minimize drama, Jake embraces the chaos of an emergency. After enlisting in the Army National Guard, Jake became a nationally recognized leader in disaster recovery. Yet a life on the road has left him restless. So when a class-four tornado wreaks havoc on Chance, he's eager to return home—and to the woman never far from his mind.
Now, Avery and Jake must team up to help their hometown weather a siege of violent storms. But it's clear to them both that nature isn't the only force they'll have to reckon with. Will Avery and Jake's whirlwind love affair be an all-new disaster—or can they recover from their stormy past to build a future together?

Please share the opening lines of this book:
Jake Mitchell is back in town.

Jake's back.

Avery felt her heart rate accelerate as the text messages rang in on her phone.
That ticked her off. She didn't want her heart to speed up from a couple of text messages about that guy. She'd known the chances of him showing up today were good.

Exactly why she'd put her friends on the lookout.
Please share a few Fun facts about this book…
It was inspired by my growing up in Tornado Alley in Nebraska and living through the Night of the Twisters in June 1980 when seven tornadoes all touched down in Grand Island, Nebraska on the same night, only 20 miles from where I lived. I'll never forget that night and the days of clean-up and recovery afterward.
I'm a little obsessed with disaster movies—Twister, Armageddon, Dante's Peak, San Andreas, etc.
The research for these books was fascinating! I watched storm videos on YouTube, read article after article about weather phenomenon, storm chasing, disaster recovery, etc. and visited tons of blogs… way more than I really needed for the book. I just got addicted!
After the tornado, the town decides to make the best of everything and the local bar decorates the place in a Wizard of Oz theme and invents some storm-themed drinks. Two of them, the Twisted Sister and Liquid Lightning became real drinks! I "invented" them—lots of mixing and taste testing!—and we included the recipes in the back of the book.
What first attracts your hero to the heroine and vice versa?
They've known each other almost all their lives. Avery practically grew up in Jake's house. But as adults, Jake is attracted to Avery's toughness and sassiness. She's not overly impressed with him and she's super independent, and yet, he affects her. And he loves that. Avery is attracted to Jake's heart. He has a hero complex and he has a very hard time failing, and even though his cockiness makes her nuts, she is drawn to his determination to make things better for everyone around him.

Using just 5 words, how would you describe hero and heroine's love affair?
Stormy, with heat and heart.

What can you share about their first kiss…
Their very first kiss actually happens ten years before the book in high school ☺ And then they kiss again a year before the book begins, also during a tornado when they take shelter together in the basement of City Hall. Here's Avery remembering that:
Then, when the building began to tremble as the tornado roared by, Jake had wrapped his big strong arms around her. And when the lights flickered and then went off, he'd kissed her.

He'd kissed her. She had, naturally, kissed him back. Why wouldn't she? They were trapped together in a scary, potentially life-threatening situation.

And he was a damned good kisser.

The best she'd ever had.

Of course, she'd known that even before his lips had touched hers. He'd been amazing even at age eighteen.

Damn him.
If your book was optioned for a movie, what scene would you use for the audition of the main characters and why?
Absolutely the first few scenes where they go out to a storage shed to get more streamers for the high school class reunion dinner and get stuck together during the tornado ☺
What are you currently working on? What other releases do you have planned for 2016?
I'm working on a super fun project called Finding Chris Evans, with Erin McCarthy, Jennifer Bernard, Lizzie Shane, Jenn Stark and Elizabeth Bemis. Six stories about a woman searching for true love with a man named Chris Evans, thanks to a fortune teller's prediction at a carnival! That will be out in October. And I'm starting another new series yet this year! The Opposites Attract series is the Big Bang Theory in reverse… geeky girls and hot guys! Book one, Completely Yours, comes out in December.

Thanks for blogging at HJ!
Giveaway:

Kindle Ebook: TWISTED UP (Taking Chances Book 1) by Erin Nicholas
To enter Giveaway: Please complete the Rafflecopter form and

Leave a comment with your thoughts on the book…
Meet the Author: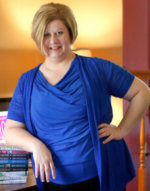 Erin Nicholas was fourteen when she first fell in love with love stories. Not long after that she started writing romances of her own, often spending family vacations in the backseat filling notebooks with stories. Now the New York Times and USA Today bestselling author of the Sapphire Falls series writes about women getting their happily ever after with humor, heart, and hope. From the fireworks of that first kiss to the thrill of passion, Nicholas strives to create novels that celebrate the magic of true love.
Website |