Today it is my pleasure to welcome back USA Today bestselling author

Maisey  Yates

to HJ!
Maisey is here to tell us about Unbuttoned her brand new Silver Creek Novella
Change is good, so they say. I tend to take a Dr Sheldon Cooper approach to change (they say change is good but it almost never is).
So when the discussion came up of me *gasp* writing a Different Kind of Book, I balked. Lots. Because I love writing Presents, and I'm HAPPY writing Presents, and well, new things scare me.
But then I really DID get an idea. A vague idea, I'm not a big plotter so this idea came in a vague form. A cowboy who finds out he's going to be a dad due to an IVF clinic mix-up. And the woman who has to (Unexpectedly) deal with him.
I mentioned to my writer friend Lisa Hendrix: Okay, I think I finally have an idea for a single title. And before I could finish the sentence she'd emailed her agent and asked if I could pitch it to her in NY during RWA.
So I did, while I was eating an omelet, and she liked the idea. Thus, I gained an agent and…I had to write that book!
While writing it I fell in love with the town, Silver Creek, and the Mitchell family, and lo, one idea became a series. The book and the series outline were on submission for quite a while, and during the wait, I got the idea to write a novella.
And that's where Unbuttoned came from.
You know what? I discovered change is good! I love being able to write two different kinds of books. I'm still writing the Presents, but being able to switch back and forth between the single title contemporaries and the category makes each type of book feel fresh every time.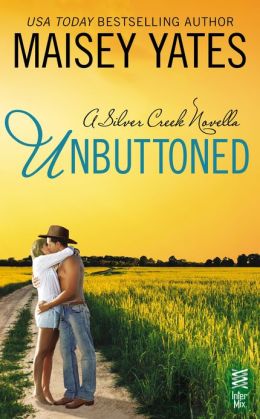 One of the things I love about writing the Silver Creek series is the world that it's set in. It's a small, fictional town in easter Oregon, based largely off of Joseph Oregon (google it! So pretty!). It's the sort of setting I love because it's so close to home.
There's something special about a small town. I've lived in one all of my life. I love a mountain view and I sure as heck appreciate a country boy.
I like being able to inject things I love – summer nights, country fairs, barbecues – into my books. I love the Presents glamour, it's a vacation from the every day, but the Silver Creek books are the best bits of my every day setting.
Another thing I love about writing the books is the humor. Anyone who's read my Presents knows, I love angst. But I also love to laugh. My Presents are angst with a side of humor, while Silver Creek is, I think, humor with a side of angst.
The other thing that's different about Presents v Silver Creek is the music I listen to while I write!            With Presents I do a lot of Florence and the Machine, but with Silver Creek, of course country is the order of the day. The Pistol Annies, The Band Perry, Blake Shelton, Tim McGraw…it's all on there.
Music is an integral part of my writing process. Which is cool, because I happen to be married to a musician. He'd written a song for one of my books before, and when I sold Unbuttoned I asked him if he'd be interested in writing a country song! He was a little bit skeptical. 😉 But he read the book, and then he wrote me the most beautiful lyrics ever! They fit the book just perfectly.
And we came up with this song and video, which we recorded and sang together. It really encapsulates the theme of Unbuttoned, which is out June 18th. I hope you enjoy it!

Giveaway: one winner will win a copy of Maisey's Backlist.
To enter Giveaway: Please complete the Rafflecopter form and leave a comment for Maisey. 
About the book:
Carly Denton has learned to keep her buttons and emotions firmly fastened. Her parents' constant drama, and an unrequited crush on her brother's best friend, taught her to keep her passion beneath the surface. But she can no longer avoid the one man with the ability to bring that passion to a boil…
Lucas remembers Carly as a freckle-faced tomboy—not a frosty woman who treats him like a burr under her saddle. But when they must work together on a charity project, Lucas is shocked to find their bickering melt into some serious mutual attraction. He's determined to show Carly that he's the man for her, if only she'd learn to let loose.
Lucas is the last man on earth Carly should give in to. The freedom she finds in his arms has her feeling happier than ever, but is it enough to make her realize that the greatest risk isn't losing your heart, but losing the chance at happiness?