Today it is my pleasure to Welcome author
Adriana Anders
to HJ!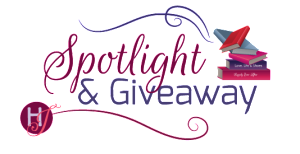 Hi Adriana and welcome to HJ! We're so excited to chat with you about your new release, Under Her Skin!
Please summarize the book for the readers here: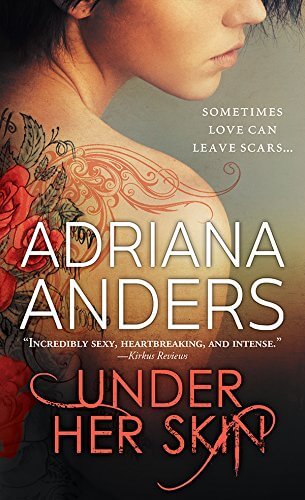 When Uma Crane comes to town to erase the scars of her past, she doesn't expect to fall for the big, damaged blacksmith next door—or for the town itself. But when she's forced to face off against her abusive ex, Uma discovers that, with the help of her new friends, she just might have the strength to confront her worst nightmares. Under Her Skin is a steamy, heart-wrenching story of love, hope and—ultimately—survival.

Please share the opening lines of this book:
Old hag in need of live-in helper to abuse. Nothing kinky.
Uma read the ad again.
Jesus. Was she really going to do this?
Yes. Yes, she was. She'd come all the way back to Virginia for the hope its free clinic offered, and if this was the only job she could get while she was in town, she should consider herself lucky to have found it.
Please share a few Fun facts about this book…
The idea for the book came in my car when I heard the story of women who were tattooed by their partners against their will.
 Ivan, the hero, collects a menagerie of strays, including a dog named Squeak and Pepe, the skunk. They are all based on real animals.
 The town of Blackwood is an amalgamated version of a few of my favorite Virginia towns, primarily Crozet in Albemarle County.
After writing Under Her Skin from Uma's perspective, I decided we needed a little more Ivan and transmogrified the entire book into third person point-of-view.
What, in your mind, distinguishes this book from other books out there in the same genre?
In Under Her Skin, Uma saves herself. The hero supports her, helps empower her along the way, but she truly is the mistress of her own fate, which is where I think this book stands out. The intimate scenes are also very, very sensual, and because Uma isn't comfortable with her body, there's a twist.

Please tell us a little about the characters in your book. As you wrote your protagonists was there anything about them that surprised you?
Uma is on the run, so she's hunted and haunted, but she never lost her sense of humor or who she is—at her core. Ivan, who's big and mean-looking, and has had run-ins with the law, is a softie inside. He surprised me constantly.

The First kiss… 
Oh, I love smooching—in books and in real life! Here's Uma and Ive's first kiss.
"C'm'ere." He sounded gruff when he tugged Uma toward him. She resisted briefly, but not out of worry or fear. No, she resisted for the stupid regular reasons: Would she make a fool out of herself? Did her breath stink? She gave in and allowed him to pull her closer, to the edge of the armchair, and met him halfway. Their noses were first to meet, hesitant and intimate. Brushing lightly.
"Can I get a kiss?" His hot breath shuddered the question against her, and she could feel his anticipation, nearly as strong as her own.
Without letting herself think too much about it, she did as he asked. It was so easy to brush her mouth to his. A dry touch, with none of the messiness his lush lower lip promised, but enough spark to make her want more.
The second was a real kiss, the kind that makes a noise, lips pursed. Another like that, chaste and neat, but ridiculously exciting in its simplicity. They tilted their heads in easy, mirrored unison, lined up for a deeper one.
And then his tongue, the tip against her lip, sweet and soft, requesting permission. Permission was granted, and he slipped in, sipped at her. Not a perfect kiss, because there were still teeth in the way and noses and such, but with such synchronicity and heat that it was by far the best she'd ever had. Massive hands stroked her cheeks, her ears, her shoulders, making her feel tiny and cherished. Fragile, in a good way, but still whole.
What scene did you have the most fun writing? Why? 
The scene when Uma finally gives in to her attraction for Ivan was the most surprising and the most fun to write. What she doesn't realize, before going to see him, is that she's holding all the power. That transfer of power is one of my favorite moments in Under Her Skin.
"Take off your shorts."
Uma thought the words and then they were out, charging the air between them. Positively zipping with energy. A barometer in that room would have swung wildly in both directions, unsure whether to settle on Stormy or Electric. Either would have suited her fine.
She was fierce, wide awake, as she watched first surprise, then awareness overtake Ivan's features. His chest rose and fell, the sounds coming from him grown harsh. He was measuring her, she could tell, trying to figure her out. She saw the exact moment he decided to give up.
Smart man. It was a lost cause.
If your book was optioned for a movie, what scene would you use for the audition of the main characters and why?
There's a moment—before they know each other well—when Ivan senses things aren't as they should be and intervenes, pulling Uma to the side during a self-defense class. It's one of those scenes where the characters .
She was sitting on the floor beside him, his hand a cool, reassuring weight on the back of her neck, the innocuous view of the mat between her bent legs. There was a worn spot, where threads peeped through. Uma worried at it with numb fingers, pulling at the threads until one broke off, and it occurred to her that she was thoughtlessly destroying property.
He released her neck, and a waft of air reached her, fresh from his body. She smelled something woodsy mixed with sweat. Man soap, she thought. She hated herself for how weak she'd become. This was all wrong—not at all how her new life was supposed to be.
She was supposed to be fearless and strong.
"I'm sorry."
He grunted.
"I can't believe I did that. It's just…" Uma cleared the tightness out of her throat and grasped at the paper cup shoved into her hand. After a sip, she mumbled, "Embarrassing. Sorry."
"Quit that," he rumbled softly.
"Sorry."
He sighed, sounded like he'd say something else, then settled for a second grunt.
"I guess I'll go." She set the cup aside and pushed up to standing, then stopped when his hand landed lightly on her calf. She looked down, met his eyes, and the room tilted. His hand tightened, but he didn't stand.
"Stay."

There's that magical moment in a romance where the hero and heroin cross that line—they're in so deep, emotionally, that they can no longer back out. It might be the moment when they fall in love or, more often, when they finally understand what it is that they're feeling. This is a tiny snippet from the love scene late in Under Her Skin when Uma and Ivan get in too deep.

"Don't go, Uma," Ive whispered.
"I'm not going anywhere," she promised without even meaning to.
"Stay with me. Here."
"I'm here. I'll stay."
With a groan, he closed his eyes and lost himself.
Excerpt. © Reprinted by permission. All rights reserved.

What do you want people to take away from reading this book?
We've all got a past, we've all suffered in one way or another. I believe in happy endings and new beginnings. Under Her Skin gives two hurt, lost, and damaged people the second chance they deserve. I would like readers to come away with the certainty that love is out there and that there is hope—for every one of us.
I'm working on a new series for next year which may or may not feature hot but damaged Navy SEALS!
What are you currently working on? What other releases do you have planned for 2017?
This year is starting off with a bang, with By Her Touch, the second book in the Blank Canvas series releasing on April 4th. It's the story of undercover ATF agent, Clay Navarro, who comes to Blackwood to get his Motorcycle Club tattoos removed by Dr. Georgette Hadley, the resident dermatologist. It's sexy and emotional and full of suspense. In His Hands, the third book in the Blank Canvas series, comes out August first, bringing us Luc, a sexy, reclusive French winemaker and Abby, who's struggling to escape the cult next door.

Thanks for blogging at HJ!
Giveaway:

Print copy of Under Her Skin (Blank Canvas) by Adriana Anders
To enter Giveaway: Please complete the Rafflecopter form and Post a comment to this Q:

As an avid reader myself, I'm always excited to see hear about what other readers want. What themes, genres, or tropes are sorely missing from your To Be Read pile?
Book Info:
Battered by a life determined to tear him down
This quiet ex-con's scarred hands may be the gentlest touch she'll ever know.
…if only life were a fairy tale where Beauty was allowed to keep her Beast
Ivan thought the world was through giving him second chances. Who'd want a rough ex-con with a savior complex and a bad habit of bringing home helpless strays? Everyone in Blackwood, Virginia knew he wasn't good enough for the fine things in life; they knew he was too damaged to save. He just needed to keep his head down, work himself to the bone, and pretend he was content with the lot he was given.
Until she came into his life. Until she changed everything.
Until he realized he would do anything, fight anyone, tear the world apart if it meant saving her.
Buylinks:
Amazon | Barnes & Noble | Target | iBooks | Google Play | Books-A-Million | IndieBound


Meet the Author: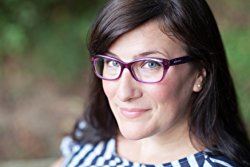 Adriana has acted and sung, worked for start-ups, multinationals and small non-profits, but it wasn't until she returned to her first love—writing romance—that she finally felt like she'd come home. Today, she resides with her tall French husband, and two small children in the foothills of the Blue Ridge Mountains.
Hang with Adriana:
www.adrianaanders.com
Follow on Amazon: https://www.amazon.com/Adriana-Anders/e/B01GAT5BT4
Facebook/adrianaandersauthor
Twitter/adrianasboudoir
Goodreads
Instagram/adriana.anders
Pinterest/adrianasboudoir