Today it is my pleasure to Welcome romance author
Robin Bielman
to HJ!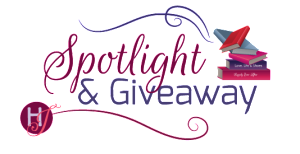 Hi Robin, welcome 🙂
What would you say is your motto or maxim as a writer?
Live to love… love to write. And always try to bring a smile to a reader's face.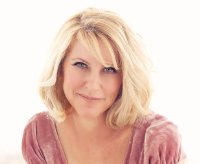 Would you rather… visit the world 100 years into the past or 100 years into the future? Why?
Take me to the future! I can't even imagine what the world is going to be like then, so I'd love a sneak peek. I'd love to see how my family will be living several generations from now.
Let's talk about your newest release: Veiled Target
If you had to summarize the book for the readers here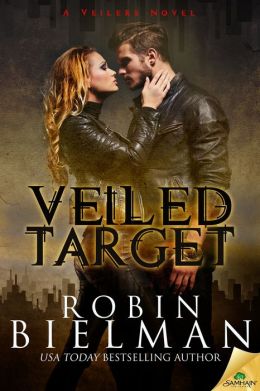 In Veiled Target my heroine, Tess, is a kickass eliminator of Veilers (non-humans) with one last chance to prove she can get the job done. Unfortunately, when she discovers her next target, Hugh, makes her heart beat out of her chest – in a good way! – she's thrown for a curve. Things get even more complicated when she learns he's the only one who can help her solve the mystery of who killed her fiancé. Now, thrown together in an inconvenient alliance, the line between good and evil starts to blur. And of course they fall in love. ☺ There's action and romance and I'd like to think some funny stuff, too.
Please tell us about the characters in your book?
Tess Damon is an adrenaline junkie, an eliminator for a clandestine organization that rids Los Angeles of Veilers, and a woman out for revenge. She's tough, fearless and fiercely independent … until she meets a Veiler who knocks down the walls around her heart and makes her question everything she's believed in. Hugh Langston is a total alpha male. He's a half-shifter. A warrior, leader, the man every woman wants, and the guy always in control. Well, until he meets a certain eliminator. Once Tess enters his life, his plans are thrown into complete disarray.
As you wrote your protagonist was there anything about them that surprised you?
I don't think anything surprised me, but I did have an absolute blast writing my first paranormal romance! It was so fun putting my characters in danger and constant conflict and watching them figure out how to reach their happily ever after. I mean Tess IS supposed to kill Hugh.
What scene did you most enjoy writing? Why?
One of my favorite scenes is at the beginning of the book when Hugh catches Tess following him. She doesn't know who he is yet, and I loved writing the banter between them…
"Cut the crap, Tess. Why were you following me?"

"How do you know I was following you?" Oops. She meant to say, "What makes you think I was following you?"

He gave a knowing smile—that looked ridiculously sexy rather than irritating. "I know you don't want to insult my intelligence so let's just say for argument's sake, if you were following me, why would that be?"

At least she'd gotten him to change his tone.

"Truthfully?" She leaned a little closer to him. She couldn't help it.

"That would be nice."

"I'm really not a very nice person," she announced.

"Neither am I." He reached out and moved a strand of hair behind her ear.

Was he trying to confuse her? Because it was working. She'd nearly fallen into his hand before he pulled it away. He was indeed a very bad man.

"That's good. I hate nice guys. So where does that leave us?"

"I haven't got all night, Tess." He lowered his chin, indicating—she presumed—he was growing tired of their banter.

She lifted an eyebrow. "No? That's too bad. I'm a night owl. I can—"

"Answer my question before I haul you to your car over my shoulder." His tone sent a little zing of pleasure right to the tips of her breasts.

"As if you could—" She was over his shoulder in one second flat. He moved swiftly, quietly and with superhuman strength. Uh oh.
What scene was the hardest to write? Why?
Hmm… I think one of the hardest to write was the first time Hugh and Tess make love because I wanted to convey what a huge deal that was for her…
"We could do that," he said coming up behind her. He braced his arms on either side of her sensitive body and rested his palms on the desk.

And once again, she found herself in the delightful position of being tucked into him.

"Or we could do this." He kissed the side of her neck and sparks, yes sparks—the kind at the end of the sparkler sticks she used to light on the Fourth of July—went off in her body.

Then he kissed her earlobe, tugged on it with his teeth. Went back down to her neck and dropped achingly soft kisses there.
"What do you say?" His whisper sounded better than her favorite song.

"This." The word came out breathy. "I say we do this."

For one night, she planned to let herself go. Forget about investigations, about her past, about revenge. She'd relinquish the control she so carefully maintained. Overlook the vulnerability that scared the shit out of her. Tonight she'd be a woman who took what she wanted.

She'd never been just that before.

What she did for a living, the job, had always defined her. Always been the reason, the foundation, for the person everybody saw. Even alone with Jason all those years ago, she wasn't the person he'd met in foster care. She'd hidden from him too and he'd never questioned her, never seemed to see any change in her after they'd reconnected. How disconcerting that he'd been in love with a woman who wasn't at all what she appeared to be, and he hadn't noticed.

Hugh knew more about her than anyone else. Knew she'd killed.

And still he wanted her.
Who would you cast in the role of your characters if your book was optioned for a movie?
I'd can totally picture Alex O'Loughlin as Hugh and Yvonne Strahovski as Tess.
If you could have given your characters one piece of advice before the opening pages of the book, what would it be and why?
I can't give them advice! LOL They are way too smart and deadly. 😉
What are you currently working on? What other releases so you have planned for 2014?
Thanks for asking! My next book is releasing on August 11th! It's the first book in a new series for Red-Hot Bliss and it's titled KEEPING MR. RIGHT NOW. I'm super excited about it.
Thanks for blogging at HJ!
Giveaway:

An eBook copy of any book from my backlist.
To enter Giveaway: Please complete the Rafflecopter form and Post a comment to this Q:
Let's pretend you're the star of an action movie where there are paranormal beings! Who would you want to play your leading man? Or leading lady?
Excerpt
Did the damn woman know what she did to him? Her pouty lips and keen eyes with long lashes suggested she did. Women didn't play fair. "We decided to split up so I could get you back to your car."

"I don't need an escort." She marched past him, shoulders back, head held high.

"Right. So you can sneak around some more. I don't think so." He caught up to her. She didn't fool him. Not for a minute. "I'm taking you back to the bar and you're going to get into your car and drive home."

"Excuse me, but—"

"I give the orders," he interrupted, a smile tugging at his lips.

"You sure as hell—"

"—can give them to you, so be a good girl and let's get you on your way."

Out of the corner of his eye, he noticed her clench her fists and take a deep breath. She probably thought about hitting him. With his stronger than normal senses, he heard her heart rate speed up, smelled the salty scent of perspiration on her skin. Then she bit her bottom lip in a most distracting manner before speaking again.

"I'll get myself where I want to go, thank you very much. You don't get any say."

"Tonight I do."

"Tonight you don't."

"Do you argue with everyone trying to do a good deed?"

"You're not doing a good deed. You're annoying me." She turned a corner heading in the wrong direction.

"Wrong way, oh wise one." He snatched her arm to steer her the right way.

She yanked her arm back, but switched her stride. "I knew that."

"Of course you did." He glanced at his watch. Time ticked away. Time he should be using to hunt for Trey. He needed to ditch the exasperatingly attractive woman in the blue dress pronto. No matter how much the thought disappointed him.

"I'll tell you what," Tess started, "you fill me in on the Night Runners, and I promise I'll go peacefully." Her steps slowed. She dragged her feet as if they suddenly weighed eighty pounds each.

"Peaceful or not, I can get you to your car without saying another word." He would not give her the upper hand.

"Yes, but that won't stop me from yelling a few choice expletives on our way. I might rouse the neighborhood." She tossed him a smug look. "And I've got news for you—when I'm mad my voice and language can be pretty alarming. I don't think you want that kind of attention."

Damn, she was good. Her combative nature and challenge to his authority had him wondering what she'd be like in bed. Bloody hell. Why was he letting his mind wonder there? "Two questions."

"I beg your pardon?"

"You can ask me two questions that I'll answer honestly. And then you've got to go."
Book Info:
Never take Fate along on a date. The kiss goodnight could be deadly.
Tracking down Veilers—non humans—is only a sideline for Tess Damon. Vengeance for her fiancé's murder is her reason for living. But with two botched jobs on her record, if she fails to eliminate her next mark, she's dead. She's not afraid to die, but not before she gets even. Too bad fate has a really bad sense of humor.
Hugh Langston, a wolfen half shifter, lives to keep both humans and his pack safe. But when rogue humans kidnap his apprentice, his rescue mission is compromised by a hot-as-hell, kick-ass woman who makes him think only one thing: mine.
Tess tries to ignore her feelings, but temptation trips her up. Especially when Hugh figures out he's her next target and forces her into an inconvenient alliance that tests all the laws against their attraction. Now, with the line between good and evil getting blurrier by the minute, it becomes clear Tess's only hope of living to see another day—and finding a murderer—lies with the one man she's supposed to kill.
Book Links:
Author Bio
USA Today Bestselling Author Robin Bielman lives in Southern California with her high school sweetheart husband, two sons, and crazy-cute mini Labradoodle, Harry. When not attached to her laptop, she can almost always be found with her nose in a book. She also likes to run, hike, eat cupcakes, and dip her toes in the ocean. Filled with wanderlust, she longs to visit many different places and fulfill her curiosity. She wouldn't mind indulging her sweet tooth in every location either. She's a lover of sticky notes, cable television shows and coffee drinks. Writing is a dream come true, and she still pinches herself to be sure it's real.
She writes contemporary and paranormal romance and loves to connect with readers. Learn more and sign up for her newsletter on her website at http://robinbielman.com. She can also be found online here:
Facebook: http://facebook.com/RobinBielmanWriter
Twitter: http://twitter.com/RobinBielman
Goodreads: http://goodreads.com/robinbielman
Website | Facebook | Twitter |