Today, HJ is pleased to share with you

Kristen Ashley's

new release: 

Walk Through Fire

The flame never dies . . .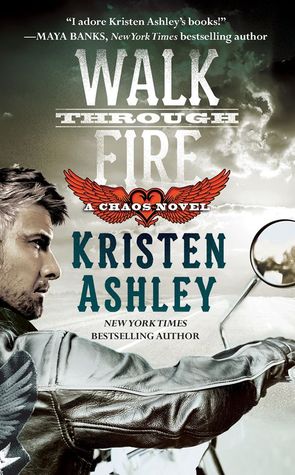 Millie Cross knows what it's like to burn for someone. She was young and wild and he was fierce and even wilder-a Chaos biker who made her heart pound. They fell in love at first sight and life was good, until she learned she couldn't be the woman he needed and made it so he had no choice but to walk away. Twenty years later, Millie's chance run-in with her old flame sparks a desire she just can't ignore. And this time, she won't let him ride off . . .

Bad boy Logan "High" Judd has seen his share of troubles with the law. Yet it was a beautiful woman who broke him. After ending a loveless marriage, High is shocked when his true love walks back into his life. Millie is still gorgeous, but she's just a ghost of her former self. High's intrigued at the change, but her betrayal cut him deep-and he doesn't want to get burned again.

As High sinks into meting out vengeance for Millie's betrayal, he'll break all over again when he realizes just how Millie walked through fire for her man . . .

Enjoy an exclusive excerpt from Walk Through Fire: 
I should get a salad.
I should have gone to Whole Foods and hit their salad bar (and thus been able to get a cookie from their bakery, a treat for being so good about getting a salad).
I didn't go to Whole Foods.
I went to Chipotle.
So, since I was at Chipotle, I should get a bowl, not a burrito.
I had no intention of getting a bowl.
I was going to get a burrito.
Therefore, I was standing in line at Chipotle, trying to decide on pinto or black beans for my burrito, telling myself I was going to have salad for dinner (this would not happen but I was telling myself that it would, something I did a lot).
And in the coming weeks, I would wish with all my heart that I'd gone to Whole Foods for the salad (and the cookie).
It was lunchtime. It was busy. There was noise.
But I heard it.
The deep, manly voice coming from ahead of me.
A voice that had matured. It was coarser, near to abrasive, but I knew that voice.
I'd never forget that voice.
"Yeah, I signed the papers. Sent 'em. Not a problem. That's done," the voice said.
I stood in line having trouble breathing, my body wanting to move, lean to the side, look forward, see the man attached to the voice, needing that, but I couldn't seem to make my body do what it was told.
"Not set up yet with a place, don't matter," the voice went on. "Got a condo in the mountains for the weekend. Takin' the girls up there. So I'll come get 'em like I said, four o'clock, Friday. I'll have 'em at school on Monday. I'll sort a place soon's I can."
I still couldn't move and now there was an even bigger reason why.
Takin' the girls up there.
I'll have 'em at school on Monday.
He had children.
Logan had kids.
Plural.
I felt a prickle in my nose as my breaths went unsteady, my heart hammering, my fingers tingling in a painful way, like they'd gone to sleep and were just now waking up.
The voice kept going.
"Right. You'd do that, it'd be cool. Tell 'em their dad loves 'em. I'll call 'em tonight and see them Friday." Pause, then, "Okay. Thanks. Later."
The line moved and I forced myself to move with it, and just then, Logan turned and became visible in front of the food counter at Chipotle.
I saw him and my world imploded.
"Burrito. Beef," he grated out. "Pinto. To go."
I stared, unmoving.
He looked good.
God, God, he looked so damned good.
I knew it. I knew he'd mature like that. Go from the cute but rough young man with that edge—that dangerous edge that drew you to him no matter how badly you wanted to pull away—but you couldn't stop it, that pull was too strong.
I knew he'd go from that to the man who was standing in front of the tortilla lady at Chipotle wearing his leather Chaos jacket.
Tall. His dark hair silvered, too long and unkempt. Shoulders broad. Jaw squared. I could see even in profile the skin of his face was no longer smooth but craggy in a way that every line told a story that you knew was interesting. Strong nose. High cheekbones. Whiskers (also silvered) that said he hadn't shaved in days, or perhaps weeks.
Beautiful.
So beautiful.
And he once was mine.
Then I'd let him go.
No, I'd pushed him away.
I turned and moved swiftly back through the line, not making a sound, not saying a word.
I didn't want him to hear me.
Out, I needed out.
I got out. Practically ran to my car. Got in and slammed the door.
I sat there, hands hovering over the steering wheel, shaking.
Takin' the girls up there.
I'll have 'em at school on Monday.
He had kids.
Plural.
Girls.
That made me happy. Ecstatic. Beside myself with glee.
I signed the papers. Sent 'em.
What did that mean?
So I'll come get 'em . . . I'll sort a place soon's I can.
Come and get them?
He didn't have them.
Signed the papers.
Oh God, he was getting a divorce.
No. Maybe he'd just gotten one.
I'll come and get 'em . . .
He was a father.
But was he free?
I shook out my hands, taking a deep breath.
It didn't matter. It wasn't my business. Logan Judd was no longer my business. He'd stopped being my business twenty years ago. My choice. I'd let him go.
Excerpt. ©Kristen Ashley. Posted by arrangement with the publisher. All rights reserved.
Giveaway:

3 Print copies of WALK THROUGH FIRE by Kristen Ashley (US/CAN)
To enter Giveaway: Please complete the Rafflecopter form and post a comment to this Q:

What did you think of the excerpt spotlighted here? Leave a comment with your thoughts on the book…
Meet the Author: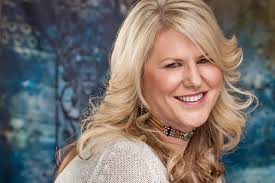 Kristen Ashley grew up in Brownsburg, Indiana, and has lived in Denver, Colorado, and the West Country of England. Thus she has been blessed to have friends and family around the globe. Her posse is loopy (to say the least) but loopy is good when you want to write. Kristen was raised in a house with a large and multigenerational family. They lived on a very small farm in a small town in the heartland, and Kristen grew up listening to the strains of Glenn Miller, The Everly Brothers, REO Speedwagon, and Whitesnake. Needless to say, growing up in a house full of music and love was a good way to grow up. And as she keeps growing up, it keeps getting better.
Buy the book! Amazon B&N iBooks  GooglePlay Kobo BAM