Today it is my pleasure to Welcome author
Corinne Michaels
to HJ!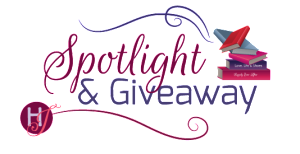 Hi Corinne and welcome to HJ! We're so excited to chat with you about your new release, We Own Tonight!
Please summarize the book for the readers here: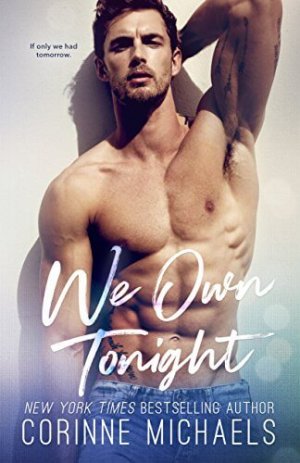 We Own Tonight is a celebrity romance story when things you dreamed about happening actually come to live. Heather and Eli are opposites in every sense of the word. She is a police officer and he's a singer in a boy band. They meet in the most awkward way, and fall in love thanks to his persistence. They're both in their forties, and want no part in playing games, but life is a game of chance and someone is going to have to take a leap.

Please share the opening lines of this book:
"Damn it, Heather. We're always late because of you!" Nicole yells from outside the bathroom. She's been my best friend since the sixth grade. You'd think by now she'd know to pad things by twenty minutes if she wants a snowball's chance in hell of getting anywhere on time.

"The peril," I taunt her as I finish putting my hair up.

"You drive me nuts."
Please share a few Fun facts about this book…
The concept for We Own Tonight came to me while I was at a concert with my three best friends.
Eli Walsh's character is based on my teenage crush, Donnie Wahlberg, from New Kids On The Block.
The personalities, descriptions, and the first initials of Heather's three best friends are based on my real life friends.
Please tell us a little about the characters in your book. As you wrote your protagonist was there anything about them that surprised you?
Heather Covey is a divorced police officer who takes her family and community obligations seriously. She's steadfast, loving, and has a huge heart.
Eli Walsh is a former boyband front man turned actor. He's swoony, loyal, and will stop at nothing to win her over.

If your book was optioned for a movie, what scene would you use for the audition of the main characters and why?
This is such a difficult question . . . hmmm . . . I think I'd pick the scene when they see each other the first time after their one night stand. It was really awkward for Heather, but Eli was just cocky and almost enjoying himself. They banter a lot, so I feel like that one moment is pivotal in setting up the remainder of their relationship.
"Do you know why I pulled you over, sir?"
"Are you going to pretend you don't know me?" Eli asks with his brow raised.
"Mr. Walsh, we all know who you are. However, that doesn't mean that nearly colliding with two vehicles is acceptable."
Eli looks over at Brody. "What's up, man? Is she always this way?"
"You two old friends?" Brody asks.
I clear my throat. "License, registration, and insurance . . . please."
I somehow get the words out without squeaking or sounding unstable. Brody laughs, and it takes everything I have not to look at him. I hate him right now.
"Sure thing, Officer Covey."
"Don't go anywhere," I warn as I take the paperwork from him.
"Don't worry, I'll be right here, Heather. I don't run away."
Bristling at his words, I walk away, feeling Brody's gaze on me. There's no doubt that as soon as we get back in the car, I'm going to get it—good.
What do you want people to take away from reading this book?
Sometimes your dreams can become reality.

What are you currently working on? What other releases do you have planned for 2017?
I'm currently finishing up a novella that will be in the Lexi Blake Crossover Collection presented by 1,001 Dark Nights, coming April 10, 2018! It is based on a character that shows up in the Return to Me series. Cooper has been a reader favorite and so I'm bringing them his story.

Thanks for blogging at HJ!
Giveaway:

Winner's choice of 1 signed Corinne Michaels' Paperback.
To enter Giveaway: Please complete the Rafflecopter form and Post a comment to this Q:

Take yourself back to the age of 14…who was your biggest celebrity crush?
Excerpt from We Own Tonight:
Heather

Oh my God. Oh my God. I'm going to a private place with Eli. What the hell am I thinking? I'm not. Clearly, I'm having some kind of out-of-body experience. I would never do this. Yet, here I am, holding his hand and walking away from the meet and greet.
"You okay?" His deep voice is laced with concern.
"I'm great." I'm such a liar.
"Yeah? Because you're shaking."
My entire body is trembling. I haven't pinpointed whether it's because I'm excited or scared out of my fucking mind. I'm pretty sure it's the latter. I focus on my breathing. I'm in high stress situations all the time, this should be a cake walk.
This is, as Nicole says, hooking up. Apparently, people do this all the time and it's normal. I can be normal. I can put all this crazy shit aside and be in the moment.
Just let tonight be what it is and enjoy it.
I clear my throat and smile. "This kind of stuff never happens to me."
He chuckles as he comes to a stop in front of the tour bus. "What kind of stuff?"
"This," I say a little high-pitched. "I don't typically drink, scream at random people, get serenaded, get asked backstage, and now . . ." I trail off. There's no way I'm finishing that statement, because I don't know what exactly is happening. Maybe he wants to ask me about something dumb. He may not want sex. I don't know that I want sex.
That's a lie.
I totally want sex. I want to let loose like Nicole told me to. To be completely without fear of consequence for just one night. I'm always responsible. My life is practically a billboard for sensibility. I uphold the law, care for my sister, work to support myself and Steph, volunteer at the youth center, but I never let loose.
I'm going to have fun. Well, if he wants to.
Thank you Jesus for beer. Or whichever person made it.
"What do you want to happen, Heather?" Eli's eyes smolder as he tugs me close.
Oh. Fuck. Me.
"I-I . . ." my mouth goes dry.
His hands move around my hips as he shifts us so my back is against the door of the bus. He's so close. Eli's touch travels up my sides until he stops at my neck. "Well? We can talk or we can do something else."
I think back to what Nicole said. "Let go for one night." And for tonight, I'm going to fulfill my teenage fantasy. I'm going to sleep with Eli Walsh . . . on a tour bus . . . after an FBD concert.
My back straightens as I muster my inner Nicole. I press my body against his, hooking my hand around his back. "I think we can find something else to do."
His green eyes flash with surprise before his mouth collides against my lips. Every inch of his body is flush with mine. Our lips move in harmony as he fumbles for the door handle. As soon as the door opens, we fall back. He walks me backward up the steps and through the vehicle without missing a beat or stumbling.
I lose myself in his kiss. He isn't soft or gentle. No, he devours me. It's passion unbridled. Neither of us worry about finesse. This is unlike any kiss I ever shared with Matt. He was slow, cold, and perfunctory. There was no need.
I need this. I need to escape my mind.
Eli pushes me where he wants me while holding my head in his grip. My fingers roam his body as we continue to move. He opens the door to the bedroom. "Bed," he mutters before his lips find mine again.
I pull at his shirt, breaking the kiss as I tear it off. "Wow," I say as my eyes take in his chest. My fingers move slowly over his pecs and then down toward his abs, rising and falling over each valley and divot. He doesn't have an ounce of fat on him, and I can feel every flex and pulse beneath my fingertips.
"You're beautiful." His soulful eyes lock on mine as he pushes my hair back.
"I'm average."
His gaze rakes over my body before coming back to mine. "There's nothing average about you, Heather."
Excerpt. © Reprinted by permission. All rights reserved.


Book Info:
I'm not a one-night stand kind of woman. I'm especially not the woman who has a few drinks at a concert and ends up in bed with my childhood celebrity crush, Eli Walsh.
However, that's exactly where I find myself.
What's a girl to do after a drunken mistake? Run. I grab my clothes and get away from the powerful, irresistible, and best-sex-of-my-life superstar as fast as I can. His gorgeous green eyes, rock-hard body, and cocky smile have no place in my world. My life is complicated enough.
Someone forgot to tell him that.
Eli is relentless. Pushing his way into my heart, wearing me down, proving he's nothing like I assumed, and everything I need. But when my world shatters to pieces, he holds the broken bits together. Unwillingly, I fall desperately in love with him.
He made me think we'd have forever . . . I should've listened when he said we could only own tonight.
Book Links:

Meet the Author: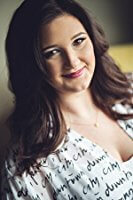 New York Times, USA Today, and Wall Street Journal Bestseller Corinne Michaels is the author of nine romance novels. She's an emotional, witty, sarcastic, and fun loving mom of two beautiful children. Corinne is happily married to the man of her dreams and is a former Navy wife. After spending months away from her husband while he was deployed, reading and writing was her escape from the loneliness. She enjoys putting her characters through intense heartbreak and finding a way to heal them through their struggles. Her stories are chock full of emotion, humor, and unrelenting love.
Website | Facebook | Twitter | Instagram | GoodReads |