Today it is my pleasure to Welcome romance author
Sarah M. Anderson
to HJ!

Hi Sarah, welcome 🙂
If you were written about in the newspaper, on the front page what would the headline say? Why?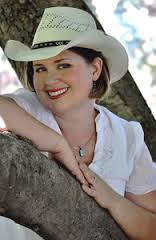 Local Woman, 37, Gets Fatal Papercut While Typing on a Computer.
I want the headline to say World-Famous Author Takes Over the World! but honestly, I can get a papercut just glancing at a piece of paper out of the corner of my eye. That whole World Domination thing is a lot harder!
Would you rather…have 3 wishes in 10 years or 1 wish today? Why?
Tough call! I have a feeling that I'll need the wishes more in ten years than I do right now. Plus, since I'm so forgetful, I won't remember that I've chosen the delayed option, so it'll be a complete surprise when it comes up in a decade!
Let's talk about your newest release: What a Rancher Wants
If you had to summarize the book for the readers here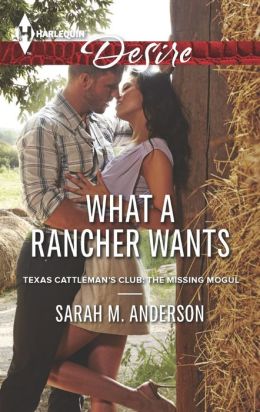 What a Rancher Wants is the eighth book in the Texas Cattleman's Club: The Rule Breakers series.
Please tell us about the characters in your book?
Chance McDaniel has been accused of kidnapping his best friend, Alex del Toro. When Alex's sheltered sister Gabriella shows up, Chance is determined to prove his innocence and get to the bottom of Alex's disappearance–but he never counted on Gabriella!
Gabriella is a Mexican jewelry designer who's lived an incredibly sheltered life. She's only ever had one boyfriend, but it never went very far. She's excited to come north to America and taste the freedom her brother had before he went missing. When she meets Chance–the man accused of kidnapping her brother–she wants to find out what happened to her brother, but Chance tempts her with a kind of freedom that she's only dreamed about.
As you wrote your protagonist was there anything about them that surprised you?
Gabriella is Mexican. She's been tutored in English since she was a child, but there are what I call 'Texasisms'–idomatic speech that most English textbooks never teach. So the more time she spends with Chance, the more she tries to talk like he does–and the more Texasisms she messes up.
What scene did you most enjoy writing? Why?
I *loved* writing Chance and Gabriella's first kiss. Gabriella has a bodyguard that's tasked with making sure no one touches her–yes, she is that sheltered. But when she came up to deal with her brother's disappearance, she had to leave all her jewelry-making tools at home. Chance can tell she's miserable so he gives her access to his workshop. And, well–this is what happens!
"I would like for you to put your hands in your pockets."

If anyone else had asked him to do that, Chance would have known they were planning on punching him and he'd have had none of it. But Gabriella wasn't going to crack him across the cheek because of Slim, was she?

The light in her eyes said no. Hell, everything about her said no.

So he did.

Her gaze flicked back to where Chance was pretty sure Joaquin was still watching them. He could only hope the barrel of a gun wasn't pointed at the back of his skull. "As you can see, he is not touching me," she said in an all-too-business-like voice.

Then, before he could make any sense of that, she stepped into him, flung her arms around his neck and kissed the holy hell out of him. Her teeth clipped his lower lip and he desperately wanted to tilt his head to the side so that he could taste her better—taste all of her—but he couldn't move. He didn't dare.

When it ended—and damn it, it did end—she pulled away so quickly she almost stumbled. And he almost got his hands jerked out of his pockets to grab her.
What scene was the hardest to write? Why?
Chance takes Gabriella to the Texas Cattleman's Club for dinner, but it doesn't go well–people are suspicious of him and suspicious of her. Chance doesn't respond well to the pressure and gets snippy. It's hard to write a snippy hero without making him a jerk!
He decided to change the subject. "He wants to be called Alex now, does he?"

The color in her cheeks deepened. Why did she have to be so beautiful? Why did he have to be so attracted to her? Why couldn't things be simpler, as they'd been long before Alex Santiago had mucked up his world?

"He seems to respond better to that name. I'm…" She swallowed. She was about to lie to him, he realized. He could see it coming and couldn't do a damn thing about it. "I'm hoping it will help his recovery to stick to the name that draws a more positive reaction from him."

"Is that a fact." It wasn't a question.

"Yes." She cleared her throat. By now her cheeks were redder than a tomato in August. But she lifted her head, that blank pleasantness almost a challenge to him. "I do not wish to speak of him tonight."

That meant she wasn't going to try to backtrack out of her lie. But it also meant she wasn't going to tell him another one. "Well, you just let me know when you do wish to speak of him, okay?"

The look of pain that bled the beautiful right out of her blush made him feel like a jerk. But he wasn't the one who was being jerky here, was he? She'd told the lie. She expected him to go along with it? He was an honest fellow. He was not the bad guy here.

Yeah. Dinner had been a mistake.
Who would you cast in the role of your characters if your book was optioned for a movie?
Gabriella is easy–Salma Hayek would be Gabriella! Chance I had to think about for a bit, but I settled on Kellan Lutz (and his many muscles) to 'fill out' the role!
If you could have given your characters one piece of advice before the opening pages of the book, what would it be and why?
Don't worry about what other people are saying! Chance is so concerned with what people are saying about him that it distracts him from the beautiful woman right in front of him.
What are you currently working on? What other releases so you have planned for 2014?
I have *so* many releases that it's kind of funny. It's easier to just list them with bullet points:
* Mystic Cowboy (Men of the White Sandy #1) January
* What a Rancher Wants (Texas Cattleman's Club: The Rule Breakers #8) February
* Nobody (Men of the White Sandy #3) May
* Masked Cowboy (Men of the White Sandy #2) August
* Rodeo Dreams (SuperRomance) August
* Not the Boss's Baby (The Beaumont Heirs #1) September
* Seduced by the Cowboy (The Beaumont Heirs #2) October
* A Beaumont Christmas Wedding (The Beaumont Heirs #3) November
And I've been asked to work on the next cycle of Texas Cattleman's Club: After the Storm! It'll be out in February 2015!
Thanks for blogging at HJ!
Giveaway: I'm giving away

a print copy of What a Rancher Wants

to a randomly drawn commenter!
To enter Giveaway: Please complete the Rafflecopter form and Post a comment to this Q:
Leave a comment for Sarah, let us know what you thought of the excerpts and if you have any casting suggestions for Gabriella and Chance?
Except
The kiss this time was different—instead of the happy-to-the-point-of-ecstatic kiss that she'd given him yesterday, this one had an edge to it. As though she was trying to prove something.

He couldn't tell who she was trying to prove it to—him or herself.

Well, she could keep on trying. He wasn't playing this game. He kept his hands on the wheel.

When her tongue traced his lips, his resolve started to waver. It wavered a whole hell of a lot more when she slid her fingers up into his hair. The feeling of her hands on him did some mighty funny things to him. In fact, the things that were happening below his belt were freaking hilarious.

He couldn't think. Well, he could, but that wasn't thinking in a right sense. Instead of thinking about whether or not he could trust her, he was thinking about the way her teeth felt as she nipped at his lower lip.

She pulled away. He couldn't believe how much it hurt to let her do it, but he kept his white-knuckled grip on the steering wheel. Hell, he was lucky he hadn't snapped the whole thing off the steering column at this rate.

"Do you want me?" she breathed as she ran her fingers over his cheeks. Her chest was heaving and, in that top, that was saying something. She sounded seductive—hell, she was seductive—but there was something else in her eyes. It almost looked as though she was afraid of what he might say.

Was it a trick question? Because the answer was yes. She may be setting him up but he wasn't sure he gave a damn.
Don't be an idiot. He hadn't asked enough questions when he'd let Cara go. He needed answers almost as much as he needed to pull her into his arms.

"I want the woman who likes to ride and work metal and laughs like butterflies in the breeze. I don't want the woman who hides lies behind a blank smile."

He felt her pull away, even though her hands stayed on him. "I am the woman who rides and works metal." Then she let go of him—but only long enough to duck under his arm that was still holding on to the steering wheel for dear life. She straddled him. Her slim black skirt—the one that made her backside look even better than a pair of jeans ever could—bunched up at her hips. "That's who I am."

His arms were shaking from the effort of not touching her. Because he wasn't. No way in hell. She was doing this. She was doing all of this.

She leaned her forehead against him. Her thighs—strong from years of riding—gripped his and he felt the tantalizing heat of her center through his jeans. How strong did one man have to be? Because a lesser man would wrap his arms around her and take what she was offering.

But taking a woman with an audience—if Joaquin was still watching from the stoop or if he'd gone inside and alerted Alex or her father of what was happening—was too stupid of a risk to take. So, even though it was the most painful thing he could remember doing—way more painful than getting kicked by that calf in the shin when he was ten—he kept his hands on the steering wheel.

It only got worse when she kissed him again—a kiss that started out soft and gentle and maybe even a little hesitant—just like her. Then it got hot, fast. Her hips ground down on his and she pressed those beautiful breasts against his chest.
Only some lousy clothes separated them. That was not a whole lot and way, way too much.

He pulled his head back, but the rest of him had no place to go. She had him pinned. "Don't lie to me, Gabriella. I won't stand for it."

She nodded, looking sad and sensual at the same time. That, almost more than her sweet body or sweeter face, made him want to wrap her up and hold her tight. "This is the truth, Chance. I ride. I work metal. And you make me laugh. That's who I am. That's who I get to be with you." Her fingers traced a path from his cheeks to his jaw, as though she was exploring him when what she was really doing was burning him with her touch. "No one else. Just you."

He shouldn't believe her. She was setting him up and sooner or later, he was going to fall—hard.

Hell, he was already falling for the woman who'd had smudges of soot on her forehead the whole time they'd sat by the bank of his dry creek. He was already falling for the woman who was perfectly comfortable chatting with Franny or working with Slim, for the woman who saddled her own horse and rode hell-for-leather.

He wanted that woman to be the one in his arms. God, he'd never wanted anything so bad.

Then she said in a breathy whisper, "That's who I am, because of you," and he felt lost to her.

This time, he was the one doing the kissing. He managed to keep his hands on the wheel because if he didn't, he'd be pulling her shirt over her head and trying to get his buckle undone and filling his hands with her soft skin.

Yeah, it was probably going to get him beat to a pulp, but he didn't give a damn. It was worth it to feel her passion surging against him, to feel the heat of her body setting his on fire. He wanted to bury himself in her and make her cry out with pleasure. He wanted to surrender himself to her in a way that he had never wanted to before. Anything was worth this moment with her.

Anything she asked of him was hers.
Book Info:
When it comes to the Texas Cattleman's Club, what a rancher wants, a rancher gets…
Nothing's come easy to Chance McDaniel since his best friend betrayed him. And when the deception explodes into a Texas-sized scandal, his best friend's sister, Gabriella del Toro, shows up to pick up the pieces. Now Chance's luck is about to change. He wants this innocent beauty, and seducing her has become his top priority.
Gabriella's sheltered upbringing has always left her wanting more. Now, with this rich rancher, she sees a chance to break free. But will the web of deception her family has woven ensnare her yet again?
Book Links:
Author Bio
Sarah M. Anderson is an award-winning author of modern-day Cowboys-and-Indian stories. Combining snarky humor with shirtless cowboys on horseback, Sarah also strives to raise awareness of the realities of life on Lakota Indian reservations. She uses proper Lakota translations when her characters speak their native language. Sarah writes for both Harlequin Desire and Samhain. A Man of Privilege won Desire Book of the Year 2012 from RT's Editor's Picks.
Sarah also self-published her grandmother Goldie M. Lucas' novel, Eleanore Gray in 2011. A sweet inspirational historical, Eleanore Gray is set in the Ozark Hills in 1902.
Sarah lives in Illinois with her husband, son, and rescue mutts. She is a writer and editor at Mark Twain Media, Inc., an educational publishing company. When not chasing her son around or writing, she attempts to read, knit, and complete home improvement projects on her historical 1895 Queen Anne house.
Website | Facebook | Twitter |