Today it is my pleasure to welcome romance author
Rachel Brimble
to HJ!

Hi Rachel, welcome 🙂
What would you say are the 5 best things about being a writer?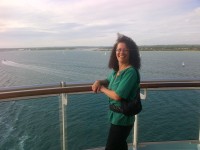 1) I get to work from home all day.
2) I spend hours and hours living in a world entirely of my own making, where exciting things happen, people are happy and they get what they deserve in the end…the same can be said for my villains too 😉
3) the positive responses and comments from readers. Knowing you have made someone's day better or they spent a few days of their vacation immersed in something you created is just the best feeling in the world.
4) I am living my dream – I wanted to write since I was about twelve years old and now that I write for Harlequin and Kensington, I feel as though all my hard work and tenacity has finally paid off
5) The romance writing community – there is no way on earth I could do this job without the support and laughter of my fellow writers. Romance writers are generous with their knowledge, support and expertise…as well as having broad shoulders for those moments of rejections or bad reviews. I LOVE my job!
Let's talk about your newest release: What Belongs To Her
If you had to summarize the book for the readers here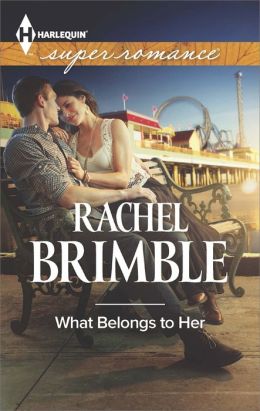 This is a story about pride and how it can manifest itself – both the hero and heroine are proud people in their own way and when they are thrown together over the sale of a fairground, sparks fly! This is book three in my ongoing series with Harlequin Superromance. All the books are set in the fictional UK seaside town of Templeton Cove. John Jordan is on a mission to undo all the bad his criminal father has inflicted on the town and in the process ruin him. Sasha Todd wants the one thing she feels will heal her hurtful past–the fairground that has fallen into the hands of her nemesis' son…
Please tell us about the characters in your book?
John Jordon is a teacher – during the long summer vacation, he receives a letter from his crime lord father, who abandoned him as a child, asking for his help now he is incarcerated. More out of vengeance and curiosity, than anything else, John goes to Templeton Cove to try to figure out who his father is now. What he uncovers is not as straight forward as he was led to believe…
Sasha Todd is hardworking and loyal and when her beloved grandfather was forced to sell the family fairground to John's father years before, she vowed to one day get back. With her nemesis in prison, she knows now is the time to strike but then John arrives and all her plans are thrown into choas…including her stupid heart.
Was it love at first sight for your characters? If not what was the pivotal moment of change?
Not at all! These are two people with very different agendas at the start of the story––it isn't until they spend time together and learn of each others past that emotions and respect gather momentum. They are passionate and caring, determined and strong––and absolutely meant to be together!
If your characters could go back in time and change one thing what would it be? Why?
For John, it would be the murder of his mother and his father's reaction to it. For Sasha, it is the entire reason behind her need for the fairground and the events that unfolded there over the summer she turned thirteen…
What scene did you have the most enjoy writing? Why?
Oh, it has to be the scene where Sasha holds John captive on one of the fairground rides. I actually laughed out loud while writing it 😀
The ride rumbled up another notch and the carriage shot forward with such force the remainder of his words were obliterated by the slipstream. Holy crap. They sped between the empty carriages at such speed, John had no choice but to slip his free hand onto the bar next to hers. He tightened his fingers along the back of the seat.
He glanced at her and scowled. She stared at his white-knuckled hand, her lips curved into a smug smile. She met his eyes. "All this tension and we've only just got going."
He glared, focusing on her mouth rather than those damn eyes. It soon became clear her mouth was no safer option, but what the hell else was he supposed to look at? His gaze drifted lower to her breasts and he yanked his gaze back to her mouth. No. Anywhere lower was out of bounds. "I'm not talking business with you whilst riding a damn fairground monstrosity like this."
Her smile stretched to a grin. "Monstrosity? God, you are so British. Do you always speak this way or is it just for Freddy's and my benefit?"
"Look, I want to know how the hell…oh, God." The ride lurched into an abrupt frenzy and took off at a speed to which no child under the age of sixteen should ever be subjected. John gripped the bar and held on for dear life.
Sasha's scream of laughter bore a hole the size of the damn Cove into his ego, but be damned if he'd let go. Whoosh! They sped in between the carriages, barely missing a fatal head-on collision with each maneuver.
"Relax and enjoy the ride, Mr. Boss Man. It's fun." She lifted her hand from the bar and jabbed both arms high in the air. "Woohoo!"
"Are you purposely trying to emasculate me?" he yelled, over the whizzing and screaming of mechanics working at a ridiculous and feverish tempo.
"Emasculate you? Me?" She winked. "Never."
Even as they went in for another sweep at breakneck speed, he couldn't drag his eyes from hers. A smile tugged traitorously at his lips as adrenaline seeped into his blood. Her eyes were wide with childlike excitement; her bright teeth were straight and white with the sliver of a pink tongue barely showing within. He drank in the sight of her. God, she was something else.
What scene was the hardest to write? Why?
The black moment – I always find these the hardest and most emotional to write and I hope the reader feels every ounce of my pain as I write the tearing of two people apart who over the months of writing a book, I've come to adore. This is the moment when John believes Sasha will never understand the answer to her happiness doesn't lie in Funland…
She faced the windshield as her stomach knotted with determination. "You still don't understand."
"I don't think I ever will. That's why I have to go. It's why I want to get away from here and everything Kyle has touched, influenced and controlled. I know you love Templeton, but it's not where I'm meant to be. It…it feels wrong being here now."
Sasha stared ahead. How could she argue Templeton's beauty when all he'd experienced was corruption and conspiracy? It didn't matter that their time together was so precious to her, it was clear it hadn't lessened his bitterness toward Kyle or his abandonment. It was clear being in the Cove hadn't given him a single day of happiness.
"Then you should go." She faced him. "I want to make Funland good again. I have to."
He slipped his hand from hers and shook his head, frustration seeping into his gaze and obliterating the tenderness that burned there a moment before. "Doing that won't undo what's happened. No matter what you do, or change, or paint, or pull down. It won't change what happened there." He lifted his hand to her jaw. "Your happiness is out there for the taking. It's not in Funland. It's anywhere but there. Why won't you see that?"
Tears gathered and fell, slipping down her cheeks. "I'm scared. I don't really know anything but the fair. It's all I have."
He brushed the tears from her cheeks and leaned closer. He looked deep into her eyes before pressing a firm kiss to her mouth. "You have so much more. You have your liberty now. You know the truth." He kissed her again. "You have me."
Her heart hitched. "You?"
"If you want me." He smiled and pressed a kiss to lips, her jaw and lower to her neck.
Sasha closed her eyes as a myriad of emotions whipped through her. She stole her hands onto the strong, muscular plane of his shoulders and held on. She tipped her head back and relished the pain/pleasure of his teeth nipping at her skin. How could she consider a relationship with him, when the real passion burning like fire inside her was to right the wrongs that happened that fateful summer? What did she really have to give such a wonderfully strong, determined and envisioned man, when she continued to live so steadfastly in the past? He deserved a woman whose heart was filled with him, adored him and put his needs as high a priority as hers.
How did your character spend the week just before the story starts?
For Sasha, it was how she spends every week, working her butt off at the fair with the added edition of writing a letter to her nemesis offering all she has to buy Funland back. She is on a high, believing everything she's sacrificed over the last seven years will be worth it because the fairground will finally be back in her family where it belongs.
For John, it was packing for his trip to the small town where his father has called home for a number of years. He is reeling from the shock of his father's contact and that he has been living so close for so long. John had never heard of Templeton Cove and is hyped up and ready to face whatever events unfold.
Who would you cast in the role of your characters if your book was optioned for a movie?
This is an easy question to answer because I start all my books trawling the internet for actors or models to 'play' my hero and heroine. The actors I selected for What Belongs to Her are Cam Gigandet for John and Angie Harmon for Sasha.
What are you currently working on? What other releases so you have planned for 2013 into 2014?
I am currently working on my third book in a linked series for eKensington – these are Victorian romances set in and around Bath, England. Book three is about Monica Danes who was a secondary character in book two (The Temptation of Laura – released Feb 2014). She's fabulous and knew she deserved her own story…she has so much history! I hope to finish writing this book very shortly and then I will starting plotting book five in my Templeton Cove series for Harlequin Superromance (book four is a Christmas 2014 novel).
Thanks for blogging at HJ!
Giveaway:

I would like to give away a

signed paperback copy of What Belongs To Her
To enter Giveaway: Please complete the Rafflecopter form and Post a comment to this Q:

How do you feel about series books? Once you read and loved a book from a series, do you go on to buy the rest?
Except
Unease rippled over her nerve endings. Okay, so he's got that sexy, broody thing going on, but since when does a guy––any guy––leave me speechless? Say something…
"Well, you're all sorts of angry, aren't you?" Great, Sasha. Just poetic.
He lifted an eyebrow and turned his focus back to the ride.
She frowned and glared at his profile, feeling like a damn idiot. "I was only trying to make conversation, you know." She crossed her arms. "I haven't seen you before and, as I'm the person running things around here, I thought you might appreciate a friendly word, a kind welcome. No biggie. If you want me to leave you alone, that's fine. I'm¬¬––"
"I know who you are."
The deep, smooth lilt of his upper English class voice filled her with an equal measure of attraction and warning. A second shiver ran over her skin and she lifted her chin. "What?"
He faced her and crossed his arms across his broad chest, mimicking her stance. "You're Sasha Todd, exceptionally pretty and svelte manageress of this fairground, known so lovingly as Funland. You work for Kyle Jordon. Although, while Kyle's currently boarding at Her Majesty's pleasure in prison, you are undoubtedly forced to answer to his bull mastiff of a lapdog, the wonderfully charming and partially toothed Freddy Campton. Am I right?"
Sasha stared, irritation simmering in her stomach. "Yes, but who––"
"How do you feel about that, Miss Todd?"
"What?"
"Moreover, how are you going to feel knowing from tomorrow, you'll be answering to me and not him?"
Sasha froze as his words filtered through her mind. Her heart pounded and hot heat seared her cheeks. What the hell did he just say? She uncrossed her arms and splayed her hands on her hips. "Is this some kind of joke?" Panic and disbelief hurtled through her blood. Who the hell was this guy? She laughed. "Who are you?"
"Your new boss."
She grinned, hoping it would coerce some semblance of a smile to his lips and make him tell her he was kidding. "Very funny. You're a funny guy, Mr…"
"You don't believe me?" His gaze bore into hers, his face still unnervingly impassive.
Sasha glared. Okay, enough was enough. She planted her hands on her hips.
He uncrossed his arms and offered his hand, which she took without thinking. His hand enveloped hers. Warm, smooth and unnervingly large. Why did she have the sudden and unwelcome suspicion nothing about this guy was small or weak?
"John Jordon." He shook her hand. "Nice to meet you."
She stared into his eyes, her heart picking up speed. No, no, no. She swallowed in an effort to bring some saliva back into her desert-dry mouth. "Jordon? Are you telling me you're Kyle's son? His brother?"
Now he chose to smile.
She scowled as anger shot through her body with the speed of a freight train. Frustration and the enormity of what this meant turned her vision pink with rage. She yanked her hand from his and fisted her hair back from her face. "Answer me. Are you his son or his brother? Which is it?"
"His son. And your new boss."
Book Info:
She's ready to take back what's hers
Since the moment a local crime boss claimed ownership of her family's fairground, Sasha Todd has dreamed of righting the wrong. Now it's time to act, and backing down from the man's estranged son is definitely not an option. After all, giving up her legacy to hot-blooded John Jordon means losing the chance to finally heal the wounds in her past.
Stopping John in his tracks—and resisting the sizzle between them—is Sasha's best defense. But there's more to him than she thought, which changes everything. With what matters most at stake, she'll have to risk a brand-new future with John, or walk away from the man whose heart belongs to her.
Book Links:
Author Bio
Rachel lives with her husband and two young daughters in a small town near Bath in the UK. After having several novels published by small US presses, she secured agent representation in 2011. In 2012, she sold two books to Harlequin Superromance and a further three in 2013. She also writes Victorian romance for Kensington–her debut was released in April 2013 and she has since signed for three more.
Rachel is a member of the Romantic Novelists Association and Romance Writers of America. When she isn't writing, you'll find Rachel with her head in a book or walking the beautiful English countryside with her family and beloved black Lab, Max. Her dream place to live is Bourton-on-the-Water in South West England.