Today it is my pleasure to Welcome authors 
Sabrina Jeffries, Karen Hawkins, Candace Camp, and Meredith Duran
to HJ!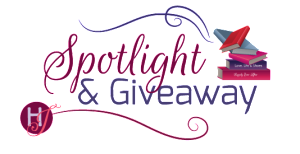 New York Times bestselling authors Sabrina Jeffries, Karen Hawkins, and Candace Camp, and USA TODAY bestselling author Meredith Duran come together for a sizzling historical romance holiday anthology.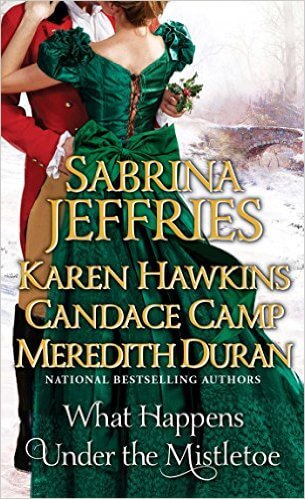 Stunned by the heat of an unexpected kiss on a cold winter's eve, two strangers from vastly different worlds turn hotheaded principles into burning passion in Sabrina Jeffries's delightful yuletide story, The Heiress and the Hothead.

In the snowy Scottish countryside, Karen Hawkins's rakish duke has an unforgettable holiday encounter in Twelve Kisses when the alluring lady he surprises under the mistletoe is not who he expected, but a long-lost love with a score to settle.

In By Any Other Name, Edinburgh is aglitter for Christmastime as Candace Camp sends a curious gentleman in hot pursuit of an intriguing lady in disguise—one who refuses to reveal her true identity, though she fears he has already stolen her heart with his kiss.

In Sweet Ruin, will the festive spirit of the season sweep Meredith Duran's feisty heroine beneath the mistletoe—and back into the arms of the dashing rogue whose carelessness soiled her reputation and sent her into exile in London?

In this all-new story collection sparkling with sexy charm and heartwarming wit, four beloved bestselling authors reveal the mix-ups and make-ups, the missed chances and golden opportunities that come but once a year.

5 FUN FACTs from Sabrina Jeffries– author of The Heiress and the Hothead 
Kissing under the mistletoe is one of few of our modern customs that goes back to before the Regency era. During the Christmas season, people hung kissing boughs made of not only mistletoe, but holly, ivy, rosemary, bay leaves, and laurel leaves. It was essentially a big ball of evergreens. And every time a gentleman kissed a lady (or a maid or a dowager or any female), he had to remove one of the mistletoe berries. Once the berries were gone, no more kissing was allowed. What great fun!
This story is the second in my Sinful Suitors series. It concerns Jeremy Keane's sister Amanda (from The Art of Sinning) and Lord Knightford's youngest brother, Lord Stephen. All four of them are spending Christmas at Jeremy and Yvette's country house, along with Edwin and Clarissa and other guests. When Amanda and Stephen clash over how to help the local millworkers, they find common ground in their passion for their principles … and each other.
I have a Pinterest page [https://www.pinterest.com/sabrinajeffries/what-happens-under-the-mistletoe/ ] dedicated to the book with period images of kissing boughs and holiday revelry and pictures of my inspiration for the characters. I also have a Regency party kit that you can use to have your own Regency-style party, complete with period recipes, crafts, games, and invitations. [https://www.pinterest.com/sabrinajeffries/regency-christmas-party-kit/]
It was easy for Stephen to mistake Amanda for Clarissa because the two women were both wearing green bonnets, and the bonnets from this period were HUGE. The brims generally stuck out so far that you couldn't even see the lady's face unless you saw her dead on. Since both women were short, too, that didn't help.
Did you know there were fire trucks with pumping systems as early as the 18th century? They couldn't pump the water very high, but if the fire wasn't too far along, they might succeed in putting it out.
5 FUN FACTs from Karen Hawkins – author of TWELVE KISSES TO MIDNIGHT 
The hero and heroine end up at a hunting box, which were small houses used as a place to rest and seek refreshments during hunts. These hunting boxes, though much smaller than the manor houses and castles of their owners, were often luxuriously appointed and were also sometimes used as a place for their wealthy owners to meet their mistresses. The hunting box described in TWELVE KISSES is similar in description to one that belonged to a French nobleman in the 1700s who brought many mistresses to his hunting box, or he did until his wife discovered his trick and the building suddenly and mysteriously burned to the ground.
At one point, our hero and heroine have a huge argument and a line is drawn down the center of the room with charcoal. They each claim one side of the room, and no one is to cross the line without permission. While I've never done this in real life, I intend to try it the next time I have an argument with my husband, Hot Cop. Forget who has the TV; the secret is to make sure both the kitchen and the bathroom doors are on your side. (You're welcome.)
When I was first plotting my story, I toyed with the idea of hero and heroine decorating a small Christmas tree. It would have been such an adorable scene, but Christmas trees weren't truly in fashion in England until the 1830s, so I decided against it. Ah, the chains of history are heavy!
I love this hero, Marcus Sutherland. He's smart and caring, and while life hasn't always been kind to him, he's taken it in stride and when hope comes his way, he grabs it (and her) with both hands. I love a man like that.
Every story in this book WHAT HAPPENS UNDER THE MISTLETOE features a mistaken kiss. In TWELVE KISSES, my hero is stunned to realize he has just kissed his ex-love rather than the woman he thought he was kissing. Shocked, he recoils, trips over a potted plant, and lands in the middle of the dance floor, the heroine sprawled on top of him. The mistress and ex-love part are fiction, but the 'tripping over a potted plant because of a surprise kiss' portion of this story happened to me, although I was the one doing the tripping and falling and not my hero. Also, I wasn't at a ball, but in a shopping mall. 

And yes, Dear Reader, he married me anyway.
5 FUN FACTs from Candace Camp – author of By Any Other Name 
When I started researching Christmas customs in Scotland, I found that Christmas celebrations were banned for 400 years in Scotland.
This was the first time I've ever written two books at the same time. I was working on ENRAPTURED, the third book in my Secrets of the Loch series, at the same time I wrote BY ANY OTHER NAME for WHAT HAPPENS UNDER THE MISTLETOE.
I patterned BY ANY OTHER NAME after the old screwball movie comedies of the Thirties.
I have always wanted to use the name Amaryllis in a book—don't ask me why—and this was the perfect opportunity for a Christmas flower.
I was actually developing a different plot for my contribution to WHAT HAPPENS UNDER THE MISTLETOE when the woman-disguised-as-a-man idea for BY ANY OTHER NAME just popped into my head, and within about an hour I had the book mostly plotted—if only this happened more often!
5 FUN FACTs from Meredith Duran – author of Sweetest Regret 
The original title for this novella was 'Sweet Ruin.' But it turned out that Kresley Cole had a book coming out by that name. Great minds! I actually feel that 'Sweetest Regret' is a more accurate title for what the story became as I wrote it.
The first draft of the novella opened with all the guests "pulling" their "Christmas crackers." Christmas crackers were hugely popular in Victorian England (and are still sold at Christmastime in Britain). North American readers might be picturing something edible, but these were actually…well, technically, they were miniature explosives: long tubes, festively and ornately wrapped, that when pulled in half, made a cracking sound. "Bang!"
Much like boxes of Cracker Jack popcorn, Christmas crackers generally contain a trinket or toy of some kind; each set of crackers (and toys therein) has a theme. To illustrate what I mean, here is a passage from the first draft of the novella. All the Christmas crackers mentioned here were real kinds of crackers—I had a fun time looking at newspaper advertisements from the 1880s as part of my research.
By the time the footmen fetched the boxes of Christmas crackers into the drawing-room, the mood seemed indulgent. "What a curious custom," exclaimed Countess Obolenskaya, as she took up a package wrapped in silver and crimson foil. "These are sweets?"
"Not quite," Georgie said. "But there's a surprise inside each of them." She had agonized over the catalog from Tom Smith & Company, debating on the political ramifications of each set of crackers. Naturally, there was no question of the British Army crackers; some of her guests could recall a time when that army had menaced their country. The Palmistry crackers seemed similarly fraught; in some countries, accusations of witchcraft could still prove fatal. But the set entitled 'The Fun of the Ball' seemed promisingly benign. Who could object to masks, even if a few were 'animal-heads, very fearsome'?
Georgie and Lucas came to life for me over four years ago. I wrote three chapters about them, intending it to be a full-length novel, before I realized that their story didn't require quite so many pages. This anthology gave me a wonderful excuse to finally tell their story in the proper format, and put to use some of the reams of research I'd done on the British diplomatic service to boot!
On that note – the political crisis that causes Georgie's father to abandon the celebrations was in fact a very serious standoff between the major European powers over the borders of Bulgaria. Earlier in the year, Bulgaria had annexed Eastern Rumelia, an Ottoman-controlled province. In November 1885, at the Constantinople Conference of Ambassadors, various governments disagreed violently over the unification of Eastern Rumelia with Bulgaria. At the end of the novella, Sir Philip mentions the need for another conference in the new year. History suggests that Sir Philip's diplomatic efforts succeeded, because the Tophane Agreement in March 1886 put an end to the conflict by effectively recognizing Rumelia as part of Bulgaria.
Thanks for blogging at HJ!
Giveaway:

2 Print copies of WHAT HAPPENS UNDER THE MISTLETOE
To enter Giveaway: Please complete the Rafflecopter form and

Leave a comment with your thoughts on the book…