Today it is my pleasure to feature a brand new anthology from Entangled Indulgence: 

When Honey Got Married by

Kimberly Lang, Anna Cleary, Kelly
Hunter & Ally Blake
Four high school friends and a high society bride reunite to celebrate the wedding of the year with the sexy, successful men who steal their hearts and set their skin aflame…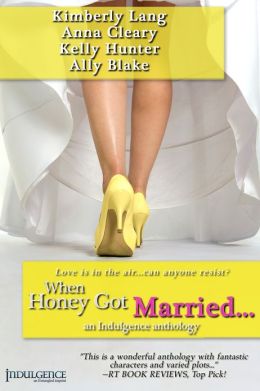 A wedding planner should never mix business and pleasure, but Grace couldn't resist breaking rule number one for a hot night with her high school crush!
Eve hoped to make one last play for the groom-who-got-away…but instead the down-on-her-romantic-luck actress instead found herself in dark corners with his successful, seductive cousin.
The sister of the bride needed a date of convenience and who better than her hazel-eyed, mysterious co-worker? If only Nina could keep her hands off his perfect body until she learned his true identity…
The groom proposed to her eight years earlier, but it was the steamy kiss that Pippa shared with his brother the night she left town that haunted her memories.  Now she's back and sharing much more than just kisses.
Nothing was going to ruin Honey's wedding to the man of her dreams.  And she has just the wedding surprise for her beloved groom!
I asked each of the authors to talk about their favorite scene from their book, here's what they each had to say…
For Nina Tempted The Lord (Kelly Hunter)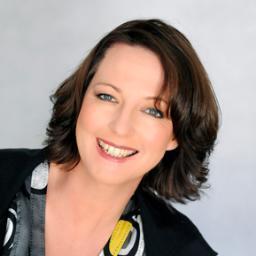 Friends-to-lovers stories have the most marvelous elephant in the room. It's the 'do you want to be more than just friends?' question and it hangs there in every scene, ignored, unasked. And then someone finally builds up the courage to ask it, and hello. Let the dance begin.
Alexander Carradice is an incorrigible flirt, a charming rogue and Nina's platonic friend. Right up until he asks her what she wants in a man, and, when Nina regales him with her wish list says, 'why don't you try me?'. That moment… when they're sitting in the bar and grill and Alex turns their friendship upside down… That's my favorite.
For Pippa Bared All by Ally Blake
The one that comes instantly to mind is a flash back.
Pippa and Griff have a history. We know that going in. And this scene is where it reveals how it all began. While writing it I saw it all with such clarity – midnight moonlight pouring through open French doors of Griff's family home, the scent of honeysuckle on the air. Pippa a seventeen-year-old mess, launching herself into the Delacroix kitchen to grab food to take on the road as she prepares to leave town for good…
What she found instead was "Griff standing in front of the open fridge door surrounded by a white cloud of vapor. No shirt. Pajama bottoms riding low on his hips. Unconsciously scratching at his flat belly with one hand." When he turned, when he saw her, the look in his eyes as he spied the battered suitcase at her feet… That was the moment I fell for Griff. Pippa got there first ;).
For Eve Met Her Match by Anna Cleary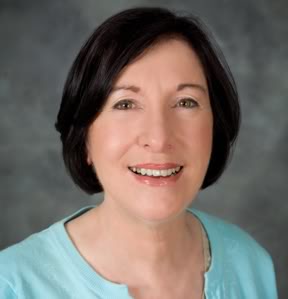 One of my favourite scenes in Eve Met Her Match is the one where Rainer is cajoling Eve into spilling the truth about her unrequited love for Brent.
Eve is something of an actress, and so beautiful and alluring she takes her ability to ensnare men for granted. Even when she's not in the mood for flirtation she can't help using her wiles on any helpless man within cooee. That's why I love this scene. As Eve tries to explain to Rainer her confusion over her failure to win Brent, she's automatically turning the full blast of her charm and beguiling ways onto Rainer. But at the same time, and with utter deliberation, Rainer is employing his considerable wiles to seduce her.
With such a sexy, stand-up guy determined to have his way, poor Eve doesn't stand a chance!
For Grace Felt the Heat by Kimberly Lang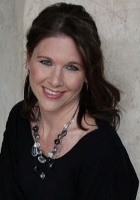 My favorite scene is probably the when Beau cooks for Grace at her place. Grace doesn't know how to cook (and doesn't really want to anyway), and Beau, being a chef, wants to feed her. But trying to cook in the kitchen of someone who doesn't cook has its difficulties – the lack of any decent ingredients, mainly. Here's this fabulous chef nearly stymied at the one thing he really does well simply because she's so poor at it. And there's a bit of an inside joke in that scene for me and my hubby. When Beau finds her can of processed Parmesan cheese in the fridge, he refers to it as "evil." That is exactly what my hubby said to me when he found it in my fridge!
Giveaway:
2 e-ARC of  When Honey Got Married
To enter GIVEAWAY: Please complete the Rafflecopter form and post a comment to this Q:
Do you have a fun or funny wedding story to share with us?
Book Information
Book Website: http://www.whenhoneygotmarried.com
Book Facebook: http://www.facebook.com/whenhoneygotmarried
Book Twitter: https://twitter.com/honeygotmarried
Title: When Honey Got Married (Anthology)
Author: Kimberly Lang, Anna Cleary, Kelly Hunter, and Ally Blake
Genre: Contemporary Romance
Length: 277 pages
Release Date: May 2013
Imprint: Indulgence
Purchase from Amazon| Barnes & Noble | Kobo |