Today it is my pleasure to Welcome author
Julia London
to HJ!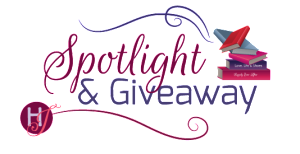 Hi Julia and welcome to HJ! We're so excited to chat with you about your new release, Wild Wicked Scot!

Thanks so much for having me here! I've picked up more than a few books after they've been featured on your site.

Please summarize the book for the readers here: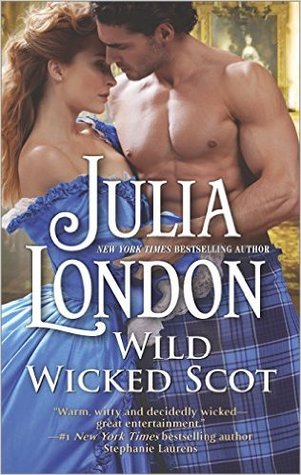 Thanks so much for having me here! I've picked up more than a few books after they've been featured on your site. I'm very pleased to present a new time period and a new location for readers: The Scottish Highlands in the eighteenth century. Wild Wicked Scot is set around 1710, when Scotland and England were at long last formally unified. With that came new opportunities for Scotsman and Englishmen who had land and daughters to barter, and in my book, Margot Armstrong is bartered to the Scottish chieftain, Arran Mackenzie, for land. Just like the forced union of their countries was fragile, so was their marriage.

Please share the opening lines of this book:
When Miss Lynetta Beauly challenged Miss Margot Armstrong to name what she liked most about the young gentlemen who buzzed about them as bees to honey—taking for granted, of course, a fortune and suitable connections—Miss Armstrong could not name a single thing with any confidence. Because she liked everything about them. She liked the tall ones, the short ones, the broad ones, the slender ones.
Please share a few Fun facts about this book…
I wrote part of the book while on a retreat in the Scottish Highlands and used Eilean Donan castle as a model for the fortress of Balhaire.
There really was a Scotsman who ingratiated himself to the English, then tried to play both ends against the middle between Scotland and England and ended up a pariah. I used him as the basis for Thomas Dunn, the unseen villain of this novel.
I chose Mackenzie as a surname for my fictional family because there is a strong presence of Mackenzies in this particular area, I thought it was easier for the American eye to read, and mostly because the k is not capitalized (MacKenzie), and therefore requires less exertion on my lazy little typing fingers. For the same reason, I've never had a name begin with a Z either, because of where that key is located on the keyboard.
Please tell us a little about the characters in your book. As you wrote your protagonist was there anything about them that surprised you?
know them so well, but discover, the minute they start talking to each other, that I don't know them so well after all. I was surprised that my strong, capable, Highland Laird—Arran—was so clueless when it came to women. He really had it going on – but when it came to his young wife, he was completely flummoxed by the way her mind worked and didn't know what to do with her. He had to consult with equally clueless men. I was not so surprised that Margot was as naïve as she was when the marriage was first made. She was only seventeen, and judging by my own experience as a seventeen year-old, I got how boy crazy and woefully naïve about life she was. It's true. I spent my entire 17th year on this earth worrying about boys and discussing them endlessly with my best friend. It's a miracle I've made it as far as I have in life.
If your book was optioned for a movie, what scene would you use for the audition of the main characters and why?
I personally love the scene where Margot, a poor rider, throws herself on a horse and races down to where Arran is training his men. She knows she is about to be sent packing, but she doesn't have what she's come for. What I love about this scene is the underlying current beneath her polite discourse and the tension between them. For anyone who has ever been in a relationship, you can feel how these two are about to explode. It would be a great scene to see what chemistry exists between two actors.
A cough behind Arran reminded him that they had an audience. He tried not to squirm in his saddle; he could think of nothing more undignified than squabbling with his wife in front of his men, but he could see from the high color in Margot's cheeks that it was a definite possibility.
"Madam, I—"
"I thought we might, mind you, but then I heard the most distressing news."
He sighed.
"Would you like to know what I heard? I heard that you would like me to return to England."
Arran opened his mouth, but she interrupted him before he could speak by raising a slender finger.
"Actually," she said, "what I heard is that you are sending me back to England. That rather makes it sound more like a fait accompli, doesn't it? A banishment of sorts. But as I said to the poor man who finally admitted this awful rumor, it couldn't possibly be true, because if it were, you would tell me yourself. Is that not so?" She smiled fully then, quite prettily, too. Except that her eyes were staring daggers at him.
Arran groaned. He glanced over his shoulder. He had the rapt attention of a dozen men. "All right, carry on, then," he snapped. "Do none of you have wives?" He leaned down to grab the bridle of Margot's horse. He wheeled the beast about, pointing it in the direction of Balhaire.
What do you want people to take away from reading this book?
I want readers to fall in love with historical romance all over again. No matter what the time period, the historic landscape is so vastly different from modern day that it's really an exciting place to visit. We all know what to expect of a romantic story. But if you consider the constraints on women and society, the social mores that kept men and women at a distance from each other until they were wed, you can imagine how much more intense a courtship would be. The stakes were much higher than they are now, and once you took that step to marry, there was really no going back. Marriages were often made for gain, not love—that's a modern notion—and finding love under those circumstances makes the fall into love so much harder and farther and richer. Not to mention, walking through a curtain to a different time period is a wonderful escape from the noise in our own lives, particularly after a bruising election. Back then, people had to interact with each other—no texting, no social media, no TV. How can we not be a little intrigued by that?
What are you currently working on? What other releases do you have planned for 2017?
I have two more books in the Mackenzie series publishing in early 2017. After Wild Wicked Scot comes Sinful Scottish Laird, followed by Hard-Hearted Highlander. They are all about Mackenzies and span fifty years. I'm very excited about the series and I hope readers are, too, as I would really love to continue on with the family.
Thanks for blogging at HJ!
Giveaway:

Print copy of Wild Wicked Scot (The Highland Grooms) by Julia London
To enter Giveaway: Please complete the Rafflecopter form and Post a comment to this Q:

What draws you to historical romance? Would you like to see different time periods or tropes?
Excerpt from Wild Wicked Scot:
The Scottish Highlands1710
Under a full Scottish moon on a balmy summer night, the air was so still that one could hear the distant sea as plainly as if one were standing in the cove below Castle Balhaire. The windows of the old castle keep were open to the cool night, and a breeze wafted through, carrying away with it the lingering smoke from the rush torches that lit the great hall.
The interior of the medieval castle had been trans¬formed into a sumptuous space befitting a king—or at least a Scottish clan chieftain with a healthy sea trade. The clan chieftain, the Baron of Balhaire, Arran Mackenzie, was sprawled on the new furnishings of the great hall along with his men, with a fresh batch of ale and a small herd of lassies to occupy them.
At the top of the Balhaire watchtower, three guards passed the time tossing coins onto a cloak with each roll of the die. Seamus Bivens had already divested his old friend Donald Thane of two sgillin with his last roll. Two sgillin was not a fortune to a guard of Balhaire, thanks to Mackenzie's generosity to those loyal to him, but nevertheless, when Seamus took two more sgillin, Donald felt the loss of his purse and his pride quite keenly. Heated words were exchanged, and the two men clambered to their feet, reaching for their respective muskets propped against the wall. Swee¬ney Mackenzie, the commander, was content to let the two men battle it out, but a noise reached him, and he leaped to his feet and stepped between them, holding them apart with his hands braced against their chests. "Uist!" he hissed to silence them. "Do ye no' hear it?"
The two men paused and craned their necks, listen¬ing. The sound of an approaching carriage bounced between the ghostly shadows of the hills. "Who the devil?" Seamus muttered, and forgetting his anger with Donald, grabbed up the spyglass and leaned over the wall to have a look.
"Well?" Donald demanded, crowding in behind him. "Who is it, then? A Gordon, aye?"
Seamus shook his head. "No' a Gordon."
"A Munro, then," said Sweeney. "I've heard they've been eyeing Mackenzie lands." These were relatively peaceful times at Balhaire, but one should never have been surprised by a change in clan alliances.
"No' a Munro," Seamus said.
They could see the coach now, pulled by a team of four, accompanied by two riders in back and two guards alongside the coachman. The postilion held a lantern aloft on a pole to light their way, in addition to the light cast from the carriage lamps.
"Who in bloody hell comes at half past midnight?" Donald demanded.
Seamus suddenly gasped. He pulled the spyglass away from his eye and squinted at the coach, then just as quickly put it back to his eye and leaned forward. "No," he said, his voice full of disbelief.
His two companions exchanged a look. "Who?" Donald demanded. "No' Buchanan," he said, his voice almost a whisper, referring to the Mackenzies' most persistent enemy through the years.
"Worse," Seamus said gravely, and slowly lowered the spyglass, his eyes gone round with horror.
"By God, say who it is before I bloody well beat it from you," Sweeney swore, clearly unnerved.
"'Tis…'tis the Lady Mackenzie," Seamus said, his voice barely above a whisper.
His two companions gasped. And then Sweeney whirled about, grabbed up his gun and hurried off to warn Mackenzie that his wife had returned to Balhaire.
Unfortunately, coming down from the tallest part of Balhaire was no easy feat, and by the time Sweeney had made his way into the bailey, the coach had come through the gates. The coach door swung open, and a step was put down. He saw a small but well-shod foot appear on that step, and he broke into a run.
Excerpt. © Reprinted by permission. All rights reserved.

Book Info:
Wicked intrigue unfolds as an unlikely marriage leads to a path of risky desire in the lush, green Scottish Highlands
Born into riches and groomed in English luxury, Margot Armstrong didn't belong in a Scottish chieftain's devil-may-care world. Three years ago she fled their marriage of convenience and hasn't looked back—except to relive the moments spent in wild, rugged Arran McKenzie's passionate embrace. But as their respective countries' fragile unity threatens to unravel, Margot must return to her husband to uncover his role in the treachery before her family can be accused of it.
Red-haired, green-eyed Margot was Arran's beautiful bride. Her loss has haunted him, but her return threatens everything he has gained. As the Highland mists carry whispers of an English plot to seize McKenzie territory, he must outmaneuver her in games of espionage…and seduction. But even as their secrets tangle together, there's nothing to prevent love from capturing them both and leading them straight into danger.
Book Links:

Meet the Author: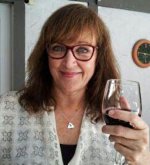 Julia London is the New York Times and USA Today best-selling author of more than thirty romantic fiction novels. She is the author of the popular Cabot Sisters historical romance series, including The Trouble with Honor, The Devil Takes a Bride, and The Scoundrel and the Debutante. She is also the author of several contemporary romances, including Homecoming Ranch, Return to Homecoming Ranch and The Perfect Homecoming. She has over 100,000+ Facebook followers, is the recipient of the RT Book Reviews for Best Historical Romance and a six-time finalist for the prestigious RITA award for excellence in romantic fiction. She lives in Austin, Texas.
Website | Facebook | Twitter | Instagram | GoodReads |