Today, HJ is pleased to share with you

Diana Palmer's

new release: 

Wyoming Winter

There's something about those Wyoming men… New York Times bestselling author Diana Palmer returns to the Cowboy State with a brand-new tale of desire and deception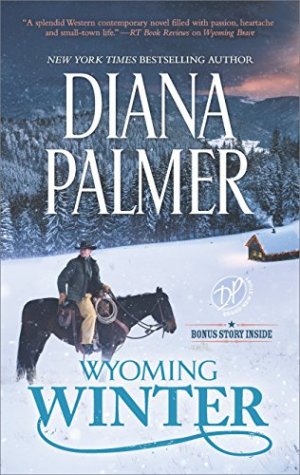 Cultivating his vast Wyoming ranch is all security expert J. C. Calhoun wants. His land is the only thing the betrayed rancher can trust in after discovering his fiancée was pregnant by another man. But all J.C. holds dear becomes compromised when a lost little girl leads him to Colie Thompson, the woman who destroyed his life.

Colie stops at nothing to protect the people she loves. Years ago she left J.C. for his own good. Now, for the sake of her daughter, she must depend on a hard-hearted man who won't forgive her. As a band of ruthless criminals tracks their every move through the frozen Wyoming winter, Colie and J.C. will be forced to confront the lies that separated them—and the startling truth that will bind them forever…

Enjoy an exclusive excerpt from Wyoming Winter: 
Colie went back inside, frustrated and cold. Why hadn't he kissed her? She knew he wanted to. His eyes had been hungry as they stared at her parted lips. But he'd pushed her away. Why?
She wished she had a really close girlfriend, some¬body she could trust, to talk to about men and their re¬actions. Well, there was Lucy, at work, the closest thing she had to a friend. But she'd be too embarrassed to ask Lucy, who was married, questions about men and sen¬sual techniques. Lucy would know why she wanted to know, and she'd tease Colie, who was too shy to invite the attention. Still, she wondered why J.C. had been so hesitant to kiss her, when she knew he wanted to. Muf¬fled gossip, movies and explicit television shows hadn't really educated her about how men felt and why they be¬haved in odd ways.
She started clearing the dining room table.
"J.C. get off all right?" her father asked.
She nodded and smiled. "It's snowing again."
"I noticed." He was still sitting at the table, with his second cup of black coffee. He took a breath. "Colie, I know how you feel about J.C.," he said unexpectedly. "But you have to remember that he's not a marrying man."
She stopped what she was doing and looked at him. Her expression made him wince.
"You've never really been exposed to anybody like him," her father continued quietly. "Most of the boys you dated were like you, innocent and out of touch with the modern world. J.C. has seen the elephant, as the old-time cowboys used to say. He's well-traveled and he's lived among violent men…"
"I know all that, Daddy," she said softly. "It's just that…" She bit her lower lip. "I've never felt like this."
"You're nineteen," he replied. "Such feelings are natu¬ral. But you should also remember that despite what you see in social media, people of faith live by certain rules. Ours teaches that we get married, then we have children. We don't encourage intimacy outside marriage."
"I remember."
"It's natural to feel such things. We're human, after all. But just because a lot of people do something immoral, that doesn't make it right. Any man who truly loves you will want to marry you, Colie, have kids with you, go to church with you. If you interact with a man who has no faith, you risk falling into the same trap that many young women do. I've seen the result of broken relation¬ships where illegitimate children were involved. It is not something I want my daughter to experience."
She wanted to mention that there was such a thing as birth control, but she bit her lip. Her father, like many of his congregation, saw things in a different light than the rest of the world. He was out of touch with what was natural for young women today.
She wanted J.C. Why was it so wrong to sleep with someone you loved? It was as natural as breathing. At least, she imagined it was. She'd never been intimate with anyone. One date had fumbled under her blouse, but his efforts to undress her had been interrupted and Colie hadn't been sorry. She was curious, but the boy hadn't stirred her with his kisses.
Excerpt. ©Diana Palmer. Posted by arrangement with the publisher. All rights reserved.


Giveaway:

Print copy of Wyoming Winter (Wyoming Men) by Diana Palmer
To enter Giveaway: Please complete the Rafflecopter form and post a comment to this Q:

What did you think of the excerpt spotlighted here? Leave a comment with your thoughts on the book…
Meet the Author:
The prolific author of more than one hundred books, Diana Palmer got her start as a newspaper reporter. A New York Times bestselling author and voted one of the top ten romance writers in America, she has a gift for telling the most sensual tales with charm and humor. Diana lives with her family in Cornelia, Georgia.