Please welcome back Author

Donna Fasano

to HarlequinJunkie!
Donna is here to tell us about her newest release 'Her Fake Romance'
Raising a teen is never easy. Raising a teen as a single mom is enough to make a woman pull her hair out! The protagonist in my latest book, Julia Jones, is a hard-working single parent who is dealing with a rebellious teenage daughter, and in dealing with that frustrating situation, Julia somehow gets herself involved in a crazy, mixed up relationship with a man who's sexy enough to make grown woman salivate. But you know what they say…when you don't know what to do, sometimes you just have to fake it.
Julia's Thoughts on Motherhood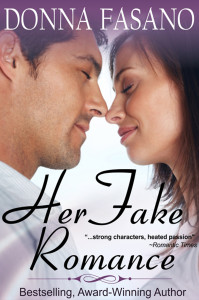 Help! My fourteen-year-old daughter has been struck with a horrible disease. Hormones! Kelly has fallen head over tush for a boy (she's in lurve, is how she puts it) and she's breaking the rules and turning into a complete rebel, all for sake of being with him. I don't like it. Not one bit. I'm afraid the months ahead are going to give me a headful of gray hair.
Haven't I tried to be a good role model? Someone she can look up to? Don't I strive to be an independent woman? A good single Mom? I was floored when my daughter used all these qualities against me. She called me boring. Said I didn't know how to rage (from context clues I figured out this could mean anything from attending a school dance to just hanging out with friends; in essence, she's saying I don't know how to have fun).
Looks like she's going to force me to bend a few of my own rules. But I'm not worried. Because I have a plan. A plan that involves a man who will help me prove to Kelly that I'm not so dull after all. I'm going to show her I can rage with the best of 'em!
I have complete control over this situation. I can handle my rebellious wild child. I can handle having a man in my life (seeing that he's only going to be around for such a short time). I can handle this… as long as I don't do something foolish… like fall head over tush in lurve.
Look for Her Fake Romance in the US Kindle Store, in the UK Kindle Store, in the Nook Book Store, in the Kobo Store, and in the iBook Store.
 If you've read my blog, you know I love to cook (I also love to eat!), so writing about a woman who owns a catering company was not only fun, it was also extremely satisfying as I was able to include some delicious recipes as bonus materials in the book. As part of my promotion for Her Fake Romance, I'm visiting blogs and offering even more scrumptious recipes. Here's one just for you:
Blue Ribbon Broccoli Salad
1 bunch fresh broccoli, cut into bite-sized pieces
1/2 lb. bacon, fried crisp and crumbled
1/3 cup Vidalia (sweet) onion, minced
1/2 cup raisins
1/2 cup mayonnaise
2 tablespoons sugar
1 tablespoon white vinegar
Combine the broccoli, bacon, onion, and raisins in a bowl. Mix together the mayo, sugar, and vinegar, and pour over the broccoli. Stir to combine and chill thoroughly before serving. Enjoy!
I love to hear from my readers! You can contact me in various ways; follow my blog, or my Facebook page, and I'm also on Twitter.
Giveaway: Donna Will be giving away 3 copies of her book

'Her Fake Romance'
To enter to win please complete the Rafllecopter Form below and Leave a comment for Donna:
Which of these recipes that Donna has posted on her blog would you be most likely to try?