Today it is my pleasure to Welcome back Harlequin American Romance author

Barbara White Daille

to HJ!
Hi, Sara – thanks so much for inviting me here today for the interview and to chat with your readers!
Tell us about Barbara White Daille
I'm a former Easterner now transplanted to the sunny Southwest.  It was a big culture shock to go from a small town surrounded by big cities to a small town where—as I say in my bio—we find lizards in the front yard and scorpions in the bathroom.  🙂
My books are short contemporary, category romances from Harlequin American Romance.  I love writing books with humor and quirky characters.  And I hope my stories give readers a heartwarming, emotionally satisfying feeling.
With writing full-time and a part-time second job, I don't have a lot of room in my schedule right now for hobbies.  Number one, of course, is reading!
Other than that, to name just a few interests, I like baking, eating chocolate (smile), attending the theatre, and doing crossword and other types of puzzles.  When I lived back East, my mom and I used to do the Sunday Times puzzle together every weekend.  I'm also into square-dancing and indoor gardening—though I've become deadly to houseplants since I moved to the dry Southwest.
What inspired you to be an author? Is it something you always aspired to be?
My mom was a big reader and often sat with a book in her hand,  I started reading at a very young age, fell in love with stories, and felt driven to share some of my own.
I've been a writer almost as along as I've been a reader, with my first words written in crayon, although "officially" I claim I started at the age of nine.  That's when I wrote my first short story—and illustrated my first cover.  (smile)  I didn't write my first novel until many years later…in eighth grade.
 Which of your characters would you most/ least invite to dinner and why?
Now, that's one tough question, since I love all my characters.
Hands down, the least likely person would be Ellamae, the town clerk of my most recent books, set Flagman's Folly, New Mexico.  You have to understand I love her to pieces, but she's the world's biggest busybody and would know all my business before we finished our salads!
For the faces I'd most like to see at my dinner table, I'd pick the three heroes from Flagman's Folly:  Sam, the loner.  Bad-boy Caleb.  And Ben, the boy next door.  They're all dealing with conflicts that torture them but that could make them look less than heroic.  Yet they're strong, caring, dependable—and yes, very heroic—men.  They're also oh-so-very sexy.
 What 4 things you never leave home without? (apart from Keys, money and phone)
My library card.  A bottle of water (as said above, I live in the Southwest).  Lipstick or lip gloss with sunscreen (ditto).  And a small bag of dark chocolate M&M's with peanuts (since I get hungry between meals!).
 Let's talk about your new release  "Honorable Rancher"
If you had to sum up "Honorable Rancher" what would you say?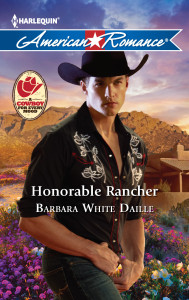 This book centers on a man facing a terrible dilemma:  he wants to honor the memory of his best friend, yet he desperately wants his best friend's wife.  He can't cross the line that's drawn between them.  But if he doesn't, he'll never have the woman he's loved all his life.
I'll just add, this is a book that put me through the wringer!  Ben's not the type of man I normally write about, as he's a boy-next-door hero.  But his conflict made me fall in love with him, and I knew I had to tell his story.
What sparked the idea for "Honorable Rancher"?
Ben Sawyer walked onto a page of the previous Flagman's Folly story, THE RODEO MAN'S DAUGHTER, and immediately caught my attention.  He intrigued me as soon as I discovered he's both the generous, selfless, honorable hero all the folks in town love…yet he's a man hiding a deep, dark secret.
What is your favourite part of this book?
All of it!  LOL Seriously, it's hard to pick one part.  But I'll narrow it down.
In a scene that gets me every time I read it, Ben comes to Dana's house with something special for her children.  Not only does the gift he brings tell me he's a thoughtful man, it shows Dana just how closely he pays attention…and just how dangerous that is to her.
What were the challenges you faced in bringing this book to life?
The biggest hurdle was trying to bring Ben and Dana together, because they wouldn't cooperate—with each other or with me.
As I'm the author of this book, you think I'd have some control, wouldn't you?
But Dana gave me grief all along the way, for reasons even I couldn't argue with.  And Ben…  Well, every time I wanted Ben to do something, he flat-out refused, no matter how hard I tried to convince him.  In the end, he got his own way and earned my respect because—as the title says—he's truly an HONORABLE RANCHER. 🙂
 Are there any other books out in 2012?
The second of the Flagman's Folly books, THE RODEO MAN'S DAUGHTER, was released in February. It tells the story of Caleb Cantrell, a rodeo cowboy whose fall from a bull nearly kills him.  The injury makes him reassess his life, and he sees he'll never have a future worth a darn unless he resolves issues from his past.
Caleb returns to his hometown seeking revenge for events that happened years ago.  There, the girl he left behind—and a few of the other townsfolk—teach him some surprising lessons about love and letting go.
Barbara Thanks for a great interview!
Barbara will be giving away 2 copies of HarlequinAmerican Romance: 

"Honorable Rancher"
To enter to win: Please complete the rafflecopter form below and answer this:
In Barbara's first published novel, what's the name of the heroine's son?

  (Hint:  Click Here.)
Would you please share an excerpt from "Honorable Rancher"
Sure!  Thanks for asking.
Once again, Dana's voice shook.  Ben could see the tears in her eyes.  Maybe she felt as frustrated as he did.  But there was something else in her face, something he had trouble reading.

That had happened more and more often lately.  It bothered the hell out of him.

But right now, he didn't need to read her expression.

He put both hands on her shoulders and turned her to face him squarely.  "Dana, what you said with your words and what you're saying with your body language are two different things.  Why are you making this situation so hard for us?"

"Because I should be the one to give P.J. the space to play with his toys."

Baffled, he shook his head.  "What's the difference who hangs up those plants out on the porch?  Not everyone wants or has the skills to do handyman chores.  Or sometimes they can't do them alone.  Look how many times I came over to give Paul a hand.  How is my helping him back then any different from my coming here to help you now?"

"I don't—"

Need your help.

He could hear the words.  Before she could say them, he reached up to touch his fingertip above her upper lip.  It silenced her immediately—a good thing, because as the warmth of her skin jolted through him, he had to pull his hand away.

Later, he'd worry about the reaction.  Now, he couldn't let it distract him.  He let the safer feeling of irritation take over again.

He leaned forward, looking into her wide blue eyes.  "You can't turn away from more than twenty years of friendship.  Or at least, I can't.  If you won't take help from me for yourself, at least accept it for your kids."

"I have been, haven't I?"  As if she suddenly fought a smile, one corner of her mouth twitched.  "Lord knows, Clarice and Ellamae think you've become a permanent boarder here."

P.J. ran into the kitchen.  "Ready!"  He shook the plastic canister Ben had given him, making the washers rattle.  "C'mon, let's go."  He grabbed Ben's hand and tugged.  "C'mon, Mama."

"As soon as I finish unpacking the groceries," she told him.  "You two go ahead."

"Okay."

P.J. pulled harder, and Ben let himself be towed through the kitchen and out the door.  He welcomed the breathing space, the chance to get his thoughts together.  If he could.

Before, he'd had a long list of questions.  Those, he'd understood.  What he couldn't deal with now was the thought that had raced through his mind when he'd touched Dana.  And the added wagonload of guilt that had followed.

He didn't want to be her boy-next-door any longer.  He wanted a chance with her—and he aimed to get it.
Barbara would love to have you drop by her website:  www.barbarawhitedaille.com  You can also find her on Facebook:  http://www.facebook.com/barbarawhitedaille  and Twitter:  https://twitter.com/@BarbaraWDaille