Please Welcome back

Shirley Jump

to HJ!
Shirley it's always a pleasure to host you, Today Shirley has a special post to celebrate the release of her newest book Return Of The Last Mckenna
Cupcakes And Heroes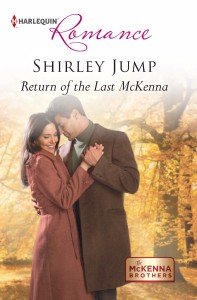 My September release, RETURN OF THE LAST MCKENNA, combines my two favorite things into one book–cupcakes and a hunky hero. Brody McKenna, the middle M
cKenna brother, is a doctor who has just returned from volunteering as a medical attaché to the military in Afghanistan. While he was over there, he lost a patient and he has returned to his home in Massachusetts, intent on making amends to the patient's family.  That brings him to Kate's shop, where the heroine sells chocolates and, of course, cupcakes, because those are one of my favorite things in the world.
I figured I should do some research for this book, so I went to the cupcake shops we have here. I'm sure the IRS will let me write off the Red Velvet cupcakes I had, and definitely the S'more's ones. I found one shop that made their frosting a little too sweet, another that made it too thick, and a third that was just right (and truth in reporting, while I'm writing this, I'm just finishing up a Rolo cupcake…to die for, from www.forgooodnesscakesfortwayne.blogspot.com — and no, I don't get free cupcakes for mentioning them).
But for me, the best combination is a hero AND cupcakes. For me, that's my husband. He knows how much I love cupcakes. For some reason, they're easier to justify, being just baby cakes, after all. When I sold my upcoming Sweetheart Club series to Berkley, he bought me an entire dozen cupcakes just for me. And a separate cake (with buttercream of course) for sharing.
Writing RETURN OF THE LAST MCKENNA and describing all the cupcakes that Kate bakes had me craving cupcakes all the time, so be forewarned when you read the book–you might just want to indulge in a few of those sweet treats! If not, there's hunky hero Brody, who does his best to mend Kate's broken heart.
Giveaway:

One lucky Winner will win a  five-pack of Shirley Jump Harlequin Romances!
For your chance to win, please complete the Rafflecopter form below and 
Tell me, what's your favorite dessert? Is there one must-have dessert for you that will make your day brighter? Do you sometimes treat yourself to a cupcake, or a slice of cake, and eat it real fast before the kids get home from school?