Today it is my pleasure to Welcome author
Megan Crane
to HJ!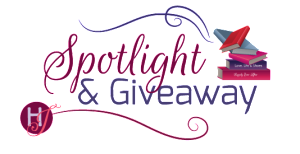 Hi Megan and welcome to HJ! We're so excited to chat with you about your new release, Devil's Mark!
Please summarize the book for the readers here: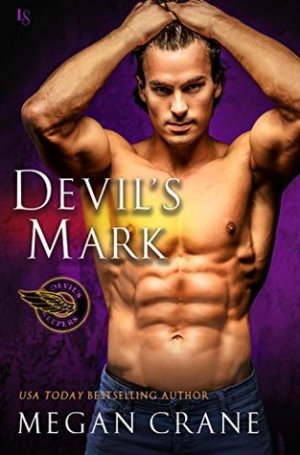 A sweet and virginal good girl walks into a biker bar and meets a very bad man with the face of an angel… and a very, very dirty mind.
Shenanigans ensue.
Please share the opening lines of this book:
Killian "Uptown" Chenier clocked the exact second pretty little Holly Chambless, the dirtbag mayor's squeaky clean, sorority girl daughter with her famously sweet ass, high tits, and the glossiest brown ponytail in the entirety of southern Louisiana, walked into Dumb Gator's.
So did everyone else with a dick.
Tick and Butler, the two degenerate fucks sprawled in Uptown's booth, practically knocked over the table with their instant hard-ons at the sight of her.
Please share a few Fun facts about this book…
Devil's Mark is the second book in my Devil's Keepers MC series. Think: all alphas, all the time.
Uptown is so pretty that people sometimes underestimate how dangerous he is. This is not smart.
Holly is so sweet that people think they can push her around, but don't be fooled. She's a steel magnolia through and through.
Please tell us a little about the characters in your book. As you wrote your protagonist was there anything about them that surprised you?
I wanted to have some fun with the good girl meets bad boy scenario, and I did! I think of many biker books as Snow White stories: sweet, obliging girl meets grumpy man (and his brothers) and sorts them all out. Holly is definitely in that vein. What made her all the more fun was that she had such a strong sense of what was real and true between her and Uptown. Her life was in flux and the world she thought she knew was shaken, but deep down, she was never thrown by what was happening between her and this very bad, very scary, very appealing man. What made that so much fun to write— and what made him fall so hard for her—was that he really couldn't shake her foundation. Uptown wants to be on this mission of revenge and he wants to really ruin Holly and rip her up… but he can't really do it. Because she knows her feelings and she's not afraid to be vulnerable and it turns out that's far more powerful than anything Uptown thinks he's going to do to her…
If your book was optioned for a movie, what scene would you use for the audition of the main characters and why?
I think the first scene in the bar, where Uptown is trying to scare Holly off and Holly is determined not to be scared… Uptown has to come off as kind of awful but also intriguingly dirty and hot, and Holly has to show a little backbone and that ability of hers to seem composed and unruffled in any circumstances. They're basically auditioning for each other: he's showing her exactly what a wild ride he'll be, and she's showing she has exact;y what it takes to be the Old Lady of such a man—though neither one of them knows it at the time!
"I really am here for a job," she said brightly, ignoring his invitation entirely. She nodded down the length of the bar. "Katelyn said they were hiring."
"Katelyn."
"The blonde? With all that hair and the tattoo across her cleavage?"
"I know who Katelyn is."
Holly opted not to really dig into the way he said that.
"She told me there was an opening for a new female bartender," Holly said instead. "And I happen to be both female and in the market for a job, so here I am."
"Don't be fucking ridiculous."
Holly couldn't ignore that low voice. It was too compelling. And rude.
"Maybe you haven't heard," she said, smiling sweetly. "My future is a little uncertain, all of a sudden. I need some steady employment."
She didn't. Not really. But her father was a liar and everyone knew it now, even Holly. Her life was made out of nothing but bullshit. So why not go on out and get one of the few jobs in Lagrange that would announce that fact to the entire parish? Saint Benny Chambless's good girl daughter would have died rather than set foot in a biker bar. But disgraced criminal Benny's daughter might as well settle in and enjoy the atmosphere and hell yeah, get herself a job while she was at it.
That all of those things were very public and would likely horrify her father was just icing on the cake, of course.
"You don't want a job, babe." Uptown's lips quirked and she liked that way more than was healthy or wise. "You want a rebellious phase. I think you're about ten years overdue."
"Two birds, one stone," Holly replied with a careless wave of her hand. She ignored the way he tracked the gesture, as if astonished, just as she ignored the way her pulse seemed to trip over itself when he did. She was good at ignoring things. "And on top of that, bartending is a skill I can take anywhere. I used to do a bit of it in college."
"Why do I find that hard to believe?" Uptown shook his head, though he looked as amused as he did intent. "The mayor's squeaky clean little princess in some dive bar, flirting with drunken assholes for tips?"
Holly hadn't expected him to be perceptive. Or really anything but hot and dirty. "Okay, maybe I didn't work in a bar so much as bartend at some of my sorority events, for free, but it's the same skill set."
Uptown's grin was a lethal curve of that mouth of his, and Holly wasn't prepared for it. Who could be prepared? It was too much. It was everything.
"No," he said, low but not exactly soft, like he was imparting some wisdom she really ought to heed. "It's not."
What do you want people to take away from reading this book?
That they LOVE the Devil's Keepers and want to read more!!
What are you currently working on? What other releases do you have planned for 2017?
I'm currently working on a new Harlequin Presents as my alter-ego Caitlin Crews. I'm playing with a modern governess story and it's so much fun! Coming up this year I have regular Harlequin Presents coming out, as well as the fourth book in my smoking hot dystopian Viking series, EDGE OF POWER in March, and the third book in my Devil's Keepers series, DEVIL'S OWN in May. And some other awesome things I can't talk about yet. But you can always track all my releases here:
http://megancrane.com/coming.php
Thanks for blogging at HJ!
Giveaway:

Ebook: Devil's Mark (The Devil's Keepers) by Megan Crane
To enter Giveaway: Please complete the Rafflecopter form and Post a comment to this Q:

Do you like biker books?
Excerpt from Devil's Mark:
Holly looked over to Pony's usual seat and found Uptown there instead.
Her heart did not leap in her chest. Her stomach did not perform backflips in her belly and then try to slam itself into the floor. She did not come a little too close to tripping over her own feet. That would all be crazy, so it couldn't possibly have happened. She told herself it didn't. She didn't even like him.
But when Uptown crooked a single finger at her, that knowing gleam in his eyes and a small curve in the corner of his problematic mouth, she went over to him. At once.
Because I'm a bartender and this is a bar, she told herself piously. And he is a customer, that's all.
She walked over and leaned against the bar the way she'd been doing all night with everyone who ordered something, but it was different with Uptown. She was conscious of her body in a completely new way. She could feel her breasts beneath her tank top, as if they were suddenly real, ample breasts rather than the usual A-cup disappointments. She was aware of the faint sheen on her skin from running around behind the bar, and how it only intensified when she stood still in front of Uptown. Her lip gloss had worn off, which she knew because she started to bite her lower lip before she stopped herself. His gaze had already dropped to her mouth and gone hot and narrow. She didn't need a whole lot of experience to understand he'd likely find her biting on her lip . . . provocative.
Uptown took his sweet time raising his gaze to hers. Holly decided she was fine with that. It allowed her to study him without him watching her do it. He looked the way he always looked. Hot. Weathered in that way of his, as if the battered jeans and faded T-shirt were simply what happened to anything so close to all his impossible male beauty that shone so bright it was like a beacon in the middle of a dimly lit bar, and only the leather cut held its own. Because really, he was just plain beautiful. It was unfair. His dirty blond hair was never entirely tamed, as if countless fingers had been in it, leaving it messy and tempting. His eyes were big and soulful and ridiculous. He didn't wear a big beard like so many of his biker brothers, likely because he was well aware that his wide mouth made him almost too pretty but that strong, tough jaw made him . . . Uptown. As dangerous as he was beautiful. Or all the more dangerous because he was beautiful.
"Miss me?" he asked.
Holly treated him to her best sorority smile, perfected over the course of a thousand charity events and mixers, as empty as it was sweet. "Oh, I'm afraid not. Was I supposed to?"
"I'll take that as a yes."
"Where's Pony?" she asked. "Did you kick him out of his seat? That's not very nice."
"He's a prospect. If I told him to get on the ground and lick the road off my boots, he'd fucking do it and love every second of it."
She cocked her head to one side as she considered that. "I don't know which one of you that makes me feel sorrier for."
He laughed. "My brothers tell me you didn't ask them a damn thing all week. You didn't wonder what was going on for even a second. Where I was, for example."
"I didn't."
"Princess, princess." That damned mouth of his was connected to her pulse, apparently. It made her feel . . . jittery. "I had no idea you were so stubborn."
"A lady is occasionally forthright and always self-possessed, thank you. Never stubborn."
Uptown's dark eyes lit with delight, and she didn't feel that in her pulse. Or not only in that rapid fluttering through her limbs, but also like a thick throb between her legs. God help her.
He leaned against the bar. "Aren't you going to ask me where I was?"
"I would ask a thousand questions, obviously, if only to be polite," she assured him in that same smooth, empty tone that made his smile go edgy, "but it worries me that you answering them might take away from your whole mysterious thing, and then what do you have?"
"My 'mysterious thing'?" But he sounded indulgent. "What the hell is that?"
"You know. Your whole mystique." She leaned her elbows on the bar, aware that the great heavy weight of it standing there between them was giving her maybe a little too much false courage. She ran with it. "You always swagger around this town like you're something special. Like if someone happens to get a glimpse of you mid-swagger that's a gift you're bestowing upon them."
His smile widened. "Baby. It is."
"What if I asked you where you went and it was, like, Poughkeepsie? For some kind of tedious conference where you had to walk around in khakis and a polo shirt with your name in a plastic lanyard around your neck?"
Uptown let out a laugh and Holly was aware that outside the little bubble they had somehow fallen into, where it was only the two of them and what seemed like far more bright light than should have been possible inside a dank old bar, people noticed. Turned. Watched. But she couldn't tear herself away from the bubble she hadn't meant to enter, but now didn't want to leave. Or care.
"The last time I was in khakis and a polo shirt was never," he told her, all that laughter making his low voice feel like honey as it washed over her, thick and sweet. "The next time? Will also be never. And I don't even know where the fuck Poughkeepsie is."
"That's a relief," she heard herself say, in the kind of low, laugh-infused voice she'd always imagined herself using as a worldly, sophisticated sort of woman. Though not with him. Liar, something in her hissed. "Just think of all the implications."
His smile faded from his mouth, but she could still see it in his gaze, making that bittersweet chocolate gleam. Making everything inside of her seem to reflect that gleam and intensify it.
"I was up in Shreveport," he told her. "Is that better than Poughkeepsie?"
Holly didn't know when she'd started smiling. "Barely."
He leaned forward then and ran his hand down the length of her ponytail, letting his fingers tangle a little in the ends. She didn't know why he kept doing that. She didn't know why she didn't hate it the way she should.
"Come with me," he said after a moment, and he was too close when he should have been safely on the other side of the bar. But there was nothing safe about Uptown, especially when she could feel his breath against her face. And she was sure he could feel her shiver, then try to hide it. It was something a little too close to painful to be so very near that mouth of his and the way it curved. "Your shift's over."
She blinked. This was Louisiana, where there were no state laws about closing times, which meant the night shift really could go all night if there were still people in here buying drinks.
"No, it isn't. Bart says we work until he tells us we're done. So far that's been anywhere between two and four."
"I bet he'll give you a pass."
Holly frowned at him. "Maybe I don't want a pass."
Uptown only smiled.
"I'm reintroducing myself to the community," she told him, a little loftily. "Not as the mayor's daughter, given his disgrace, but as any old random girl who works here. I can't just run off with some biker."
"This is a biker bar. That's pretty much the whole point."
"So far," she said, furiously trying to fight back the blush that was threatening to heat up her cheeks again, like she was a kid, "I haven't noticed that anyone feels the need to run off anywhere. They just . . ." She couldn't say it when he was looking at her like he found her on the edible side of fascinating, so maybe she really was as much of a child as she felt shuffling around her father's house, spoiling for a fight. "Right here. On the pool tables, against the walls. Wherever."
"Welcome to Dumb Gator's, princess. What did you think happened here?"
"I thought it would be scary," she told him, perhaps unwisely. "Violent. Not just . . . you know. Unsanitary."
He belted out another laugh at that, then inclined his head in the general direction of the door.
"Come on," he said. "I promise to keep it sanitary."
Excerpt. © Reprinted by permission. All rights reserved.

Book Info:
USA Today bestselling, RITA-nominated, and critically-acclaimed author Megan Crane has written more than sixty books. She's won fans with her women's fiction, chick lit, and work-for-hire young adult novels as well as with the Harlequin Presents she writes as Caitlin Crews. These days her focus is on contemporary romance from small town heat to international glamor, cowboys to bikers, and beyond – including her take on futuristic Vikings. She sometimes teaches creative writing classes both online at mediabistro.com and at UCLA Extension's prestigious Writers' Program, where she finally utilizes the MA and PhD in English Literature she received from the University of York in York, England. She currently lives in the Pacific Northwest with a husband who draws comics and animation storyboards and their menagerie of ridiculous animals.
Book Links:

Meet the Author: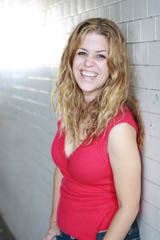 USA Today bestselling, RITA-nominated, and critically-acclaimed author Megan Crane has written more than sixty books. She's won fans with her women's fiction, chick lit, and work-for-hire young adult novels as well as with the Harlequin Presents she writes as Caitlin Crews. These days her focus is on contemporary romance from small town heat to international glamor, cowboys to bikers, and beyond – including her take on futuristic Vikings. She sometimes teaches creative writing classes both online at mediabistro.com and at UCLA Extension's prestigious Writers' Program, where she finally utilizes the MA and PhD in English Literature she received from the University of York in York, England. She currently lives in the Pacific Northwest with a husband who draws comics and animation storyboards and their menagerie of ridiculous animals.
| Facebook | Twitter |