Today, HJ is pleased to share with you

Jane Ashford's

new release: 

Lord Sebastian's Secret

A Passionate and Whimsical Regency Tale from Bestselling Author Jane Ashford
Will the secrets that brought them together tear them apart?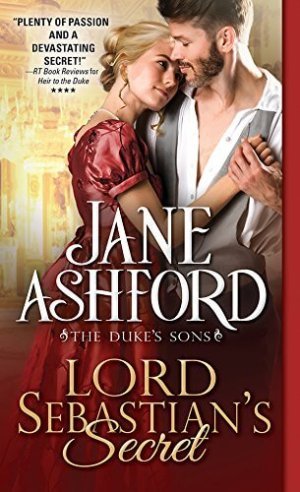 Proud. Cunning. Battle-hardened. Lord Sebastian Gresham is the epitome of military might and excellence. He's wealthy. The son of a Duke. There's just one problem: he can't read. It's those damned words. He doesn't see them in the same way everyone else does. It's a secret he'll never tell, certainly not to his new bride-to-be.

Brilliant. Witty. Beautiful. Lady Georgina Stane has always known she'd make the perfect bride, that is, if her eccentric family didn't scare off every potential suitor from London to Bath. After carefully orchestrating a London season with her parents out of the picture, she secured an engagement to an impeccable gentleman. And when Lord Sebastian arrives at her family's estate to meet her parents, she's not about to let their antics ruin her perfect marriage.

But what happens when these two learn that some secrets aren't so easy to keep?

Read an exclusive excerpt from Lord Sebastian's Secret 
One of my favorite scenes in Lord Sebastian's Secret involves the roving mob of pugs belonging to his future mother-in-law. One in particular, Drustan, continually embarrasses Sebastian with inappropriate assaults on his leg. There seems nothing to be done, until Sebastian gets a little help from his fiancée's sister. She has two, and they're a handful. Read about it in the excerpt below.
What was worse, the ringleader Drustan had developed a positive obsession with Sebastian. And as he was the dog most often let loose in the house, he was unavoidable. On a sunny afternoon in August, as the pug followed him about the garden, Sebastian seriously considered dousing himself with vinegar after all. It might be worth offending the noses of his human companions if he could permanently repel Drustan. It wasn't as if he was getting close enough to Georgina for her to notice, he thought sullenly.
The dog's latest trick was to weave in and out under his feet, tripping him up and then yowling as if he'd been kicked each time Sebastian stumbled. His piteous cries had drawn Georgina's mother once already, and she hadn't seemed to find Sebastian's explanation persuasive.
Sebastian sat on a bench under the spreading branches of a great oak. Drustan rushed over to throw his front paws around Sebastian's boot and offer the leather his customary unwelcome attentions. "You are a thoroughly repellent dog," Sebastian said.
"He's spoiled," a feminine voice replied.
Sebastian looked up to find Emma standing on the pathway. Blushing, the girl kept her eyes well above ground level. "I brought you this," she said. "He hates it." She held out a tattered lump of fabric. "Mama told me you'd kicked Drustan, but I knew you never would have done so. And that he must be playing his tricks."
Sebastian gazed at the offered object. It was some sort of cloth animal, he decided. There were four stubby legs and an indeterminate head. It had clearly been chewed and battered over a long period of time.
Emma extended it further. "Show it to him," she urged.
Sebastian took the thing. It was a little bigger than his hand and meant to represent a rodent, he guessed. A rat? Feeling foolish, he pushed it toward Drustan's flat face. The intrusion broke the dog's obsessive concentration. Brown bulging eyes took in the gnawed snout, the hint of broken whiskers. Drustan gave a sharp yip. Then, whining, the dog backed off. Hardly daring to hope, Sebastian waved the stuffed animal at him. Drustan moved further away, his pug face seeming anxious.
"Yah!" cried Sebastian, thrusting his newfound weapon forward. Drustan turned tail, literally, and fled. Sebastian gazed at the drooping toy in triumph. He'd feel like a fool carrying it about, but the cause was well worth the humiliation. He checked. Yes, it would just fit in his coat pocket.
"Drustan is a living example of the word pugnacious," Emma commented.
Sebastian turned to stare at her. "Pug…nacious," he repeated. "That's where it comes from." A link between a word and the world often came as a revelation to him. He noticed Drustan, crouched on his belly, peering out from a clump of long grass as if he hoped Sebastian had forgotten what he held. Sebastian shook the cloth rat at him. Whining again, Drustan actually took himself off. "Thank you for this," Sebastian said to Emma.
"I'm sorry I didn't think of it sooner. Mama keeps it shut away in a cupboard. It's been ages since any of us saw it."
"Why does he hate it so?" Sebastian turned the thing in his hands. It was ugly, but hardly frightening. "No one knows," Emma told him. "He used to play with it all the time. Indeed, he would hardly let any of the other dogs touch it. And then one day he developed a horror of it. He's been that way ever since."
"Maybe he met a real rat and tried batting it about," Sebastian said. "A big one."
Emma looked surprised. "That could very well be it. How clever you are!"
It didn't seem clever to Sebastian. Merely common sense.
"Clever about what?" asked Hilda, slithering out of the bushes behind them.
Sebastian suppressed a start. Georgina's youngest sister was as stealthy as an army scout infiltrating enemy lines. She clearly had a network of unseen ways here in the garden. He hadn't been able to trace them, perhaps because of his larger size. But you could never be sure when she would suddenly appear.
Emma repeated the story of Drustan.
"It seems obvious when you say it," Hilda replied. "In fact, there's a family of water rats living down by the stream."
"There is?" replied her sister.
Hilda grinned at her. "Big ones!" Emma looked around apprehensively.
"They don't come up the bank. Very often."
"How do you know?" asked Emma.
"I watch them sometimes."
Excerpt. ©Jane Ashford. Posted by arrangement with the publisher. All rights reserved.
Giveaway:

Print copy of Lord Sebastian's Secret (The Duke's Sons) by Jane Ashford
To enter Giveaway: Please complete the Rafflecopter form and post a comment to this Q:

What's your funniest story of an ill-trained pet?
Meet the Author:
Jane Ashford discovered Georgette Heyer in junior high school and was captivated by the glittering world and witty language of Regency England. That delight led her to study English literature and travel widely in Britain and Europe. Her historical and contemporary romances have been published in Sweden, Italy, England, Denmark, France, Russia, Latvia, and Spain as well as the United States.
Social Networking Links
Website: www.janeashford.com
Facebook: https://www.facebook.com/JaneAshfordWriter
Goodreads: https://www.goodreads.com/author/show/842700.Jane_Ashford
Buy Links:
Amazon: http://amzn.to/2hnjOyi
B&N: http://bit.ly/2gl0zpf
iBooks: http://apple.co/2hf595m