Today, HJ is pleased to share with you Laura Madeleine new release: 

The Confectioner's Tale

A sensual tale, set in Paris, of love against all odds, family secrets, and the art of confectionery.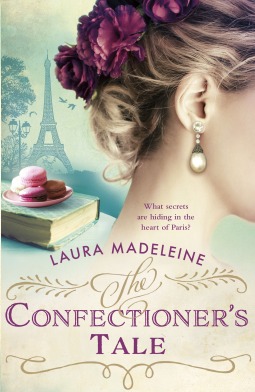 At the famous Patisserie Clermont, a chance encounter with the owner's daughter has given one young man a glimpse into a life he never knew existed: of sweet cream and melted chocolate, golden caramel and powdered sugar, of pastry light as air. But it is not just the art of confectionery that holds him captive, and soon a forbidden love affair begins.

Almost eighty years later, an academic discovers a hidden photograph of her grandfather as a young man with two people she has never seen before. Scrawled on the back of the picture are the words "Forgive me." Unable to resist the mystery behind it, she begins to unravel the story of two star-crossed lovers and one irrevocable betrayal.

A literary mystery and love story, The Confectioner's Tale is as pleasurable as the finest French patisserie.

Enjoy an exclusive excerpt from The Confectioner's Tale: 
Thankfully, it was the middle of the day, a quiet time. He encountered no one as he crept up the polished stairs towards the Clermonts' apartment. He knocked, heart thundering down to his stomach, arms clenched tight be- hind his back to hide their shaking.

The door opened with a gust of warm air. It smelled like f lowers and tea.

'Guillaume!'

Mademoiselle Clermont stood there, her eyes widen- ing at the state of him. She wore dark pink today, a lace collar tight and high on her neck. An ornate hairpiece of silk f lowers was twined about her head.

'I'm looking for Patrice,' he stuttered.

She seized him by the arm, pulled him inside. Their feet were muff led by thick carpet.

'Who's there, Jeanne?'

Gui froze. There was someone else in the apartment. 'A mistaken caller, Aunt,' said Mademoiselle Clermont
loudly. 'They were looking for Madame Bescanon along the hall.' Her voice was cool and even, but Gui could hear the breathlessness below the surface. 'I must just take a moment for myself, if you don't mind.'

'Are you feeling unwell, Jeanne?' the older woman called.
'No, no, I won't be long.'

She dragged him along the hallway to a second door, pushed him inside and followed him in, locking it as quietly as possible. When she turned, her cheeks were burning red.

'What are you doing here?' she demanded in a whisper.

The room was high and airy. Heavy curtains framed the windows, as well as a four-poster bed with an ornately carved headboard. A smooth satin eiderdown covered crisp sheets. With a jolt, Gui realized that he
must be in Mademoiselle Clermont's bedroom.

'I am sorry,' he stammered, shrugging off the washing tunic to reveal the blood-spattered, burned uniform. 'I needed help and I thought of Patrice . . . I didn't know who else to ask.'

'What on earth happened?'

'Another boy saw me burn my jacket. He was going to tell Josef, and I tried to stop him, but then he hit me.' Gui sniffed and tasted blood at the back of his throat. 'I didn't want to start a fight, but I can't afford to lose any pay.'

Mademoiselle Clermont had drawn back from the ruined garment, turning towards the door. 'Guillaume, I'm sure that if we explained to Josef—'

Gui snatched at her arm before she could reach for the handle.

'No! If I'm seen with you, I'll be fired on the spot.'

She stared at his fingers, burned and scarred, closed around the fine lace of her sleeve.

'What happened to your hands?' she murmured.

Abruptly, he recalled the feel of her in his arms, her hands locked around his neck as he battled through the floodwater, the warmth he had felt between them in the corridor. He let go. A strange expression flickered across her face. Then she seemed to make up her mind, and pushed him towards a dressing table that was tucked into an alcove.

'Sit down,' she ordered, and opened a drawer.

Gui caught a waft of lavender. She drew out a hand- kerchief, embroidered with leaves and f lowers and the word 'Jeanne'. She shook it free of its folds and wet it with some lotion from a bottle.

'Here,' she handed it to him, 'we should clean up your face, for a start.'

Gui stared in horror at the fine linen.

'I can't use this,' he told her quietly, 'I'll ruin it.'

'No matter,' she said carelessly, searching through a forest of bottles and jars. 'I have hundreds.'

Gingerly, Gui dabbed at his nose, wincing at the rust- coloured smears that came away on the clean, white surface.

'Here.' Mademoiselle Clermont was opening a blue tin, with English writing upon it. 'This will help your hands. It's for treating burns, from America.' She scooped out a small palmful of what looked like lard.

He was not sure whether he should protest or whether it would be rude to interrupt when she took his hand and began to dot the substance over the worst scalds.

'When I saw you the other day,' he began clumsily, to cover his embarrassment, 'you looked upset. Is every- thing all right?'

She pulled a face, smoothing the balm into his skin. 'I am sorry about that. Father and I disagreed again. He believes that I have forgotten how to behave.'

'Have you?' he could not help but ask.

Her fingers were soft, and he had the uncontrollable urge to touch her, to pull her closer. Something must have betrayed his thoughts, for she looked once into his face, before letting go.

'What can we do about your uniform? I do not have much time. My aunt and I are expecting guests.'

'I need a clean jacket, or they'll know it was me in the fight,' he said hurriedly, grateful to talk about something practical. 'I thought Patrice might have one.'

'He may, I saw him mending one yesterday. Wait here, we shall have to be fast.'

Swiftly, she tugged a bell pull that hung beside the door. 'If it's anyone else but Patrice, you will have to hide,'
she whispered over her shoulder.

Gui shifted towards the edge of the seat, ready to bolt into the shadow of a huge wardrobe. A minute later there was a knock at the door.

'Mademoiselle?' It was the valet's voice, muffled through the wood. 'Is everything all right? Your aunt is concerned and your guests are due any minute.'

She opened the door an inch. Gui caught a snatch of frantic whispering, before the door was shut and locked again.

'Quickly,' Mademoiselle Clermont told him. 'Take off the old one.'

'It . . .' Gui stuttered, mouth dry. 'It wouldn't be proper, I've no undershirt.'

The girl made an exasperated noise and crossed her arms.
'I shall look away, if it troubles you.'

Flushing from neck to forehead, Gui fought his way out of the jacket, fingers slipping on the gilded buttons. He gripped the ruined garment, and stood, chest bare. He caught a glimpse of his ref lection in the dressing- table mirror, of the muscles in his back and waist above the white trousers, and realized that Mademoiselle Clermont was staring.

A discreet knock on the door interrupted his embarrassment and Patrice was admitted. His eyes flared at the sight of Gui, standing there shirtless, but he thrust a white garment forward.

'Never a dull day when you are around, du Frère,' he said, mouth twitching with amusement. 'My nailbrush sends its regards. Mademoiselle,' he directed reprovingly at the staring girl, though half a smile still lingered, 'the Burnetts' motor car has arrived outside and they will be coming upstairs imminently. If you have finished your examination of young Monsieur du Frère, I suggest you rejoin your aunt in the drawing-room.'

Blanching slightly, she hurried to obey.

'The Burnetts?' Gui whispered, struggling thankfully into the new jacket. 'Do you mean Monsieur Burnett?'

'Yes, his wife and son, they are friends of the family.' Patrice bundled up the old garment. 'Hurry lad, if you leave now you might avoid them.'

Gui grinned and clasped the valet's hand in thanks. Patrice winked and hustled him out into the corridor. As they reached the front door, Gui snuck a look over his shoulder. He was rewarded. Mademoiselle Clermont was looking back from the opposite end. She smiled and they were complicit, until someone called her name.

'Go!' she mouthed with a laugh.

Gui allowed Patrice's nudge to take him onto the landing, where he hurtled down the stairs, ecstatic as a schoolboy.
Excerpt. ©Laura Madeleine. Posted by arrangement with the publisher. All rights reserved.
Giveaway:

2 Print copies of THE CONFECTIONER'S TALE by Laura Madeleine
To enter Giveaway: Please complete the Rafflecopter form and post a comment to this Q:

What did you think of the excerpt spotlighted here? Leave a comment with your thoughts on the book…
Meet the Author:
After a childhood spent acting professionally and training at a theatre school, LAURA MADELEINE changed her mind and went to study English Literature at Newnham College, Cambridge. The author of The Confectioner's Tale, she now writes fiction, as well as recipes, and was formerly the resident cake baker for Domestic Sluttery. She lives in Bristol, but can often be found visiting her family in Devon, eating cheese, and getting up to mischief with her sister, fantasy author Lucy Hounsom. She lives in the UK.