Please join me in welcoming Harlequin Desire Author

Yvonne Lindsay

to HarlequinJunkie
Yvonne, Thanks for blogging at HJ today, Would you please start out by telling us a little  bit about Yvonne Lindsay, where do you call home?
Yvonne: I'm lucky enough to live in Auckland city, the largest city in New Zealand. Part of the city is a narrow isthmus which has harbours on either side, each quite different, and the city is dotted with extinct (I hope!) volcanoes, beautiful beaches and a blend of historical and contemporary architecture. There's quite a sprawl north and south of the isthmus as well, which ranges from rural to industrial to suburban to inner city living. I love it!
Yvonne what's your favorite time of the day and place to write?
Yvonne:I tend to write best in the afternoons, although I'm slowly schooling myself to make the most of late mornings as well. I'm not sure why, but my creativity seems to flow more smoothly after lunchtime and comes to a natural slow down by the time I need to stop to prepare an evening meal.  I have a small office (which is dangerously near my kitchen) where I work. I promised myself that one day I'd have custom ergonomic furniture made especially for my wee room and I have done that now, and can happily spend hours of every day in there.
How did you choose the genre you write in and why Desire?
Yvonne: I've always loved to read romance of every sub genre, contemporary romance most of all. I spent most of my teenage years reading series romance and again by the hundreds when my kids were babies. It just seemed natural to want to tell those stories, too. I came to Desire after many years of submitting elsewhere and not finding the right home for my voice. Patience, persistence, luck and, I would like to think, talent, all came together at the right time for me and I was over-the-moon happy to be contracted with Desire.
Do you usually begin a book with a character or a plot?
Yvonne: Hmmm, plot most of all, I'd say. But sometimes character or even setting.
Which of your characters would you most/least invite to dinner, and why?
Yvonne: I think it would be a bit disconcerting to have any of my characters bowl up to my table for a meal. I'd know what they were thinking and I'd certainly know what they'd been up to, wouldn't I? J
Let's talk about your new release "A silken Seduction"
 If you had to summarize "A silken Seduction"….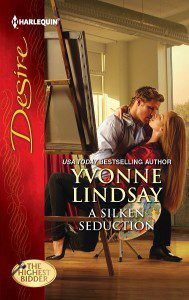 Yvonne: To further his career—and regain an old family heirloom—a hotshot  art expert seduces a lonely young heiress into selling her family's art collection, only to find himself in a marriage of convenience when their night of passion leads to pregnancy.
What was your inspiration behind "A silken Seduction"?
Yvonne: A Silken Seduction is book 3 in THE HIGHEST BIDDER continuity. I was so excited to be invited to participate in the continuity, which is set against the backdrop of a venerable New York auction house, There is scandal and romantic intrigue and a mystery to be solved. It was wonderful working with my fellow continuity authors and followers of the continuity will get some fabulous surprises along the way.
Who would play Avery / Marcus in the movie version of your book?
Avery would be played by a young Gwyneth Paltrow and Marcus by Paul Walker (swoon!)
What scene in this book did you most enjoy writing and why?
 Yvonne: Avery is an artist and she paints a nude of Marcus. One day, he decides to give her a taste of what he went through in sitting for her. He wants to paint her. And he does, literally. The continuity editor told me she'd never be able to look at a paintbrush the same way again J.
Are there any other books to be released in 2012?
Yvonne: A Silken Seduction is my third release in 2012 (which started off with the first two books in my THE MASTER VINTNERS series—The Wayward Son and A Passionate Affair.) Also coming in October is A Father's Secret, which will be flagged under the Billionaires & Babies symbol and was a heart rending book to write. It features infertility and professional mistakes and the toughest choice a parent should never have to make.
Giveaway: Yvonne will be giving away a copy of  
'A Silken Seduction'

to 3 Lucky winners
Please enter your email in the Rafflecopter below and leave a comment answering this: 

What was Yvonne doing when she got "The Call" from her first editor. 

(Hint: click

here

 )
Would you please share an excerpt from the book
Excerpt From A Silken Seduction:
If he told her the truth, would she give in? He doubted it. He opted for a vague version of the truth.

"I know of at least one potential buyer who would pay handsomely for the painting."

"Well, your buyer is set to be sadly disappointed, then, aren't they," she said adamantly. "And I'd appreciate it if you'd drop the subject. I'm not budging, Marcus."

He bit back the frustration that threatened to verbalize on his tongue. He owed her more than that. She'd been amazing these past couple of weeks and he needed to respect her decision about Lovely Woman no matter how much it killed him inside to do so. Still, he hadn't given up hope that she might change her mind. She'd changed her mind about the rest of the Cullen Collection, after all. Unfortunately, time was running out.

"Tenacity is my middle name," he said with a self-deprecating smile, "but okay, I'll drop the subject."

"Promise me, Marcus. You forget, I've seen just how tenacious you can be," Avery said, smiling in return and giving him a playful push.

In response he caught her hand and dragged her up against his body. Arousal came hot and fast. "Are you complaining, Miss Cullen?"

She rolled her hips against his erection. "What do you think?" she murmured against his lips.

"I think that perhaps I need to show you just how tenacious I can be. Just as a reminder for future reference."

His hands gripped the edge of her T-shirt and lifted it high, dragging the soft well-washed fabric over her head and dropping it to the ground. With the back of his knuckle he brushed the tops of her breasts, delighting in how the skin tautened beneath his touch. He bent to kiss her, his tongue tracing the enticing scalloped lace edge of her bra, dipping in past the demi-cup to stroke against her nipples.

Avery shuddered beneath his touch, her knees buckling a little and her breath audibly catching in her throat. She hummed a long sound of satisfaction when his hand crept around her back to unfasten her bra and then slid the shoulder straps down her arms until the garment joined her top on the floor.

Her nipples were tight pink puckered buttons and he laved first one, then the other. She laced her fingers at the back of his head, holding him to her, silently encouraging him to give more. And give more he did. He cupped her breasts in both hands, burying his face in their fullness, massaging them gently in response to her moan of pleasure. When he took one nipple in his mouth and suckled she gripped his hair tight. He suckled again, the fingers of his other hand teasing and tweaking her other nipple at the same time.

"Marcus, you're driving me crazy."

"That was my plan," he said, smiling against her creamy skin, tracing a blue vein with the tip of his tongue before straightening and scooping her up into his arms.

She squealed in surprise, flinging her hands around his neck. "Put me down, I'm too heavy," she protested.

If only she knew, he thought. Wanting her gave him a strength that made carrying her a pleasure, not a burden. He walked across the studio to the daybed and quickly stripped her of the rest of her clothes.

"You have me at a disadvantage, Mr. Price," Avery said from beneath lowered lids. Her gaze was an alluring come-on.

"I find myself wanting to paint you," he replied, reaching for one of her watercolor brushes from the stack on the table nearby.

He'd loved the way she'd organized her studio. She was a little neat freak about the way she put things in their places and he found that trait endearing in the extreme.

"Paint me? I thought you said painting wasn't your forte."

"It's not, but I think I can do this," he said with a smile, filling a jar with water and making his way back to her side. "Now lie completely still, like a good model, and let me work. You know how temperamental we artists can get when we're disturbed."

Copyright © 2012 by Harlequin Enterprises Limited

Cover Art used by arrangement with Harlequin Enterprises Limited

® and TM are trademarks owned by Harlequin Enterprises Limited or its affiliated companies, used under license.

Yvonne Lindsay head shot by Deborah Hillman Photography